December, 29, 2014
12/29/14
2:32
PM ET
LAKE FOREST, Ill. -- The
Chicago Bears
own the No. 7 overall pick in the 2015 NFL draft, after falling to 5-11 overall by virtue of Sunday's
13-9 loss
to the
Minnesota Vikings
.
The draft slot represents the club's highest since 2005, when the club used the No. 4 overall pick on running back Cedric Benson, who spent three seasons with the Bears (2005-07) before joining the
Cincinnati Bengals
in 2008 and later the
Green Bay Packers
(2012).
The Bears could go a number of directions with the No. 7 pick, given the uncertainty regarding the future of quarterback
Jay Cutler
, who could be an enticing trade option in the offseason, not to mention the club's subpar personnel on defense. The Bears could use Cutler and picks from later rounds to move up high enough in the order to draft one of the top quarterbacks or trade him to acquire more picks.
It's impossible to know what the club's plans are with
ownership firing general manager Phil Emery on Monday
along with head coach Marc Trestman.
The new general manager and head coach needs to overhaul the secondary because veteran cornerback
Charles Tillman
and safety
Chris Conte
aren't expected back. The Bears also need to address the linebacking corps because it's likely the team won't look to re-sign seven-time Pro Bowler
Lance Briggs
.
September, 30, 2014
9/30/14
11:00
AM ET
A weekly look at what the
Chicago Bears
must fix:
The Bears eviscerated the progress shown recently by the defense in Sunday's loss to the
Green Bay Packers
with their glaring lack of a pass rush against
Aaron Rodgers
. If the club conducts business this way again against
Cam Newton
and the
Carolina Panthers
on Sunday, the Bears can expect similar results.
Rodgers shredded the Bears for 302 yards and four touchdowns and finished with a passer rating of 151.2.
Ego Ferguson
tallied Chicago's only sack, and the Bears failed to force a turnover, as Rodgers basically played pitch and catch with Green Bay's receivers all day with plenty of time to do it.
Here's why: The Bears opted against trying to manufacture pressure and instead relied on the front four to disrupt Rodgers.
Bad move.
"We didn't blitz a lot," linebacker
Lance Briggs
said. "It was very simple. We thought we could get a four-man pass rush on a lot of occasions. But whether [Rodgers] was able to escape the pocket or whether he was standing there inside the pocket, he was able to pat the ball and look a couple of different ways and find somebody."
The Bears made the curious decision to rely on the front four despite being short two contributors in defensive end
Jared Allen
(pneumonia) and defensive tackle
Jeremiah Ratliff
(concussion).
What's more is the Bears were willing to take risks to get another possession on offense by trying an onside kick in the second quarter. Yet they weren't willing to try to dial up pressure via the blitz to get something going on defense?
I get it that there are risks in putting the secondary in man-to-man situations when trying to manufacture pressure by bringing linebackers or defensive backs. And I understand Rodgers had been sacked nine times heading into Sunday's matchup due to suspect play from his offensive line. But to simply sit back and let Rodgers pick the defense apart for four quarters seems a curious decision at best.
May, 14, 2014
5/14/14
10:25
AM ET
We're going back through our notes and pulling some pre-draft interviews from the NFL combine this week with some of the
Chicago Bears
' recent draft picks.
[+] Enlarge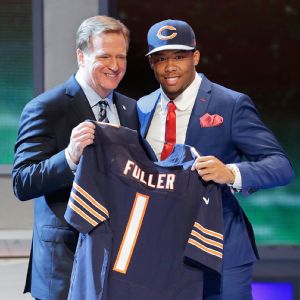 AP Photo/Frank Franklin IIKyle Fuller should add an infusion of youth and athletic ability to the Bears' secondary.
Here's a transcript of an interview with Bears first-round pick
Kyle Fuller
(No. 14 overall) from February's combine:
Question:
How much advice did you receive from your brother,
Detroit Lions
wide receiver
Corey Fuller
, before coming to the combine?
Answer:
"We haven't talked a lot, but it definitely sounds like he's enjoying it. It's something he's dreamed about it. I know it feels good to be there and I can't wait to be in the position he's in."
Q:
How beneficial is it to grow up in such a football family?
A:
"It means a lot. It definitely makes you want to get to that level. It definitely keeps you humble to continue to work hard to get there. I believe it just shows all the hard work all of my brothers have had to get to this point, and we're just thankful and blessed for that."
---
Q:
How much sibling rivalry is there in your family?
A:
"I'm very competitive, especially with my brothers. That's helped me to where I am now. We always want to be better than the next guy, each other, no matter how fast we are, the plays we make. We've had a couple races. I won one, Corey won one. Whenever we're home, we'll get it. I had the best time of my life as a senior playing with Kendall (a rising sophomore at Virginia Tech). It was sad that it got cut short. That would be a lot of fun. I had a chance to play with [Corey] one year at Virginia Tech.
---
Q:
How similar was your role at Virginia Tech to what your brother
Vincent Fuller
did while there?
A:
"I would definitely say it was similar. He moved around played corner nickel safety, physical, I've learned a lot from him. I take a lot from this game."
---
Q:
When all of you get together for workouts, what are you guys doing?
A:
"Definitely just working technique and fundamentals, the simple things backpedaling coming out of the breaks, transitioning to backpedal to turning and running. Just the little things, we always grew up taking care of the little things."
---
Q:
What's the best part of your game?
A:
"Just how physical I am, I feel like my speed, my playmaking ability, my ability to tackle."
---
Q:
How important is it to you to be a first-round pick?
A:
"I would love that. That's one of my goals. All I can do is show what I can do and I can believe that I'm a first round pick or whatever. But I'm not focused on that. I just have to do what I have to do and whatever team takes me I'll be happy to be with them."
May, 13, 2014
5/13/14
12:19
PM ET
Once the NFL draft comes to a close, it's always interesting and fun to go back through all the notes and interviews cobbled throughout the pre-draft process.
The college prospects come in and out, whether at the Senior Bowl or NFL combine, and you just never know whether the player you're interviewing will be later drafted by the team you cover. Here's a transcript of a group interview with
Chicago Bears
fourth-round pick
Ka'Deem Carey
from February's combine:
[+] Enlarge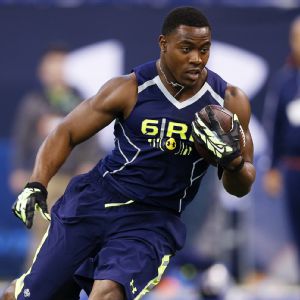 Joe Robbins/Getty ImagesKa'Deem Carey will have the opportunity to step into the No. 2 running back role for the Bears in 2014.
Question:
What back playing would you compare yourself to nowadays?
Answer:
"Oh, you're going to hit me with the nowadays. I'd say a mix between
Adrian Peterson
and
LeSean McCoy
. Adrian Peterson runs hard and LeSean McCoy has the shakes in the open field to break a safety down. My (favorite) running back is
Brian Westbrook
because he catches, he blocks. He does it all."
Q:
How much better of a receiver are you now having played for Rich Rodriguez at Arizona?
A:
"I'm definitely a lot better receiver than what I came to college as. I felt like Rich Rod coming into the program definitely benefited me because playing under coach [Mike] Stoops, I would have had a couple catches. But he (Rodriguez) loved to spread it around, put me in the slot. I'm really comfortable with that and excited about it."
---
Q:
How do you feel about the trend of teams not valuing running backs as much as they did in the past?
A:
"I don't like that. Definitely, I feel like they think the running back spot is going extinct for some reason. They definitely need us. I'm definitely going to make sure they know that when I step on the field that they made a good pick and running backs aren't going extinct."
---
Q:
Would you have changed positions if you knew later down the road we'd be seeing this trend with running backs?
A:
"Tell me about it. Nowadays, they're like you've got to go second, third round. I'm like, 'Why in the hell didn't you tell me this a couple of years ago, that running backs are going extinct?' I'm definitely OK with it. I'm just trying to bring back and to show we're definitely valuable. But I definitely would have went to corner or something. Shoot."
---
Q:
Were you surprised you didn't receive more consideration for the Heisman Trophy? It seemed no one was paying attention to you much of the season.
A:
"I think it's East Coast bias. I'm sorry everybody. You guys are sleeping on us. You guys are asleep at the time we're playing, and I don't blame you, I'd be asleep too. I like to get my sleep."
---
Q:
What if you are drafted by a place that has cold weather like Cleveland?
A:
"Being born and raised in Arizona, and our weather is always sunny and nice. It's always hot. Playing somewhere like Cleveland would be interesting and fun; definitely will test out my game and my talents. I feel comfortable. I played in Washington in some rain and that's the first time ever I played in rain. I had a good game and I was excited to be there. It just motivated me more."
---
Q:
Did people advise you to leave school early?
A:
"They definitely were in my ear, saying you have a limited numbers of hits and running backs, you need to go while you have the chance. I know that I could have come back and played another year, got bigger and stronger and dominated at that level. But my decision was I was ready for the league. I felt like I was ready a year ago but I just couldn't leave. I stayed consistent this year, and really proved to me that I was ready to provide for my family."
---
Q:
What are the scouts going to find out about you as a pass blocker?
A:
"They are going to find an aggressive, hard-nosed [player] that will hit you right under your chin. I'm going to tell you right now, I need more technique in pass blocking. I have no problem with picking up the blitz and delivering the hit."
---
Q:
What would you need to run in the 40 to answer questions about your speed?
A:
"A 4.5 would be just solid, knowing that I've got that getaway speed and the film speaks for the rest. They feel comfortable with the way I play. They just want to know if I can get away from that last defender and actually bring the 6 points home." [
Carey ran a 4.7 official 40-yard dash
at the combine.]
---
Q:
How has the combine experience been for you?
A:
"I'm enjoying this. I get to speak to the coaches. They get to see my personality. Being from the West, they don't know too much about me, so this is a great opportunity for me to get here and get comfortable and be myself and they can see who I am."
---
Q:
Is there a particular coach you are looking forward to meeting?
A:
"Definitely coach Andy Reid. He is the best coach ever. Once I get to see him, shake his hand, and sit in a meeting with him, everything is going to be all gravy. I was a big Eagles fan growing up. I loved the way he did everything with Brian Westbrook. I just love the way he coaches."
---
Q:
What's the best advice you've received and who gave it to you?
A:
"Just walk around with a big smile. Be happy about each day because it can be taken away tomorrow. That was just by mom. So I walk around with a big smile every day. This is a blessing."
---
Q:
Where do you get your confidence?
A:
"Maybe classes that I had to take at the University of Arizona. Little classes, we'd get in a little circle, like therapy or something. We'll just talk about our life. That's where I got really confident in being myself."
---
Q:
What were your favorite classes?
A:
"The ones that I was just talking about. Just getting to know everybody in class, where they are coming from, and their life story. It's helped me become the person I am. You really can't judge everybody. And there's not too much to do in Tucson. I run, I hike. I walk my dogs. I like to get out and play two-hand touch football. Coach Rich Rod didn't like that. But I had to keep it on the low. I can say it now because I'm away from him.'
---
Q:
What kind of dogs you have?
A:
"A Maltese Yorkie, and then I have two pit bulls."
May, 11, 2014
5/11/14
3:17
PM ET
The
Chicago Bears
agreed to terms on Sunday with nine undrafted rookie free agents.
Here's the list:
RB Jordan Lynch, Northern Illinois
DT Brandon Dunn, Louisville
OG Ryan Groy, Wisconsin
OG James Dunbar, Texas Christian
LB Tana Patrick, Alabama
LB Christian Jones, Florida State
DT Lee Pegues, East Carolina
OT Cody Booth, Temple
LB Devekeyan Lattimore, South Florida
April, 10, 2014
4/10/14
12:15
PM ET
The
Chicago Bears
hold the No. 14 pick in the upcoming NFL draft after finishing last season with an 8-8 record, and by virtue of the frenetic pace the club worked at during free agency, the potential selection in the first round seems wide open at this point.
ESPN.com's Todd McShay revealed his
fourth 2014 mock draft

on ESPN Insider today, with this one covering the first two rounds, and his choices for the Bears certainly make lots of sense.
March, 6, 2014
3/06/14
11:00
AM ET
Todd McShay's third NFL mock draft for 2014 is out on ESPN Insider today. The Bears are mostly set on the offensive side of the ball. This is going to be an extremely defensive-heavy offseason for Chicago in an attempt to restore a once-proud defense that was among the worst in the league in 2013.
Every defensive position group needs major work right now but a defensive tackle upgrade would be a very welcome addition. If the Bears re-sign
Henry Melton
, another 3-technique, such as Pitt's
Aaron Donald
, might be off the table because he is a very similar style of defensive tackle.
Julius Peppers
is very likely going to be released, but there isn't really a defensive end option for Chicago at No. 14, even though that too is a huge area of concern.
A dynamic young linebacker also would be enticing, keeping the Bears' great run of linebackers going strong. Chicago's secondary is in far-from-ideal shape right now as well and they might have had the worst safety play in the league in 2013. Defense. Defense. Defense.
Whom does McShay have the Bears drafting at No. 14?
Let's take a look
:

To continue reading this article you must be an Insider
March, 6, 2014
3/06/14
11:00
AM ET
Todd McShay's third NFL mock draft for 2014 is out on ESPN Insider today. Of course the Vikings would ideally love to land a franchise quarterback with this pick and might even consider trading up to do so. Landing with Norv Turner,
Adrian Peterson
, some quality receiving weapons and a good offensive line, Minnesota would be a great spot for a rookie quarterback. But if that isn't in the cards, the Vikings really could more or less take the best defensive player remaining on their draft board. In fact, the Vikings could be a prime trade-down contender if they don't go quarterback.
Whom does McShay have the Vikings drafting at No. 8?
Let's take a look
:

To continue reading this article you must be an Insider
March, 6, 2014
3/06/14
11:00
AM ET
Todd McShay's third NFL mock draft for 2014 is out on ESPN Insider today.
To me, the Detroit Lions definitely need help and wide receiver and most likely at tight end this offseason, and adding a top player at either position in this draft to pair with
Calvin Johnson
could make this a truly dominant passing attack. But the other big need area is at cornerback. The entire back seven of Detroit's defense isn't in ideal shape right now, but it is cornerback that is the most pressing issue on defense.
Whom does McShay have the Lions drafting at No. 10? Let's take a look at
his pick and his analysis

:
To continue reading this article you must be an Insider