NFC North:

NFL Draft 2014
August, 25, 2014
Aug 25
6:05
PM ET
LAKE FOREST, Ill. -- Having played in the background the majority of the preseason as the No. 3 quarterback, rookie sixth-round pick
David Fales
preps for his most significant action to date as the
Chicago Bears
plan to play him the entire preseason finale Thursday against the
Cleveland Browns
.
[+] Enlarge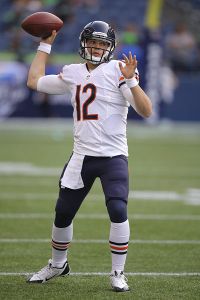 Stephen Brashear/AP PhotoQB David Fales will get the chance to showcase his skills in the Bears' preseason finale at Cleveland.
Fales played sparingly in the preseason opener against the
Philadelphia Eagles
, but hasn't seen action since. So Thursday's game at Cleveland presents the perfect opportunity for Fales to earn a spot on the 53-man roster as opposed to being waived and later brought back to the practice squad.
"Fales, he's gonna start the game and we'll see where it goes," Bears coach Marc Trestman said. "I'd like to see him play a lot of the game. I just wanted to get David in a position where he was getting [in] on the [preparation for the] Browns and was really taking some time to prepare for this on really what is a short week for us."
Fales completed five of his seven throws for 68 yards against the Eagles, playing mostly mop-up duty in the fourth quarter. Fales tossed an interception in the game, but also led the team on a long drive that resulted in a field goal.
Fales said he's "definitely excited" for the chance to start at Cleveland. If Fales fails to impress enough to land a spot on the 53-man roster, he could wind up on Chicago's practice squad if he isn't snatched up by another team during the waiver process.
Despite lacking somewhat in arm strength, Fales makes up for that deficiency with strong anticipation skills. He possesses limited mobility, but Fales is courageous enough to stand in the pocket and deliver under pressure.
Entering the draft, Fales projected as an ideal fit for the West Coast offense, which is what the Bears currently utilize.
Fales was the first quarterback drafted by the Bears since 2011. He started in all 45 games he played in at San Jose State, hitting on 65.9 percent of his passes for 12,727 yards, 101 touchdowns and 35 interceptions.
May, 11, 2014
May 11
3:17
PM ET
The
Chicago Bears
agreed to terms on Sunday with nine undrafted rookie free agents.
Here's the list:
RB Jordan Lynch, Northern Illinois
DT Brandon Dunn, Louisville
OG Ryan Groy, Wisconsin
OG James Dunbar, Texas Christian
LB Tana Patrick, Alabama
LB Christian Jones, Florida State
DT Lee Pegues, East Carolina
OT Cody Booth, Temple
LB Devekeyan Lattimore, South Florida
May, 7, 2014
May 7
1:05
PM ET
[+] Enlarge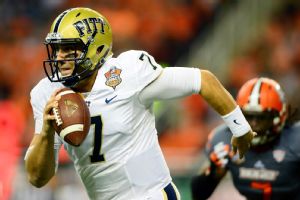 Andrew Weber/USA TODAY SportsAs the NFL draft nears, it appears that quarterback Tom Savage's stock is rising.
MINNEAPOLIS -- We're (finally) less than 36 hours from the start of the NFL draft, which means we're bringing our look at the
Minnesota Vikings
' quarterback draft options in for a landing. We'll wrap things up with a final post tomorrow on a couple other options, but we'll give our final solo spotlight today to a quarterback who has been attracting plenty of attention in the past few weeks.
Pittsburgh quarterback
Tom Savage
didn't show up as a top name in many early mock drafts, after putting up forgettable numbers behind the Panthers' shoddy offensive line, but his size and arm strength have earned him mention as a sleeper quarterback. The Vikings brought him in for their top-30 prospects event last month, and Savage has said he's met with 24 of the 32 teams in the league. Longtime NFL scout Gil Brandt, who drafted
Troy Aikman
with the
Dallas Cowboys
in 1989,
compared Savage to him last fall
, and according to NFL draft wonk Tony Pauline, the
New England Patriots
are
referring to Savage as "Tom #2,"
for the comparisons he evokes to
Tom Brady
.
So what gives? Is Savage really worth the late-developing buzz he's attracting before the draft? Once again, we'll consult our in-house experts: ESPN NFL scout Matt Williamson, who used to be a college and pro scout for the
Cleveland Browns
, and ESPN NFL analyst
Louis Riddick
(the former pro personnel director for the
Philadelphia Eagles
).
2013 stats:
61.2 completion percentage, 2,958 yards, 21 touchdowns, nine interceptions.
NFL combine measurements:
6-foot-4, 228 pounds, 31 5/8-inch arm length, 9 5/8-inch hand span.
Pros:
Savage has plenty of arm strength to make the tough throws required of a NFL quarterback, and of the quarterbacks who might be available on the second day of the draft, Riddick sees Savage as being a possible match for the Vikings. The Brady comparisons come from Savage's release, which looks similar to the Patriots quarterback's setup and allows Savage to make quick, clean throws with velocity. "The top of the second round is very reasonable," Riddick said. "If you're somewhere between (picks) 32 and 38, I would take him and keep on trucking."
Cons:
Williamson wasn't as high on Savage, saying he didn't think the quarterback was worth a second-round pick and would need more seasoning after starting just one year at Pitt. "The old (Bill) Parcells rule is where you want a three- or four-year starter with X number of reps under your belt," Williamson said. "He also had some really good receivers. That kid (Tyler) Boyd here at Pitt, nobody knows about him, but he's going to be a first-round pick someday. His line in front of him was very bad. He made a statement there; he's very tough. But he'll miss some open guys, too." According to ESPN Stats & Information, Savage was off-target with 24.7 percent of his passes,
which was the worst among the 10 quarterbacks ESPN NFL Nation reporter Kevin Seifert analyzed here.
Bottom line:
There's quite a bit of projection required with Savage, and he'd have to go to a team that could afford him time to sit and learn. That might explain some of the Patriots' interest in him, but the Vikings could have a favorable setup, where Savage can bide his time behind
Matt Cassel
, learn from Norv Turner and step into an offense with plenty of talent around him once he's ready. "It's important he continues to get the level of coaching in order for him to reach what really is tremendous potential," Riddick said. "Development programs across the NFL are not uniform. The thing about Minnesota is, Norv's one of the best. It's almost like a perfect match if he holds the prospect in the same regard." If the Vikings are still looking for a quarterback on the second day of the draft, and they're willing to let Savage grow before putting him on the field, the Pitt quarterback's name could be one to remember.
May, 7, 2014
May 7
8:00
AM ET
MINNEAPOLIS -- Since he started running the
Minnesota Vikings
' drafts in 2007, Vikings general manager Rick Spielman hasn't been shy about making moves before and during the draft. Spielman has made 16 trades involving an exchange of draft picks, trading up seven times and moving down in the draft nine times. And when Spielman's had reason to move up, it's usually been because he has his eye on an impact player: his moves up the draft board netted
Cordarrelle Patterson
,
Harrison Smith
and
Brian Robison
, among others.
(The Vikings technically moved down in the 2008 draft, based on the exchange of picks in the
Jared Allen
trade, but the deal might have been Spielman's boldest with the Vikings, bringing a four-time Pro Bowler to Minnesota in exchange for four picks. Additionally, they got the 187th pick in the trade with the Chiefs, and used it to take center
John Sullivan
.)
This year, if the Vikings are going to make a trade in the first round of the draft, it seems likely their first step would be a move downward; Spielman typically likes to have 10 picks in a draft, and is currently in possession of eight. He could pick up a couple more if the Vikings move back from the No. 8 overall pick, and that might give Spielman the flexibility to do what he's done each of the last two years, moving back into the first round to take another player.
Spielman said on Tuesday that he'd already received three calls and two text messages about possible trades, adding he'd already had offers for the Vikings' second- and fourth-round picks, among others. "Everybody is just kind of starting to line up their dance partners," he said. "It doesn't usually happen till (you) get on the clock. At least you know on potential teams who may be interested in coming up into your spot."
On Tuesday, Spielman said, the Vikings went through one of the exercises they'd used the last two years, running through a four-hour scenario of how the Vikings would handle a trade down and whom they'd target if they moved back to a certain spot.
"We do that when we're at our secondround picks (too)," Spielman said. "We go through all different kinds of mocks. To me, people get tired of talking about everything. But the more I hear things, the more we can put ourselves in scenarios, when it comes up on draft day, you've already kind of experienced the worst thing that can happen to you on draft day and how you would react.
"I think that's really helped especially over the last two years of knowing when to move down, when to trade back up, when to go get players that you covet. I think that's been beneficial. I love to be active on draft day."
May, 6, 2014
May 6
4:10
PM ET
EDEN PRAIRIE, Minn. -- Well, our ESPN NFL Nation mock draft has concluded, and for a third consecutive year, the
Minnesota Vikings
have traded back into the first round. Acting as the GM for the Vikings, I gave up my second-round pick (No. 40 overall), my fourth-rounder (No. 108) and the sixth-rounder I acquired from Houston (No. 177) to acquire the
Denver Broncos
' first-rounder and take Fresno State quarterback
Derek Carr
.
Carr
I was in trade talks to move up to No. 29 for the third year in a row, trading with the
New England Patriots
for the second straight year, until the
Jacksonville Jaguars
came up to grab Louisville quarterback
Teddy Bridgewater
. The price turned out to be better at No. 31, and I got to hang onto both of the Vikings' third-round picks.
Now, for Carr: There are some concerns about how he handles pressure, as ESPN NFL scout Matt Williamson said both in our mock draft today and in
our look at Carr last week
. But he'll be playing behind a solid offensive line in Minnesota, he's got the arm to make all the throws required in Norv Turner's offense and he's shown a strong command of an offense. And by taking him in the first round instead of the second, the Vikings would have the benefit of the fifth-year option that's automatically tagged onto each first-round pick's contract. For a player taken in 2011, that option would only pay $9.686 million in 2015, which is well below market value for a quarterback playing well enough to earn the option and keep himself in a team's long-term plans.
Yes, it's a risk, but so are many of the quarterbacks in this year's draft. In the Vikings' offense, I thought Carr was a good enough fit to be worth a shot at No. 31.
"He's going to want a guy who can hit those 15-, 20-, 25-yard dig routes, the deep post, the go route, the deep comeback on the outside -- which is really the hardest throw to make in the NFL," ESPN NFL analyst Louis Riddick said earlier this week. "To me, the one guy who can really do that, if you look at some of his older film when he was running a pro-style offense in college, is Derek Carr. Now, is Derek Carr supposed to go that high? Is he supposed to be a top-10 pick in the draft? No, he's not. But he is the guy who can really do it."
April, 24, 2014
Apr 24
12:15
PM ET
In his
latest mock draft
, ESPN NFL draft expert Todd McShay made his picks as though he were the general manager for every team in the league. In other words, he's picking the player he thinks the team should take, not necessarily whom they will take.
That's an important distinction to make, because in this particular case, it illustrates how badly the Vikings need to address their quarterback position for the future.
April, 10, 2014
Apr 10
12:15
PM ET
The
Chicago Bears
hold the No. 14 pick in the upcoming NFL draft after finishing last season with an 8-8 record, and by virtue of the frenetic pace the club worked at during free agency, the potential selection in the first round seems wide open at this point.
ESPN.com's Todd McShay revealed his
fourth 2014 mock draft

on ESPN Insider today, with this one covering the first two rounds, and his choices for the Bears certainly make lots of sense.
To continue reading this article you must be an Insider
March, 13, 2014
Mar 13
2:00
PM ET
ESPN NFL draft analyst Mel Kiper Jr.
unveiled his Mock 3.0

on Thursday, and just like his draft-guru colleague Todd McShay of Scouts Inc., he projected the
Chicago Bears
to take Pittsburgh's
Aaron Donald
with the No. 14 pick.
Chicago's signings thus far in free agency certainly make such a move prudent. Although the Bears re-signed defensive tackle
Jeremiah Ratliff
and
Nate Collins
before the start of free agency, the club still hasn't put together an enticing enough offer to bring back
Henry Melton
, who, according to a league source, is visiting Minnesota but also has several other visits lined up.

If the Bears can't re-sign Melton or any other starting-level defensive tackles in free agency, they'll certainly turn to the draft to address that need. Kiper sent Florida State defensive tackle
Timmy Jernigan
to the Bears at No. 14 in his first two mock drafts, writing in Mock 2.0 that "I'm a bigger fan of Jernigan in a 4-3 look, where he's using his power to go through a blocker and not trying to beat people off the snap and use quickness."
McShay chose Donald in his last mock draft, saying, "Donald is a perfect fit for the Bears' scheme as a 3-technique defensive tackle. I don't know if there's been a prospect who has helped his stock more during the draft process than him. He was unblockable at the Senior Bowl, and that, put together with an unbelievable overall workout at the combine. He's shorter than prototype size, but he has long arms and a powerful upper body and creates a lot of big plays with his anticipation and quickness. FSU's Timmy Jernigan is a fit as a 3-technique as well, but Donald is a much better finisher as a pass-rusher."
Kiper and McShay have both been consistent throughout their mock drafts in Chicago's using its first-round pick to address the defensive tackle position, and from this vantage point they're on the money.
Donald might actually be more of a fit than Jernigan at No. 14 because the Bears might benefit from pairing him with Ratliff next season. If Donald doesn't pan out early, the worst-case scenario is he would provide depth at a position that lacked it in 2013 when injuries rendered the defense rudderless.
The Bears last season gave up the most points (478) and total yards (6,313) in franchise history as opponents put together 10 100-yard-rushing performances.
Uncertainty still exists along Chicago's defensive line despite the signings of Ratliff, Collins and free-agent defensive end
Lamarr Houston
. The Bears need to add along the front four to avoid experiencing another catastrophe such as what they endured in 2013.
"I feel like I can make an impact right away, feel like I can come in and have trust in the coaches and playbook and make plays right away," Donald said last month at the NFL combine.
At this point, that's certainly what the Bears need in their attempt to revamp the defense.
March, 6, 2014
Mar 6
11:00
AM ET
Todd McShay's third NFL mock draft for 2014 is out on ESPN Insider today. The Bears are mostly set on the offensive side of the ball. This is going to be an extremely defensive-heavy offseason for Chicago in an attempt to restore a once-proud defense that was among the worst in the league in 2013.
Every defensive position group needs major work right now but a defensive tackle upgrade would be a very welcome addition. If the Bears re-sign
Henry Melton
, another 3-technique, such as Pitt's
Aaron Donald
, might be off the table because he is a very similar style of defensive tackle.
Julius Peppers
is very likely going to be released, but there isn't really a defensive end option for Chicago at No. 14, even though that too is a huge area of concern.
A dynamic young linebacker also would be enticing, keeping the Bears' great run of linebackers going strong. Chicago's secondary is in far-from-ideal shape right now as well and they might have had the worst safety play in the league in 2013. Defense. Defense. Defense.
Whom does McShay have the Bears drafting at No. 14?
Let's take a look
:

To continue reading this article you must be an Insider
March, 6, 2014
Mar 6
11:00
AM ET
Todd McShay's third NFL mock draft for 2014 is out on ESPN Insider today. Of course the Vikings would ideally love to land a franchise quarterback with this pick and might even consider trading up to do so. Landing with Norv Turner,
Adrian Peterson
, some quality receiving weapons and a good offensive line, Minnesota would be a great spot for a rookie quarterback. But if that isn't in the cards, the Vikings really could more or less take the best defensive player remaining on their draft board. In fact, the Vikings could be a prime trade-down contender if they don't go quarterback.
Whom does McShay have the Vikings drafting at No. 8?
Let's take a look
:

To continue reading this article you must be an Insider
March, 6, 2014
Mar 6
11:00
AM ET
Todd McShay's third NFL mock draft for 2014 is out on ESPN Insider today.
To me, the Detroit Lions definitely need help and wide receiver and most likely at tight end this offseason, and adding a top player at either position in this draft to pair with
Calvin Johnson
could make this a truly dominant passing attack. But the other big need area is at cornerback. The entire back seven of Detroit's defense isn't in ideal shape right now, but it is cornerback that is the most pressing issue on defense.
Whom does McShay have the Lions drafting at No. 10? Let's take a look at
his pick and his analysis

:
To continue reading this article you must be an Insider