NFC North:

Seattle Seahawks
November, 17, 2013
Nov 17
2:00
PM ET
By
ESPN.com staff
| ESPN.com
Join our ESPN.com NFL experts as they break down the Minnesota Vikings' visit to the Seattle Seahawks. Contribute your thoughts and questions beginning at 4 p.m. ET. And, be sure to visit our
NFL Nation Blitz page
for commentary from every game, as well as fan photos and the latest buzz from Twitter. See you there.
November, 15, 2013
Nov 15
10:00
AM ET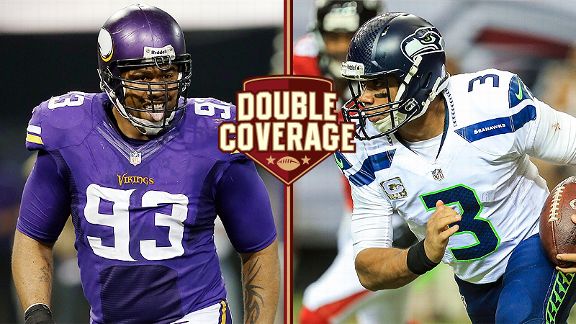 AP Photo, USA Today Sports ImagesKevin Williams' Vikings will face a challenge with Russell Wilson and the Seahawks playing at home.
.
SEATTLE -- The
Seattle Seahawks
have amassed a 9-1 record despite playing with a patchwork offensive line and a receiving corps that lost one starter in
Sidney Rice
and never had its key offseason acquisition in
Percy Harvin
.
That's about to change. The offensive line could have all its starters on the field Sunday for the first time since Week 2, and Harvin could finally make his debut as a Seahawks receiver.
If Harvin plays, it would be against his former team, the
Minnesota Vikings
, adding more drama and intrigue to the moment. ESPN.com Seahawks reporter Terry Blount and Vikings reporter Ben Goessling discuss that, as well as the other storylines for Sunday's game.
Terry Blount:
Ben, obviously, Seahawks fans are going crazy about the possible debut of Harvin and what he can add to the Seattle offense. But let's look at this from the Minnesota side. The Vikings must feel like they got a pretty good deal out of this, don't they?
Ben Goessling:
I think they were pleasantly surprised to get as much for Harvin as they did. Everyone knew they were going to trade him, so for general manager Rick Spielman to get three picks, including a first-rounder, was quite the coup. He's done a good job over the years of creating a market for his players or picks, and the Harvin trade was no different. It will be a while, though, before we know if what they did with the picks worked.
Xavier Rhodes
, whom the Vikings took with Seattle's first-rounder, is being asked to play more zone coverage than he did in college, and he has struggled with that after coming out of Florida State as a press corner. He has the skills to be a good corner, but the learning curve is steep.
While we're on the subject of Harvin, how much of a factor do you think he'll be on Sunday? He probably wants to show up his old team, but will he get the opportunities to do so?
Blount:
If he plays, I think it will be limited -- maybe 10 or 12 snaps, tops. We're talking about a guy who hasn't played in an NFL game in more than a year. Pete Carroll has said over and over they will be very cautious with Harvin. They invested $67 million in the guy. They aren't going to risk everything in his first game back, especially in a game the Seahawks should win whether he plays or not. I know Harvin is fired up about playing against his old teammates, but the coaches want to hold him back a little. They probably want him to get his feet wet and save the real show for the
New Orleans Saints
on the Monday night after Seattle's bye week.
Ben, there seem to be a lot of unknowns about the Minnesota quarterback situation, where the team is headed and with whom it's headed there --
Christian Ponder
,
Josh Freeman
,
Matt Cassel
or maybe someone who isn't there yet. What's the likely answer for the future?
Goessling:
I think in the long run it's probably someone who isn't here yet. Spielman liked Freeman in the 2009 draft -- the Vikings might have drafted him if he were still on the board when their pick came -- and the Vikings are now getting a chance to work with him on a daily basis, though they don't seem to think they need to put him on the field to evaluate him. Cassel is probably a backup at this point, and though Ponder has been better lately, he just isn't consistent enough to count on long term. The Vikings will have a high pick in what looks to be a pretty good quarterback draft, and it would be a surprise if they didn't use the pick to take another crack at getting a franchise QB.
Terry, it's been hard to get a read on the Seahawks' run defense this season. One week, they'll completely shut down an opponent's ground game. The next, they're giving up 200 yards to the Rams or the Buccaneers. Why has it been so inconsistent, and can
Adrian Peterson
exploit it this weekend?
Blount:
That's a great question. I think the Seahawks are better against the run than they were in those two games. But there are times when the front seven get so focused on rushing the passer that they discount the run, get out of position and end up missing tackles. The other problem in those two games was middle linebacker
Bobby Wagner
coming back too soon from a bad ankle sprain and not being able to play up to his usual standard. But last week against Atlanta he had nine solo tackles. The Seahawks know they are facing the best of the best Sunday, so they'll be at their best for Peterson.
Ben, the Vikings haven't won a road game this season. What would it take for them to win this one?
Goessling:
Boy, this one seems tough for the Vikings. As we've discussed, they might be able to run the ball effectively against Seattle -- Peterson had one of his biggest games there last year -- but I don't think Ponder will have much success against that defense. I could see
Marshawn Lynch
giving the Vikings trouble, and if Harvin is in the lineup, there's part of me that thinks he'll have a big game.
Terry, as I said, this matchup looks like a bad one for the Vikings. But time and again we've seen the Seahawks let inferior opponents hang around and nearly beat them. Do the Vikings have any reason for hope this weekend, or do you see this as an easy Seahawks win?
Blount:
I think the Vikings are catching the Seahawks at the wrong time. The offensive line probably will have all five starters back for the first time in eight weeks. If Harvin makes his debut, it will add enormous energy and excitement for the team and the fans. And the Seahawks are coming off their best game of the season, a game in which they looked like the Super Bowl contenders everyone expected to see. This is their last game before the bye, so they will go all out to make sure they get there with their 13th consecutive home victory.
.
March, 11, 2013
Mar 11
1:16
PM ET
By
ESPN.com staff
| ESPN.com
December, 2, 2012
12/02/12
10:00
AM ET
By
ESPN.com staff
| ESPN.com
Join our ESPN.com NFL experts for the NFC clash between the Seattle Seahawks and the Chicago Bears.

Contribute your thoughts and questions beginning at 1 p.m. ET. See you there.


September, 24, 2012
9/24/12
6:34
PM ET
By
ESPN.com staff
| ESPN.com
Join our ESPN.com NFL experts as they break down the Green Bay Packers match up against the Seattle Seahawks.

Contribute your thoughts and questions at 8:30 p.m. ET. See you there.


August, 4, 2012
8/04/12
8:47
PM ET
CANTON, Ohio -- A theme is emerging throughout the ongoing Pro Football Hall of Fame proceedings.

Chris Doleman and Cortez Kennedy in particular have stressed the importance strong parenting played in their lives and, ultimately, in their successes on the field.

They've spoken of parents who held them accountable when it might have been easier let them off the hook.

Doleman's father had one rule: Finish whatever you start. Signing up for a sport or anything meant seeing it through no matter what.

Kennedy thanked his father for forcing him to cut the grass at 5 a.m. after doing a poor job the first time.

Kennedy reflected on his mother forcing him to quit the football team in high school when his grades slipped. When Kennedy's former teammates won a state title without him, Kennedy's mother went to the game and sent a postcard home.

"Wish you were here," it read.

Running away from difficulties might have shielded Doleman and Kennedy from short-term failures, but the lasting lessons would have been negative ones. Hats off to their parents.
June, 7, 2011
6/07/11
1:06
PM ET
The gloves came off and the earplugs went in when ESPN.com sought to identify the toughest venue in the NFL.
The gloves then went right back on, the better to endure the frigid temperatures associated with the No. 1 stadium on our list.
Lambeau Field, home to the Ice Bowl, the Frozen Tundra and even a trend-setting Leap, shrugged off an icy stare from AFC East blogger Tim Graham and a cold shoulder from the NFC North's own Kevin Seifert to emerge as the toughest venue for visiting teams. Four of the six other ESPN.com NFL bloggers ranked Lambeau first on their ballots, lifting the
Green Bay Packers
' hallowed home over Pittsburgh's Heinz Field for the top spot.
Seattle's Qwest Field, where opponents have committed a league-high 104 false starts since 2005, was third. Outdoor venues swept the first five spots and took eight of the top 10. Fifteen venues drew at least one vote.
New Orleans' Superdome was the highest-ranked indoor venue, coming in at No. 6. Minnesota's Metrodome, ranked eighth, trailed only Qwest in opponents' false starts over the past six seasons.
This subject stirred plenty of debate. On the surface, Lambeau didn't seem to need much defending.
"Lambeau Field has the perfect mix of history and the modern feel, while most stadiums are one or the other," AFC North blogger James Walker said after listing Lambeau atop his ballot. "You can feel the ghosts there. The weather makes it tough. And, as with Heinz Field, the local fans do not sell their tickets. Opposing fans do not take over that stadium."
The AFC East's Graham was not impressed. He ranked Lambeau ninth on his ballot. Even the NFC North's Seifert found three venues more daunting (Qwest, Heinz and the Superdome).
"I distinctly remember a mediocre
Miami Dolphins
squad traveling a long way to beat the Packers at Lambeau last season," Graham said. "The Packers have gotten lit up at home a few times the past three years despite having very good talent. I guess I couldn't get past that."
Miami, Minnesota, Cincinnati, Houston, Carolina, Atlanta and Dallas have won at Lambeau over the past three seasons.
Graham ranked Kansas City's Arrowhead Stadium first.
"I realize the Chiefs have gotten destroyed at Arrowhead, too, but it's not the stadium's fault Kansas City has fielded poor rosters," Graham said.
Arrowhead ranked fourth overall, with Chicago's historic Soldier Field rounding out the top five. Both venues offer cold enough weather to freeze out visitors from southern climes. Ragged field conditions in Chicago are another concern.
"Every time I've covered a game there, it has been cold and miserable," NFC South blogger Pat Yasinskas said of the Bears' home. "Teams from the South hate that combination. Take the weather and throw in the legend of Halas, Butkus, Sayers and Payton, and that's an intimidating place to play."
Mile High mystique a memory
The old Mile High Stadium, a fixture in Denver from 1948 until 2001, might have placed first on such a list. The new one showed up on only four of eight ballots to rank 12th.
"The magic has left," wrote AFC West blogger Bill Williamson, who ranked Lambeau first and Arrowhead fourth but did not rank Mile High at all. "It's strange because the air is just as thin as it used to be, but the Broncos have lost their home-field edge. This is a team that lost at home by 45 points last year. It doesn't belong anywhere near this list right now."
Of course, stadiums and fan bases cannot win games by themselves. Roster strength plays a critical role in maximizing whatever advantages a venue has to offer. Remove
Peyton Manning
from Indianapolis, and suddenly Lucas Oil Stadium, which peaked at No. 2 on Graham's ballot and finished 11th overall, becomes considerably more inhabitable for visitors.
"It's an excellent place to watch a game, for sure," AFC South blogger Paul Kuharsky said. "But the volume isn't akin to the RCA Dome and, of course, the weather isn't a factor. The annoying shadows on the occasions the roof is open don't seem to bother players like they do viewers."
Kuharsky did not list Lucas Oil or any AFC South venue among his top 10.
Talking venues, not rosters
Kuharsky ranked the Oakland Coliseum second even though the Raiders regularly endure local television blackouts. He covered the team for the Oakland Tribune in 1995, the Raiders' first year back in the Bay Area from Los Angeles.
"Empty seats and local blackouts aren't what opponents are thinking of when sauced-up fans with spikes through their heads are hovering close behind the visitors bench," he explained.
The NFC East's Dan Graziano adopted a similar line of reasoning. He ranked Oakland sixth while handing his No. 1 vote to Ralph Wilson Stadium in Buffalo, where the Bills' poor talent has left the locals without cover. No other panelist ranked Buffalo in the top 10.
"I've never been colder in my life than when I was at that stadium," Graziano said. "It's cold, windy and nasty. I've always felt that people who succeed there as passers, punters and kickers should be rated higher because of the conditions they must overcome to do so."
Graziano's reasoning makes sense.
"Without speaking for anyone else, my guess is that this place is easy to forget in a survey like this because the Bills have been so irrelevant for so long," he said. "I personally did not factor in the home team in my choices because I think it's a variable. Right now, the toughest place is Gillette Stadium because the Patriots have been so great. But if the Pats stink for the next five years, no way that place makes the 2016 list. But that frigid old dump in Buffalo will still be a miserably unpleasant venue that players will hate to visit."
Seismic Shifts
Qwest Field, built to replace the Kingdome beginning with the 2002 season, has quickly established itself as one of the NFL's most feared stadiums. It joined Lambeau and Heinz as the only venues to receive mention on every ballot.
The
New York Giants
famously committed 11 false-start penalties there in a 2005 game. Upon returning a year later, the Giants asked the NFL to consider whether the Seahawks were piping in noise artificially. They then committed three false starts in the first quarter of the rematch, falling behind 35-3 at halftime. Last season, local seismologists recorded activity coinciding with
Marshawn Lynch
's unforgettable
67-yard touchdown run
there.
While Seifert and I ranked Qwest atop our ballots, the AFC West's Williamson ranked it only 10th.
"I respect Qwest Field and the '12th Man' aura,'" Williamson said. "It's a fun atmosphere, but I think there are tougher spots to play in the NFL. I'd like to see Seattle win more games and build more of a tradition at the field before I rank it as elite."
January, 16, 2011
1/16/11
12:10
PM ET
By
ESPN.com staff
| ESPN.com
Join our ESPN.com NFL experts as they break down the NFC divisional round playoff game between the Seattle Seahawks and the Chicago Bears.

Contribute your thoughts and questions beginning at 1 p.m. ET. See you there.