NFC North:

St. Louis Rams
September, 4, 2014
Sep 4
12:00
PM ET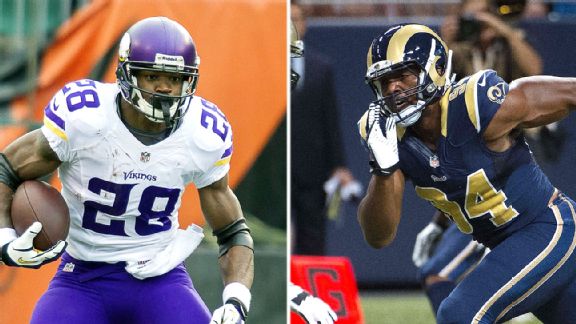 USA TODAY SportsRobert Quinn and the Rams' D-line will get an early-season test against RB Adrian Peterson.
The
St. Louis Rams
and
Minnesota Vikings
enter Sunday's regular-season opener coming off disappointing 2013 seasons in which quarterback stability was not a strong suit for either side.
In St. Louis, the Rams have already changed quarterbacks because of the season-ending knee injury to starter
Sam Bradford
. In Minnesota, many expect it to be a matter of time before the Vikings make the change to rookie
Teddy Bridgewater
for reasons beyond health.
Both teams reside in tough divisions where wins will be difficult to come by. Both are in serious need of a Week 1 victory.
ESPN Rams reporter Nick Wagoner and Vikings reporter Ben Goessling discuss this week's matchup.
Nick Wagoner:
There might be some in the Rams' locker room still having nightmares about
Adrian Peterson
's last visit to the Edward Jones Dome. Clearly, it all starts with him, but how has he looked in camp and in what ways should we expect to see him used differently in the Vikings' new offense?
Ben Goessling:
He's going to be a much bigger part of the passing game than he's been in recent years, or possibly any point in his career. We didn't see Peterson in a preseason game, but the Vikings have been happy with his progress during training camp, saying he looks like a natural pass-catcher and has shown a good understanding of what will be asked of him. If he's going to be on the field in passing situations, of course, he'll be asked to be a bigger factor in pass protection, which hasn't been one of his strong suits. But the Vikings are excited about the chance to get him the ball in space more often and match him up on defensive backs who might have a harder time bringing him down than linemen and linebackers. They are also hoping the change in strategy leads to fewer hits on Peterson and will help prolong his productivity past the age of 29.
Speaking of players who might be causing nightmares for opponents, what kind of a challenge is
Matt Kalil
in for with
Robert Quinn
? He handled him well the last time they met, but how has Quinn progressed in the past two years, and how has he looked under Gregg Williams?
Wagoner:
Kalil is in for one of the most difficult challenges he'll face in this league. Quinn had 19 sacks and seven forced fumbles last year, but there are those at Rams Park who believe he's only scratched the surface of his potential. Quinn has freakish athleticism, which allows him to bend and contort his body in ways most tackles never see while maintaining his speed. He is able to win around the edge more often than not, but he's also developed better hand usage and counters over the past couple of years under the guidance of defensive line coach Mike Waufle. With Williams leading the defense, the Rams want to be more aggressive in all areas, which means he can dial up blitzes, but Williams has never had a front four like this one. That should allow him to get plenty of heat on the quarterback without having to call those blitzes as much. It should make the Rams more multiple and allow Williams to do some unique things with Quinn and his line mates.
While we're on the topic of defense, I've long admired the work of new Vikings coach Mike Zimmer. What is he bringing to the table on that side of the ball, and what are some strengths and weaknesses the Rams' offense will contend with on Sunday?
Goessling:
Zimmer is bringing a more aggressive defense to the Vikings than anything we've seen in the past seven years under the team's old Cover 2 scheme. The Vikings won't be blitzing on every down, by any means -- Zimmer actually hasn't been that heavy of a blitzer as a defensive coordinator -- but when they do, they'll bring pressure from a number of different spots. They'll move rookie linebacker
Anthony Barr
around and occasionally send defensive backs after the quarterback. Zimmer's scheme is predicated on every player knowing how his assignment affects the rest of the defense -- he had a film room built with stadium seating so the entire unit could watch film together -- and his defenses typically don't make many mistakes. How all that will work for the Vikings in Year 1, though, I'm not sure. They're still young in the secondary, where they're counting on
Xavier Rhodes
taking the next step as a cover corner in his second year, and any time they're facing multiple-receiver sets, their cornerback depth will be tested.
Will
Shaun Hill
be able to stress the Vikings' defense on Sunday, though? What do you expect from the veteran in his first shot at replacing Bradford?
Wagoner:
I think Hill is a solid, steady hand, but he's obviously limited in what he can do when it comes to stressing a defense. The good news is the Rams won't be asking him to do too much outside of his comfort zone. This was always going to be a run-first offense, even with Bradford, and nothing has changed in that regard. Jeff Fisher insists the Rams won't scale back the offense for Hill, though that remains to be seen. Instead, they'll ask him to manage the game, not turn the ball over and take advantage of opportunities in play-action. Hill doesn't have the strongest arm, so it will be interesting to see if he can push the ball down the field when the Rams do ask him to throw. And the last time Hill played, he had
Calvin Johnson
to go up and get it. He doesn't have anything remotely close to Johnson here.
Neither of these teams is exactly working with
Peyton Manning
under center.
Matt Cassel
is getting the call for the Vikings. What does he bring to the table, and do you believe going with him over Bridgewater is the right move? How long before Bridgewater takes over?
Goessling:
I think it was the right move, for now. There's a lot of confidence in Cassel from the Vikings' offensive starters, many of whom are veterans who want to win now, and having Cassel allows the Vikings to be patient with Bridgewater. Zimmer talked about that Wednesday morning, saying the Vikings have effectively had Cassel installed as their starter since the start of training camp, and that they won't change their minds after the first interception. I do think we'll see Bridgewater at some point this season, but that's based on a belief the Vikings won't be in the thick of the playoff race at the end of the year. If they are, it probably would be because Cassel helped get them there. In any case, I think he'll have the job as long as he's effective. There's no need to rush Bridgewater.
The Vikings and Rams both took multidimensional receivers in the 2013 draft in
Tavon Austin
and
Cordarrelle Patterson
. The Vikings have big plans for Patterson in Year 2, with Norv Turner taking over as the offensive coordinator. How do the Rams plan to use Austin, and will his role on special teams decrease at all if he's a bigger part of the offense?
Wagoner:
Well, I think it's safe to say Austin doesn't project to produce as much as Patterson entering their second seasons, and that's enough to anger some Rams fans who felt the team gave up a lot to get Austin when it could have stayed where it was and drafted Patterson. But Austin still figures to play a prominent role in the offense. The Rams moved him around a lot during the preseason and training camp, and it wouldn't be a surprise to see him lining up outside, in the slot and even in the backfield. He did all of those things last year, but the Rams could stand to mix up those looks even further this year. He's going to play plenty and will continue to be the team's primary punt returner, though it appears he's ceded the kick return job for now. The Rams and Austin showed some flashes of his potential late in the year before his season ended early because of an ankle injury. They're hoping they can build on that this year, though it remains to be seen that they can.
March, 27, 2014
Mar 27
11:30
AM ET
The
St. Louis Rams
found their replacement for
Kellen Clemens
on Wednesday, agreeing to a one-year deal with
Shaun Hill
to become the team's backup quarterback behind
Sam Bradford
.
While Hill doesn't have the same knowledge of offensive coordinator Brian Schottenheimer's offense that Clemens did, he brings plenty of experience and a solid record of production as a backup.
[+] Enlarge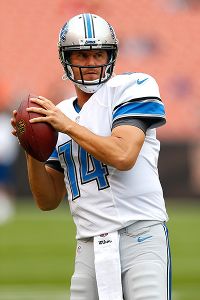 AP Photo/Scott BoehmQB Shaun Hill has played in 34 NFL games since 2005, throwing for 6,381 yards and 41 touchdowns.
ESPN Rams reporter Nick Wagoner and
Detroit Lions
reporter Michael Rothstein discuss what Hill brings to the table in St. Louis.
Wagoner:
The Rams actually began pursuing Hill in 2012 and were unable to get him signed when he opted to return to the Lions for a more lucrative, two-year deal. Although it might have flown beneath the radar, Hill had some success in Detroit. Did the Lions want him back and how much effort did they put into keeping him?
Rothstein:
The Lions definitely had interest in retaining Hill, as the Lions consider him one of the top backups in the NFL. He also has a comfort with starter
Matthew Stafford
and has won games for the team in the past. But the one thing Detroit could not offer Hill is a chance to be any sort of starter, as the Lions hired head coach Jim Caldwell, offensive coordinator Joe Lombardi and quarterbacks coach Jim Bob Cooter simply to help develop Stafford into an elite starter. St. Louis is closer to Hill's offseason home and gives him a chance to potentially start, so that might have been the reason for his move there.
Wagoner:
Interesting that you point to the potential to start, though I suppose that could be as simple as waiting and wondering about Bradford's health. Given his track record, it's fair to wonder if health is going to be an issue for Bradford again in 2014 and Hill is a logical choice to play in his place, especially if it happens early in the season. For what it's worth, I believe the Rams still will look to add a quarterback in the draft, probably sometime in the middle rounds. That's been the plan all along and now Hill can help bring whoever that draft pick is along.
As for Hill, what are some of the things he does well and what are some of his weaknesses?
Rothstein:
Let's start with the negatives. Hill doesn't have the strongest arm and he doesn't have all that much mobility. But he is a smart quarterback and he won't lose games for you off the bench, either. He is a good game manager and can make a lot of the short-to-intermediate throws. He hasn't had to do much of that the past few years thanks to Stafford's durability, so it would be interesting to see where his skills are now if he were placed in a regular-season game situation. Hill was also a good mentor to Stafford, and he could be the same for Bradford.
Wagoner:
I'm glad you touched on that, Michael. A big part of what Hill will do in St. Louis is replace the leadership void left by Clemens. He might not have been a guy you'd want starting games, but Clemens' leadership for a young offense was really valuable. He was instrumental in helping Bradford and he was also really helpful for the team's young receivers and backs.
Although Bradford should be far enough along in his development where he is a leader, what type of locker room presence is Hill and how can he help a potential drafted rookie?
Rothstein:
Going back to what I mentioned earlier, he proved a good mentor for Stafford and is extremely easy to get along with. He has a dry sense of humor but understands how to prepare as a starter and how to be a backup quarterback, so he has worked in either role. He can absolutely be a leader if need be and should be able to fill that void. It was a smart signing by the Rams and the Lions definitely would have liked to have him back in Detroit if the money and situation were right. Hill is a consummate pro and should be able to help in the development of any rookie.
November, 24, 2013
11/24/13
10:00
AM ET
By
ESPN.com staff
| ESPN.com
Join our ESPN.com NFL experts as they break down the Chicago Bears' visit to the St. Louis Rams. Contribute your thoughts and questions beginning at 1 p.m. ET. And, be sure to visit our
NFL Nation Blitz page
for commentary from every game, as well as fan photos and the latest buzz from Twitter. See you there.
November, 21, 2013
11/21/13
10:00
AM ET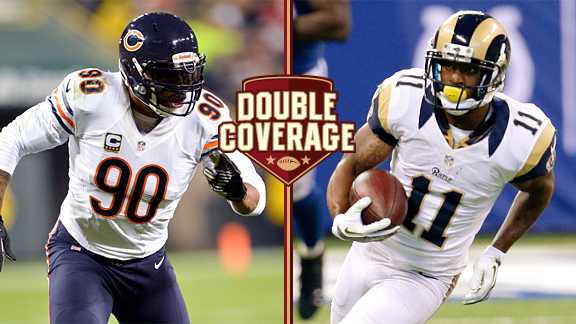 AP PhotosJulius Peppers' Bears and Tavon Austin's Rams will add another chapter to an old rivalry.
The
St. Louis Rams
and
Chicago Bears
have been playing each other seemingly forever. The series dates to 1937, when the Rams franchise was based in Cleveland.
Much has changed over the years, with the Rams moving around before settling about 4 1/2 hours south on I-55.
Sunday's game between the teams will be the 89
th
in their history, but it represents much more for each.
At 6-4, the Bears are still in the hunt for the NFC North Division and, failing that, a potential NFC wild-card berth. The Rams are clinging to their playoff lives at 4-6 and probably need to win out to reach the postseason.
ESPN.com Rams reporter Nick Wagoner and Bears reporter Michael C. Wright take a closer look at Sunday's matchup.
Wagoner:
There's been lots of talk about the quarterback situation up there, something that we can relate to in St. Louis.
Josh McCown
seems like he's done a good job filling in for
Jay Cutler
. What does he bring to the table that allows him to have success, and how do teammates view him?
Wright:
Aside from the immense physical gifts such as athleticism and his ability to make up for whatever limitations he may have in terms of arm strength with anticipatory skills, McCown possesses an engaging personality that makes his teammates play hard for him. Bears general manager Phil Emery in the past has called McCown "a glue guy." Having played for several teams where he gained experience as a starter and worked behind quarterbacks such as
Kurt Warner
and
Jon Kitna
, McCown has taken what he's learned and applied it to his own play while relaying some of those experiences to Chicago's younger players. That's part of the reason McCown is widely considered a fatherly figure in the locker room. McCown's teammates respect him immensely because the veteran knows his role and works just as hard as starter Jay Cutler to be prepared to assume that role when the situation calls for it.
Speaking of backup quarterbacks, this game is certainly going to be a Backup Bowl and
Kellen Clemens
seems to be settling in as the replacement for
Sam Bradford
. What does he bring to the table and how confident is the team in his ability to get it done down the stretch?
Wagoner:
After reading your response about McCown, I was tempted to just copy and paste it and simply sub in Clemens' name where appropriate. Clemens' numbers are about what you'd expect from a backup and fall in line with his career totals. He had pretty much the ideal game you'd want him to have against Indianapolis. He didn't have to throw much, but when he did, he made no mistakes and took advantage of big-play opportunities. What's more, he's completely unafraid to step up in the pocket and take a hit to deliver the ball or pull it down and try to make something happen with his legs. His teammates respect him and it shows in the way they battle for him week to week. To be sure, Clemens is no Bradford, but he has already given the Rams all they want on the field and has been a key mentor in the locker room for his many young teammates.
Switching gears a bit, Chicago's defense has taken an obvious step backward this year. How much of that do you attribute to the change in coaching staff and how much is a product of aging core players on the defense at large?
Wright:
There's a little bit of all of that going on, but the biggest blow to the defense by far has been injuries. The Bears lost starting nickel corner
Kelvin Hayden
for the year before the season even started, then lost franchise defensive tackle
Henry Melton
with a torn ACL only to see his replacement,
Nate Collins
, lost for the season with the same injury. Two-time Pro Bowl cornerback
Charles Tillman
landed on the injured-reserve list due to a torn triceps suffered Nov. 10, and seven-time Pro Bowl linebacker
Lance Briggs
has been out the past three games with a small fracture in a shoulder. Oh, did I mention the Bears also lost starting middle linebacker
D.J. Williams
for the season with a torn pectoral muscle, starting defensive tackle
Stephen Paea
has been in and out of the lineup -- and there's a chance he could miss Sunday -- with a nagging turf toe injury and defensive end
Shea McClellin
missed the past two games due to a strained hamstring? So injuries have destroyed chemistry for the Bears. Considering all the defense has gone through, it's somewhat a surprise it hasn't performed more poorly.
With the Rams coming off a bye, what areas needed the most work during the time away, and is the team confident it was able to sufficiently address them?
Wagoner:
I suppose the simple answer to this question is they needed to work on everything during the bye week, but it's more detailed than that. The Rams are again the youngest team in the league and the thing they struggle with most is consistency. They simply haven't been able to string together good performances. So the mission over the bye was to get healthy, get their young guys extra reps in practice and try to position themselves to follow up a dominant win against Indianapolis with another strong performance this week against the Bears. Most notably, they must find a way to be better week to week on defense. They've had some thoroughly dominant performances surrounded by clunkers. Without Bradford, the margin for error is even smaller, so it falls on the defense to pick up the slack by putting up strong performances every time out. The Rams were riding high after the win against the Colts. They believe they can win every week. We'll see if the bye served them well or killed whatever momentum they might have built in Indy.
On the subject of that defense, the Rams clearly have a tall order coming Sunday. With
Brandon Marshall
and
Matt Forte
and the emergence of
Alshon Jeffery
and
Martellus Bennett
, this seems like as good a group of skill position players as the Bears have had in a long time. Do you view it that way and what does that mean for the team moving forward?
Wright:
Absolutely, it's probably the best they've had collectively in the past 20 years and signifies a shift in philosophy for the organization. Prior to the addition of coach Marc Trestman; the Bears always spent their money to build elite defenses while sacrificing quality on offense. But Emery has made it clear the Bears want to start fielding more explosive offenses while continuing the tradition of strong play on defense. So the Bears have invested heavily on offense in free agency and the draft, and it appears they'll be able to keep the group together for a long time, especially if they can secure Marshall for the long term because his contract is set to expire after next season. So while it appears the Bears are set on offense, they've got to immediately turn the attention back to the defense, which is aging and has several players coming up on the end of their contracts at season's end. Tillman's deal is about to expire and the team must decide if it wants to continue to invest huge cap dollars in defensive end
Julius Peppers
. I'd expect an interesting offseason for the Bears this spring, and a radically changed defense in terms of personnel in 2014.
Last spring, it seemed that a good portion of the Chicago fan base really hoped that somehow
Tavon Austin
would fall to the Bears. He's obviously made plenty of noise recently for the Rams and seems to be ascending. How much is there that we haven't yet seen from this guy?
Wagoner:
Austin is still just scratching the surface of his big-play potential. His breakthrough performance against the Colts was nice, but now it's up to him and the Rams to find a way for him to duplicate it on a more regular basis. Responsibility for Austin's early-season struggles was shared by all parties -- some of it was his struggles to catch the ball and run good routes consistently, some was a product of an offense unsure how to deploy him best -- but it seems things are opening up for him a bit. The Rams have made a more concerted effort to get him the ball down the field in recent weeks as opposed to throwing the short screens and hitches that went nowhere in the first half of the season. That doesn't even include his home run ability as a returner. Austin still has plenty of room to get better, but in the meantime, his breakout game should not only bolster his confidence but open some other things up for the offense.
June, 7, 2011
6/07/11
1:06
PM ET
The gloves came off and the earplugs went in when ESPN.com sought to identify the toughest venue in the NFL.
The gloves then went right back on, the better to endure the frigid temperatures associated with the No. 1 stadium on our list.
Lambeau Field, home to the Ice Bowl, the Frozen Tundra and even a trend-setting Leap, shrugged off an icy stare from AFC East blogger Tim Graham and a cold shoulder from the NFC North's own Kevin Seifert to emerge as the toughest venue for visiting teams. Four of the six other ESPN.com NFL bloggers ranked Lambeau first on their ballots, lifting the
Green Bay Packers
' hallowed home over Pittsburgh's Heinz Field for the top spot.
Seattle's Qwest Field, where opponents have committed a league-high 104 false starts since 2005, was third. Outdoor venues swept the first five spots and took eight of the top 10. Fifteen venues drew at least one vote.
New Orleans' Superdome was the highest-ranked indoor venue, coming in at No. 6. Minnesota's Metrodome, ranked eighth, trailed only Qwest in opponents' false starts over the past six seasons.
This subject stirred plenty of debate. On the surface, Lambeau didn't seem to need much defending.
"Lambeau Field has the perfect mix of history and the modern feel, while most stadiums are one or the other," AFC North blogger James Walker said after listing Lambeau atop his ballot. "You can feel the ghosts there. The weather makes it tough. And, as with Heinz Field, the local fans do not sell their tickets. Opposing fans do not take over that stadium."
The AFC East's Graham was not impressed. He ranked Lambeau ninth on his ballot. Even the NFC North's Seifert found three venues more daunting (Qwest, Heinz and the Superdome).
"I distinctly remember a mediocre
Miami Dolphins
squad traveling a long way to beat the Packers at Lambeau last season," Graham said. "The Packers have gotten lit up at home a few times the past three years despite having very good talent. I guess I couldn't get past that."
Miami, Minnesota, Cincinnati, Houston, Carolina, Atlanta and Dallas have won at Lambeau over the past three seasons.
Graham ranked Kansas City's Arrowhead Stadium first.
"I realize the Chiefs have gotten destroyed at Arrowhead, too, but it's not the stadium's fault Kansas City has fielded poor rosters," Graham said.
Arrowhead ranked fourth overall, with Chicago's historic Soldier Field rounding out the top five. Both venues offer cold enough weather to freeze out visitors from southern climes. Ragged field conditions in Chicago are another concern.
"Every time I've covered a game there, it has been cold and miserable," NFC South blogger Pat Yasinskas said of the Bears' home. "Teams from the South hate that combination. Take the weather and throw in the legend of Halas, Butkus, Sayers and Payton, and that's an intimidating place to play."
Mile High mystique a memory
The old Mile High Stadium, a fixture in Denver from 1948 until 2001, might have placed first on such a list. The new one showed up on only four of eight ballots to rank 12th.
"The magic has left," wrote AFC West blogger Bill Williamson, who ranked Lambeau first and Arrowhead fourth but did not rank Mile High at all. "It's strange because the air is just as thin as it used to be, but the Broncos have lost their home-field edge. This is a team that lost at home by 45 points last year. It doesn't belong anywhere near this list right now."
Of course, stadiums and fan bases cannot win games by themselves. Roster strength plays a critical role in maximizing whatever advantages a venue has to offer. Remove
Peyton Manning
from Indianapolis, and suddenly Lucas Oil Stadium, which peaked at No. 2 on Graham's ballot and finished 11th overall, becomes considerably more inhabitable for visitors.
"It's an excellent place to watch a game, for sure," AFC South blogger Paul Kuharsky said. "But the volume isn't akin to the RCA Dome and, of course, the weather isn't a factor. The annoying shadows on the occasions the roof is open don't seem to bother players like they do viewers."
Kuharsky did not list Lucas Oil or any AFC South venue among his top 10.
Talking venues, not rosters
Kuharsky ranked the Oakland Coliseum second even though the Raiders regularly endure local television blackouts. He covered the team for the Oakland Tribune in 1995, the Raiders' first year back in the Bay Area from Los Angeles.
"Empty seats and local blackouts aren't what opponents are thinking of when sauced-up fans with spikes through their heads are hovering close behind the visitors bench," he explained.
The NFC East's Dan Graziano adopted a similar line of reasoning. He ranked Oakland sixth while handing his No. 1 vote to Ralph Wilson Stadium in Buffalo, where the Bills' poor talent has left the locals without cover. No other panelist ranked Buffalo in the top 10.
"I've never been colder in my life than when I was at that stadium," Graziano said. "It's cold, windy and nasty. I've always felt that people who succeed there as passers, punters and kickers should be rated higher because of the conditions they must overcome to do so."
Graziano's reasoning makes sense.
"Without speaking for anyone else, my guess is that this place is easy to forget in a survey like this because the Bills have been so irrelevant for so long," he said. "I personally did not factor in the home team in my choices because I think it's a variable. Right now, the toughest place is Gillette Stadium because the Patriots have been so great. But if the Pats stink for the next five years, no way that place makes the 2016 list. But that frigid old dump in Buffalo will still be a miserably unpleasant venue that players will hate to visit."
Seismic Shifts
Qwest Field, built to replace the Kingdome beginning with the 2002 season, has quickly established itself as one of the NFL's most feared stadiums. It joined Lambeau and Heinz as the only venues to receive mention on every ballot.
The
New York Giants
famously committed 11 false-start penalties there in a 2005 game. Upon returning a year later, the Giants asked the NFL to consider whether the Seahawks were piping in noise artificially. They then committed three false starts in the first quarter of the rematch, falling behind 35-3 at halftime. Last season, local seismologists recorded activity coinciding with
Marshawn Lynch
's unforgettable
67-yard touchdown run
there.
While Seifert and I ranked Qwest atop our ballots, the AFC West's Williamson ranked it only 10th.
"I respect Qwest Field and the '12th Man' aura,'" Williamson said. "It's a fun atmosphere, but I think there are tougher spots to play in the NFL. I'd like to see Seattle win more games and build more of a tradition at the field before I rank it as elite."