NFC North:

Washington Redskins
November, 7, 2013
11/07/13
7:00
PM ET
By
ESPN.com staff
| ESPN.com
Join our ESPN.com NFL experts for Thursday night football between the Washington Redskins and Minnesota Vikings.
Contribute your thoughts and questions beginning at 8:30 p.m. ET. See you there.
November, 7, 2013
11/07/13
12:00
PM ET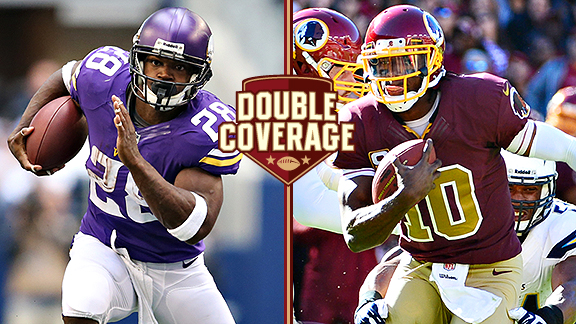 USA TODAY SportsThe running of Adrian Peterson, left, and Robert Griffin III could decide Thursday's game.
The last time the
Minnesota Vikings
and
Washington Redskins
met, it was an electrifying affair between two soon-to-be playoff teams on a picturesque autumn day in Maryland, with
Robert Griffin III
halting the Vikings' comeback attempt on a back-breaking, jaw-dropping 76-yard touchdown run that gave the Redskins a 38-26 win last October.
The circumstances couldn't be more different for Thursday's matchup in the dingy Metrodome. The Vikings are 1-7, with their quarterback situation in chaos and their defense coming off its third last-minute collapse of the season. The Redskins, meanwhile, are in the process of recovering their identity, with Griffin still on the mend from a torn ACL and regaining his comfort with the team's read-option scheme. Washington's defense has been one of only three in the league worse than Minnesota's, undoing some of the work of an offense than can still score at will.
To get you ready for the first game of Week 10, ESPN.com Vikings reporter Ben Goessling and Redskins reporter John Keim got together to discuss the matchup and what's next for two teams in the middle of tumultuous seasons:
Ben Goessling:
John, when we saw these two teams face off last October, the Vikings had no answer for Griffin, and if the Redskins' offense is at full speed on Thursday night, I'm not sure things will work out much better for Minnesota this time. Missed tackles have been one of their biggest problems this season, particularly with their back seven, and they know all too well how dangerous RG III can be when he gets into the open field.
It seems like the Redskins' offense is getting back to what it was before Griffin got hurt. Does he look comfortable running the read-option again, or is it still a work in progress?
John Keim:
Griffin started to look more comfortable running it a couple games ago. He's still not as explosive as he was, but he's also still faster than most quarterbacks. It's more his willingness to keep the ball and be a threat, something he wasn't in the first part of the season. They need him to be a threat running the ball because of how much it opens up the offense; they are just not capable of sitting back and hurting teams throwing the ball without some form of deception. That's because of where Griffin is as a passer. Teams definitely have defended the option a little differently this season, whether more disciplined against it or in terms of focus. The emphasis for almost every team has been on stopping
Alfred Morris
, mainly because teams didn't fear Griffin going wide or they thought he wouldn't run. The read-option success also is determined by the style of the defense; Denver, for example, made it tough to run. The work-in-progress part, too, comes in the passing game. The Redskins loved throwing over the middle after a zone-read fake, but teams started taking that away. So they had to go to more out-breaking routes, which take longer to develop. Also, Griffin is more accurate between the hashes.
I know players have questioned the Vikings' defensive play calls. And I know the offense hasn't helped them. But what are the other reasons this defense has struggled?
Goessling:
In some ways, the Vikings probably shouldn't have been as decent on defense as they were last season. They were only 14th in the league and 30th against the pass, but they survived because their front four got enough pressure on the quarterback to mask growing pains in the secondary. And they had cornerback
Antoine Winfield
playing some of his best football at age 35, while helping their young defensive backs get into position. This season, they haven't gotten to the quarterback consistently -- though they did it until defensive coordinator Alan Williams called off the dogs in the final minutes of the Dallas game -- and they've been burned by teams that can throw screen passes and get rid of the ball quickly. The Vikings' linebackers and defensive backs have missed quite a few tackles. Not having Winfield has hurt them there. So has not having safety
Harrison Smith
, who's out with turf toe. But it's been surprising to see linebacker
Chad Greenway
come up empty as much as he has. He might be covering for other linebackers, and he might have lost a step at age 30, but he's been targeted regularly in pass coverage and has done better work as a blitzer than he has in open-field situations.
Speaking of pass defense, what do you make of the Redskins'? They've been shredded in four games, and in the other four, they've allowed less than 220 yards. Is that because of the quarterbacks they've faced, or are they just that inconsistent?
Keim:
Both. They have faced five of the top seven rated passers and six of the top 11. The result is a pass defense that, if the quarterback has time, will get picked apart. They've done well for stretches -- holding Denver to 14 points through three quarters, for example.
Tony Romo
did not have a good game against them. They're not getting good pressure consistently, but part of the problem is the quarterbacks they've faced excel at reading a defense and unloading the ball quickly. Their safety play has been erratic to say the least. Cornerback
DeAngelo Hall
has been terrific in the past four or five games. Rookie corner
David Amerson
will make plays, but also gives them up; he's very aggressive and will get beat on double moves. He can be set up. The linebackers are inconsistent in coverage. So they have issues, but a lot does stem from the quarterbacks and passing attacks they've faced.
That might not be a problem this week, though.
Christian Ponder
was a first-round pick in 2011. Why does he still struggle so much?
Goessling:
It's been the same set of issues with Ponder for most of his three seasons with the Vikings, which is probably the most frustrating thing about him. We hear plenty about how smart Ponder is, how good he is at digesting a game plan and diagnosing a defense, but when he gets on the field, it's like he's unable to translate that into action. He seems like he thinks too much and doesn't trust himself to throw into tight windows, so he either holds the ball too long or takes off if his first read is covered. He's got good feet, and can extend drives when he runs, but he hasn't learned how to move in the pocket or how to extend plays instead of giving up on his receivers. Nobody expected him to turn into
Aaron Rodgers
or
Tom Brady
, but there are plenty of situations where Ponder could be more effective if he just played with a little more gumption.
The Redskins have been blown out every time they've been on the road this season. What has been their biggest problem away from Dan Snyder's quaint little stadium in Maryland, and do you expect those problems to carry over into Thursday's game?
Keim:
That's a good question. They've played well for stretches on the road. At Dallas, their kick and punt coverage failed them. They hit a point where it looked like they had taken over the game, only to lose all the momentum and then fall by 15 points. At Denver they were up 21-7 in the third and playing outstanding, only to fall apart in the fourth quarter and lose by 24. They were never in the game at Green Bay. Ever. Part of it, perhaps, stems from not having the same level of confidence as last season. So when something goes wrong it snowballs a lot faster. It also reflects the inconsistencies of each unit. There is always a breakdown on offense, defense or special teams that leads to momentum-changing plays. Against Denver, the defense was great for three quarters but the offense responded with weak drives and then turnovers. Against Dallas it was a punt return for a score and then a 90-yard kickoff return. They get punched in the mouth and don't respond, something they fought back against a year ago.
Why do you think the Vikings have gone from a playoff team in 2012 to a one-win team in 2013?
Goessling:
It would be convenient to put it all on the Vikings' three-man weave at the quarterback position, but the issues go much deeper than that. The team gambled on a young secondary developing, and it hasn't worked. The offensive line hasn't been anywhere near as good as it was last season, and -- it's hard to believe we've gone this long without mentioning it -- they couldn't count on
Adrian Peterson
to run for 2,097 yards again. He's fourth in the league with 711, but he hasn't been able to take over games like he did last season. With Peterson having merely a good season by his standards, the Vikings don't have much margin for error. That's why they're 1-7, and that's why I think we're both in agreement they'll be 1-8 after Thursday night.
.
October, 20, 2013
10/20/13
10:00
AM ET
By
ESPN.com staff
| ESPN.com
Join our ESPN.com NFL experts as they break down the Chicago Bears' visit to the Washington Redskins. Contribute your thoughts and questions beginning at 1 p.m. ET. And, be sure to visit our
NFL Nation Blitz page
for commentary from every game, as well as fan photos and the latest buzz from Twitter. See you there.
October, 17, 2013
10/17/13
1:00
PM ET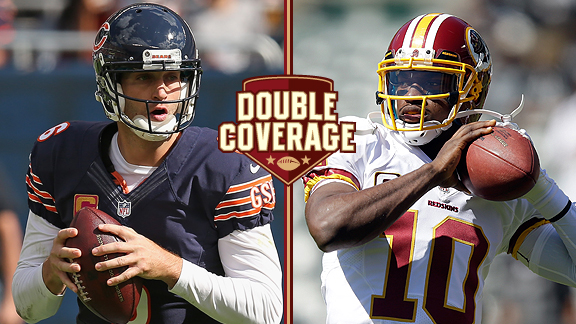 Getty ImagesJay Cutler will use his big targets; Robert Griffin III hopes to count on a stable run game.
The
Washington Redskins
again are facing a must-win game -- that is, if they want to start achieving what many thought they would this season. Otherwise, they're staring at a disastrous season. The
Chicago Bears
don't need to win with the same urgency, but they need to keep pace with Green Bay for first place in the NFC North.
There's no doubt quarterback
Jay Cutler
wants a better showing than what he provided the previous time he faced Washington. Redskins corner
DeAngelo Hall
made the Pro Bowl after the 2010 season in large part because of his four interceptions off Cutler in the road win.
The Bears have not played in Washington since Dec. 6, 2007, when the emotionally charged Redskins, playing shortly after the death of safety Sean Taylor, won 24-16.
This also will be a reunion between Cutler and Redskins coach Mike Shanahan, who drafted the quarterback in Denver in 2006. Cutler threw for a career-high 4,526 yards in his last season with Shanahan (2008). The Redskins tried to trade for Cutler before the 2009 season.
ESPN.com Redskins reporter John Keim and Bears reporter Michael C. Wright take a look at the matchup.
John Keim:
The Bears have a strong-armed quarterback who has some big targets. And the protection seems pretty solid. How dangerous is the Bears' passing game right now, and is this just about talent?
Michael C. Wright:
John, it's a combination of talent and scheme. The Bears prioritized protecting Jay Cutler when new coach Marc Trestman took over. So they went out and signed left tackle
Jermon Bushrod
and left guard
Matt Slauson
in free agency, and drafted right guard
Kyle Long
and right tackle
Jordan Mills
. The Bears also added
Martellus Bennett
to give them a threat down the middle and somewhat of a mismatch against safeties and linebackers. The club already possessed weapons outside in
Brandon Marshall
and
Alshon Jeffery
and in the backfield with
Matt Forte
. So the Bears used a combination of additions and Trestman's West Coast scheme, which emphasizes getting the ball out of Cutler's hands quickly, to get to where they are today.
It's difficult for me to characterize the passing game as "dangerous" right now because we haven't yet seen the Bears put together a full game in that department. What I will say is that Cutler has more weapons at his disposal than he's used to, and he's playing a much more efficient game now than he has in the past.
Sticking with quarterbacks, RG III clearly isn't the same guy, so I've got to ask whether the Redskins are trying to find a way to compensate for that? And if so, what are they doing?
Keim:
That's a tough question to answer because there have been too many games in which they had to change their offense just because they had fallen far behind, especially in the first couple of games, when Griffin was not going to run the ball. He is running much better, so they're now back to what they used to do; it's just a matter of executing.
Griffin ran the zone read-option more Sunday night at Dallas than he had all season -- the Cowboys' playing a lot of man coverage helped open the outside for him. What they need to do is stay in games and run the ball. Their offense looks different at times because they can't use as much play-action, thanks to game situations. They're so much better when they're running well and using play-action. Griffin can operate in the pocket, but it's not what he does best. And he's shown signs of growth in terms of keeping the ball alive and finding receivers and not just running.
I wonder if the Bears will be able to pressure him. I know the Bears have had injuries up front, but it still seems like
Julius Peppers
is a bit too quiet. Is he still a dangerous player?
Wright:
You want to say Peppers is, because it's hard for me to believe he has all of the sudden lost it after back-to-back seasons of 11 sacks or more. But we might finally be seeing Peppers on the decline. In four career games against the Redskins, Peppers has registered just two sacks. So far this season, he's posted only one, which is a concern, considering Peppers collected 3 1/2 sacks in 2012 through the first six games. Certainly, the injuries inside at tackle play a role in Peppers' lack of production. The Bears lost two starters at defensive tackle in franchise player
Henry Melton
(six sacks last season) and his replacement,
Nate Collins
. The club also has played without
Stephen Paea
, who is fighting through turf toe. That has forced the Bears to play starting defensive end
Corey Wootton
inside at tackle, along with a host of unheralded players such as
Landon Cohen
, who signed two days before the club faced Detroit on Sept. 29, and surprisingly played in that game. I think Peppers is still dangerous, but he certainly doesn't look the part now.
It looked to me like
Alfred Morris
was a big part of RG III's success last year, but early on he seemed to struggle. I know lack of opportunity played a part in that because the Redskins were behind. But do you see Morris sort of regaining his form moving forward because he looked better against the Cowboys?
Keim:
I like Morris a lot and it's funny because I didn't think he looked that great against Dallas, with the exception of a few runs (including his touchdown). There's no doubt the coaches want him carrying the ball more, and his main issue this season has been the lack of carries. He's averaging 5.2 yards per carry, but has yet to carry more than 16 times in a game (he had three such games last season). Morris is a better runner than a year ago; a little quicker and more knowledgeable about where to hit the hole. With his patience and vision, he does an exceptional job setting up his blocks. But he needs more work -- and unlike last year, the Redskins have been unable to establish the run early in games. That must change.
The Redskins also need to make more big plays. And I see that the Bears have allowed 29 pass plays of 20 yards or more and have a new middle linebacker this week. Where do you think the Redskins can take advantage?
Wright:
Not only do they have a new middle linebacker, John, but the Bears will line up rookie Jonathan Bostic, a second-round pick. So the Redskins might be able to take advantage there. Bostic turned heads in the preseason with big hits and a couple of impressive plays. But he made too many mistakes, which is why the Bears opted to start
D.J. Williams
at that spot in the first place. As far as the explosive plays in the passing game go, I think they're a function of the team being unable to generate pressure with the front four, which in turn leaves the secondary in coverage for way too long. Chicago's injury situation up front likely means it won't improve the pass rush sufficiently to help out a secondary that has struggled some at the safety position with
Major Wright
and
Chris Conte
.
Let's turn to the Redskins' defense. It pretty much shut down Dallas' high-powered offense Sunday. What can Chicago expect to see?
Keim:
Good question, because the defense was dreadful for the first three games and in the fourth, it faced
Matt Flynn
playing behind a bad line in Oakland. Sunday night was a bit of a surprise, but in reality it's how I expected the defense to play entering the season. They have the talent to be middle-of-the-road, capable of a good game and also a clunker if the matchup is bad. They have used three corners and one safety in the secondary quite a bit, adding speed and giving them the ability to disguise coverages a little longer. They will blitz, from the slot in particular. They will run stunts up front -- linebacker
Brian Orakpo
, end
Stephen Bowen
and nose tackle
Barry Cofield
work well together. They will use five linebackers at times in obvious pass situations, with
Ryan Kerrigan
in a four-point stance. They need to play out of their base defense because their main goal is to stop the run. Their secondary has done a better job lately of limiting big plays, but everything starts with their ability to stop the run. If Forte has a big game, I have a hard time seeing the Redskins limiting this offense enough to win the game.
.
September, 22, 2013
9/22/13
12:37
PM ET
By
ESPN.com staff
| ESPN.com
Join our ESPN.com NFL experts as they break down the Detroit Lions' visit to the Washington Redskins. Contribute your thoughts and questions beginning at 1 p.m. ET. And, be sure to visit our
NFL Nation Blitz page
for commentary from every game, as well as fan photos and the latest buzz from Twitter. See you there.
September, 19, 2013
9/19/13
2:00
PM ET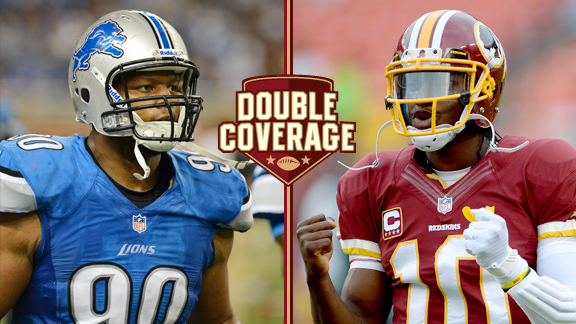 Getty ImagesWill Ndamukong Suh and the Lions defensive line cause Redskins Robert Griffin III issues on Sunday?
The
Washington Redskins
are dangerously close to letting yet another season of big expectations stumble into one of grand disappointment. And the season is only two games old.
If this isn't a must-win for them, it's awfully close. The
Detroit Lions
need a win after a close loss to Arizona -- and to rebound from their disappointing season a year ago. A 1-2 start will not help restore confidence in the Motor City.
Should we mention that Detroit has never won in Washington? The Lions are 0-21 in the nation's capital (and its suburbs).
ESPN Redskins reporter John Keim and ESPN Lions reporter Michael Rothstein break down the key elements to this matchup.
Keim:
Why don't we start up front defensively because that seems to be the Lions strength. The focus on Suh often centers on his extracurricular activities, but how well has he played and why is this unit strong up front?
Rothstein:
John, he's been nothing short of dominant thus far. While he may not have the statistics to back that up, his disruption has been the reason for both of linebacker
DeAndre Levy
's interceptions and he commands a presence in the middle of the defensive line that must be accounted for. Unfortunately for Suh, even in talking about his dominance, his other transgressions pop up because he negated one of Levy's interceptions going for a touchdown with his block on
John Sullivan
that resulted in a six-figure fine. But the Redskins will have to double-team Suh or he'll cause major havoc for Washington's offense.
Sticking with that, the biggest question around Washington is with Robert Griffin III. Considering Suh's dominance, how mobile is RG III these days and will a dominant defensive line cause him major issues?
Keim:
Everyone says he's mobile (and healthy), but we haven't seen it -- the mobility that is. Maybe it's the brace. Green Bay did a terrific job pressuring him up the middle with blitzes and keeping him contained on the outside. He's seeing five-man or more rushes on 42 percent of his drop-backs compared to 21 percent a year ago. The interior of the line is not built to handle big, strong defensive tackles, and that's where Washington could have a problem. This group is better on the move. If the Lions can pressure him with just the front four, the Redskins are in trouble. The question will be whether the Redskins can get their run game going against this group. They're so much better when they can then use play-action passes.
Speaking of which, it sounds like the Redskins aren't the only team with defensive backfield issues. Why have the Lions struggled in the back end?
Rothstein:
They've struggled back there -- kind of. A lot of the focus has been on rookie
Darius Slay
, who has been replaced in his first two NFL games by veteran
Rashean Mathis
. So there are some problems when Slay is in, but with a rookie, that should be expected. The rest of the defensive backfield has been decent.
Chris Houston
is playing well thus far opposite Slay/Mathis, defending three passes, making 11 tackles and not being beaten much by opposing receivers.
Bill Bentley
has had some issues at nickel, though, and it wouldn't be shocking to see teams go at him if Mathis plays more to see if they can lull him into a pass interference call or two.
Speaking of defense, what is going on with Washington? More than 1,000 total yards allowed in the first two games? That almost has to be more concerning than anything related to Griffin, right?
Keim:
Very much so. The offense will come around and showed legitimate signs of life last week, despite the lopsided score. The same can't be said of the defense. It misses too many tackles, and it's not sound against the run. Linebacker
London Fletcher
is not getting off blocks to make tackles, and the defense surrenders too many big plays. Other than that? Things are terrific. The Eagles and Packers forced the Redskins into a lot of nickel looks, and they're struggling to stop the run. Teams are also forcing the Redskins to prove they can tackle in space, and thus far they've failed. They start two rookies in the secondary (assuming they open in nickel), and that's led to breakdowns in communication or technique. Corner
David Amerson
takes his eyes off his work at times. I like his talent, but he's still growing as a player. Safety
Bacarri Rambo
would not have started if they had a legitimate option at free safety. He's made mistakes too. But at least they can improve. I'm surprised how bad this group has played. I thought with
Brian Orakpo
returning they would do better (playing fine down the stretch last season). They need to get a lot of pressure from their four-man rushes or else risk exposing a weak secondary.
I'm guessing the Lions offense is excited to face this group. How dangerous can this group become, and what has
Reggie Bush
added?
Rothstein:
If the Lions can hold on to the ball -- currently the league leaders in drops with eight -- they are extremely effective. Adding Bush to the team gives Detroit two players who can score any time they touch the ball along with
Calvin Johnson
. The question for this week is whether Bush will play. If he is able to come back from a helmet to the knee against Arizona on Sunday, Washington will have some major problems. If not, the Skins will likely do well to focus on Johnson and make
Joique Bell
and the other Lions options beat them. It will be interesting to see how Washington handles Detroit if Bush is healthy. Thus far, opponents have dropped deep against Johnson and given Bush space, but I'd imagine as he continues to be effective, that'll change.
I'll close with this question: What's the vibe around the Washington locker room? I'd imagine there is a bit of surprise of the predicament the team is in. To put it succinctly, is this team just struggling or does it have a dominant performance in it?
Keim:
Michael, the vibe is that they've been here before, having gone 3-6 a year ago only to win seven straight. But if they're honest with themselves, they would admit this is a lot uglier because they haven't been in either game and the defense could have given up 50 last week. Last year, there was only one game in their first nine that they didn't have a chance to win (Pittsburgh). They are surprised, but I think they understand how to handle this situation. It was a resilient group a year ago, and it needs to prove it again now. I think the offense has a dominant performance in it. I'm not sure what the defense has, other than a desire to not face a high-powered offense. As long as Griffin keeps getting his game back, the offense will be fine. There's no simple solution for the defense. It needs to create turnovers and get lots of help from the offense. So one side of the ball is struggling mightily, the other side is working through some rust.
September, 12, 2013
9/12/13
1:34
PM ET
ASHBURN, Va. --
Brandon Meriweather
remains upbeat and confident. He also remains healthy and in line to start Sunday, provided he does not have yet another setback.
Meriweather practiced Wednesday in full for the first time since the last workout before the preseason finale. He said his groin, which kept him out of Monday's loss to the
Philadelphia Eagles
, felt good.
Washington Redskins
coach Mike Shanahan said Wednesday that he expects Meriweather to play at Green Bay, barring another issue.
Meriweather
"Right now I feel great," Meriweather said. "Whatever coach says that's what I go by. He's a smart guy, he knows his players, he knows our movements. He knows us very well so if he feels I'm ready to play I'll go play.
"I try not to get my hopes too high or too low. I do what they ask me to do and form there I let coach make the decision."
With Meriweather, it's always about "right now" because of how little he's played since coming to Washington. Meriweather has played 45 snaps since joining the Redskins last year. He worked out before the Eagles game, but his groin, which he hurt in a Sept. 2 practice, didn't feel 100 percent.
The Redskins could use him Sunday against the
Green Bay Packers
and its high-powered offense. Defensive coordinator Jim Haslett hopes that's the case, though he'll keep his fingers crossed for now.
"I'd love to have him back," Redskins defensive coordinator Jim Haslett said. "I haven't seen him play for so long. I'm not sure. But hopefully -- I said the same thing last week and he didn't play so we'll see."
The Redskins used corner
E.J. Biggers
at safety against the Eagles, wanting his speed versus a team that posed a major threat in the open field. The problem Washington's defense had in the first half was more in the front seven than the back four, with big holes created in part by the Eagles' scheme.
Meriweather would add a strong safety with speed and experience at the position. He also knows that a team can only hang onto a player for so long before they seek alternatives.
"I can't say I feel pressure because I believe everything happens for a reason," Meriweather said. "Apparently it wasn't meant for me to go out there last week. I just hope I'm ready this week. … It's been very frustrating. I told you all last year the worst thing is sitting there watching your team go through something and you're just sitting there watching."
And he said he's confident that his knee is fine.
"I'm confident in my trainers, I'm confident they did everything possible to get me ready," said Meriweather, who underwent ACL surgery on Dec. 15. "I'm confident my coaches kept me out long enough and put me in at the right time. I'm confident I know the playbook well enough and I can go out there and perform whatever the coaches ask."