Free Head Exam: Detroit Lions
October, 18, 2010
10/18/10
1:45
PM ET
After the Detroit Lions' 28-20 loss Sunday at the New York Giants, here are three issues that merit further examination: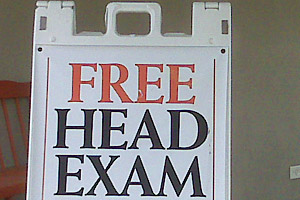 Kevin SeifertThe Detroit Lions take their turn in the examination room after their loss to the Giants.
Shaun Hill's fractured forearm, combined with an upcoming bye week, provide strong indication that quarterback Matthew Stafford (shoulder) will start the Lions' Oct. 31 game against the Washington Redskins. I don't think it's too dramatic to say that game will mark the beginning of a critical period in Stafford's career. Injuries sidelined him for six games last season and for all but a half of this year. That means he's been unavailable for 11 1/2 of his first 22 NFL games. Players don't usually have control over injuries, but one way or the other, Stafford is going to have to stay on the field. He needs to demonstrate the Lions can rely on him in both the short and long term.

Brandon Pettigrew ranks second among NFL tight ends with 33 receptions, a figure I'm not sure many of us thought we would see from a so-called blocking tight end -- especially one returning from a torn anterior cruciate ligament. I've seen enough to believe he could be an elite tight end, but to do so, he's going to have to start converting some of the more difficult catches he's currently missing on. I can count at least four or five passes that, one way or the other, slipped out of his hands. Sometimes you've seen a defensive back get his hand on the ball. Other times, like Drew Stanton's high throw in the fourth quarter Sunday, was a tough opportunity. But to be an elite tight end worthy of a first-round draft pick, you want to see him come down with some of those balls. I'm sure he would agree.

I know bye weeks can sometimes skew statistics, but here is the bottom line for the Lions: Through six weeks this season, they are the NFL's most penalized team. Their 59 penalties are four more than the next team, the Oakland Raiders, and 28 more than the NFC North-leading Chicago Bears. Penalties don't always have a direct correlation between wins and losses. But when your talent level is still below most of your competitors, you can't afford to give opponents any extra ammunition. It's also fair to note the Lions have lost four games by eight or fewer points. Close games are often decided by mistakes.
And here is one issue I don't get:
Are the Lions going to get anything from middle linebacker DeAndre Levy? Thus far his season has been a washout. Again, players aren't necessarily at fault for injuries. But a variety of ailments have now forced him to miss five of the Lions' first six games this season. Three other players -- Landon Johnson, Ashlee Palmer and Isaiah Ekejiuba -- have seen action at the position. Levy's backup was supposed to be Jordon Dizon, but a preseason injury quashed that plan. I'm not sure what the Lions could have done differently in this situation, but as with Stafford, they really need Levy to demonstrate some staying power in the second half of the season.