Proposed kickoff rules and the NFC North
March, 17, 2011
3/17/11
2:00
PM ET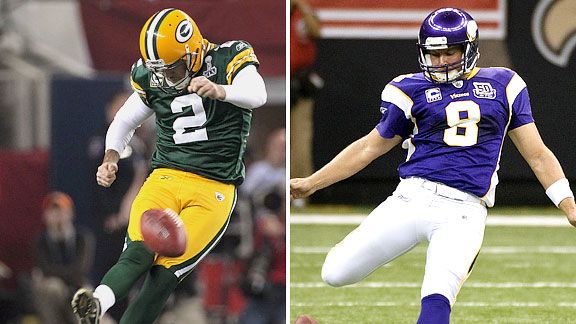 Getty ImagesWith kickoffs moved to the 35-yard line under proposed rules changes, Mason Crosby, left, and Ryan Longwell could find it easier to record a touchback.
Each spring, the NFL's competition committee proposes a series of rule changes that typically reside in the periphery of an actual game's flow. You might see a proposal for streamlined clock operation, or the elimination of a rarely called penalty, or if the committee is feeling crazy, a new definition for "down by contact."
This year, however, at least one of the proposals could dramatically impact the game if approved as written. Not only could it eliminate the kickoff return as we know it, but it will impose a considerable change of thinking within the NFC North.
As explained by committee chairman Rich McKay, who is also the
Atlanta Falcons
' president, the rule would impose these primary changes:
Moving the kickoff 5 yards, from the 30-yard line to the 35.

Eliminating wedge blocking

Limit the head start that kickoff coverage men can take to 5 yards.

Moving touchback placement from the 20-yard line to the 25
McKay acknowledged the rules would be "a pretty major change." Aaron Schatz, who closely follows special-teams play for his work at Football Outsiders,
wrote
: "It would be a huge transformation of the way the NFL plays special teams."
Three-quarters of NFL teams must approve the proposal in order for it to be enacted, but that seems likely given the NFL's current emphasis of health and safety. (Injury rates on kickoffs are traditionally high.)
I realize that many of you might not consider the kickoff a key factor in wins and losses. After all, the
Green Bay Packers
won Super Bowl XLV with a pretty pedestrian kickoff return game and the second-worst kickoff coverage in the NFL, based on average drive starts after kickoffs.
But I don't think anyone would argue how critical kickoff returns were to the
Chicago Bears
' NFC North title last season, and beyond that, this rule could impact our division in a number of ways.
First, it would relieve all four teams from substantively addressing a 2010 weak area if they don't want to. Take a look at the charts to the right. The Bears, Packers and
Minnesota Vikings
had three of the worst five kickoff coverage teams last season as measured by the average drive start of opponents. The
Detroit Lions
were the division "leaders" at No. 19.
We've discussed the Vikings'
reluctance to re-sign
place-kicker
Ryan Longwell
, and it's also a fact that the Packers haven't done anything but tender place-kicker
Mason Crosby
. This rule change should lower the need to factor in kickoff distance into roster decisions for place-kickers.
Last season, for example, Longwell's average kickoff traveled about 63 yards in the air. A 63-yard kickoff from the 35-yard line puts the ball at the opponents' 2-yard line. And even if cover men can't get their usual 15-yard head start, they still have 5 less yards of field to cover.
And on the occasion when a kickoff sails into the end zone, returners will have even less incentive to bring it out. The risk would now be 5 yards greater than in previous seasons. McKay said that portion of the rule was implemented to balance out the advantage it gives to the kickoff team, but I'll be fascinated to see if more kickoffs into the end zone result in touchbacks. Or, as Schatz points out, kickoffs could turn into long punts, with teams trying to pop them up and then cover to pin opponents close to their goal line.
"Our feeling is that we want to change the entire play," McKay said "And this is one way we think we change the entire play."
[+] Enlarge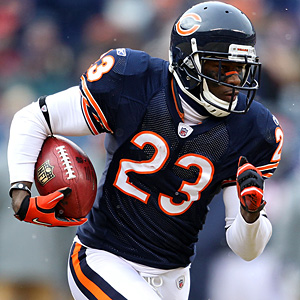 Andy Lyons/Getty ImagesProposed rules changes on kickoffs could lessen the impact of Chicago's Devin Hester.
Meanwhile, you wonder whether the Bears will lose what was a valuable weapon for them last season. No NFL team started their drives after kickoffs in better position than the Bears, thanks to the return duo of
Danieal Manning
and
Devin Hester
, along with the blocking schemes of coordinator Dave Toub.
McKay suggested the net result of the rule will likely leave the league's average drive starting point in a similar range, but I wonder if outliers will be brought to the middle. In other words, can the Bears still stand out if they can't wedge block, if they have a shorter field and tighter confines? If their production is pulled back to the middle, and the threat of a long return is lowered, it's a net loss for the Bears.
The same could be true for the Lions, who found a valuable weapon last season in kick returner
Stefan Logan
, whose 26.8-yard average helped the Lions to an average drive start of the 27.1-yard line after kickoffs . The Vikings and Packers, meanwhile, both had good drive starts after kickoffs, but neither entered the offseason with an established returner.
Does either team have that position ranked high on its draft/free-agent priority list? Some of you have suggested the Packers target a returner the same way the Bears did with Hester in 2006, making the commitment of a high draft choice if necessary to secure a game-breaker. But would that be necessary under the new rule? Part of me wants to say no, but I also wonder if more restrictive rules would in fact put a higher premium on finding a player with the rare abilities to stand out from the new paradigm.
Because, in the end, no one knows where this will go for sure. Those of us who are interested in special-teams play will find a bit of a wild west atmosphere whenever NFL games resume this fall (
or this winter
).
"We want to see what these changes will bring," McKay said. "But I couldn't tell you that I can predict for you because there are a lot of smart special teams coaches who will come up with ways [to combat it]."