Packers: Using rookies to raise urgency
July, 25, 2012
7/25/12
2:15
PM ET
Mike McCarthy was droning on Wednesday about fundamentals and practice structure and conditioning tests when suddenly he let loose with a clearly planned message that caught my ear and made me wish I would be at the
Green Bay Packers
' opening days of training camp. (Alas, I won't. My full CampTour'12 schedule will post in a few hours.)
Asked about the difference between this year's training camp compared to last year's, which began shortly after the end of the NFL lockout, the Packers' coach took a shot at his rookie class and suggested the Packers' newest players should buckle their proverbial chin straps.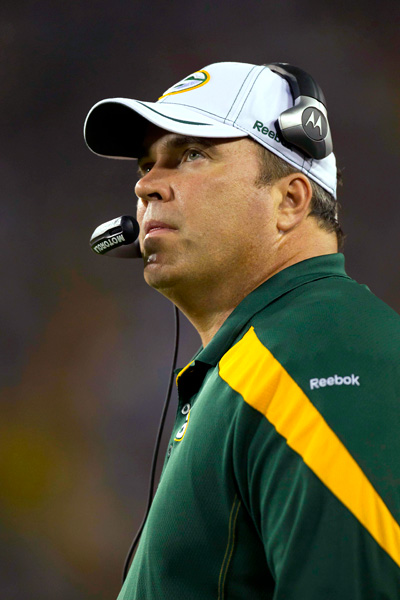 Jeff Hanisch/US Presswire"Complacency, relaxing, any type of comfort is really not the element that you want as part of your training camp," coach Mike McCarthy said.
"It's a totally different feel to training camp," McCarthy said during his annual pre-camp news conference. "And frankly it's a feel that I'm concerned about. It's something we'll talk about as a football team.
"My recollection of the rookie class coming in here last year [was] you had a group that was sitting on pins and needles. They hadn't gotten a chance to come in during the offseason. They're getting their playbook, and I mean, they were so anxious and so ambitious and knew that their time clock was a lot smaller than in recent years. I thought that brought a lot of enthusiasm and urgency to our training camp last year. I thought it was a key to us having an excellent training camp.
"My concern, frankly, is this rookie class came in here [for spring practice] and things were pretty smooth. … The feel was, this ain't so hard. Pro ball maybe isn't what I thought it was going to be. That's something that will not be the case when we hit the field come tomorrow. Complacency, relaxing, any type of comfort is really not the element that you want as part of your training camp. We'll make sure it doesn't exist."
I have no doubt that some of the Packers' rookies had moments of nonchalance this spring. It happens every year for every team, at one point or another. But I took McCarthy's words as a broader attempt to raise the temperature for a team that is ripe for complacency after following a Super Bowl victory with a 15-1 record last season.
It's McCarthy's job to steer clear of all that. But there's no sense in taking shots, directing hostility or playing mind games with established veterans. Most of them would have seen right through it. After all, McCarthy is entering his seventh season as the Packers' coach and his methods are well known.
The Packers' rookies? Not so much. They're easy targets. If you're the coach, you ride them and watch the resulting energy push the rest of the team. Makes sense to me.