Emotions still raw for Aaron Rodgers
November, 5, 2013
11/05/13
4:00
PM ET
GREEN BAY, Wis. --
Aaron Rodgers
just wanted to be back on the sidelines with his teammates on Monday night after he fractured his collarbone against the
Chicago Bears
.
What the
Green Bay Packers
quarterback got in return surprised him.
Most in the crowd of 78,122 gave Rodgers a rousing ovation, something that was still with him on Tuesday, when he
confirmed the details of his injury
during his weekly radio show on ESPN 540 Milwaukee.
"I will say this: This is a rough game; we put our bodies on the line, we do it because we love this game," Rodgers said on his show. "But when I walked back out on that field – I'm getting a little choked up here just thinking about it – but that was one of the top-five moments of my career there. The reception I got from the fans was, it was, it was pretty special. So … yeah."
When asked a follow-up question, Rodgers said, "Let me catch myself here."
[+] Enlarge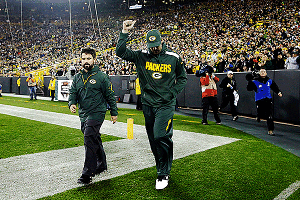 AP Photo/Morry GashThe support fans showed Aaron Rodgers on Monday night didn't go unnoticed by the Packers QB.
Here are some other highlights from Rodgers' radio show:
When asked the possibility of trying to play this week, he said
: "It's the balance of pain tolerance and putting yourself at a greater risk. I've always dealt with the pain and put my body at risk – whether that's playing with a knee condition that I had in high school and junior college and at Cal, or the various injuries we've had over the years. We all deal with them, and it's a matter of what you can play with from a pain-tolerance perspective and then also, we're talking about bones. You can put yourself at greater risk for a worse injury if you go back out there. But I think most people know my personality and I'm going to try and be back as quick as I can."
On a timetable for his return:
"I think we'll know more as the week goes on, but I do have a fractured collarbone; that's a significant injury. We'll know more about the severity and the timetable later this week. But there's nothing that has been talked about with the doctors, myself, anyone who represents me. That's why sometimes these reports come out that are a little bit silly because there has not been any timetable that has been talked about with me, the docs, coaches, anybody who represents me, any of my family members. So, we're holding out hope that this will be a quick heal, but it is a significant injury."
On the hope that it is a short-term injury:
"It's a difficult injury because there's not a specific type of rehab you can do for this. It's not like you can get a massage or stim or the different various treatments that they have out there that can try to get you back quicker. You just have to wait for the bone to heal. That's going to be the frustrating part, but I feel like I've been a quick healer in the past and am hopeful this will be on the short end of whatever prognosis comes up."
On where the Packers go from here:
"I think the key for all of us to remember is that this is a next-man-up mentality that we have for our team. I've said it numerous times on this show. Whether it's Clay [Matthews] or myself or James [Jones] or Randall [Cobb], we need to have faith in the next-man-up mentality. Seneca [Wallace] took probably four snaps with the first-team offense last week. So he's going to get a chance to go through the reps with the first team, and I think we've got a lot of confidence in him. That's why we brought him in. He's been throwing it really well in practice, he's very bright, this will be a good chance for him to go through the week as the guy and get ready to play the Eagles and just … obviously the players are behind him, but as a fan base [we] need to get behind him as well."