MIAMI -- It was interesting to see Carolina defensive end Julius Peppers grimacing on the NFC bench Sunday night at the Pro Bowl. He appeared to have suffered a mild leg injury -- an auspicious start to an offseason journey that promises to be wild.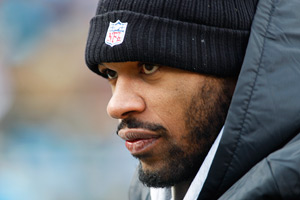 AP Photo/Nell Redmond
Unhappy with his contract situation in Carolina, could Julius Peppers end up in the NFC North?Peppers is scheduled to be an unrestricted free agent, and Peppers agent said over the weekend that he isn't expecting a long-term deal to materialize with the Panthers. A franchise tag would likely cost the Panthers more than $20 million, a prohibitive cost for most teams.
So George of Florida wondered: "Now that it appears that Julius Peppers will probably be a free agent in the offseason, what are the odds that the Bears will pursue him to bolster their defensive line?"
Theoretically, we I think we can expand this conversation to more than one NFC North team. With the expected loss of pending free agent Adewale Ogunleye, and the death of Gaines Adams, the Bears certainly have an opening for a pass-rushing defensive end in their 4-3 scheme.
But what about Green Bay? Last week, we discussed the possibility -- however fantastical -- of San Diego's Shawne Merriman making his way to the Packers. But what about Peppers as a replacement for Aaron Kampman in the Packers' 3-4 scheme?
Acquiring Peppers certainly wouldn't follow the Packers' recent personnel practices under general manager Ted Thompson. But last season, Peppers expressed interest in playing as a 3-4 linebacker. It's not often that a player successfully makes that transition in the latter stages of his career, but Peppers might be the type of exceptional athlete who could do it.
As for the Bears, I think it's something they would have to give strong consideration to given their lack of other available assets. You typically need to take pass-rushing defensive ends high in the draft, but the Bears don't pick until the early portion of the third round. They don't want to give up any additional draft picks to move up, and so paying Peppers a truckload of money might be one of their few legitimate options.
It's hard to know exactly where the Bears are headed defensively until they hire a defensive coordinator, but we know they will keep the basic concepts of the Tampa-2 scheme. Peppers would be a great fit regardless. Will it happen? I wouldn't rule it out.