NFC North:

2010 MNF Vikings-Jets
October, 12, 2010
10/12/10
3:45
AM ET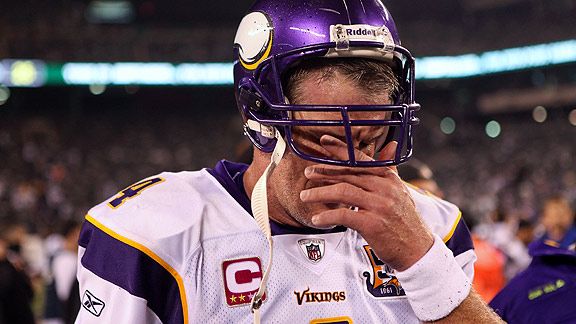 Andrew Burton/Getty ImagesBrett Favre and the Vikings' offense never really clicked until late in the third quarter.
EAST RUTHERFORD, N.J. -- As they stood together on the sideline Monday night,
Randy Moss
turned to
Brett Favre
and offered a suggestion. Favre had put too much air on some of the early deep passes he threw in Moss' direction. It wasn't necessary, Moss told Favre. He prefers straighter passes that allow him to run for the ball rather than settle underneath it.
"I was like, 'That's good to know,'" Favre said. "We haven't had that much practice time together."
This is what happens when you try slapping together a fantasy team on the fly. You have two future Hall of Fame players standing on the sideline during a nationally televised game exchanging information they should have nailed down months ago. You have periods of buffoonery and moments of explosion.
And ultimately, the
Minnesota Vikings
have a 1-3 record to show for it. Their
29-20 loss
to the
New York Jets
was a perfect example of the difference between a collection of elite players and an elite team.
I'm sure you'll hear a convenient explanation through the airwaves over the next few days. It would go something like this:
Recent off-field allegations against Favre distracted both the quarterback and his offensive teammates, leading to a miserable start that left them scoreless until 2 minutes, 17 seconds remained in the third quarter. Favre briefly caught fire, pulling the Vikings to as close as 22-20 late in the fourth quarter, but an apparently re-distracted Favre halted the comeback by throwing a game-ending interception with 1:30 left.
Sorry. I'm not buying it.
Whether Favre sent racy text messages and photographs to a former Jets sideline reporter had nothing to do with why the Vikings botched their first play, a reverse pass that Moss inexplicably threw to Favre. It doesn't explain why two players jumped offsides in their first three offensive plays, and it's not related to a mysterious game plan that drew more than one pointed postgame comment.
The Vikings' offense looked like many teams do -- in the first week of training camp. In reality, that's where the Vikings are after reconfiguring their receiving corps multiple times since the season started, most recently with Moss. It was an act of desperation that might increase their playoff chances this season, but only if the Vikings can pull themselves together before it gets too late.
Moss said he knew most of the plays the Vikings used Monday night but "I'm not going to say I knew all of them." Favre lamented a first-quarter sack that he said he could have beaten if he had a more developed working relationship with Moss. "If [only] I had had another week or two to work with him," Favre said.
To this point, coach Brad Childress and offensive coordinator Darrell Bevell haven't been able to pull together the moving parts in a regular-season environment. You would like to be able to measure steady progress for this offense, even if it's not hitting on all cylinders, but frankly, Monday night seemed more like a setback. The way I see it, if you're not any more finely-tuned four games into the season, then you're worse.
Please, if you know what the Vikings were trying to establish in the first quarter, let me know. And you might want to tell Favre and receiver
Percy Harvin
as well, both of whom critiqued the difference between the first two-thirds of the game and the final third.
[+] Enlarge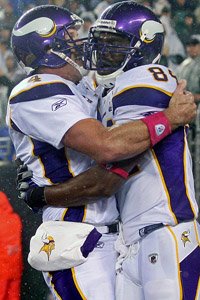 Ed Mulholland/US PresswireBrett Favre connected with Randy Moss on a 37-yard touchdown -- No. 500 in Favre's career -- in the third quarter.
The Vikings ran on their first five plays after Moss botched the reverse pass. Then they called five consecutive passing plays. Afterward, Favre said he was "thinking aloud" when he suggested that Childress and Bevell were trying to find something that worked. "Sometimes you go in with a plan and it doesn't really work out that way," Favre said, noting the Vikings found a "happy medium" during a second half in which he threw for 233 yards.
Harvin, who caught a pair of touchdown passes, thought the Vikings were too slow to move to a quicker-tempoed offense after falling behind 12-0 midway through the third quarter. On their first scoring drive, Favre threw on eight of 10 plays and concluded it with a 37-yard rope to Moss for a score.
"Hopefully [in the future] we can just open it up from the jump street," Harvin said, "and not have to fight back at the end of the game. If we had come out and had some of the play calling we had in the second half, I think it would be a different outcome."
The Vikings don't make assistant coaches available after games, but Childress said: "I didn't think we were ready coming out of the locker room to play this football game. At least, offensively that was the case." Asked how that could be the case coming out of a bye week, Childress said: "Your guess is as good as mine."
Childress obviously can't blame the rough edges associated with throwing new players together at such a late date. It sounds like an excuse, but it's frankly a fundamental part of coaching: finding a way to make the pieces fit. That's where the Vikings were lacking Monday night, and by the time they caught fire, they were too deeply buried.
To be sure, Favre was far from sharp Monday night. I suppose it's possible he was distracted by his issues, but I still think we have to recognize that the tendinitis in his right elbow is impacting his accuracy on some throws. He completed only 14 of 34 passes, bouncing two to Harvin and overthrowing him on a wide-open pass late in the fourth quarter.
Favre said his elbow probably felt "the worst" it's felt this season. He said he would not use it as an excuse but offered this blunt assessment: "I missed some throws I make in my sleep."
Like the rest of the Vikings' offense, Favre just hasn't been sharp this season. You can pin it on an off-field story if you want, but you would be missing the point. The Vikings' problems on offense lie deeper and are more systemic than that. It hasn't buried them yet in the wide-open NFC, but their extended training camp needs to conclude. Now.
October, 12, 2010
10/12/10
12:33
AM ET
EAST RUTHERFORD, N.J. -- Hitting the hot spots on a wet but ultimately thrilling night at the New Meadowlands Stadium, where the Jets beat the Vikings
29-20
:


What it means:
A feeble start and a late interception sent the Vikings to a 1-3 record in
Randy Moss
' return to the franchise. Quarterback
Brett Favre
, dogged all weekend by allegations that he sent racy text messages and photographs to a former
New York Jets
reporter, managed only 31 first-half yards but led the Vikings to a trio of late touchdowns to pull within 22-20. Yet with 1 minute, 27 seconds remaining, Favre threw a poor pass toward tight end
Visanthe Shiancoe
. The Jets'
Dwight Lowery
intercepted and returned it 26 yards for the game-clinching touchdown. Overall, Favre completed only 14 of 34 passes and committed three turnovers.
Botched critical play:
The Vikings had multiple breakdowns after Favre's 34-yard touchdown pass to receiver
Percy Harvin
early in the fourth quarter, a play that drew the Vikings to 15-13. The obvious move was to go for a two-point conversion. Coach Brad Childress first sent his extra-point team onto the field before calling a timeout to switch personnel. That left the Vikings with one less timeout than they should have had at the end of the game. Then, Favre inexplicably didn't throw to a wide-open
Naufahu Tahi
on a bootleg pass. Instead, he held the ball and ultimately threw wildly toward Shiancoe. Not having those two points obviously changed the Vikings' approach as the fourth quarter continued.
Stealing the show:
Harvin stole the show in Moss' debut with the Vikings, catching fourth-quarter touchdown passes of 34 and 11 yards. The latter was a spectacular effort in the back of the end zone to get both feet in bounds after a leaping grab.
Defensive gem:
The Vikings defense kept the team in the game while the offense sputtered in the first half, holding the Jets to five field goals. It also made a critical stop late in the fourth quarter when the Jets had the opportunity to run the ball out.
The 500th touchdown award goes to:
Moss, as many predicted it would. The 500th touchdown of Favre's career came with 2 minutes, 10 seconds remaining in the third quarter -- a 37-yard pass to into the right corner of the end zone. Moss had been quiet up until that point, held down by a superior night by Jets cornerback
Antonio Cromartie
. But in a veteran move, Moss held off Cromartie with his left arm to get in position for the catch. Favre sprinted 40 yards downfield, jumped into Moss' arms and ran to the sideline a new man.
What's next:
The Vikings will host the 1-3
Dallas Cowboys
next Sunday at the Metrodome.