NFC North:

2010 NFC Divisional playoffs
January, 16, 2011
1/16/11
8:15
PM ET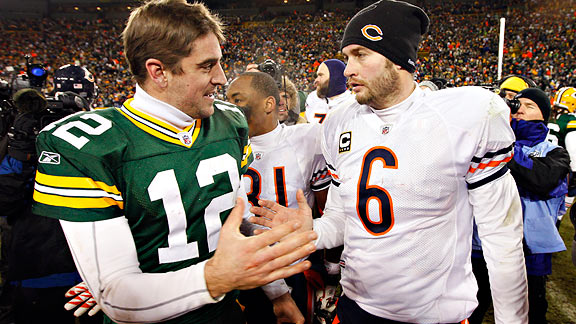 AP Photo/Mike RoemerPackers QB Aaron Rodgers and Bears QB Jay Cutler share text messages off the field, not insults.
CHICAGO --
Chicago Bears
safety
Chris Harris
was jogging off the field last month in Green Bay when he stopped Packers receiver
Donald Driver
.
"I said, 'We'll see y'all in Chicago in the NFC Championship Game,'" Harris recounted Sunday after the Bears secured their spot in that game with a
35-24
divisional playoff victory against the
Seattle Seahawks
.
"I had a feeling that they would make it," Harris added. "I was very confident in what we could do, so we got that rematch."
To me, that encounter illustrated everything the run-up to Packers-Bears III will -- and won't -- be.
You'll hear about two teams that have peaked in the playoffs. The Packers have won four consecutive "elimination games," dating to Week 16 of the regular season, while the Bears have scored at least 35 points in five of their past six contests.
You'll hear more history than you probably ever associated with professional football. The Bears and Packers have played 181 games against each other, dating to 1921. The Bears hold a 92-83-6 advantage, including the only playoff meeting between the rivals.
But it would be a shock if you hear any of the raw trash-talking that took place last week between the
Pittsburgh Steelers
and
Baltimore Ravens
. I would be stunned if you hear any of the threats that shuttled between the
New York Jets
and
New England Patriots
.
The Packers and Bears are direct division competitors, and it can get ugly between their fans. (A "Green Bay sucks" cheer surfaced in the second half at Soldier Field.) But from a player perspective, I don't sense anything close to the hatred that exists between those AFC teams.
In this rivalry, players stop before, during and after games to chat and exchange friendly barbs. Packers quarterback
Aaron Rodgers
has often expressed his appreciation to Bears quarterback
Jay Cutler
for helping his brother get assimilated at Vanderbilt University. And Sunday, Cutler acknowledged he sent Rodgers a congratulatory text message this weekend after the Packers' 48-21 divisional playoff victory against the
Atlanta Falcons
.
"I'll probably have a few text messages from him, so we'll have friendly banter, I'm sure," Cutler said.
About the worst thing anyone in the Bears' locker room could muster was this from linebacker
Brian Urlacher
: "It's our closest rival. They're right up the street, so it's a big deal. We have a lot of history with them. I think it's the oldest rivalry in NFL history, so it's a big deal. We don't like them. They don't like us. I'm sure there's going to be a lot of hype around this game building up to it."
Indeed, there will be ungodly hype, especially on this blog. From this point forward, I'm tagging this game
"Epicenter of Humanity."
So I don't want to minimize how big and fun this is going to be for fans and media members alike.
But I also think it's important to draw a distinction between the history and physicality of Bears-Packers games and the kind of silly, attention-grabbing verbosity that consumed the AFC games last week. Sorry, the Packers and Bears don't hate each other.
"I don't think there is hatred," Bears place-kicker
Robbie Gould
said. "We have a lot of respect for their organization and they have, I'm sure, a mutual respect for us. It's just that they're not going to like us and we're not going to like them -- this week."
There is a big difference between that sentiment and the kind that left Jets linebacker
Bart Scott
threatening to end the career of Patriots receiver
Wes Welker
. Scott's comments came after Welker seemingly went out of his way to take subtle shots at Jets coach Rex Ryan. It might have been entertaining to some people. But to me, the regular season is
the time for sideshows
. The playoffs are all about the games.
We are by no means holier than thou here in the NFC North. But I don't think anyone is going to be making any jokes this week about the other team, either. From a football perspective, this is too good of a matchup to waste time on mind games.
"We just look at this as another obstacle," Packers cornerback
Charles Woodson
said Saturday night about the possibility of playing the Bears. "It doesn't matter who we're playing. The object is to win. Whoever it is, we look to play our game and come out on top."
Bears cornerback
Charles Tillman
, a veteran of eight years of these games, said he'll look at this game as "Bears-Packers." With a smirk and wide eyes, Tillman added: "But I think the media will create 'IT'S BEARS-PACKERS. THE BIGGEST RIVALS IN HISTORY OF THE NFL SINCE 1900-SOMETHING.' I think at the end of the day it's still football. They're a great football team. They're in the playoffs. ... If you flip a coin, it's 50-50."
We're in an age where prominent players shift teams often via free agency and trades. They share agents and train together in the offseason regardless of team affiliations. In fact, Rodgers and Tillman have been a part of an offseason training group in California. NFL players sport far more commonalities than differences, and I'm always skeptical when they express hatred for teams or players based simply on affiliations.
To me, Harris got it right. This week will be the Epicenter of Humanity for us, but for the players it will simply be another week of playoff intensity.
"This will be great for TV," Harris said. "FOX is probably licking its chops. ... [But] it will be very respectful. We're not a team that does a lot of trash talking. We'd rather show it on the field. They're the same way. Two teams that definitely respect each other. Maybe I'll have a dislike for them, but you don't have to publicly come out and tell how bad we hate them, or whatever the case may be."
As a blog community, we most definitely are going to get it on this week. The players? Let them know when it's Sunday.
January, 16, 2011
1/16/11
4:23
PM ET
CHICAGO -- A few thoughts after the
Chicago Bears
' 60-minute cake walk over the
Seattle Seahawks
:
What it means:
Whoosh, shooo ... whoosh, shooo ... whoosh shoo ...


What it means, take II:
Sorry. ... Trying ... to ... catch ... whoosh, shooo ... my breath.
What it means, take III:
OK, I've composed myself. The
Bears' victory
puts us at
the epicenter of humanity
. The Bears and
Green Bay Packers
, the oldest rivals in the NFL, will duke it out next Sunday at Soldier Field in the NFC Championship Game. It will mark only the second postseason game between the rivals in their 89-year history, and the first since 1941. Never have the Bears and Packers played for the right to advance to a Super Bowl. Overall, the Bears lead the series, 92-83-6. This. Will. Be. Epic.
History lesson:
For those interested, the Packers and Bears finished the 1941 season with identical 10-1 records. They had each accounted for the other's only loss, and so a one-game playoff was required to determine the Western Division champion. The Bears won 33-14 at Wrigley Field, where
I don't think they used Big Ten rules
.
CutlerWatch:
Quarterback
Jay Cutler
settled concerns about his playoff aptitude, at least for one day, by throwing a 58-yard touchdown strike to tight end
Greg Olsen
on his first postseason pass. Cutler accounted for four touchdowns, including two via rush, and avoided the kind of game-changing mistakes that have defined parts of his career. It also helped when Seahawks safety
Jordan Babineaux
dropped a sure interception at the goal line in the first quarter. Four plays later,
Chester Taylor
's 1-yard touchdown run gave the Bears a 14-0 lead that ended the competitive portion of this game.
MartzWatch:
Offensive coordinator Mike Martz pulled a few rabbits out of his hat after the Bears' playoff bye. Olsen was an early target and finished with 113 receiving yards, the third most in Bears postseason history and almost double his previous high for this season. The Bears also ran three Wildcat plays, including two near the goal line. On the first, receiver
Earl Bennett
took the snap and rushed for 9 yards. On the second, tailback
Matt Forte
took the snap and handed it to Taylor for a 3-yard gain. On the third, Forte threw an interception. You might criticize Martz for calling that pass with a 28-3 lead in the fourth quarter, but I think he was trying to give Packers defensive coordinator Dom Capers another wrinkle to deal with next week.
InjuryWatch:
Safety
Chris Harris
left with a hip injury and did not return. The Bears used rookie
Major Wright
in his place.
What's next:
The NFC Championship Game will kick off at 3 p.m. ET. Be there or be square.
January, 16, 2011
1/16/11
12:04
PM ET
CHICAGO -- Believe it. I rolled in to Soldier Field at about 10:15 a.m. ET, fresh and ready to hit Round 2 of our NFC North playoff doubleheader. After the
Green Bay Packers
' victory Saturday night in Atlanta, we're halfway to nirvana
Enough about me and that. (For now, at least. I'll put together a post tracking some of the high points of this journey on Monday. And if the
Chicago Bears
beat the
Seattle Seahawks
, we'll have a post or two about the NFC North's new role as
the epicenter of humanity
.)
First things first. We just received the official inactive lists from both teams, and I can report there are absolutely no surprises. As expected, Seahawks linebacker
Lofa Tatupu
(concussion) has been cleared to play and will start.
The Bears, who listed no players on their injury report Friday, had their usual list of inactive players: Quarterback
Caleb Hanie
, safety
Craig Steltz
, running back
Kahlil Bell
, cornerback
Joshua Moore
, offensive linemen
Herman Johnson
and
Edwin Williams
, tight end
Desmond Clark
and defensive lineman
Marcus Harrison
.
OK. I'll be joining NFC West colleague Mike Sando and the rest of our crew
over at Countdown Live
during the game. Please join us.
January, 15, 2011
1/15/11
6:50
PM ET
ATLANTA -- The most interesting pregame roster maneuver at Georgia Dome left the
Atlanta Falcons
without their usual nickelback.
Brian Williams
(knee) was deactivated, and second-year player
Chris Owens
is expected to handle that role.
It will be interesting to see if Williams' injury compels the
Green Bay Packers
to use their five-receiver set. They used it 14 times in the teams' Week 12 meeting.
Meanwhile, the Packers deactivated safety
Atari Bigby
(groin) and fullback
Korey Hall
(knee). Both had been listed as questionable on the injury report.
January, 14, 2011
1/14/11
6:40
PM ET
Getting inside a very brief Friday injury report for Sunday's Seahawks-Bears game:
Seattle Seahawks:
Linebacker
Lofa Tatupu
(concussion) was listed as questionable, but the odds appear in his favor of starting Sunday's game. All other players will be available.
Chicago Bears:
Nada. That's right. As has been the case for much of the second half of the season, everyone practiced Friday and no one is listed on the final injury report of the week.
January, 14, 2011
1/14/11
1:00
PM ET
We're winding down our divisional round playoff coverage, and later Friday I'll post a "Final Word" on each of our NFC North games scheduled this weekend. First, however, I want to take a look at a topic that deserves a bit more of an extended discussion.
[+] Enlarge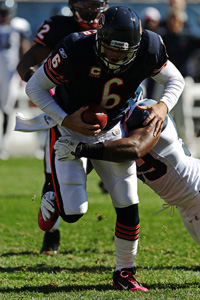 Jonathan Daniel/Getty ImagesThe Seahawks applied plenty of pressure to Jay Cutler in Seattle's first meeting with Chicago this season.
I'm fascinated to see how the
Seattle Seahawks
will defend the
Chicago Bears
on Sunday. Will they take dramatic steps to pressure quarterback
Jay Cutler
, as they did in a Week 6 victory at Soldier Field? Or will they play back in coverage, as they have in their last two games, both of which have carried win-or-else implications?
There is no obvious answer here. In the teams' first meeting, according to ESPN Stats & Information, the Seahawks sent at least five pass-rushers more often than they did against all but one other opponent this season (55.3 percent). They sacked Cutler six times, including five times when a defensive back was part of the blitz package.
But in consecutive victories over the
St. Louis Rams
and
New Orleans Saints
, the Seahawks pulled way back, sending four or fewer rushers on about 90 percent of dropbacks. Obviously, that strategy contributed to a pair of victories.
The circumstances will be a bit different on Sunday. First, the Seahawks won't be playing at Qwest Field -- which provides its own unique contribution to rattling opposing quarterbacks. Second, the Seahawks assuredly know that Cutler has been known to force the ball -- often on plays where he has plenty of time to throw.
In fact, according to ESPN Stats & Information, 15.5 percent of Cutler's passes this season were either intercepted or defensed this season. That figure was the highest among quarterbacks with at least 200 attempts, and it tells us one of two things. Either Cutler's receivers weren't getting much separation from defenders, or he threw it into traffic at a relatively high rate.
Perhaps both explanations fit. Regardless, the Seahawks face an interesting inner-football decision. What would you do?
January, 14, 2011
1/14/11
10:00
AM ET
As we wind down our week of coverage heading into Saturday's divisional playoff game at the Georgia Dome, it's worth pulling together two related concepts we discussed independently this week.
As
we noted Monday
, the Packers utilized a three-back set on offense 20 times during the regular season, accounting for nearly 60 percent of the times it was used by all 32 NFL teams this season. Then, in Sunday's wild-card playoff victory against the
Philadelphia Eagles
, the Packers averaged 7.6 yards on the eight plays they ran out of that set.
So on one hand, the Packers have demonstrated an ability and willingness to use one of the oldest and most conservative formations in the game: the wishbone, or an inverted wishbone in some cases. But on the other hand, they have also
used the high-octane, rarely-seen five-receiver set
more than any NFL team as well.
(For those who have been asking, ESPN Stats & Information limits the definition of this set to occasions when five actual wide receivers are on the field, not when some of those split out are running backs or tight ends.)
The Packers used this spread formation 30 times during the regular season, employing special-teams mainstay
Brett Swain
as the fifth receiver. The other 31 NFL teams combined to use it 16 times.
These 50 plays represent a small percentage of the Packers' overall offensive approach this season -- 5 percent of the 1,000 plays they ran this season, to be exact -- but they require far different responses from opposing defenses.
Jason Wilde of ESPNMilwaukee.com
delved into that issue in further detail, quoting receiver
Greg Jennings
saying that opponents are almost always at a personnel disadvantage from a coverage standpoint when they see five receivers on the field.
It's especially relevant for Saturday's game, considering the Packers used the five-receiver set on 14 of their 59 plays in the first game with the Falcons this season. If nothing else, it's pretty rare when, in an age of schematic specialization, an NFL team pulls in two widely disparate ideas into a single season's worth of game planning.
January, 13, 2011
1/13/11
12:15
PM ET
In their Week 12 meeting at the Georgia Dome, the
Green Bay Packers
held the
Atlanta Falcons
well below their season averages in points (20), yards (294) and first downs (19). Packed within the game, however, was a revealing strategy that directly impacted the Falcons' victory.
Quarterback
Matt Ryan
threw only four incompletions in the entire game, the result of a concerted attempt to exploit the Packers' short-range defense. Of his 28 attempts, 21 traveled 10 yards or fewer in the air, according to ESPN Stats & Information. As the chart shows, Ryan was nearly perfect on those passes.
Add those numbers to a powerful performance from tailback
Michael Turner
, who ran for 110 yards on 23 carries, and you see the Falcons won with a conservative but highly efficient approach. It paid off particularly on their final drive, when Ryan completed four passes -- for a total of 20 yards -- to get in position for
Matt Bryant
's game-winning 47-yard field goal.
Packers players have expressed disappointment in their tackling during that game, and this week coach Mike McCarthy said "it was clearly one of our worst" tackling efforts of the season. According to ESPN Stats & Information, Turner averaged 5.8 yards per carry even when the Packers dropped eight (or more) defenders into the box.
[+] Enlarge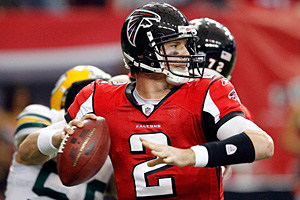 AP Photo/John BazemoreMatt Ryan had only four incompletions in Atlanta's Week 12 matchup with Green Bay.
"We didn't tackle very well," McCarthy said. "They ran the ball extremely well with their big people on the field. That's something we need to do a better job of."
You could blame the Packers' tackling in that particular game, but overall that has not been a big issue for them this season. So did the Falcons simply overpower them? You could certainly make that argument, at least in the running game. With Turner churning out yards no matter what defensive alignment he faced, Ryan didn't have to take many risks.
"They won last time and were successful doing it," Packers defensive end
Ryan Pickett
told reporters in Green Bay this week. "You would think they would do something similar. We're looking forward to it. We'll be much better this time than we were last [time]."
It's unrealistic to believe the Falcons will take that exact game plan into Saturday night's affair. All games stand on their own merits. Regardless, it will be interesting to see what Packers defensive coordinator Dom Capers will do to prevent Ryan from settling into another comfort zone.
In Week 12, Capers sent at least five pass-rushers on nearly 40 percent of Ryan's dropbacks. But he completed 10 of 12 passes in those situations, and for the season, Ryan threw 14 touchdown passes and only four interceptions when opponents sent extra pressure against him.
We've spent some time this week discussing
the balance of the Packers' offense
, the
carrot fate has dangled in front of them
and their
past issues with instant replay
at the Georgia Dome. But to me, herein lies the Packers' biggest challenge in Saturday night's game. It's hard to imagine them winning if Ryan coolly deals the way he did in Week 12.
January, 12, 2011
1/12/11
5:57
PM ET
January, 12, 2011
1/12/11
1:00
PM ET
Did the
Green Bay Packers
suddenly, and nearly by accident, discover a running game in the 18th week of their season? Or was
James Starks
a one-game fluke who will fade into the background as quickly as he exploded onto the scene?
So goes one of the primary questions this week as the Packers prepare for Saturday night's divisional playoff game against the
Atlanta Falcons
. If you recall, the Packers all but abandoned their running game in the teams' Week 12 matchup at the Georgia Dome. In a 20-17 loss, the Packers got only 26 yards on 11 carries from their running backs. Quarterback
Aaron Rodgers
(51 yards) was their leading rusher, and the Packers used a five-receiver set on 14 of their 59 plays.
Although the Packers amassed 418 total yards in the game, their limited running game hurt them on two red-zone possessions in the first half. Of course, you know where this is going. If Starks can provide anything close to the 123-yard performance he produced Sunday against the
Philadelphia Eagles
, well. ...
"That's all we've been hearing," Packers cornerback
Charles Woodson
said. "That we can't advance without a running game. ... If we can have that, along with Aaron [Rodgers], Greg [Jennings], [Donald] Driver, Jordy [Nelson],
James Jones
and those guys, watch out."
So after we get past the novelty of Starks' performance against the Eagles, what do we make of it? I asked Matt Williamson of Scouts Inc. for some perspective.
"It wasn't a fluke," Williamson said. "He has ability and probably would have been a second-round pick if he had been a 'clean prospect' coming out of college. ... There is no doubt that he is the most talented runner on that team and has fresh legs. He shows vision, power and explosion. I didn't think Philly played the run very well or tackled well, but he got at least what was blocked consistently -- if not more. To me, that is all you can ask and he is capable of doing it."
Starks has played in four games this season, including the playoffs, and has two of their top four rushing performances. The chart speaks equally to his skills and the Packers' relative failure to replace injured starter
Ryan Grant
. Packers coach Mike McCarthy has already said Starks will get his share of opportunities Saturday against the Falcons. What he does with them will be fascinating.
Technically, the Falcons had the NFL's 10th-best run defense during the regular season. But probably because they were playing from behind so often, Falcons opponents attempted an average of 22.9 running plays against them per game, the second-fewest in the NFL this season. Within those relatively few plays, the Falcons allowed an average of 4.6 yards per carry -- the sixth-highest in the NFL.
In other words, teams ran on the Falcons this season when they tried. Before Sunday, you wouldn't have counted the Packers as a team that would even try.
If nothing else, Starks will force the Falcons to expand their defensive preparation. It will also add more of a threat to the Packers' play-action game, one that was successful all season despite their shaky running game.
Indeed, Rodgers averaged one touchdown pass for every 10 play-action passes he threw during the regular season, according to ESPN Stats & Information (eight in 80 attempts.) That was double the rate of his other 395 attempts.
OK. Enough with the numbers. What does this all mean? Here's where I land: With a one-dimensional offense, the Packers were within three points of the Falcons in November. With the Starks we saw against the Eagles, they have a balance that gives them the potential to finish what they started in Week 12.