NFC North:

2010 Season Wrap
January, 5, 2011
1/05/11
1:00
PM ET
»
NFC Wrap-ups
:
East
|
West
|
North
|
South
»
AFC
:
East
|
West
|
North
|
South
Arrow indicates direction team is trending.

Final Power Ranking:
23
Preseason Power Ranking:
5
[+] Enlarge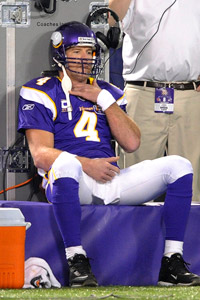 AP Photo/Hannah FoslienBrett Favre had the worst season of his 20-year career.
Biggest surprise:
It was hard to imagine quarterback
Brett Favre
equaling the career year he produced in 2009. But it was just as difficult to anticipate him falling off the figurative cliff. Even before an onslaught of injuries began, Favre was playing as poorly as he had at any point in his career. In the first three games of the season, Favre threw two touchdown passes and committed seven turnovers. He had one shining moment, a career-high 446 yards against the
Arizona Cardinals
, but otherwise it was clear he tried to squeeze one year too many out of his body. The Vikings were left in an untenable situation. They put all of their hopes on his shoulders and had no viable alternative when it became clear he was cooked.
Biggest disappointment:
Sidney Rice
's unique skills as a downfield receiver were one of the primary reasons the Vikings pushed to the NFC Championship Game in 2009. But a hip injury suffered in that game followed Rice all the way to training camp, the first sign that the Vikings wouldn't carry the magic into 2010. It was never entirely clear why Rice avoided surgery until the end of August, but the bottom line is it robbed the Vikings' offense of a dynamic playmaker. It also set them on a gold chase that ultimately led to the disastrous acquisition of receiver
Randy Moss
. How much would have been different had Rice been healthy when training camp started? It hurts the head to wonder.
Biggest need:
The Vikings haven't had a long-term plan at quarterback since
Daunte Culpepper
suffered a career-changing knee injury in October 2005. They tried with
Tarvaris Jackson
, but ultimately his slow development left them in an annual Band-Aid mode. While rookie
Joe Webb
displayed some promise late in the season, the Vikings need to make this position their highest priority of the offseason. Depending on who makes themselves available for the draft, the Vikings might have to acquire multiple quarterbacks -- one to start in 2011 and another to develop for future seasons.
Team MVP:
The Vikings had 10 Pro Bowl players in 2009. Only two performed at the same level in 2010 -- tailback
Adrian Peterson
and cornerback
Antoine Winfield
. We'll tap Peterson for this honor after he rushed for 1,298 yards despite missing one full game and parts of two others because of injuries. He single-handedly accounted for the Week 3 victory over the
Detroit Lions
and, notably, lost only one fumble after an offseason of consternation about the issue.
Comeback player:
While we have a moment, let's note that middle linebacker
E.J. Henderson
returned from a gruesome injury to start all 16 games this season. There were those who believed Henderson's career could be over when he fractured his femur in December 2009. At the very least, he wasn't expected to be ready to play until 2011. But Henderson was determined to be on the field for the first day of training camp, creating a new protocol for rehabilitating the injury. He unofficially finished with 106 tackles and a career-high three interceptions.
January, 5, 2011
1/05/11
1:00
PM ET
»
NFC Wrap-ups
:
East
|
West
|
North
|
South
»
AFC
:
East
|
West
|
North
|
South
Arrow indicates direction team is trending.

Final Power Ranking:
24

Preseason Power Ranking:
28
[+] Enlarge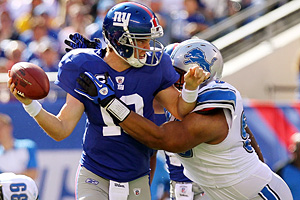 Nick Laham/Getty ImagesNdamukong Suh is one of two rookies ever to have a double-digit sack total.
Biggest surprise:
By the end of November, the Lions appeared headed for an unceremonious conclusion to another lost season. They had given up 28 consecutive points to lose a Thanksgiving Day game to the
New England Patriots
, and afterward it appeared the
inevitable finger pointing
had begun. But against all indications, coach Jim Schwartz rallied the Lions for a competitive game the following week against the
Chicago Bears
and then concluded the season with the franchise's first four-game winning streak since 1999. In the moments after that Thanksgiving Day loss, few people saw it coming.
Biggest disappointment:
Quarterback
Matthew Stafford
played only one full game, a Week 8 victory over the
Washington Redskins
. A recurring separated shoulder knocked him out of starts in Week 1 and Week 9, and the latter cost him the remainder of the season. As we
noted in November
, Stafford demonstrated some progress during his short stint. But none of it matters if he can't stay on the field. In two NFL seasons, Stafford has missed more games (19) than he has played (13). There are no magic elixirs for staying healthy as an NFL quarterback. The Lions are left to hope that Stafford has encountered an unlucky stretch rather than proved to be fragile. More than anything, Stafford needs an uninterrupted streak of starts to become the quarterback the Lions need him to be.
Biggest need:
The Lions have whittled their needs from "everything" to something a bit more manageable. Because they have one building block at cornerback (
Chris Houston
) and safety (
Louis Delmas
), I'll say their biggest need is outside linebacker. Veteran
Julian Peterson
isn't expected to return and starter
Zack Follett
suffered a serious neck injury in Week 6 and might not play again. There really aren't any young players waiting in the wings to take over for either player. You could argue that outside linebackers are a luxury in a 4-3 scheme, but it's the most barren position on the Lions' roster.
Team MVP:
In training camp, defensive end
Kyle Vanden Bosch
was sprinting 20 yards downfield to make sure he touched the ball carrier in team drills. In Week 1, he totaled a stunning 10 solo tackles in a 19-14 loss to the Bears. If any one player deserves credit for changing the mindset of a previously moribund defense, it's Vanden Bosch. His early-season intensity set a tone for dominant defensive line play even after a neck injury ended his season. The Lions' defensive line was every bit as good and frenetic as hoped, an attitude that rubbed off on the entire defense and helped improve its ranking from last in the NFL to No. 21.
Best addition:
Vanden Bosch's intensity aside, no Lions player matched the 16-game production of rookie defensive tackle
Ndamukong Suh
. He finished with 10 sacks, one of two rookies ever to have a double-digit sack total since the NFL started tracking the stat in 1982. Dana Stubblefield is the other. Suh gets the nod over receiver
Nate Burleson
, who caught 55 passes as a legitimate No. 2 threat next to receiver
Calvin Johnson
, and tailback
Jahvid Best
, who finished with 1,042 all-purpose yards.
January, 5, 2011
1/05/11
1:00
PM ET
»
NFC Wrap-ups
:
East
|
West
|
North
|
South
»
AFC
:
East
|
West
|
North
|
South
Arrow indicates direction team is trending.

Final Power Ranking:
6
Preseason Power Ranking:
21
[+] Enlarge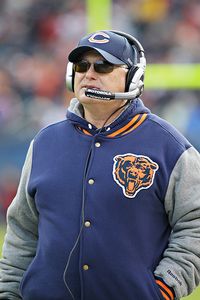 AP Photo/Nam Y. HuhMike Martz adapted the Bears' offense in the second half of the season to suit the team's strengths.
Biggest surprise:
You might not find a more stubborn assistant coach than Mike Martz. So it was downright stunning to watch him balance his previously pass-happy scheme after the Bears' Week 8 bye. In consecutive losses entering the bye, Martz called a total of 30 running plays. Quarterback
Jay Cutler
threw a combined four interceptions and was sacked 10 times. In their nine subsequent games, the Bears averaged 29 rushing plays per game. Cutler threw 16 touchdowns against nine interceptions over that span. Most important, the Bears won seven of their final nine games to clinch the NFC North. Against all odds, Martz subordinated his pride and crafted a scheme that worked best for this team.
Biggest disappointment:
The Bears got almost all of their run-game production from tailback
Matt Forte
, who eclipsed 1,000 yards for the second time in his career. But the other half of their intended backfield duo had one of the least productive seasons for a running back in NFL history. That's right.
Chester Taylor
finished the season with 267 yards on 112 carries, an average of 2.38 yards per attempt. According to Pro Football Reference's database, Taylor is the first post-merger running back to average less than 2.4 yards per carry with a minimum of 100 carries. I'm not sure I can offer an explanation, but 100 carries is a pretty decent sample size. The Bears didn't get much bang for the $7 million they paid Taylor this season.
Biggest need:
The Bears shuffled their offensive line multiple times during the early stages of the season before finding a patch job that worked. But they'll need to take a hard look at where everyone finished. Is former first-round pick
Chris Williams
the long-term answer at left guard? Is
Frank Omiyale
more than an emergency answer at left tackle? Did
J'Marcus Webb
earn another chance at right tackle? And how many seasons does center
Olin Kreutz
have left? The Bears could pick any and/or all of the five line positions to address this offseason.
Team MVP:
Defensive end
Julius Peppers
finished with eight sacks, the third-lowest total of his nine-year career. But no single player had a bigger impact on the Bears' defensive resurgence this season. His presence made the Bears' standard four-man rush one of the NFL's most effective, allowing defensive coordinator Rod Marinelli to keep more players in coverage more often. That might have been the single-biggest factor behind the Bears' 35 takeaways this season, which tied for the second most in the NFL.
Resurrection:
The Bears' nucleus looked old and tired last season, and many expected 2010 to be its final run. But coach Lovie Smith recaptured his tested formula, using an elite defense and big plays on special teams to win the division. It didn't end there. Middle linebacker
Brian Urlacher
returned to his Pro Bowl form. Safety
Chris Harris
, reacquired from the
Carolina Panthers
, intercepted five passes after the bye.
Devin Hester
returned three punts for touchdowns and set a record for the highest punt return average (17.1) in NFL history. It's as if the Bears jumped into a time machine and returned to 2006.
January, 5, 2011
1/05/11
1:00
PM ET
»
NFC Wrap-ups
:
East
|
West
|
North
|
South
»
AFC
:
East
|
West
|
North
|
South
Arrow indicates direction team is trending.

Final Power Ranking:
9
Preseason Power Ranking:
3
[+] Enlarge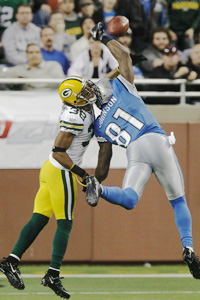 AP Photo/Carlos OsorioThe emergence of Tramon Williams this season has helped strengthen the Packers' secondary.
Biggest surprise:
The Packers were knocked out of the playoffs last season when an injury-depleted secondary gave up five touchdown passes to
Arizona Cardinals
quarterback
Kurt Warner
. From a personnel standpoint, they did little in the offseason to bolster their personnel, instead counting on a number of players --
Al Harris
,
Brandon Underwood
and
Will Blackmon
, among others -- to return from injuries. None of them contributed in a meaningful way in 2010, but the Packers are still in much better shape at the start of the postseason. Why?
Tramon Williams
developed into a Pro Bowl-caliber cornerback (he's an alternate), and rookie
Sam Shields
emerged out of nowhere to give the Packers a reliable nickelback -- just as the Packers planned.
Biggest disappointment:
Tight end
Jermichael Finley
was lost in Week 5 to a season-ending knee injury, joining tailback
Ryan Grant
as the two most damaging injuries the Packers suffered this season. The Packers spent the offseason re-centering their entire offense around Finley, and he was on his way to a breakout season with 21 receptions for 301 yards in the first four games. (By my math, that put him on pace for 84 receptions and 1,204 yards.) All indications are that Finley will make a full recovery by next season, but the Packers were forced to make fundamental changes to their offense after his injury.
Biggest need:
Grant's injury revealed the Packers to have dangerously thin depth at the position. In essence, they have spent the season without a featured back.
Brandon Jackson
proved to be a better receiver (8.0 yards per reception) than runner (3.7 yards per rush).
John Kuhn
is a fan favorite but in reality a specialist, and the Packers have seen only glimpses of promise from rookie
James Starks
. Even if Grant makes a full recovery, restocking this position is a significant priority.
Team MVP:
Defensive coordinator Dom Capers rolled with wholesale injury replacements all season but still managed to hold opponents to the second-fewest total points (240) in the NFL. The Packers had five different starters on the defensive line, 10 different starting linebackers and saw their strong safety position split by rookie
Morgan Burnett
and veteran
Charlie Peprah
. Capers' time as a head-coaching candidate might have passed, but what he did this season merits acknowledgment from around the NFL.
A "slump?":
Quarterback
Aaron Rodgers
started the Pro Bowl in 2009 but qualified only as an alternate in 2010. He missed one game because of a concussion and threw four more interceptions than he did last season. Despite what he has referred to as some "inconsistency" in 2010, Rodgers still had one of the best seasons in the NFL. His 8.3 yards-per-attempt average ranked No. 2 in the league, his 101.2 rating ranked No. 3, his 65.7 completion percentage tied for No. 5, and his 28 touchdown passes tied for No. 6. We should all be so inconsistent.