NFC North:

2011 Camp Confidential NFC
August, 15, 2011
8/15/11
1:00
PM ET
ALLEN PARK, Mich. -- The same question surfaced at every stop on my NFC North training camp tour. In some form or fashion, division rivals wanted to know: Have the
Detroit Lions
improved as much as advertised?

After all, Lions Fever long ago engulfed the blog/region/nation. A four-game winning streak to end 2010, the return of quarterback
Matthew Stafford
and an exciting draft class all suggested the Lions were ready to break free from a decade of disappointment.
But even after spending three days in the Detroit suburbs, I still don't think I've seen the 2011 Lions. What I saw was Lions Lite.
By the time I arrived at Lions camp, the team's top three draft choices -- defensive tackle
Nick Fairley
, receiver
Titus Young
and running back
Mikel Leshoure
-- had been sidelined by significant injuries. Left tackle
Jeff Backus
(pectoral) wasn't practicing and neither was backup
Jason Fox
(foot). Tight end
Brandon Pettigrew
, meanwhile, was nowhere to be seen after suffering an ankle injury.
What's important, however, is that the franchise had neither panicked nor fallen into a funk. Leshoure's is the only season-ending injury, and it was obvious even to an amateur observer that the Lions still have a talented collection of players on the practice field, one that romped to a 34-3 victory over the
Cincinnati Bengals
in its preseason opener Friday night. Many in that collection are entering their third year in the same system, and all of them are determined to give us something the NFC North has never seen: a four-team division.
"This team can be great," said receiver
Rashied Davis
, a part of two
Chicago Bears
teams that advanced to the NFC Championship Game. "I really think that. It is a great bunch of guys and there really is tons of talent."
THREE BIG ISSUES
1. Backus' status:
The Lions are equipped to absorb injuries at many positions, but left tackle isn't one of them. Fox's injury has only exacerbated the issue and left the Lions using players who would otherwise be relegated to their third team at the most important position on the line.
Torn pectoral muscles usually require season-ending surgery. The Lions haven't revealed the severity of the injury, but their insistence that Backus will be ready for the regular-season opener suggests the muscle isn't completely torn. Backus hasn't missed a game in his 10 previous seasons, and quite frankly the Lions are banking on his durability in this instance.
[+] Enlarge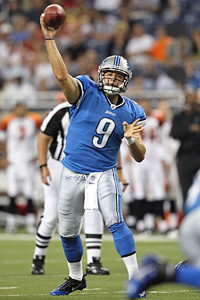 Leon Halip/Getty ImagesMatthew Stafford has looked strong during training camp.
"You've just got to go on history there," coach Jim Schwartz said. "He has started 160 straight games. … Jeff is obviously experienced and is a hard worker and doesn't need every single rep in training camp. We can afford to take it slow with him and get him back the right way rather than have to rush him back too soon."
In the end, the question isn't likely to be whether Backus plays, but if the injury has (temporarily) diminished his effectiveness. After all, an offensive lineman needs full extension and strength in his arms to ward off pass-rushers.
2. Stafford's return:
I know it might ring hollow for those of you concerned about his health, but Stafford was zinging the ball all over the field during my time in Lions camp. He is now completely at ease in coordinator Scott Linehan's offense and clearly bulked up this offseason to better prepare for the rigors of a 16-game season.
I saw Stafford loft 25-yard touch passes into the back of the end zone just as easily as he rifled 30-yard ropes over the middle. I realize that practice throws don't always predict game performance, and I know that his biggest challenge is durability and not ability. But to the extent that he could over three days of camp, Stafford sure looked like a quarterback who is ready to break through to NFL stardom.
"It's hard because he's missed a lot of time on field," Linehan said. "But you can see the ownership he's taken in this offense. He spends a lot of time with the players, with the system and in the building. It's not just me talking in the meeting rooms anymore. He's spot-on. He's going to have a great career. I really think that."
3. Secondary issues are now secondary:
The Lions' systematic rebuild of their defense is now two-thirds complete. They've built one of the best defensive lines in the game. They have three credible starters at linebacker. All that remains is the secondary.
Right?
The Lions weren't as worried about their secondary during the early portion of training camp as some other people were. Safety
Louis Delmas
has been a constant presence, having regained his health following offseason surgery on his groin. Cornerback
Chris Houston
re-signed after a brief foray on the free-agent market, strong safety
Amari Spievey
reported to training camp in good physical condition and new cornerback
Eric Wright
has been a consistent playmaker during team workouts.
I saw Wright end a team drill with a strong anticipatory interception of Stafford. A few days later, defensive coordinator Gunther Cunningham had this hyperbolic but revealing assessment: "To me, there's only one athlete like this in the NFL. And he's old. That's
Champ Bailey
. [Wright] is a pure, one of the most outstanding athletes to come out of the draft in a long time."
The Lions have some decent depth behind Wright and Houston.
Aaron Berry
has again impressed coaches when he has been healthy, and the Lions should get back
Alphonso Smith
(foot) before the start of the regular season.
The secondary might be a weak link on a relative scale, but it might not be as weak as some might have feared.
BEST RELATIONSHIP
A second consecutive offseason spent working together has left Stafford and
Calvin Johnson
in position to do some serious damage. It's obvious to anyone watching Lions practice that the two have developed a level of chemistry that only time can bring.
"I feel like he trusts me that I'm going to put the ball in a good place to give him a chance," Stafford said, "and I definitely trust him when I put it up there that he's going to come down with it or nobody is."
Injuries have limited the two to 13 games over the past two seasons, but there is a feeling in Lions camp that the pair is ready to break out in 2011. The duo got off to a strong start Friday night on a back-shoulder touchdown pass to end the Lions' first possession.
[+] Enlarge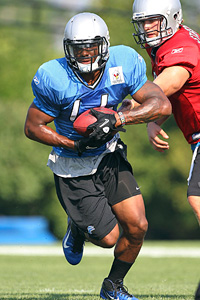 Leon Halip/Getty ImagesFinding a backup option to running back Jahvid Best remains a priority for the Lions.
UNANSWERED QUESTION
What is the true impact of Leshoure's injury? It's hard to know because we're not entirely sure how the Lions planned to use Leshoure and
Jahvid Best
. Was Leshoure going to be the change of pace? Or was Best?
If Leshoure continued his early-camp performance, it's very possible it could have been the latter. Best himself said the team had given him no indication whether he would get 20 carries per game, 10 carries per game or fewer.
"I was figuring that about midway through the preseason it was really going to start to show," Best said.
So what now? For the short term, at least, Best is firmly entrenched as the No. 1 back. In Friday night's preseason opener, Best was either the ball carrier or the intended target on seven of 11 plays run by the Lions' first-team offense.
But if the Lions' aggressive move to draft Leshoure told us anything, it's that they don't want Best carrying the entire load. The first candidate to be his running mate is newcomer
Jerome Harrison
, who was the first back off the bench Friday night. It's too early to know if Harrison is up to the job, but the Lions really want to get Best some help -- from somewhere.
OBSERVATION DECK
For the first time in a long time, place-kicker Jason Hanson isn't guaranteed a spot on the roster. For that matter, the Lions also have a legitimate challenger to punter Nick Harris in Ryan Donahue. But Hanson's roster battle with Dave Rayner has generated some attention. Schwartz said that "everyone on our 90-man camp roster has a chance to make the team." He noted that Hanson is kicking "very well," as is Rayner. "It's a good situation for us," Schwartz said. Both kickers were booming kickoffs well into the end zone during my stay at camp. (Given the NFL's shift of kickoffs to the 35-yard line, that's to be expected.)

Cunningham joked (I think) that he "took the over" on the pre-camp weight of Spievey and defensive tackle Sammie Lee Hill. He was pleasantly surprised. The Lions are especially pleased with the way Spievey has taken ownership of his position. He looked lean and active during the early part of camp and appeared healthy as well. "Amari's in great shape," Cunningham said. "His communication skill is much higher than it was, and he and Delmas really know each other."

Most linebacker groups have a run-stopping plodder who is an obvious candidate to leave the field in the nickel. But with DeAndre Levy, Stephen Tulloch and Justin Durant, the Lions really don't have one. Tulloch was leaving in the nickel during the portion of camp I watched, but he is a quick linebacker in his own right, and Schwartz insisted the Lions will mix and match their nickel lineups this season. "Our group gives us the flexibility to do that," he said.

Coaches couldn't stop raving about Rashied Davis' impact on the locker room. "There's a guy I can't say enough about," Linehan said. "That's the kind of pro you want to have. I'm able to show the young guys that this is a 32-year-old veteran that is a special-teamer. Been in this league X amount of years because he just does everything 100 percent and right. That's just been a great example for those guys."

One of my favorite sights of Lions training camp the past two years: veteran defensive end Kyle Vanden Bosch's insistence that he touch the ball on every play. Sometimes that means reaching one step over from his current position. Often, however, it means chasing a ball carrier as far as 30 yards downfield. By the way, it appears Vanden Bosch is fully recovered from neck surgery that ended his first season with the Lions.

Will Wright re-establish his career with the Lions? He has the raw skills to do so, and now he has a defensive line that will, without question, make his job easier. "The D-line plays hard and it's relentless," Wright said. "It's contagious. From a total defensive standpoint, those guys rub off on us, especially the defensive backs."
August, 11, 2011
8/11/11
1:00
PM ET
BOURBONNAIS, Ill. -- More than any other NFC North team, the
Chicago Bears
reported to training camp amid a chaotic firestorm of roster upheaval and personnel decisions.

They
unexpectedly parted ways
with locker room Buddha
Olin Kreutz
, made
quick work
of tight end
Greg Olsen
's trade request and ended years of debate by finally
signing a big receiver
in
Roy Williams
. They failed to find much veteran reinforcement for their offensive line but did
snag a younger punter
(
Adam Podlesh
) and
curiously added a third veteran running back
in
Marion Barber
.
By the time I arrived at Olivet Nazarene University this week, most of the initial shock of that news cycle had subsided. But the Bears were still encountering obstacles to finding their usual training camp routine. The forced cancelation of their annual practice at Soldier Field
renewed concerns
about the condition of their game-day playing surface. A lightning storm cut short a full-pads practice after 90 minutes; a second look at the NFL's new collective bargaining agreement required a number of last-minute adjustments to daily schedules; and a power outage Wednesday night forced the Bears to move practice to a local high school.
The NFL lockout and the subsequent late-July, free-agent frenzy guided most teams into an unsettled training camp. It's fair to put the Bears at the top of that list, a fact coach Lovie Smith has attempted to cultivate as a teaching moment.
"We're going to ask our players to do a lot," Smith said. "We're going to London [for a Week 7 game]. Going into the preseason, we had the Hall of Fame game [canceled]. So we're going to ask them to get out of their routine a little bit. As a professional, you have to be able to handle adversity. ... A veteran crew should be able to handle situations like that."
Will the tumult make the Bears stronger or does it foreshadow a fall for last season's NFC North champions? We'll know soon enough.
THREE BIG ISSUES
1. Coaching pressure:
Three years ago, the Bears hired one of the NFL's top defensive line gurus in Rod Marinelli, now their defensive coordinator. Last year, they added a similarly respected offensive line coach in Mike Tice. Both are being asked to develop cohesive groups from a bag of untested ingredients.
Tice has identified five offensive linemen he hopes to start this season, and it's worth noting that only one of them -- left guard
Chris Williams
-- finished the 2010 season in that role. Tice will need to teach guard
Roberto Garza
how to play center, where he is in line to replace Kreutz. He'll have to hope that
J'Marcus Webb
, who had his moments as a right tackle in 2010, can adjust to the more difficult left tackle spot. And he'll have to do it with a mission of cleaning up last season's 56-sack season.
For what it's worth, Tice said, "We're light-years ahead of where we were at last year. Last year we were moving guys around trying to figure out who should be at what position. This year we're getting great work, we have the same five guys in there and we're getting better every day."
[+] Enlarge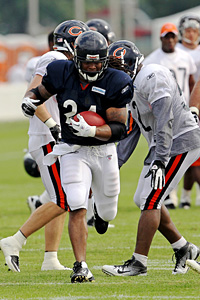 Jonathan Daniel/Getty ImagesNewly acquired Bears running back Marion Barber has been running hard in practice.
Marinelli, meanwhile, has an anchor in defensive end
Julius Peppers
and a veteran defensive end in
Israel Idonije
. But he'll be asked to develop a number of young defensive tackles into playmakers, including
Henry Melton
and rookie
Stephen Paea
. We'll employ the usual refrain: It's a tough task, but if anyone is up to it, it's Marinelli.
2. Backfield rotation:
An intriguing drama is playing out in the Bears backfield, where starter
Matt Forte
is angling for a new contract, backup
Chester Taylor
is trying to rebound from a statistically horrendous season and Barber is angrily running over defenders in hopes of extending his NFL career.
Forte considered holding out from camp and has expressed concern about playing in preseason games, but he reported to training camp in phenomenal shape. He has never missed a game in three seasons, and so it's hard to know whether the Bears really need two veteran runners behind him.
Conventional wisdom suggests the Bears would be better off keeping all three, considering their offense ran much better last season after offensive coordinator Mike Martz rebalanced the offense to favor the running game. But do Taylor, 31, and Barber, 28, have much left in the tank? I'm not drawing any conclusions based on someone running hard during a training camp practice.
3. Leadership void:
I usually think that locker room leadership is overvalued because players come and go so frequently in the modern age of football. Leadership can, and must, be a year-to-year proposition.
But Kreutz's unexpected exit left a lingering issue with the Bears. On most successful teams, the quarterback fills the leadership role in the locker room. But in the absence of long-term answers at that position, Kreutz assumed it by default.
The Bears still don't have a quarterback who has proven he can handle that job. You can debate whether
Jay Cutler
was treated fairly following his knee injury in the NFC Championship Game. And you can point out leaders don't have to be "rah-rah" types like
Drew Brees
of the
New Orleans Saints
. But even if you define a leader as someone other players can look to and emulate, it's hard to put Cutler in that category.
Coaches can only do so much. During times of difficulty this season, who will keep players together and focused on their jobs? If it's Cutler, it will represent a dramatic personality turnaround. Otherwise, the Bears have to hope linebackers
Brian Urlacher
and
Lance Briggs
, or possibly safety
Chris Harris
, can step up.
ROOKIE ADJUSTMENT
Rookie offensive lineman
Gabe Carimi
played as a left tackle at Wisconsin, and
many of us thought
he would be the Bears' best short-term answer at the position in 2011, even if he ultimately projected as a right tackle in the future.
Instead, the Bears have decided to put Carimi on the right side from the start. They think his strengths as a run-blocker will benefit them most there while also giving him a less competitive environment for developing his pass-blocking skills.
"I'm a pretty good run-blocker," Carimi said, having lost none of the
bravado he displayed at the February scouting combine
. "That is my forte. All I really have to do is keep on working on my pass pro. I'll get there -- to where I'll be an elite pass protector, too."
But Carimi also noted he has been a right tackle for "about 10 days" and said months of offseason work split equally between the left and right side still left him at square one when training camp opened.
"There is nothing you can do other than doing it every day in practice," Carimi said. "You're not going to get those good reps until you go against actual defensive ends with pads on."
[+] Enlarge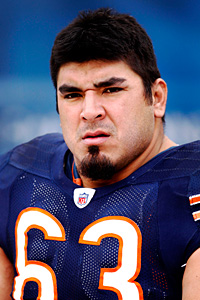 Mike DiNovo/US PRESSWIREThe Bears will move Roberto Garza to center following the departure of Olin Kreutz.
VETERAN ADJUSTMENT
At first, Roberto Garza wasn't thrilled when the Bears asked him to open camp at center.
"I thought Olin was coming back," he said. "I didn't think that was going to be even an issue. We've had to move on. ... If that's the role I'm going to perform, I've got to go out there and do it to the best of my ability."
By all appearances, Garza is a competent center who won't have Kreutz's savvy at the position but will find a way to get by. He'll stay right at center unless the Bears have a problem with one of their guards, in which case he will move over and
Chris Spencer
will take over at center.
After 10 years in relative obscurity, however, it appears Garza is about to step into a role that will prove critical to the Bears' 2011 success.
"At guard, I was spoiled," Garza said. "Olin made everything. Now everything is on my shoulders to go out there and get everybody squared away. It's a learning process as well. I have to go out there and do some things playing center that I didn't do as a guard."
OBSERVATION DECK
Much of the attention has gone to the arrival of Williams, but those at Bears camp say Devin Hester has had an outstanding summer. After a full season in Martz's system, Hester is running routes more confidently and catching everything thrown his way.

There were two early camp storylines as they related to Cutler: That he had improved his footwork in the pocket and had lost weight. Absent a confirmation on the weight, I can attest that Cutler certainly looked slimmer. As for footwork, I can't possibly speculate. I don't think he has ever had a problem getting away from center. If anything, he just has never had to set his feet and position his body like most quarterbacks must to get heat on his passes. But if that's what Cutler worked on this offseason, he deserves credit for addressing an issue that most quarterbacks in their late 20s have either mastered or give up on.

Another consequence of the Bears' roster upheaval: Kellen Davis is atop the Bears' depth chart at tight end. Davis an athletic 6-foot-7, and the Bears presumably trust him as a blocker. Some of you have asked if he is a potential breakout star in 2011, but let's remember he has 11 receptions in his career. If anything, I think his ascendance reflects the limited value that Martz places on pass-catching tight ends.

The inadvertent quote award for Bears camp goes to Peppers, who was asked about his relatively modest total of eight sacks last season. "I don't like to put a number on stats," Peppers said. He went on to add: "Like I always say, it's an indicator. It doesn't really tell the full story of how a player should be evaluated." In all seriousness, Peppers' All-Pro status was fully warranted last season, no matter where his sack totals ended up.

Many fans have been interested in receiver Andy Fantuz, a 6-foot-4 former CFL player. But the new receiver who has caught the eye of many camp-goers is Dane Sanzenbacher, an undrafted rookie from Ohio State who seems well-suited for the slot position in Martz's offense.
August, 7, 2011
8/07/11
1:00
PM ET
MANKATO, Minn. -- The summer of 2011 is not the time for Nervous Nellies. After the NFL lockout wiped out five months of offseason work, there is a lot to do and (almost) no time to do it. If you freak out under stress, you aren't going to be much good to anyone this August.

Fortunately for the
Minnesota Vikings
, their new coach is probably the most serene leader in the NFL. Leslie Frazier makes Tony Dungy look like a spaz. No matter what curveball he has been dealt since accepting the Vikings' interim job last November, Frazier has projected a tranquility that should serve the team well during the hectic run-up to the 2011 season.
In the span of about six weeks, Frazier will oversee the installation of a new offense. He'll preside over the transition to quarterback
Donovan McNabb
, develop a new left tackle and do his best to instill a tone of professional confidence that reflects his own personality.
Three days at Minnesota State University, Mankato, revealed the Vikings are well on their way to adopting Frazier's style. Players and staff worked hard but with an emotional ease that belied the tense tenure of former coach Brad Childress. It's been a while since I've seen smiles during a full-contact Vikings practice, and I was amazed at how downright
happy
people were -- from the elite players on the roster to the lowest-level staffers. Even left guard
Steve Hutchinson
, whose next career is certain to include a role as
Oscar the Grouch
, chatted gregariously with reporters after last Wednesday's practice.
As a football team, the Vikings have a long way to go in terms of chemistry and scheme. But I can tell you this: No one seemed worried.
"I've been around enough successful teams," said Frazier, who won a Super Bowl as a player [the 1985
Chicago Bears
] and assistant coach [the 2006
Indianapolis Colts
]. "I think I have an idea of what it takes to win in this league. That's what I've tried to get across to the players over and over, and will continue to do that."
THREE BIG ISSUES
1. How quickly can the Vikings install Bill Musgrave's new offense?
Players are learning different terminology and an entirely new scheme, one that will roughly resemble what the
Atlanta Falcons
run under coordinator Mike Mularkey. Rookie quarterback
Christian Ponder
received a partial playbook during the one-day lockout respite in April, and he helped distribute it to teammates by making copies himself.
Still, Musgrave freely admits there isn't enough time to install everything. He has cut back the volume of the playbook and won't have his full arsenal installed for some time, if at all, in 2011.
"We're in uncharted territory," he said. "We've never been through anything like this, whether as a coach or a player. We're trying to be smart in whittling down the volume that we present to the players. We want to be diverse and difficult to defend on offense, but at the same time, we want to know what the hell we're doing. We also want to get these guys back in football shape, so we don't want to work hard mindlessly. We want to work smart. We're balancing all those factors."
For now, at least, less will have to be more.
[+] Enlarge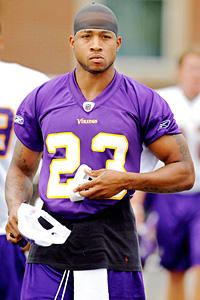 Bruce Kluckhohn/US PRESSWIRECedric Griffin has recovered from injuries to both of his knees last season and coach Leslie Frazier plans to start him in Week 1.
2. Cedric Griffin's quick recovery:
I'm not sure if Griffin's story has gotten enough national attention, but it will be remarkable if it holds up. Griffin tore both anterior cruciate ligaments in a span of 10 months, starting with the right knee in January 2010 and then the left knee last October. But doctors cleared him for full participation when training camp began and he was working with the first team throughout my three days in Mankato.
Griffin was never the fastest cornerback in the NFL, and it's fair to wonder how two major knee surgeries will impact his ability to run downfield with receivers. But the Vikings appear to be counting on Griffin, who is backed up by a pair of young cornerbacks --
Chris Cook
and
Asher Allen
-- who each struggled last season.
Griffin probably won't play in the preseason opener, but Frazier said he has every intent of starting him in the Sept. 11 season opener against the
San Diego Chargers
. Said Griffin: "Injuries are a part of this game. If you get hurt, you get back up and continue to work hard. That's what I do."
3. Replacing Sidney Rice:
The reality is the Vikings weren't going to find a receiver who could duplicate Rice's ball skills and leaping ability. Instead, they signed
Michael Jenkins
to offer reliable hands and precise routes. They renegotiated the contract of receiver
Bernard Berrian
, who should be motivated to put aside two lost years caused by a poor connection with former quarterback
Brett Favre
.
Most of all, however, the Vikings have thrust their faith behind third-year pro
Percy Harvin
, whom they hope will be their pseduo-No. 1 receiver and the top playmaker in their passing game. At 5-foot-11 and 195 pounds, Harvin doesn't have the prototypical size for that role. But he has already earned the respect of McNabb, for one.
"I have played with guys that play big, but are short in stature and have been so successful," McNabb said. "You talk about guys like
DeSean Jackson
and
Santana Moss
. There is no reason why Percy can't be a perennial Pro Bowler, as a starter at the receiver position with over 1,000 yards receiving, 90-100 catches."
BIGGEST SURPRISE
The release
of left tackle
Bryant McKinnie
could qualify as both the biggest surprise and biggest disappointment of the Vikings' summer. We'll classify it as the former because no one, not even Frazier, saw these circumstances coming. Specimens like McKinnie, who is 6-foot-8 with a 94-inch wingspan, are rare and can take years to suitably replace.
Last week, I suggested McKinnie's departure was
a warning shot
to a roster that might have underestimated Frazier's demeanor. But I really don't think Frazier arrived at training camp intending to make that kind of splash, a belief Frazier reinforced during an interview.
"It really wasn't intended to send a message to our team," he said. "I had not planned in this offseason to have a new left tackle. That was not the plan. It was just a matter to do what's best for our team and our organization. If there is anything from them to get from this, it's that. That's why I did what I did it. Every decision I make is going to be what's best to bring a championship to Minnesota. No hidden agenda. No personal agenda, that was it."
Indeed, Frazier could have chosen a less crucial position if he was just looking to make a point. No, Frazier arrived in Mankato to find he had an unexpected crisis on his hands: a key player who was in no condition to play anytime soon. The Vikings planned for uncertainty at quarterback. They orchestrated intentional changes at receiver and defensive line. All the while, they were counting on McKinnie as their left tackle. His condition stunned and angered them and will leave them weakened for some time.
[+] Enlarge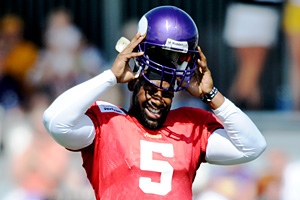 Hannah Foslien/Getty ImagesMinnesota quarterback Donovan McNabb is with his third team in three seasons.
MOST DELICATE JOB
The Vikings acquired McNabb for the
shortest of short-term jobs
: To help them win until Ponder is ready to start. In order to give McNabb a fair chance to do that, Frazier and Musgrave must give him unconditional support. But they'll have to do it while keeping one eye on Ponder's development as well.
The first week of training camp suggested the Vikings aren't close to having a quarterback controversy on their hands. McNabb
authoritatively took control of the offense
, working with several veterans at a local high school until he was eligible to practice, and then learning enough of the playbook to effect a smooth transition on his first day as the starter.
Ponder, on the other hand,
looked like a rookie
in his first week of professional practices. He displayed a quick release and an obvious ability to throw on the run, but his inexperience manifested itself in poor downfield accuracy and some bad interceptions.
McNabb's
one-year, $5.05 million contract
doesn't suggest he is in the team's long-term plans. But Frazier said he hasn't given much thought to the eventual quarterback succession, and I for one believe him.
"I really haven't thought that far ahead," Frazier said. "From time to time I'll look a little bit ahead, but there is so much to get done right now. It's all-encompassing. So to start saying right now what we're going to do a year from now or two years from now, that we're going to do this or that in certain positions. ... With all the changes we're having in 2011, you better get your focus on right now or you'll look back and regret certain things."
OBSERVATION DECK
After spending four seasons in a West Coast, zone-blocking scheme, tailback Adrian Peterson appears invigorated by the potential of Musgrave's offense. "The running back is definitely asked to do a lot more," Peterson said. "I'm excited about it. [There are] different formations, different looks that a running back has outside of the box. I'm excited to get this installed in my mind, this playbook, and get out there on Sunday to showcase the new Vikings offense." If all goes as planned, Peterson will play a much bigger role in the Vikings' downfield passing game than in previous years.

Peterson wants to be on the field for every play, but obviously the Vikings will need to establish both a backup and some potential relief on third down as well. Conventional wisdom suggests it will be Toby Gerhart, a second-round pick in 2010 who ran for 322 yards in limited service as last season. But I wouldn't rule out fourth-year pro Lorenzo Booker, a late addition last season who could also return kickoffs. During full-padded goal-line drills, Booker hit the holes quicker and more decisively than Gerhart, who seems to need time to gather a head of steam.

The Vikings' left tackle transition has attracted national attention, but it's not the only offensive line position in flux. Right guard Anthony Herrera is still recovering from a torn anterior cruciate ligament suffered last November and has not yet returned to practice. His status for the start of the regular season is uncertain at best. The Vikings are using second-year player Chris DeGeare in his spot, but they also re-signed veteran Ryan Cook as a possible alternative. From what I saw, neither player can match Herrera's aggressive play. On the plus side, Hutchinson and right tackle Phil Loadholt both reported to camp in the best shape of their Vikings careers.

While the offense is under significant schematic renovation, the defense doesn't appear much different under new coordinator Fred Pagac. That's no surprise. Pagac was the Vikings' linebackers coach for five years, including four under Frazier, and will run a similar hybrid form of the so-called "Tampa-2" scheme. Pagac implied that his game-day calls might be more aggressive than Frazier's, and there was plenty of blitzing during the team drills I saw. "The calls might be a little different according to the different situations but that's just a difference in philosophy," Pagac said. "Our defense is going to be the Viking defense that you've seen here for the last five years except again, we're going to push running to the football, playing with our hair on fire and having fun. We're going to get after it."

Fourth-year pro Erin Henderson is working with the first team at outside linebacker, the position vacated by the unsigned Ben Leber. It's not clear if Henderson is merely the first of a rotation of players who will get an opportunity or if the Vikings intend for him to be their starter. Henderson has been a good special-teams player but hasn't previously done much to distinguish himself on defense. Another candidate, Kenny Onatolu, is recovering from a stress fracture in his foot.
August, 2, 2011
8/02/11
1:00
PM ET
GREEN BAY, Wis. -- The NFL lockout robbed the
Green Bay Packers
of some traditional pomp and circumstance normally afforded to Super Bowl champions. They have yet to visit the White House. Their
ring distribution
was pushed back to an anticlimactic mid-June ceremony. Some key players didn't finalize new contracts until late July.

So as they reported to training camp this past weekend, the Packers were focused on recreating the special circumstances that led to their Super Bowl XLV victory in hopes of an encore trip this season. They bid farewell to several players whose jobs were phased out by the end of 2010, but at the public behest of quarterback
Aaron Rodgers
and others, they brought back a number of others whose secondary contributions seemed too valuable to lose.
"That was important," Rodgers said. "I don't think you get better by robbing from the whole. We were fortunate enough to bring back some of our guys and also bring some guys back who were injured. You start off with a great amount of chemistry between the guys. It's a close-knit locker room, and guys hang out with each other, enjoy spending time together and enjoy working together.
"So we have that going for us, which I know doesn't go on for every team, and that does a lot. When you can count on the guy next to you, when you spend time with him, when you spend time after practice watching film, that's important stuff when it comes down to crunch time and winning games."
Appropriately, I spoke with Rodgers only after he wrapped up a locker room card game. Having been apart for the entire offseason, Packers players clearly were relishing the renewal of friendships and bonds forged during their championship run. Coach Mike McCarthy said the Packers' "No. 1 issue" will be handling success, and players are channeling that request toward a second Super Bowl title -- and a proper celebration afterward.
"A-Rod was able to keep some of the guys that he wants so they can still be explosive," safety
Nick Collins
said. "We kept some of our main people on defense so we can keep doing what we're doing. Now it's just a matter of putting it all together again."
THREE HOT ISSUES
[+] Enlarge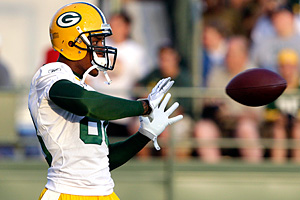 AP Photo/Morry GashWorking Jermichael Finley back into the game plan will be a pleasant problem for the Packers to deal with in training camp.
1. Tight end Jermichael Finley is back (most of him):
Felled last season by a Week 5 knee injury and later a postsurgical infection, the Packers tight end reported to training camp in superb shape after a long rehabilitation. He has without question trimmed his already-wiry frame and drew skepticism when he insisted he weighed in at 240 pounds.
The Packers' medical staff prescribed a gradual return to football activities, but it didn't take long for Finley to display his unique receiving skills during an individual drill. When two quarterbacks inadvertently threw him passes, Finley calmly caught one and tucked it under his arm, then caught the other.
Finley's return will prove as challenging as it is exciting and should be a focal point over the next few weeks. After his injury, the Packers refocused their offense around receiver
Greg Jennings
. Rodgers said it will be a "challenge" to fold in the pre- and post-injury schemes.
"You add another talented guy back to the mix like that," Rodgers said, "and it's tough to get the ball around to all of our skill guys. You've got to find a way to get everyone else involved, realizing that you might be bringing back the most talented guy to the offense.
"When [Finley] is out there, we're a different team. Defensive coordinators have a difficult job when they're trying to figure out how to cover him. It's going to be important for us to find ways to get him the ball but also to keep the other guys involved who played big roles for us last year."
2. The extents of leadership:
Rodgers
said in a number of interviews
that he wanted the Packers to re-sign receiver
James Jones
and running back
John Kuhn
. Both returned with three-year contracts on Sunday.
But Rodgers insisted in the strongest terms possible that he never went to general manager Ted Thompson to plead either case. "That's 100 percent untrue," he said.
Asked how much he talked to Thompson or coach Mike McCarthy about the issue, Rodgers said: "Zero."
He added, "I don't get paid to do that. I get paid to play quarterback. I don't make those decisions. You look at Ted's track record. He's done an incredible job of bringing in talent. They've done an incredible job bringing in talent; they bring in the talent, I get paid to play quarterback. It's not my style to go up there and say anything to those guys."
At the same time, let's not be naive. When a Super Bowl MVP publicly calls for a reasonable personnel move, it shouldn't be surprising to see it happen.
3. Backfield rotation:
I saw no evidence that the Packers plan for anything other than
Ryan Grant
to be their starting tailback when the season opens. There has been plenty of discussion about Grant's future after the postseason emergence of
James Starks
and the arrival of rookie
Alex Green
, but Grant worked with the first team throughout the first three days of practice and had some runs, McCarthy said, "that looked like Ryan Grant looks like in the regular season."
Starks also got some time with the first team, and that kind of rotation is fully expected to continue. The one question mark is on third downs following the free-agent departure of
Brandon Jackson
. Neither Grant nor Starks is known for his receiving ability. Could Green be that guy? Or is that why Rodgers wanted Kuhn back? I'm guessing it's the latter.
BIGGEST SURPRISE
[+] Enlarge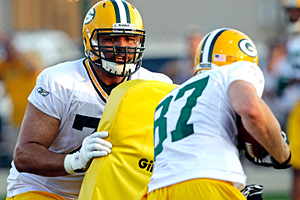 AP Photo/Morry GashFirst-round pick Derek Sherrod, a tackle in college, has opened training camp as the starting left guard.
Under McCarthy, the Packers have a long history of shifting offensive linemen to fill vacant positions. But it was still interesting to see first-round draft pick
Derek Sherrod
line up at left guard
with the first team for three consecutive practices.
Sherrod was drafted as a left tackle and said he had never played left guard before Saturday evening. He appeared to hold his own on a physical level, although there was no doubt that his head was swimming in the Packers' playbook.
"Once he gets it down mentally, he's going to be a damn good player," right guard
Josh Sitton
said. "I think he's got the confidence. He's got the talent level. I think he's going to be a good player."
If Sherrod maintains his spot, the Packers will open the season with two first-round picks and one second-rounder among their five starters. And after adding his 6-foot-5, 321-pound frame to the group, the Packers now have what McCarthy called "our biggest line in my six years here."
BIGGEST DISAPPOINTMENT
Since last summer, we've been hearing about the potential of defensive end
Mike Neal
, the Packers' second-round pick in the 2010 draft. His chiseled 294-pound frame certainly looks the part. But Neal didn't practice much during my time in Green Bay because he is still recovering from surgery this past fall to repair a torn labrum and rotator cuff in his shoulder.
I'm not in any way questioning Neal's toughness or the level of his rehabilitation. But the departure of veteran
Cullen Jenkins
opened the door for Neal to take the right end job and own it. Nothing can happen until he heals and strings together a few weeks of uninterrupted practice. The Packers are hoping to accelerate his return by the end of this week. For now, the Packers are using
C.J. Wilson
in that spot.
OBSERVATION DECK
Rookie Randall Cobb is working at all three receiving positions as both a kickoff and punt returner and even as the backup holder. His acceleration and aggressiveness in the open field were eye-opening, at least with the team in shorts and helmets. Although much could change, McCarthy said he is giving Cobb a longer look at punt returner than at kickoffs. He is hoping Green emerges to handle the latter.

McCarthy has been complimentary of rookie tight ends D.J. Williams and Ryan Taylor. Both are athletic and have good hands. Because of Finley's return schedule and Andrew Quarless' hip flexor, Williams and Taylor both got good work with the first team. You have to wonder whether Williams, especially, will challenge Quarless' roster spot.

The Packers have shifted to a new camp schedule that features one practice a day, usually with a 7 p.m. local start. The plus for players? No two-a-days. The downside? "There are a lot more meetings," linebacker Clay Matthews said. Rodgers said, "We're in meetings all day. It's a great opportunity for young guys to get into the playbook. But it is a longer day because you're in meetings, but it's positive for the young guys." McCarthy planned this schedule before the lockout, but in the end it will help new players catch up quicker.

Matthews slimmed down with a focus on running this offseason and came to training camp determined to avoid the hamstring injuries he incurred in the Packers' previous two training camps. (Did he really need those camps? You decide.) I thought it was interesting that on the first play of team drills in full pads, Matthews stood up right tackle Bryan Bulaga and made the stop on a running play. One of the Packers' weaknesses last season was run defense on Matthews' side.

Why was Jones' return so important? Here's how Jennings put it: "We're looked at and viewed as one of the better receiving corps in the NFL. You unplug any one of those guys, that outlook kind of goes down. I don't care which one you unplug, it goes down. If we had lost James, we definitely would have had a void to fill."

McCarthy hasn't always kept three quarterbacks on his 53-man roster, but he likes what he's seen from No. 3 quarterback Graham Harrell. I like keeping the third quarterback, and frankly it's risky the way we've gone about it," McCarthy said. "If you asked me my druthers, if I could keep three quarterbacks, I would always keep three, and I would have a fourth on developmental. It's the most important position in football. ... When it was Brett [Favre] and Aaron you never blinked. But Matt [Flynn] has also now shown he is durable and a tough guy, so he's also given us that flexibility to go and carry the extra DB. But if you're asking me to assess it from a risk standpoint, I would definitely lean toward keeping a third."

I saw one padded practice in my three days with the Packers. It lasted nearly two and a half hours. McCarthy called it "sluggish," but to me it was understandable. The biggest sign that players weren't quite in their element yet: not a single fight or raised temper that I could see.

Safety Morgan Burnett (knee) has been cleared for full practice but is not yet working with the first team. To this point, at least, Charlie Peprah has maintained his starting spot. At right outside linebacker, however, the Packers rotated three players with the first team: Frank Zombo, Erik Walden and Brad Jones.