NFC North:

2011 free agency
July, 31, 2011
7/31/11
3:21
PM ET
GREEN BAY, Wis. -- All available evidence suggested that the
Green Bay Packers
and receiver
James Jones
would amicably separate this summer. Jones was no doubt seeking a market-level second contract, and the Packers already have a full house of established pass-catchers and added a high draft choice to the mix this spring.
It made sense that Jones would sign elsewhere and the Packers would roll with
Greg Jennings
,
Donald Driver
,
Jordy Nelson
and rookie
Randall Cobb
at receiver, with a fully healed
Jermichael Finley
at tight end. But two things happened on the way to what the
Milwaukee Journal Sentinel's Tom Silverstein
first reported was a three-year contract agreement between the Packers and Jones. (ESPN's John Clayton has confirmed the deal.)
[+] Enlarge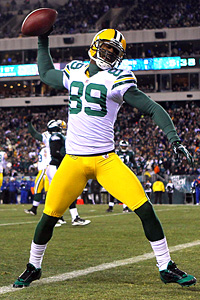 Nick Laham/Getty ImagesThe Packers and receiver James Jones have agreed to terms on a three-year deal.
First, quarterback
Aaron Rodgers
began
publicly lobbying
for Jones' return, saying Jones should be the Packers' No. 1 offseason priority. (Clearly he was not, because their first move was to re-sign place-kicker
Mason Crosby
.) Jones confirmed to
Jason Wilde of ESPNMilwaukee.com
that Rodgers, as well as Driver and Jennings, went to bat for him.
"Having your teammates push for you and want you back, not a lot of guys would do that, two high-profile guys like them, two dudes," Jones said. "And for Greg and Donald [to] want me back on that team, that shows how unselfish we are."
Speaking in the Packers' locker room shortly before Sunday's agreement, Rodgers said the Packers "need" to re-sign both Jones and running back
John Kuhn
, another unrestricted free agent. (The countdown for Kuhn's new deal begins in 3, 2, 1 ...)
"Those are two guys out there that are important to us," Rodgers said. "It's not my decision, but I'm definitely pulling for those guys to come back."
Why was Rodgers so adamant about Jones, whose otherwise productive seasons with the Packers have been marred by some high-profile drops? Ultimately, I think it comes down to human nature. People like what they know and they worry about what's next. Rodgers has devoted four years to developing a level of chemistry with Jones. Why not continue capitalizing on that experience for as long as possible?
Second, a number of teams that originally expressed interest in Jones went in different directions. As
we discussed Saturday
, the
Minnesota Vikings
agreed to terms with receiver
Michael Jenkins
. On Sunday morning, coach Leslie Frazier said he had the group "we're going to roll with," indicating Jones was no longer a possibility.
An hour or so later, the
New York Jets
-- another team linked to Jones -- agreed to terms with free-agent receiver
Plaxico Burress
.
Ultimately, I think the Packers were by far the best situation for Jones. We've all cringed at free-agent moves that seem destined to fail from the start. Is James Jones ready to be another team's No. 2 receiver? The fresh start of free agency sometimes jump-starts a career, but my guess is that Jones didn't need that. What he needs is to continue growing in an established system with one of the NFL's top quarterbacks while in the relative comfort zone of one of the league's deepest receiving corps.
If he one day succeeds Driver as the Packers' No. 2 receiver alongside Jennings, then so be it. He'll be better suited than he would have been with another team right now.
July, 31, 2011
7/31/11
11:28
AM ET
Running back
Marion Barber
's arrival in Chicago
begged an immediate discussion
about current backup
Chester Taylor
's future with the Bears. As of Sunday morning, however, Taylor was still with the team and told reporters he had been given no indication that Barber would be given his job.
Asked to explain why he thought the Bears signed Barber, Taylor said: "He's a big back, he can help us out on goal line and short yardage as well. [He can] just come up here and bring us that toughness we need. Hopefully help us throughout the season when me and Matt [Forte] wear down or something like that."

Barber
(Hat tip to Jeff Dickerson of ESPNChicago.com for passing along the quotes.)
Whether he intended to or not, Taylor accurately identified the biggest deficiency of the Bears' backfield entering camp.
For all of his attributes, Forte has been ineffective near the goal line over the past two seasons. According to ESPN Stats & Information, he has five touchdowns in 57 goal-to-go (GTG) carries since the start of 2009.
The NFL's top goal-line runners average about one touchdown on every three such carries. Last season,
Mike Tolbert
of the
San Diego Chargers
led the league with 10 scores on 21 goal-to-go carries.
The Bears hoped that Taylor would offer a stronger alternative last season. He scored three touchdowns in 13 opportunities, and it's quite possible the Bears view Barber as a better alternative in short-yardage situations.
Barber is a notoriously hard runner, but his difficult season in 2010 also extended to his success near the goal line. According to ESPN Stats & Information, he scored on three of 18 opportunities.
Taylor is signed for a relatively modest $1.275 million in 2011, so there is little risk for the Bears if they keep him on the roster at least until they know exactly what they can get from Barber. But the window is pretty narrow for Taylor if Forte is going to be the starter and Barber the short-yardage specialist.
July, 30, 2011
7/30/11
4:52
PM ET
GREEN BAY, Wis. -- Greetings from Titletown, where the temperature gauge read an even 90 degrees when I pulled into town. In a few hours, I'll check out the first training camp practice of the 2011
Green Bay Packers
.
Barnett
But first, we should note a potential news item about a former Packer. According to
the NFL Network
, linebacker
Nick Barnett
is scheduled to visit the
Detroit Lions
on Saturday evening. The Lions completed their second training camp practice Saturday morning and are off Sunday, so it's possible Barnett will make other visits before making a decision.
The Lions obviously haven't spoken about the possibility of signing Barnett, but if they do, it would make sense for him to play middle linebacker and for
DeAndre Levy
to move to the outside. That would give the Lions a respectable trio of veteran starters: Barnett, Levy and newcomer
Justin Durant
. (It wouldn't change
their situation at cornerback,
but that story is for another day.)
Barnett's
active Twitter feed
has been full of hints and teases about playing for both the Lions and
Chicago Bears
, either of which would give him the opportunity to play against the Packers twice per season. He's also been linked to the
San Diego Chargers
and
Tampa Bay Buccaneers
.
The Lions' decision to host Barnett on a visit means they still consider their linebacker position in flux even after the acquisition of Durant. Coach Jim Schwartz
said in March
he would have no problem moving Levy to the outside should circumstances warrant it.
To me, the biggest concern would be the recent injury histories of both Durant and Barnett. Durant missed six games last season and has never played a 16-game season, while Barnett has suffered season-ending injuries in two of the past three seasons. Stay tuned.
July, 29, 2011
7/29/11
4:40
PM ET
Chicago Bears
players are reporting to training camp Friday afternoon at Olivet Nazarene University, so let's hit a couple newsworthy items and then some excellent research by our friends at ESPN Stats & Information:
July, 29, 2011
7/29/11
9:35
AM ET
Will
Eric Wright
be this season's
Chris Houston
? That comparison came to mind Friday morning when it became clear that Wright and the
Detroit Lions
had agreed to terms on a one-year contract.
Like Houston, Wright was a full-time starter throughout his tenure with his original team. And like Houston, that original team was willing to part ways with him. The Lions got Houston for a
swap of draft picks
. Wright was an unrestricted free agent whom the
Cleveland Browns
weren't interested in re-signing.
Coach Jim Schwartz emphasized Thursday that the Lions' player acquisitions would continue well into training camp and cautioned against drawing any conclusions based on the roster they take into the final days of July. But for now, at least, Wright is the only cornerback the Lions have acquired for a position that was arguably their biggest need entering the offseason.
Wright had some decent seasons with the Browns, combining for seven interceptions in 2008 and 2009, but struggled in 2010. He chose the right team to sign with if he's looking for an opportunity to rehabilitate his career.
Back in April, after they failed to draft a cornerback or a starting-caliber linebacker,
the Lions noted
that there were many other avenues available for filling their remaining roster holes. It's only fair to allow the process to play out, but after the first few days of the free-agent frenzy, the Lions' acquisitions -- Wright and linebacker
Justin Durant
-- have been underwhelming.
July, 29, 2011
7/29/11
7:32
AM ET
We're Black and Blue All Over:
I guess we can't be surprised that between the hours of 11 p.m. ET and 7 a.m. ET, we had another significant free-agent agreement here in the NFC North.
ESPN's Adam Schefter
reports the Chicago Bears will sign free-agent receiver Roy Williams, who was recently released by the Dallas Cowboys.

Free agents can officially sign their contracts with teams starting at 6 p.m. ET Friday. They'll be able to report to training camp and attend classroom sessions and meetings but can't be on the practice field until Aug. 4.
*Update:
ESPN.com has amended the story to note that Williams can't technically agree to terms yet because he has not shown up on the NFL waiver wire. That will happen Friday afternoon. I'm guessing it's a matter of semantics, but by rule no deal can be complete.
Williams is a rare combination: A big receiver who gets the seal of approval from offensive coordinator Mike Martz, who typically prefers smaller-sized receivers. Williams played two seasons under Martz when both were with the Detroit Lions, and they were the two most productive years of Williams' career.
We'll have to see where he is mentally and physically four years later but, Bears fans, after years of discussion, your team finally has a big receiver.
I'll have more a bit later Friday morning.
Continuing around the NFC North:
July, 28, 2011
7/28/11
3:14
PM ET
Who would have pegged the
Chicago Bears
' tight end position as a preseason source of drama? That's pretty much what has developed Thursday in a matter of hours.

The latest: According to the Chicago Tribune, the Bears
plan to release
tight end
Brandon Manumaleuna
by the end of the day. That news comes on top of reports the Bears are shopping incumbent
Greg Olsen
for a trade and have agreed to terms with free agent
Matt Spaeth
.
I don't know if anyone outside of Halas Hall truly knows what is going on here. We've discussed the likely motivation behind trading Olsen, namely that Mike Martz's offense doesn't place a high value on pass-catching tight ends. But the Bears signed Manumaleuna specifically for this scheme and in large part because of his history with Martz, paying him a contract that guaranteed him $6.1 million.
Manumaleuna is due a roster bonus of $1 million before the start of the regular season. He has struggled with knee injuries
and was also fined
$22,000 last season for missing team meetings.
Spaeth is mostly known as a blocking tight end and would presumably replace Manumaleuna in that role. Does that mean Olsen will remain with the Bears this season? I don't think Spaeth's arrival changes that question one way or the other. The issue is whether the Bears want to pay market value for a tight end whose skills don't totally fit their system. If they were shopping Olsen this week, chances are they have made up their mind on that question. Stay tuned.
Recent Bears posts:
Why would the Bears
part ways with Olsen
?
Adam Podlesh
is
the Bears' new punter
. The team
is working offensive line targets
. Former punter
Brad Maynard
voiced surprising animosity
toward well-respected special-teams coordinator Dave Toub. The Bears have a
tough decision
on a contract extension for tailback
Matt Forte
.
July, 28, 2011
7/28/11
11:28
AM ET
We've discussed the
Chicago Bears
' looming decision
on the future
of tailback
Matt Forte
. Left unspoken, for the most part, has been a similar dilemma they face with tight end
Greg Olsen
-- who is also entering the final year of his contract.
But unlike Forte, Olsen plays in an offense that doesn't maximize his skills or position. So in what qualifies as one of the surprises of Scramble'11, it appears the Bears are prepared to move on and at least seek compensation for his departure rather than let him walk as an unrestricted free agent next year.
[+] Enlarge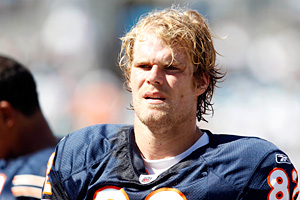 Bob Donnan/US PresswireGreg Olsen had 41 receptions for 404 yards in 2010, the lowest totals since his rookie year.
That's the upshot of a report from
Brad Biggs of the Chicago Tribune
, who viewed an email sent to all 32 teams from Olsen's agent, Drew Rosenhaus. According to the report, Rosenhaus wrote that the Bears had authorized him to seek trade offers. Rosenhaus later sent a second email asking that the first be disregarded, but it's pretty clear that something is brewing.
We
discussed this issue on numerous occasions
after offensive coordinator Mike Martz's arrival in 2010. Martz had typically devalued the tight end in his passing game, and before last season no tight end had caught more than 38 passes or six touchdowns in a full season under Martz. In the end, I thought Martz was too smart to under-utilize a player with Olsen's unique size and skills.
Olsen finished the season with 41 receptions, a Martz-scheme record, but on a personal level it was his lowest total in three years. If Olsen wants a market-level contract extension for a tight end -- which, by the way, he deserves -- then he's not likely to get it from a team that prioritizes blocking rather than receiving from its tight end.
That's not to say there isn't blame here. Generally speaking, good coaching is about adjusting schemes to fit the skills of your players, not the other way around. And what if Martz leaves at some point in the next five seasons, which is certainly a possibility? I'm betting the next offensive coordinator would like a 6-foot-5 tight end who can outrun linebackers and outmuscle defensive backs in the end zone.
It's always possible the Bears will decide to play out the season with Olsen if they don't get an offer they like. But at the very least, it seems they are not jumping at the opportunity to lock him up long term.
Recent Bears posts:
Adam Podlesh is
the Bears' new punter
. The team
is working offensive line targets
. Former punter
Brad Maynard
voiced surprising animosity
toward well-respected special-teams coordinator Dave Toub. The Bears have a
tough decision
on a contract extension for tailback
Matt Forte
.
July, 28, 2011
7/28/11
10:02
AM ET

Multiple reports suggest it's only a matter of time before the
Green Bay Packers
formally part ways with offensive lineman
Daryn Colledge
. The
Arizona Cardinals
appear to be the leading candidate for his services.
This news should come as no surprise because the Packers have declined numerous opportunities to sign Colledge to an extension in recent years. He is now an unrestricted free agent. Clearly, the Packers are comfortable with depth along the offensive line and decided to allocate their cash and salary-cap space elsewhere.
So who will take over for Colledge at left guard? The best guess, as suggested by
ESPNMilwaukee.com's Jason Wilde
, is
T.J. Lang
. I believe Lang has played every position except quarterback in his three seasons with the Packers, and if anything he's proved a quick study. And although it's totally irrelevant, Lang has also demonstrated a solid John Madden-like sense of humor on his Twitter feed (
@TJLang70
).
Recently:
"I hate dropping ketchup on clothes I just washed."
Who doesn't?
Seriously, there are two other backups who could figure into this competition:
Nick McDonald
and
Marshall Newhouse
. But what interests me the most is if the Packers will feel compelled, as they have in the past, to shift a starter or rising starter from another position into an open spot in the name of getting their best five linemen on the field.
In this case: Would the Packers move right tackle
Bryan Bulaga
to left guard, where he spent a bit of time in training camp last summer? Or would they try to get first-round draft pick
Derek Sherrod
, a left tackle in college, onto the field as a left guard?
We have no immediate indication on those possibilities. Coach Mike McCarthy is scheduled to speak with reporters Saturday morning. Stay tuned.
Recent Packers posts:
The Packers trust
Mason Crosby
as
their place-kicker of the future
. Quarterback
Aaron Rodgers
really, really wants
the Packers to re-sign receiver
James Jones
. To little surprise, the Packers told linebacker
Nick Barnett
he will be traded or released
.
July, 28, 2011
7/28/11
9:31
AM ET
Chicago Bears
fans understandably are pining for an infusion of free agent offensive linemen. I think that will come in the next day or so. In the meantime, the Bears took care of the roster hole created when they
decided to move on
from veteran punter
Brad Maynard
.
Free agent
Adam Podlesh
, who spent the past four seasons with the
Jacksonville Jaguars
, has agreed to terms on a five-year contract, according to ESPN's Adam Schefter. There had been heavy speculation that the Bears would pursue the
New York Jets
'
Steve Weatherford
, but ultimately Podlesh proved to be their man.
The Jaguars' fourth-round draft pick in 2007, Podlesh was
diagnosed with a rare form of cancer
known as acinic cell carcinoma in 2009. He returned in 2010 to have the best season of his career, earning Pro Bowl alternate status after averaging 43.8 yards per punt and dropping 26 punts inside opponents' 20-yard line.
Most important to the Bears, Podlesh is 11 years younger than Maynard and presumably will provide stability at the position for years to come.
Recent Bears posts:
The team
is working offensive line targets
. Maynard
voiced surprising animosity
toward well-respected special-teams coordinator Dave Toub. The Bears have a
tough decision
on a contract extension for tailback
Matt Forte
.
July, 28, 2011
7/28/11
7:06
AM ET
We're Black and Blue All Over:
I turned away from the computer for a few hours, coinciding with the night time ritual known as catching a few winks, and it looks like I've missed some important NFC North news. Here's the biggest:

The Detroit Lions have agreed to terms with free-agent linebacker Justin Durant, once thought to be a target of the Chicago Bears, according to ESPN's John Clayton. Durant has also posted some
Lions-centric tweets overnight
, including: "So the DLine is called the Silver Crush huh? Ok I can get with that"
Yes, any linebacker signing with the Lions will have the benefit of a strong defensive line to keep blockers away from him. Durant had a tough time staying on the field with the Jacksonville Jaguars and missed six games last season, but he is a strong player who will fill an obvious need on the outside if he can stay healthy.
The Lions
have also pursued
free-agent linebacker Stephen Tulloch. No word yet on Tulloch's decision. But for now, at least, Durant's arrival will keep DeAndre Levy in the middle of the Lions' 4-3 scheme.
Continuing around the NFC North:
July, 25, 2011
7/25/11
8:28
PM ET
EDEN PRAIRIE, Minn. -- From a national perspective, at least, there seems to be a natural assumption that the
Minnesota Vikings
have no choice but to acquire a starting-caliber veteran quarterback in the coming days. The cancellation of offseason work, the theory goes, doomed any chance of getting rookie
Christian Ponder
ready to start right away.
[+] Enlarge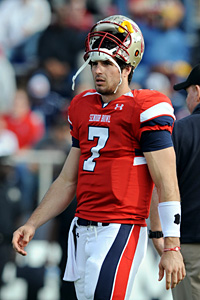 Chuck Cook/US PresswireChristian Ponder is the Vikings long-term solution at quarterback, and possibly their short-term solution as well.
As recently as Monday morning,
our friends at Football Outsiders

suggested the Vikings' top priority should be to trade for a veteran quarterback and named
Kyle Orton
(
Denver Broncos
) and
Donovan McNabb
(
Washington Redskins
) as possibilities.
I don't see it, never have seen it and won't see it until it hits me upside the head in a surprise. My sense is the Vikings drafted Ponder at No. 12 overall with the full expectation that he would be their immediate starter. He won't come to training camp completely cold, having studied a version of their new playbook for the past three months. There is no way he will be totally up to speed when the regular season begins, but would it be worth a draft pick to acquire the shortest of short-term starters?
My answer is no, and nothing team officials said during a news conference Monday suggested otherwise. I do think the Vikings will sign a veteran, but it will be someone to provide insurance against an unexpected hurdle in Ponder's development. I don't know who that person is, but I think it's much more likely to be someone of the
Tyler Thigpen
variety than Orton or McNabb.
Vice president of player personnel Rick Spielman alluded to that scenario Monday. He acknowledged the Vikings have discussed every possible scenario but added: "I know we've talked about making sure the veteran quarterback will be the right fit, too. Not only for us to potentially win ballgames if we go down that route, but also the right fit in the room for Ponder and
Joe Webb
and
Rhett Bomar
."
Coach Leslie Frazier wouldn't rule out any possibility, but we know Ponder will be his quarterback in the long term. I have no doubt he wants Ponder as his quarterback in the short term as well.
"We're going to try to do what's best for the Vikings and what's best for our roster," Frazier said. "But I wouldn't put it past us to open the season with a young quarterback if that's the case."
As the muckety-muck of an unprecedented lockout transitions into the NFL's new free-agent template, we still must guard against being led astray by teams who don't want their competitors to get a preview of their game plan. If the Vikings were preparing an offer for Orton or McNabb, they wouldn't have jumped up and said so Monday.
But I'll go on record now and suggest it would be a mistake to invest the assets necessary, be it draft picks or salary cap space or both, to bring in a veteran starter. Frazier is building his offense around tailback
Adrian Peterson
and can employ an array of playmakers in the passing game, even if free agent
Sidney Rice
signs elsewhere. That kind of team can and should support a rookie quarterback, lost offseason or otherwise.
July, 25, 2011
7/25/11
7:42
PM ET
We're only a few hours into the NFL's post-lockout world, but we're already getting answers to some key personnel questions we spent the offseason discussing.

Maynard
Here is one of the first.
ESPNChicago.com cousin Jeff Dickerson
has confirmed the
Chicago Bears
won't re-sign free agent
Brad Maynard
, their punter for the past 10 seasons. The team informed Maynard of the decision late Monday afternoon in a story first reported by the Chicago Tribune.
This move isn't entirely unexpected, but it's still a bit jarring to see a core member of a special teams juggernaut cast aside. Maynard is 37 and his performance dipped a bit in 2010, but age is relative when it comes to punters and place-kickers in the NFL. A reliable specialist is one of the most underrated comforts in football.
A snippet from
our original discussion in March
:
It's true that Maynard's 35.2-yard net average ranked 30th among NFL punters last season, but he did drop 24 punts inside the 20-yard line. Veteran savvy and experience are as valuable to kicking specialists as any position on the game, and Maynard's career total of 407 punts downed inside the 20 are the second-most in the NFL over the past 35 seasons.
Still, the Bears have made the decision to move on and assuredly have a priority list for replacements. They have longtime camp leg
Richmond McGee
on their roster, and ESPNChicago.com offers three veteran possibilities:
Sam Koch
,
Adam Podlesh
and
Steve Weatherford
. Negotiations can begin Tuesday at 10 a.m. ET. Stay tuned.