NFC North:

2011 NFL owners meeting
March, 22, 2011
3/22/11
4:30
PM ET
NEW ORLEANS -- Ultimately, the NFL's push to alter kickoffs proved a hot topic for one NFC North team and a complicated proposition for the rest.
We opened
our discussion on this issue last week
, noting its potential to minimize the
Chicago Bears
' strong return game while also relieving some 2010 shortcomings of the
Green Bay Packers
and
Minnesota Vikings
. In the end, the Bears proved furious about the proposal and were one of six teams that voted against it. But with 26 votes in favor, owners
agreed to move kickoffs
up to the 35-yard line and to limit cover men to a five-yard head start on coverage.
[+] Enlarge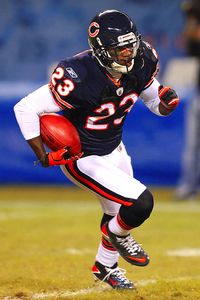 Dennis Wierzbicki/US PresswireWith one of the best return men in the game in Devin Hester, the new kickoff return rule hurts the Bears more than most.
(Two-man wedge blocking will still be allowed and touchbacks will return to the 20-yard line after some late revisions to the rule.)
There was no doubt in my mind that some form of this rule would pass once the NFL connected it to the politically-sensitive player safety issue. Competition committee chairman Rich McKay estimated that touchbacks could increase by as much as 15 percent in 2011, but he said shrinking the field in which cover men could run should make the play safer -- presumably by limiting the force of impact.
"When you shorten that run and have guys with their legs a little more underneath them, and closer to where their opponents are, hopefully it changes the [injury] numbers," McKay said. "We think it will."
The Bears have arguably the best pair of kickoff returners in the game in
Devin Hester
and
Danieal Manning
. Coach Lovie Smith
made clear Tuesday
morning that he was "totally against" the changes and strongly implied that gamesmanship would enter the voting.
"Teams that don't have a good returner, of course they're not for [the status quo]," Smith said. "I know we're talking about player safety, but I don't know if that's making the game safer by eliminating [it]."
Here's what Bears special teams coordinator Dave Toub
told the team's website
: "It's going to help teams that aren't real good at kickoff coverage. They're going to be able to kick more touchbacks. Touchbacks are a good option for them or for anybody playing us. That's a win for them."
*Update:
In an interview with ESPN 1000, Hester joked that he was working on strengthening his leg "because I have a strong feeling I'm not going to get any returns, so let me try to do the kicks and keep a job going." Turning serious, Hester said "it's going to be real tough for returners" and added: "They might as well put up the arena nets, [because] there are going to be a lot of balls going into the end zone."
The Lions voted for the proposal, general manager Martin Mayhew told Detroit-area reporters. *
Update:
I've also learned that the Minnesota Vikings and Green Bay Packers did as well. In speaking with representatives of all four teams over the past two days, I got the impression their vote would be more influenced by the NFL's push toward safety rather than trying to neutralize Hester and/or Manning.
Packers general manager Ted Thompson said: "I think everyone is trying to do the right thing. Different people have different ideas about how to get it done."
Voting simply to hurt a competitor, Packers coach Mike McCarthy said, "is a part-time mindset, and when you deal with that in league-wide rules, that's not right. I think integrity of the game should always be at the mindset. The topic is player safety. It's not individual organizations trying to get a rule passed to make up with a team today."
(Check out comments along similar lines from Lions coach Jim Schwartz and Vikings coach Leslie Frazier
from Monday's post
.)
Given the revisions it took to get the rule passed, here is the bottom line: Hester, Manning and the Lions'
Stefan Logan
will have five less yards to work their magic. Teams with sub-par kickoff men can tack an extra five yards to their distance. And the touchback revision will probably prevent teams from popping up kickoffs in hopes of pinning dangerous returns close to their goal line.
There is no doubt returns will be impacted. But doesn't the cream always rise to the top?
March, 21, 2011
3/21/11
4:07
PM ET
NEW ORLEANS -- By now, you've probably seen
the extensive explanation
that
Chicago Bears
president Ted Phillips has given for maintaining the grass surface at Soldier Field. (If not, be sure to check out Dan Pompei's report in the Chicago Tribune.)
I'm planning to do a more extensive look at the issue later this offseason -- chances are, we'll have
plenty of time for it
-- but for now I want to hear your thoughts on it. Already, I've gotten a number of responses similar to this one from
Kevin (no relation) of Wisconsin
:
The Bears not replacing the grass with field turf is a joke. The Packers had success on grass but put in field turf and like it much better. It holds up a lot more and you do not play on frozen mud and the injury risk to the players is less. To me the Bears are just being cheap and taking a risk with players health.
There are a number of layers to this issue. Player safety is one, but the Bears would argue that grass is safer than any version of artificial turf. Money is also an issue, but the fact is the Bears wouldn't have to pay for a turf conversion if it ever happened. The Chicago Park District would.
In winning the NFC North last season, the Bears were 6-4 at Soldier Field, including playoff games. They also were
the healthiest team in the division
. Coincidence? Or can the Bears realistically attribute part of their success to the home-field advantage of the Soldier Field turf? That's the crux of what I want to hear from you.
For some further background, check out
our January post on the issue
. And, for your convenience, here is what Phillips told Pompei:
We've had great success at Soldier Field in December and January. The grass field there will never be top-notch late in the season, but it's more of a perception issue than a real negative issue. The players know how to play on it, and frankly, it's been part of our home-field advantage. If the time ever comes that the technology gives us an infill surface that plays like grass, and more importantly the studies about lower-extremity injuries show there are not quite the discrepancies that they show now, we'll consider making a switch at that time. I don't know that time will ever come. I admit there is no completely conclusive study that's been done, but the tendency in the studies I've seen is that there is too high of an incidence of ankle and knee injuries on infill surfaces versus grass. We have too many millions of dollars tied up in our players to risk that right now.
March, 21, 2011
3/21/11
2:00
PM ET
NEW ORLEANS -- As we noted last week, the NFL's proposed changes to kickoff rules would make a dramatic impact on the NFC North. Not only could it neutralize some elite return men, from
Devin Hester
and
Danieal Manning
of the
Chicago Bears
to
Stefan Logan
of the
Detroit Lions
, but it could also minimize the need for the
Green Bay Packers
and
Minnesota Vikings
to address their relatively short 2010 kickoffs.
[+] Enlarge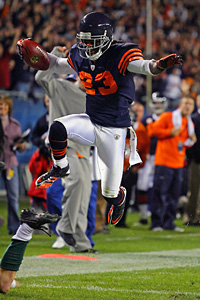 Dennis Wierzbicki/US PresswireIn his five seasons, Bears receiver Devin Hester has returned 10 punts and four kickoffs for TDs.
The changes would push the kickoff to the 35-yard line, eliminate wedge blocking, limit the head start for cover men to five yards and move the touchback to the 25-yard line. My initial thought was that it would eliminate the kickoff return as we know it, and
the Bears have already indicated
they will vote against it.
Hester made his own opinion clear
via Twitter
: "I see the NFL is trying to take the kickoff game out. They already punt out of bounds. What's next?"
As NFC North officials descend on the owners meeting here at the Roosevelt Hotel, I wonder if their votes will reflect the divisional dynamic as well.
Lions coach Jim Schwartz noted the presence of Hester, Logan and the Vikings'
Percy Harvin
. But he said: "It's a philosophical [decision]. I think when you're doing stuff like that ... if you're voting because of selfish reasons, you're voting for the wrong reasons."
Schwartz wouldn't say how he feels about the rule or how the Lions will vote. (*
Update:
Lions president Tom Lewand
told Detroit-area reporters
the team isn't eager to vote for a change.) But my strong sense is that most coaches will oppose it, especially if it minimizes a valuable weapon.
New England Patriots
coach Bill Belichick
went on record Monday, saying
: "I don't know if that's really good for the game."
What will be interesting is if owners listen to their coaches, or if they listen to a league that has made player safety a key component of its discussions with the NFL Players Association. Ostensibly, the motivation for changing the rule is to reduce injuries during high-impact kickoff plays. If this rule doesn't pass, the NFLPA could use it as evidence that the league isn't as committed to the safety issue as it says it is.
I'm not sure it's that simple, however. What if coaches instruct kickers to pop up their kickoffs near the goal line, forcing a return that might not get to the 25-yard line? Would that have any impact on safety? It's a debatable point, at best, and it's why Tuesday's vote will be highly interesting.
"There will be a lot of discussion over the next couple days about it," Vikings coach Leslie Frazier said. "And I'm anxious to hear the competition committee's argument for it, as well as what myself and other coaches will have to say for it or against it. So, it'll be a lot of discussion. I know special teams coaches are wondering. It would definitely change the NFL as we know it.
"It would have a major impact on special teams -- in particular one of the most exciting plays in pro football, the kickoff return. Some weeks you'd be glad, because it's not available when you play Hester or somebody."
March, 20, 2011
3/20/11
7:43
PM ET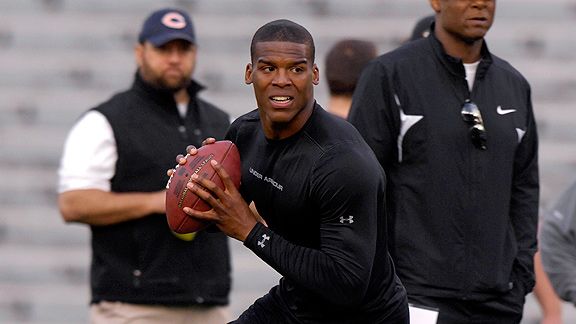 AP Photo/Todd J. Van EmstDoes Cam Newton possess the leadership skills the Vikings are seeking in a franchise quarterback?
NEW ORLEANS -- As
Minnesota Vikings
officials arrived Sunday to the NFL owners meeting, they found themselves at about the midway point of their offseason project to draft a franchise quarterback. Vice president of player personnel Rick Spielman suggested the team will devote multiple visits to at least six quarterbacks, and coach Leslie Frazier said he is starting to get "a feel" for how the team will stack its draft board.
Through various reports, five of those quarterbacks have been revealed: Missouri's
Blaine Gabbert
, Auburn's
Cam Newton
, TCU's
Andy Dalton
, Washington's
Jake Locker
and Arkansas'
Ryan Mallett
.
"I'm trying to be open minded until we finish some of these private workouts," Frazier said. "But it's hard not to [get enamored midway through the process] when you watch a certain tape and go, 'Oh man, this is the guy.' Then you put on another tape and go, 'Wait a minute. This guy...' So you have to be careful and just go through the process. But each one of them, they all have good qualities of some kind. I do have to catch myself sometimes not getting biased before we finish this process."
The Vikings are using the private workouts mostly to make social observations and to give Frazier and other coaches a chance for more personal conversation that can reveal character and leadership insights. To understand how important that facet of the scouting process is, look no further than the Vikings' experience over the past four years with quarterback
Tarvaris Jackson
-- an excellent athlete with a rocket arm who was more comfortable in a secondary locker-room role than as a leader.
"For me," Frazier said, "the communication and getting to know them -- sometimes in their environment, sometimes if it's at the combine or if we're going to bring them to our facility -- that to me is as important as the mechanics and so on. I think we've got good people that are going to help them [in] their fundamentals and get them from a technique standpoint. But I've got to feel good that they've got the leadership qualities and can mesh with some of my thoughts on the quarterback position. My one-on-one time with them, and just being around them is as important to me as what they can do from a pro day or workouts.
"Sometimes you have to be careful about being too enamored with a pro day or that combine workout. ... So I have to have a good feel for that person. The quarterback position is unlike any other person on the team. That guy, his mental is as important as his athletic ability. More important, in a lot of ways. Good athletes at quarterback don't always become franchise quarterbacks. For us, we're looking and hoping to find a franchise quarterback. For us, that's what we're looking to find. So my time with him is as important or more important than what we see on tape."
I'm not sure if there is much to read into Frazier's comments, although it might help explain why neither he nor Spielman attended Newton's pro day. There aren't many questions about Newton's ability to throw or run; it's his football savvy and leadership abilities that the Vikings no doubt want to investigate further.
My thoughts on this situation
haven't changed much since last week
, when I suggested the Vikings aren't likely to have either Newton or Gabbert available to them at No. 12 overall. They'll have to decide whether they want to pay a steep price to trade up for one of them, or if they feel comfortable taking Locker at No. 12 or if they will target another quarterback lower in the draft.
I asked Frazier if he was far enough in the process to feel confident the Vikings will be able to draft one of the quarterbacks they like in this draft.
"I have a feel for it," he said. "You're guessing a little bit on what people ahead of you are going to do so you think you have a feel. But ... you know [things] can change in a hurry. All of a sudden somebody you think wasn't looking at quarterbacks jumps up to a spot and you go like, 'Uh, oh.'"
The Vikings' goal over the next five weeks? Ensuring that "uh-oh" never gets uttered in their draft room.
March, 19, 2011
3/19/11
5:04
PM ET
Mardi Gras! Whoooo
hooooooooooooooooo
!
What?
It's over
?
(Face smack.)
We're off to the 2011 NFL owners meeting, an event that carries additional significance as we enter the second full week of the lockout. I'm sure that topic will dominate the public conversation, but here's hoping we can still use the event for a valuable offseason check-in with NFC North executives and coaches.
The meeting unofficially begins Sunday afternoon at New Orleans' Roosevelt Hotel and closes Tuesday afternoon. We'll do the best we can to mix in some actual football analysis. Anything you want me to ask? No guarantees, but I'll be sure to look at the comments section below before heading over to the meetings Sunday.
Have a great and safe Saturday night.
(Remember. Saturday is the
day after Friday,
and Sunday follows af-ter-waaaaards!)