NFC North:

2012 Hall of Fame
August, 4, 2012
8/04/12
8:47
PM ET
CANTON, Ohio -- A theme is emerging throughout the ongoing Pro Football Hall of Fame proceedings.

Chris Doleman and Cortez Kennedy in particular have stressed the importance strong parenting played in their lives and, ultimately, in their successes on the field.

They've spoken of parents who held them accountable when it might have been easier let them off the hook.

Doleman's father had one rule: Finish whatever you start. Signing up for a sport or anything meant seeing it through no matter what.

Kennedy thanked his father for forcing him to cut the grass at 5 a.m. after doing a poor job the first time.

Kennedy reflected on his mother forcing him to quit the football team in high school when his grades slipped. When Kennedy's former teammates won a state title without him, Kennedy's mother went to the game and sent a postcard home.

"Wish you were here," it read.

Running away from difficulties might have shielded Doleman and Kennedy from short-term failures, but the lasting lessons would have been negative ones. Hats off to their parents.
August, 4, 2012
8/04/12
8:18
PM ET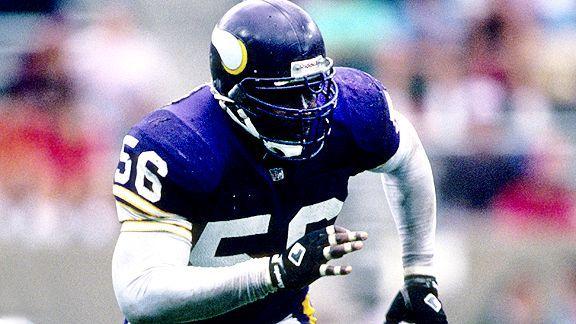 CANTON, Ohio -- New Pro Football Hall of Famer Chris Doleman retired from the NFL following the 1999 season.
Doleman joked Friday that he'd still be playing if recently adopted NFL rules scaling back training camps had been in place during his career.
Another Hall of Famer, this one speaking informally earlier in the day, said he thought restrictions on contact and practice time would serve older players at the expense of the game. He suspected that was one reason some of the older players serving as labor leaders supported the restrictions.
I asked Doleman for his feelings on another issue dominating NFL headlines off the field: whether the game puts players at undue risk, and whether children should play the game. The video carries his answers.
August, 2, 2012
8/02/12
1:20
PM ET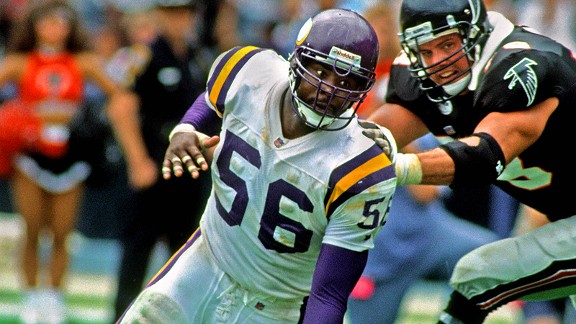 Manny Rubio/US PresswireChris Doleman had a knack for getting to the quarterback and jarring the ball loose.
Chris Doleman was a long-armed pass rusher with the height (6-foot-5) to match up with big left tackles and the speed to run around them. He retired in 1999 with 150.5 sacks, which at the time qualified as the second-most in NFL history, while playing two stints for the
Minnesota Vikings
.
What you might not know: Doleman also retired with the most forced fumbles of any player since the NFL began tracking the statistic. He forced 44 fumbles in 232 career games, and on the eve of his enshrinement in the Pro Football Hall of Fame, it might be Doleman's most enduring legacy.
As fun and momentum-shifting as a violent sack might be, Doleman was among the first to realize that pulling back a bit on the force provided a better opportunity to achieve a more impactful play.
"The era that I played in, we had some pretty good defensive linemen," Doleman said in a conference call this week. There was Bruce Smith. Reggie White. They had their own style. When I was at that defensive end position, I definitely wanted to be perceived as a pass-rusher. But would I be a speed rusher? A power rusher? A guy that takes plays off? One of the things I found I [had a knack for] was separating the quarterback from the ball.
"When you separate the ball from a running back, you just have a fumble. But for a quarterback, that's a sack and a fumble. That's a much bigger play. It wasn't about putting brutal hits on them, but controlling them and getting the ball from them."
As the chart shows, the recently-retired
Jason Taylor
passed Doleman on the all-time list, and the latest generation of pass-rushers have achieved a higher ratio of forced fumbles per game. Players like Taylor,
Dwight Freeney
and
Robert Mathis
made an art of reaching their hand toward the ball even when they're being blocked away from the quarterback. Doleman deserves his share of credit for proving the value of those efforts.
February, 4, 2012
2/04/12
6:56
PM ET
We spent plenty of time in recent days discussing
the tough road for wide receivers
making the Pro Football Hall of Fame. In the process, we ignored where the selection committee has turned its attention: pass-rushers.
Not one receiver made the last cut to five modern-day finalists in Saturday's balloting in Indianapolis. But former Minnesota Vikings defensive end Chris Doleman became the third consecutive NFC North pass-rusher
to earn enshrinement
, following Richard Dent in 2011 and John Randle in 2010. Former Minnesota Vikings receiver Cris Carter again failed to make the cut, a victim of the perceived value between pass-rushers and wide receivers.
[+] Enlarge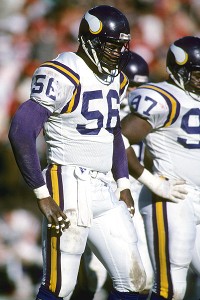 AP Photo/NFL PhotosNot only was Chris Doleman a sack specialist, but the former Vikings star is also among the NFL career leaders in fumble recoveries.
At least one pass-rusher has won election in each of the past five years. Bruce Smith and Derrick Thomas were part of the 2009 class, and Fred Dean was in the class of 2008.
Doleman's 150.5 career sacks rank fourth in NFL history, behind Smith (200), Reggie White (198) and Kevin Greene (160). Smith and White are both in Canton, and as of Saturday, five of the top eight players with the highest career sack totals have or will be enshrined. Greene, Michael Strahan (eligible in 2013) and the recently retired Jason Taylor (139.5) are the only players who have been left out.
(More on Greene, who didn't even make the cut from 15 finalists to 10, in the coming days.)
I don't want to take anything away from Doleman, who was a pass-rushing force for an extended period in the NFL. His two best seasons -- 21 sacks in 1989 and 15 sacks in 1998 -- came nine years apart. Doleman was part of four teams that finished the season with the NFL's top-ranked defense, recovered the seventh-most fumbles (24) in league history and was an eight-time Pro Bowler.
But with the exception of Greene, it's clear that sack totals are among the most reliable tickets to the Hall of Fame. Minutes after Doleman's election was announced, longtime Twin Cities sports analyst Patrick Reusse (also a colleague of mine at ESPN 1500)
tweeted
: "Apparently, it's all about sacks, since in his absolute prime, Doleman was 2nd best D-lineman on his team, behind Keith Millard."
To me, the definition of a Hall of Fame player is that he was one of the best of his era. Doleman was named to the NFL's 1990's All-Decade team, along with three other defensive ends. Was he one of the best players of that generation? He was if you accept that pass-rushing is as important as the voting committee considers it.
But enough of that. I'm not going to diminish Doleman's big day by questioning his credentials. There is little doubt he was a great player for a long time in this league.
Yes, the beauty of the annual Hall of Fame announcement is that it produces as much debate afterward as it did beforehand. Doleman is a Hall of Fame player because the voting committee places premium value on his particular skill set. (Again, Greene appears to be the lone exception to that rule.)
Carter isn't in the Hall of Fame because the voting committee doesn't value his position and corresponding statistics nearly as much. There are still only 21 receivers in Canton, the lowest total of any position other than tight end and kicking specialist. That's the deal -- no more and no less.
February, 4, 2012
2/04/12
6:04
PM ET
The NFC North will have one representative in the 2012 class of the Pro Football Hall of Fame. Former
Minnesota Vikings
defensive end Chris Doleman was elected Saturday during the annual meeting of the Hall of Fame's selection committee in Indianapolis.
Congratulations to Chris, whose 150.5 career sacks rank fourth in NFL history. We'll have more on this developments, which brought another year of disappointment for former Vikings receiver Cris Carter, in a bit. Former
Detroit Lions
guard Dick Stanfel, a nominee of the Seniors Committee, did not garner enough votes for enshrinement.
January, 7, 2012
1/07/12
2:15
PM ET