NFC North:

2012 HOF enshrinement
August, 4, 2012
8/04/12
8:47
PM ET
CANTON, Ohio -- A theme is emerging throughout the ongoing Pro Football Hall of Fame proceedings.

Chris Doleman and Cortez Kennedy in particular have stressed the importance strong parenting played in their lives and, ultimately, in their successes on the field.

They've spoken of parents who held them accountable when it might have been easier let them off the hook.

Doleman's father had one rule: Finish whatever you start. Signing up for a sport or anything meant seeing it through no matter what.

Kennedy thanked his father for forcing him to cut the grass at 5 a.m. after doing a poor job the first time.

Kennedy reflected on his mother forcing him to quit the football team in high school when his grades slipped. When Kennedy's former teammates won a state title without him, Kennedy's mother went to the game and sent a postcard home.

"Wish you were here," it read.

Running away from difficulties might have shielded Doleman and Kennedy from short-term failures, but the lasting lessons would have been negative ones. Hats off to their parents.
August, 4, 2012
8/04/12
8:18
PM ET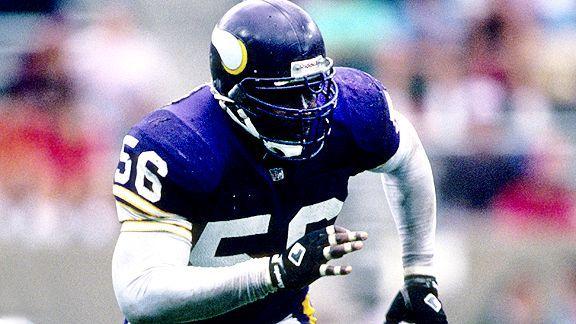 CANTON, Ohio -- New Pro Football Hall of Famer Chris Doleman retired from the NFL following the 1999 season.
Doleman joked Friday that he'd still be playing if recently adopted NFL rules scaling back training camps had been in place during his career.
Another Hall of Famer, this one speaking informally earlier in the day, said he thought restrictions on contact and practice time would serve older players at the expense of the game. He suspected that was one reason some of the older players serving as labor leaders supported the restrictions.
I asked Doleman for his feelings on another issue dominating NFL headlines off the field: whether the game puts players at undue risk, and whether children should play the game. The video carries his answers.
August, 2, 2012
8/02/12
1:20
PM ET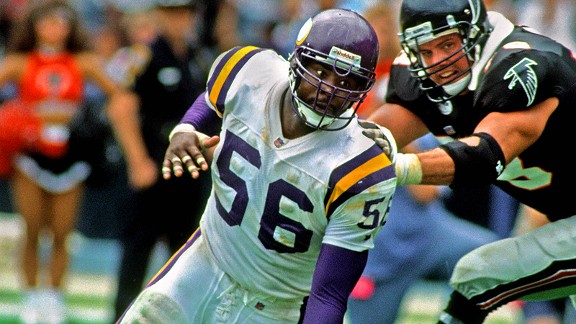 Manny Rubio/US PresswireChris Doleman had a knack for getting to the quarterback and jarring the ball loose.
Chris Doleman was a long-armed pass rusher with the height (6-foot-5) to match up with big left tackles and the speed to run around them. He retired in 1999 with 150.5 sacks, which at the time qualified as the second-most in NFL history, while playing two stints for the
Minnesota Vikings
.
What you might not know: Doleman also retired with the most forced fumbles of any player since the NFL began tracking the statistic. He forced 44 fumbles in 232 career games, and on the eve of his enshrinement in the Pro Football Hall of Fame, it might be Doleman's most enduring legacy.
As fun and momentum-shifting as a violent sack might be, Doleman was among the first to realize that pulling back a bit on the force provided a better opportunity to achieve a more impactful play.
"The era that I played in, we had some pretty good defensive linemen," Doleman said in a conference call this week. There was Bruce Smith. Reggie White. They had their own style. When I was at that defensive end position, I definitely wanted to be perceived as a pass-rusher. But would I be a speed rusher? A power rusher? A guy that takes plays off? One of the things I found I [had a knack for] was separating the quarterback from the ball.
"When you separate the ball from a running back, you just have a fumble. But for a quarterback, that's a sack and a fumble. That's a much bigger play. It wasn't about putting brutal hits on them, but controlling them and getting the ball from them."
As the chart shows, the recently-retired
Jason Taylor
passed Doleman on the all-time list, and the latest generation of pass-rushers have achieved a higher ratio of forced fumbles per game. Players like Taylor,
Dwight Freeney
and
Robert Mathis
made an art of reaching their hand toward the ball even when they're being blocked away from the quarterback. Doleman deserves his share of credit for proving the value of those efforts.