NFC North:

2012 NFC Divisional Round
January, 15, 2012
1/15/12
11:22
PM ET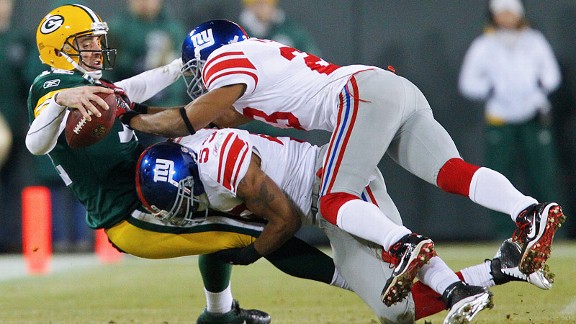 AP Photo/Jeffrey PhelpsAaron Rodgers and Green Bay's offense could not get things going against the Giants.
GREEN BAY, Wis. -- The first inkling came on the
Green Bay Packers
' seventh offensive play Sunday. On third down from the
New York Giants
' 29-yard line, Packers quarterback
Aaron Rodgers
did what he often does when a play breaks down. So did receiver
Greg Jennings
.
Rodgers stepped up in the pocket to escape
Jacquian Williams
, the Giants' blitzing linebacker. Jennings, in turn, took off toward the end zone. The Giants' secondary lost track of him. Jennings turned to look for the ball over his left shoulder. Rodgers threw it over his right. The ball fell incomplete at the 4-yard line, and the Packers settled for a field goal.
At that moment, I turned to someone in the press box and remarked how rarely we have seen the Packers miss easy touchdown opportunities during this historic season.
The Packers' season ended Sunday with an offensive thud,
a 37-20 loss
to the New York Giants that was wholly out of character and inexplicable on most every level. And I'm sure as you review how the Packers reached such an unsatisfying conclusion, some will recite a well-rehearsed litany of their season-long defensive problems. A few of you will wonder why Lambeau Field is no longer the greatest home-field advantage in NFL postseason history; the Packers are 2-4 in their past six playoff games there after winning 13 consecutively from 1939-2001.
But here, as they say, is the stone-cold truth: One of the most explosive and efficient offenses in NFL history -- the one that almost single-handedly was responsible for a 15-1 regular-season record -- stumbled at the starting line and never regained its footing. Credit goes to the Giants' defense for scheming to take away the deep pass, but independent of that, I think we can agree it's been a while since we've seen the Packers' offense play so poorly. ESPN Stats & Information had it with six drops, tied for the most by any NFL team in a game this season. The Packers committed a season-high four turnovers, including a fumble by Rodgers as he was trying to hit a wide-open Jennings in the third quarter. They had only two plays go for more than 20 yards, a 29-yard run by running back
James Starks
and a 21-yard pass to receiver
Randall Cobb
once the game was out of hand.
"This year," receiver
Jordy Nelson
said, "we've made the easy plays into big plays. And we didn't make the easy plays today. That's what hurts you. Every once in a while, you'll get a big shot, but if you can't make the easy plays, you aren't going to make any plays."
I couldn't have put it better if I tried. Why that happened, however, will be a mental mystery that will haunt the Packers all offseason.
How can you explain how a team that dropped 30 passes in 16 regular season games dropped six in one playoff game? What causes a team to commit four turnovers in one game when it had only 14 in the regular season? What made fullback
John Kuhn
fumble for the first time in his career? Why didn't Rodgers slide away from Giants defensive end
Osi Umenyiora
, as he usually does, on his third-quarter miscue?
"I ain't God, so I can't tell you why we were out of synch," tight end
Jermichael Finley
said. "We just didn't play our style of ball."
It would be easy to say the Packers were rusty after a playoff bye week. And I guess we should note that Rodgers hadn't played since Dec. 25 and Jennings since Dec. 11. Is it that simple? Were the Packers rusty? Perhaps, but at some point, you must wonder if we were holding them to an impossible standard.
What Sunday's mistakes told me was how much the Packers grew to depend on elite -- and not just great -- play from their offense on a weekly basis. The Packers were an elite team as long as their offense scored at a rate that left them with the second-highest point total in NFL history. But as soon as a few mistakes piled up, they got wiped out of the playoffs by a team that won its division with a 9-7 record.
"I felt like we had a pretty good rhythm," Rodgers said. "We moved the ball pretty effectively. We just had some drops and some uncharacteristic turnovers. … We just had some chances and didn't make the most of them."
None was more critical than Rodgers' misfire to Finley on third-and-five from the Giants' 39-yard line in the third quarter. With the Packers trailing 20-13, Finley ran a slant route and was wide open for a first down at about the 25-yard line. Rodgers threw him a fastball that sailed wide and off Finley's fingertips. Rodgers was sacked on fourth down, and the Packers never had an opportunity to tie the game again.
"I missed my spot a little bit," Rodgers said. Finley added: "It was out in front of me. I put one hand out. I tried to get it. I have to catch that ball …. It was one of those plays I couldn't make."
Those are the types of plays we grew accustomed to the Packers making this season, be it a sharp throw-and-catch on third-and-5 or an ad lib that leads to Jennings getting wide open in the end zone. To be sure, the Giants ran an aggressive scheme designed to take away their deep pass with "off" coverage but also flood intermediate routes with maximum coverage. Only eight of Rodgers' 46 attempts traveled 15 yards in the air, and he completed only two of them.
But regardless of the situation this season, the Packers have relied on their offense to bail them out. Even as they jogged off the field trailing 20-10 at halftime, there was no sense of panic.
"We thought going in with the way we'd be scoring on offense, the game wasn't that far away from us," said nose tackle
B.J. Raji
.
For the first time all season, however, the Packers offense dropped the ball -- and the Packers weren't a team equipped to compensate for it. We all know what happened. The Packers will spend the next six months figuring out the how and the why. But in the end, all they'll have to show for one of the greatest regular seasons in team history is one of their most surprising conclusions. Not everyone thought the Packers would repeat as Super Bowl champions, but I'm not sure many thought their offense would bring them down.
January, 15, 2012
1/15/12
7:54
PM ET
GREEN BAY, Wis. -- Some thoughts from a stunned Lambeau Field following the
Green Bay Packers
'
37-20 loss
to the
New York Giants
:


What it means:
The Packers saved their worst outing of the season for the playoffs, and it led to an unexpected and deeply disappointing end to a 15-1 season. The Giants outplayed them in every way imaginable, and the Packers didn't look much like a team that had won 21 of its previous 22. The result detracted again from the postseason mystique of Lambeau Field, where the Packers have now lost four of their past six playoff games. Two of those losses have been to the Giants, who also ended the Packers' 2007 season in the NFC Championship Game.
Rare mistakes:
Quarterback
Aaron Rodgers
said during the week that he didn't believe in the concept of "rust" for a team coming off a playoff bye. Call it whatever you want. The Packers made mistakes that simply didn't happen during the regular season. Fullback
John Kuhn
lost the first fumble of his career. Rodgers missed receiver
Greg Jennings
for what would have been an easy touchdown in the first quarter. Rodgers also lost a fumble, on a second-quarter sack by Giants defensive end
Osi Umenyiora
, for the first time this season. The normally sure-handed
Ryan Grant
fumbled for only the second time this season in the fourth quarter. And depending on how tough of a grader you are, the Packers dropped anywhere from four to eight passes. One was a third-quarter pass to Jennings, who had a step on safety
Antrel Rolle
in single coverage in the end zone.
Defense tightens up:
The big fear surrounding the Packers this season was that a hot quarterback would knock them and their porous pass defense out of the playoffs. Things seemed to be headed in that direction after Giants quarterback
Eli Manning
threw for 274 yards in the first half, capped by a 37-yard pass to receiver
Hakeem Nicks
on a Hail Mary. But it's going to be tough to affix too much responsibility to the defense for this game. The Packers tightened significantly in the second half, and the Giants didn't have a single first down in the third quarter. Manning threw for 56 yards in the second half. That should have given the Packers' offense enough of an opportunity to even up the game if it was up to it. It wasn't. They couldn't get the ball downfield at all against the Giants defense, and their longest play of the game was a 29-yard run by
James Starks
in the third quarter.
Key play:
Backed by a bit of momentum and hoping to tie the game early in the fourth quarter, the Packers faced a third-and-five at the Giants' 39-yard line. Tight end
Jermichael Finley
was wide open at about the 25-yard line, but Rodgers' throw was just off his outstretched fingertips. It wasn't immediately clear whether Rodgers overthrew Finley or if Finley stopped his route early. But it was one of the Packers' biggest missed opportunities in this game. Rodgers was sacked on fourth down, and the Giants converted the ensuing possession into a 35-yard field goal to make it a two-score game midway through the fourth quarter.
Injury report:
Kuhn didn't return after injuring his right knee in the third quarter.
What's next:
The Packers have a young and deep team set up for long-term success. They'll need to address the contract situation of Finley, who is a pending free agent. It will take some time to get over Sunday's disappointment, but the Packers' future should be bright.