NFC North:

2012 NFL Franchise Players
March, 5, 2012
3/05/12
10:24
AM ET
We've known the market for the NFL's top running backs for some time. The
Minnesota Vikings
guaranteed
Adrian Peterson
$36 million as part of a seven-year deal last summer, and the
Tennessee Titans
awarded
Chris Johnson
$30 million in a six-year extension.
Forte
Now we have a decent idea of how NFL teams value the next tier of running backs. The
Seattle Seahawks
signed
Marshawn Lynch
to a four-year deal Sunday night that includes $17 or $18 million in guarantees, and hours later the
Houston Texans
agreed on a five-year deal with
Arian Foster
. Terms of that deal haven't been reported yet, but it's reasonable to assume it falls between Lynch's deal and the five-year contract the
Carolina Panthers
gave
DeAngelo Williams
last summer; Williams' deal included $21 million in guarantees.
Why are we hashing through that information? Because it should help solidify the market for
Matt Forte
, whom the
Chicago Bears
made their franchise player last Friday.
If a dispute remains, it's this: What tier does Forte belong in? Did Forte's multi-faceted performance in 2011, in which he amassed 1,487 all-purpose yards in 12 games, make him one of the NFL's top backs? Or should he be paid closer to the range of Williams, Lynch and/or Foster?
The market has formed well enough for the sides to reach a long-term agreement, which would allow the Bears to rescind the franchise tag. But that's only if they can agree on Forte's standing among his peers. As always, your thoughts are welcome.
March, 2, 2012
3/02/12
10:02
PM ET
By
ESPN.com staff
| ESPN.com
The Chicago Bears announced on Friday that they applied the franchise designation to running back Matt Forte as the sides continue to work on a long-term contract.
Teams could apply the tag from Feb. 20 through Mar. 5 at 4 p.m. ET as a method of preventing players from exploring the open market. The designation means Forte will play the 2012 season for a base salary of $7.7 million. But it's believed the team applied the tag to buy it more time to come to an accord with Forte on a long-term agreement.
For Michael C. Wright's full story on ESPNChicago.com,
click here
.
February, 18, 2012
2/18/12
8:00
AM ET
Thanks to everyone who responded to the mailbag request this week. Keep in mind that the best mailbag questions, at least in the mind of
the person choosing said questions
for publication, have cross-division appeal and usually range in scope beyond simple fact-finding. (
Boooring!
) Remember, we also tend to have impromptu Q&As on Twitter (
@espn_nfcnblog
) and on our ranging Facebook page (
Kevin Seifert Espn
), complete with an awesomely new cover photograph.
Onward…
I
n his usual diplomatic style, Ben of Denver notes our post on the Minnesota Vikings' plans for the No. 3 overall pick and writes:
So I just want to be sure, you would rather have
Christian Ponder
over
Robert Griffin III
? (
Andrew Luck
is going to Indy). The guy who was the best pick in the draft simply because he was a QB taken in the first round, that's the guy you would rather have? Your blind love and endless defense of Ponder since that absurd proclamation entered your mind has been truly funny over the past nearly a full year now, but it has to end. Please.
Kevin Seifert:
Shortly after the 2011 draft, I did in fact
nominate Ponder as the best pick
an NFC North team made. I thought at the time that the Vikings had no choice but to begin the process of finding their next quarterback, and I didn't agree with the idea that they should have waited for a future draft to take a higher-rated prospect. When you're talking about the quarterback position, you throw out conventional draft wisdom if you think you can get someone who can be a consistent starter.
I still think the Vikings made the right decision, but I also have written that Ponder's rookie season
was the most disappointing in the division
. He'll have an entire offseason to get himself straight and demonstrate why the Vikings went the route they did.
Whether I would pick Griffin this season wasn't the point of the post Ben referred to. All I've said so far is that the Vikings have offered no real indication that they'll consider Griffin, assuming Luck goes No. 1 overall. I haven't made my mind up on whether it would be wise for the Vikings to double up on quarterbacks at this moment. But I promise you, we'll get to that topic over the next few months.
---
Mike of Atlanta writes:
Here's a scenario I haven't really heard anyone talk about:
Devin Hester
is starting to get up there in years (30 this November). It seems to me that speed is one of those things that drops off faster for players than other attributes that make a player successful in the NFL. The Bears tied up Dave Toub for at least the immediate future, virtually guaranteeing a competitive special teams corps. Wouldn't now be the best time for the Bears to leverage Hester -- who has always underperformed at receiver, which is a position they need to grow at -- to a team that needs a return man, in return for a tight end or a draft pick that could bolster other positions, and use one of their mid-to-late round picks to pick up another speedster?
Kevin Seifert:
You're right, Mike. No one has really mentioned that. I have to say I double-checked Hester's birthday to make sure that he will in fact turn 30 during the season. He will. His career has moved quickly.
I think what football people would tell you is that speed is only part of Hester's success. His open-field running skills, his instincts and his innate knowledge of how to set up blocks have all contributed. That's why it's reasonable to believe he'll be really effective for years to come, even if he loses the top end of his speed.
Brian Mitchell, whose return records Hester has broken, was never a speedster. He played until he was 35 years old.
---
Robin of Chanhassen, Minn., writes:
Any possibility the
Green Bay Packers
surprise us all and go after
Cliff Avril
?
Kevin Seifert:
Any discussion on Avril presumes the Lions decide against
using their franchise tag
on him and aren't able to get him signed to a long-term deal before free agency opens March 13. And anything connecting the Packers to another team's veteran free agent suggests a reversal of general manager Ted Thompson's recent player acquisition habits.
With those two major caveats, Avril is an intriguing prospect because his size (260 pounds) and athletic ability suggest he could make a successful transition to outside linebacker in a 3-4 scheme. It probably makes more sense to consider him a linebacker in the Packers' scheme than thinking he might bulk up to become a true 3-4 defensive end.
NFL teams rarely allow bona fide pass rushers to reach the open market, and if Avril is available, perhaps that would be enough for Thompson to get involved. The Packers have limited salary cap space this offseason, and they already have significant money tied up in linebackers
Desmond Bishop
and
A.J. Hawk
, not to mention the looming extension they'll need to give
Clay Matthews
in the next year or two.
But Thompson would be well advised to give it careful thought, if nothing else, if he has the opportunity to team Matthews with a pass-rusher of Avril's accomplishments and weaken a division rival at the same time.
---
John of San Diego writes: Avril:
"A lot of teams don't think the Lions will let me hit free agency. But a few teams have called." Did the new CBA do away with tampering?
Kevin Seifert:
John accurately pulled that quote from
a Detroit Free Press
story. Tampering is still against NFL rules. I guess the best way to put it is that we would all be na´ve to think it doesn't occur at some level. And usually, what goes around comes around. Avril
later clarified his comments
to the Free Press, saying other players have heard their coaches say they would like to have a player like him.
---
Dave of Ithaca, New York, writes:
How much cap room do you think the Lions can realistically make in order to try and keep Avril and
Stephen Tulloch
around? Can they keep them both? Do you foresee any surprise cuts for guys like
Corey Williams
or
Stephen Peterman
in order to make it happen?
Kevin Seifert:
At last check, the Lions were pretty close to the NFL's projected limit of $120 million for 2012. I have to admit that I don't see how the math works for them to re-sign both Avril and Stephen Tulloch, even if they are able to extend the contract of receiver
Calvin Johnson
and reduce his cap number for 2012. There will also have to be some combination of roster cuts/restructuring and salary cap tricks, including borrowing from future years.
Williams' name surfaces often as a possible cap casualty, mostly because he's scheduled to earn $5 million in 2012 but also because the Lions drafted a defensive tackle (
Nick Fairley
) in the first round last year. Williams seems a more likely candidate than Peterman.
February, 17, 2012
2/17/12
10:45
AM ET
Another in a daily series on NFC North players who are candidates to receive their team's franchise tag. The window for tagging players opens Monday and closes March 5.
As we've moved through the Franchise Focus series, several of you have asked whether the
Green Bay Packers
could pull off a surprise -- or at least make a move counter to the prevailing (media) sentiment. It was only two years ago, after all, that they surprised many by
using their tag
on defensive lineman
Ryan Pickett
, who ultimately signed a four-year contract worth about $25 million.
Flynn
Wells
We've already discussed
the Packers' likeliest target
for a franchise tag: Tight end
Jermichael Finley
. But two other prominent players are approaching free agency as well: Center
Scott Wells
and quarterback
Matt Flynn
. Let's briefly hit on why there hasn't been much discussion about franchising either player.
All offensive linemen are assigned the same franchise tag number, even though contract values differ significantly between tackles, guards and centers. It's not unheard of for a team to franchise a center -- the
Carolina Panthers
did it with
Ryan Kalil
last year -- but it means they would be guaranteed the same kind of one-year salary as, say, a left tackle. In 2012, Brian McIntyre projects the franchise tag for offensive linemen to be around $9.5 million,
via Football Outsiders
.
The Packers currently have an estimated $10 million in salary cap room and could squeeze in Wells at that number if necessary. Wells earned his first Pro Bowl berth last season, but the Packers probably don't need to commit that kind of money to keep him. Kalil, considered the NFL's top center, ultimately signed a seven-year contract that averaged $7 million per season and included $28 million in guarantees.
Finding common ground on a reasonable long-term deal is the likeliest tool for retaining Wells. As for Flynn, the Packers probably need to accept his departure via free agency and accept a 2013 compensatory draft pick as a result.
It's conceivable for the Packers to franchise Flynn and then trade him to another team. It's a tempting scenario considering the possibility of getting a high draft choice in return. But even if temporary, that move would consume $14 million of the Packers' salary cap and, more importantly, eliminate the possibility using the tag on Finley or even Wells. In short, that's why it's unlikely -- but not impossible -- that the Packers will pull off a franchise tag surprise.
February, 16, 2012
2/16/12
11:00
AM ET
Another in a daily series on NFC North players who are candidates to receive their team's franchise tag. The window for tagging players opens Monday and closes March 5.
[+] Enlarge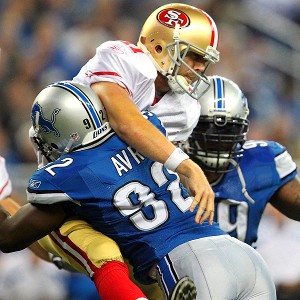 Mike Carter/US PresswireDetroit defensive end Cliff Avril, a potential free agent, had 11 sacks last season.
The future of
Detroit Lions
defensive end
Cliff Avril
remains
one of the Big Decisions
we identified last month for NFC North teams. Avril and the Lions find themselves in a vortex of variables: He will be a free agent after a career season at a premium position for a team pushed tight against the salary cap. Can the Lions afford to keep a homegrown talent who totaled 11 sacks and forced six fumbles last season?
Earlier in this Franchise Focus series, we noted the allure of the tag for the
Green Bay Packers
, who could lock up tight end
Jermichael Finley
for around $5.5 million, and the
Chicago Bears
, who could retain tailback
Matt Forte
for about $7.7 million. In Avril's case, however, the franchise tag would be an inefficient and costly tool in the short term.
The NFL has not released its official franchise numbers for 2012, but
writing for Football Outsiders
, Brian McIntyre has projected it to be about $11 million for defensive ends. At last check, the Lions were slightly over the projected NFL cap limit of $120 million, meaning they would have to clear (or create) $11 million in space prior to placing the tag on Avril.
That would be a difficult task for a team with deep cap issues and a number of equally important priorities. Of course, the alternative is signing Avril to a long-term extension that would require a significantly higher cash commitment but could be written to maintain a lower first-year cap total.
Two recent deals, both of which average about $12 million per season, provide context for the type of deal Avril could receive.
Kansas City Chiefs
linebacker
Tamba Hali
is playing under a five-year, $60 million deal that includes $35 million in guarantees, while
Carolina Panthers
defensive end
Charles Johnson
signed a six-year, $72 million contract last summer with $30 million guaranteed.
As we noted last month, Johnson's deal counted about $10 million against the cap in 2011, and his cap numbers will fluctuate between $11 million and $16 million throughout the deal.
Considered together, these numbers illustrate why it is going to be a difficult task for the Lions to bring Avril back. The Lions could artificially lower his first-year cap number in a long-term deal, but eventually they would have to pay for it. Pass-rushers almost always get paid, one way or the other, and Avril will be no different.
February, 15, 2012
2/15/12
4:00
PM ET
Another in a daily series on NFC North players who are candidates to receive their team's franchise tag. The window for tagging players opens Monday and closes March 5.
From the moment the
Chicago Bears
ended contract negotiations last summer with tailback
Matt Forte
, the endgame seemed clear. The Bears would place their franchise tag on him before his contract expired in March 2012, a move that would enhance the Bears' flexibility at the position but eliminate his options for seeking a payday elsewhere.
[+] Enlarge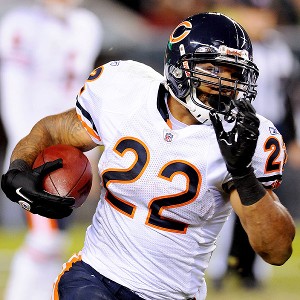 Evan Habeeb/US PresswireMatt Forte rushed for 997 yards last season before an injury sidelined him for the final four games.
The Bears have since changed general managers, and we should at least consider the possibility that Phil Emery could take a different approach than predecessor Jerry Angelo. But
as is the case
with the
Green Bay Packers
and
Jermichael Finley
, the finances of making Forte a franchise player seem too alluring to consider other options.
As
Michael C. Wright of ESPNChicago.com
notes, the Bears could lock up Forte for 2012 with a franchise tag worth an affordable $7.7 million in cash and salary-cap commitments. What team wouldn't prefer that option over a lucrative long-term deal for a running back, the most punishing position in the game?
Forte reportedly turned down a deal that included $13 million-$14 million in guarantees over four years. He hasn't said what type of deal he is looking for, but it's worth noting that he earned Pro Bowl honors in 2011 over
Minnesota Vikings
tailback
Adrian Peterson
, who signed a seven-year extension last season that guaranteed him $36 million. Meanwhile,
Tennessee Titans
running back
Chris Johnson
was guaranteed $30 million as part of a contract extension last summer.
The Bears' only risk in pursuing the franchise route is if it spurred a training-camp holdout. Speaking last month, Forte acknowledged that franchise tags can often serve as a stepping stone to a long-term agreement. But Forte implied he will react poorly if the Bears don't indicate a willingness to negotiate beyond the tag because it will leave him without any guaranteed money beyond the 2012 season.
In that scenario, Forte said: "I wouldn't say holdout, but people probably wouldn't know where I was."
Many around the NFL will be watching Forte's situation closely. There is typically a collective grimace when a team feels compelled to sign veteran running backs to lucrative second contracts, considering how quickly their careers can power down. A sprained ankle, for example, cost Peterson three games last season before he blew out his knee in Week 16. Johnson, finished 2011 with a career-low 1,047 yards and four touchdowns in 16 games. Stay tuned.
February, 14, 2012
2/14/12
2:00
PM ET
First in a daily series on NFC North players who are candidates to receive their team's franchise tag. The window for tagging players opens Monday and closes March 5.
[+] Enlarge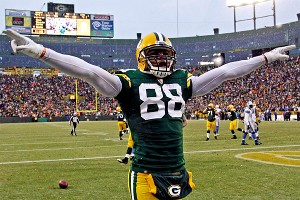 AP Photo/Morry GashJermichael Finley had a career-high eight TD catches in the first 16-game season of his career in 2011.
The
Green Bay Packers
have several candidates for their franchise tag, but most public discussion has centered around tight end
Jermichael Finley
. He is part of a Packers free agent class that also includes quarterback
Matt Flynn
and center
Scott Wells
, but the price tag for quarterbacks (projected to be $14 million) makes Flynn a less likely franchise target. Conventional wisdom, meanwhile, suggests the Packers should be able to reach an amicable long-term agreement with Wells.
Finley's case is interesting on several levels. As
we noted during the regular season,
the NFL's new collective bargaining agreement changed the calculations for franchise tags in a way that makes it a more attractive tool for the Packers to retain Finley's rights. The franchise tag is no longer the average of the five highest-paid players at a given position. Instead, it is the average of the highest salaries at the position over the past five seasons.
Franchise numbers for 2012 haven't been announced, but it's expected to be around $5.5 million for tight ends. From a team standpoint, that figure is quite reasonable for a 24-year-old tight end who caught a career-high eight touchdown passes in the first 16-game season of his career in 2011. From a financial standpoint, most NFL teams would be happy to lock up an ascending free agent tight end for $5.5 million in cash and salary-cap commitment.
Is there anything Finley can do to fight that eventuality, short of holding out? Although neither Finley nor his agent have spoken publicly about it, several media outlets have suggested the possibility that he could declare himself a wide receiver, based on how often the Packers use him in the slot or split wide. That designation would qualify Finley for a significantly higher franchise number, perhaps double the one for tight ends, and give him more leverage in a long-term negotiation.
There is some precedent for appealing the position classification for franchise players. In 2008,
Baltimore Ravens
linebacker
Terrell Suggs
spurred the NFL and NFL Players Association
to create a new defensive end-linebacker position
for the 3-4 scheme. The change elevated his franchise value by about $500,000.
According to
Pro Football Focus (PFF),
Finley lined up as a receiver on a little less than half of his total snaps in 2011 (roughly 409 of 883). I'm not sure if he could argue he is a wide receiver, but you wonder if the recent trend toward receiving tight ends -- led by the
New England Patriots
'
Rob Gronkowski
and the
New Orleans Saints
'
Jimmy Graham
-- might eventually lead to a new hybrid franchise tag.
In the end, Finley's value lies in his production relative to his position. He had one of the better seasons for a tight end in the NFL last season, catching 55 passes for 767 yards to go along with the eight touchdowns. But if you applied those numbers to a receiver, they would hardly be considered elite.
It's usually a better situation for all parties to find common ground on a long-term contract. But unless the franchise tag for tight ends turns out to be much higher than projected, the Packers are in a fine spot with one of their best players.