NFC North:

2012 Week 2 coverage
September, 16, 2012
9/16/12
11:36
PM ET
SAN FRANCISCO -- Some thoughts on
Sunday night's events
at Candlestick Park:
What it means:
The
Detroit Lions
fell to 1-1, matching the record of every other NFC North team. It's hard to conjure much criticism toward the Lions on this night, however. They were overwhelmed by a better and more powerful opponent playing its home opener, a result that seemed predictable since the day the NFL released its schedule. It's not as if the Lions botched a bunch of opportunities to win this game. The 49ers might be the best team in football.


For those asking:
Lions coach Jim Schwartz and 49ers coach Jim Harbaugh shook hands without incident both before and after the game.
Finis.
Mixing in the run:
The Lions kept it close in large part because of an uncharacteristic commitment to the running game. Before they got into catch-up mode in the fourth quarter, the Lions ran on 22 of their first 40 plays. Quarterback
Matthew Stafford
had 89 yards passing through three quarters. I don't blame the Lions for their approach; the 49ers' defense is too good to be allowed to defend only half the field. Unfortunately for the Lions, they couldn't convert their possessions into touchdowns. Unofficially, they didn't throw a single pass into the end zone. As it turned out, place-kicker
Jason Hanson
accounted for most of their scoring with four field goals in five attempts.
Turning point I:
The Lions forced the 49ers' first turnover in seven regular-season games during the first quarter, a fumble by kick returner
Kendall Hunter
. But they weren't able to fully capitalize on it, gaining only two offensive yards, and settled for Hanson's 41-yard field goal. A touchdown would have given them a 10-7 lead and perhaps changed the complexion of the game.
Turning point II:
After the Lions made it a one-score game at 20-12 on Hanson's fourth field goal, 49ers receiver
Michael Crabtree
converted three consecutive third-down receptions. The 49ers then sealed the game on
Vernon Davis
' 23-yard touchdown reception with 3 minutes, 4 seconds remaining.
Official confusion:
Here's one I don't remember seeing before. Schwartz had to challenge a play to prove Stafford was sacked. Midway through the fourth quarter, referee Matt Nicks did not blow this whistle when Stafford's right knee hit the ground at the 49ers' 30-yard line after a hit by
Aldon Smith
. Stafford popped up and lost another six yards before getting tackled again. Nicks gave the Lions their six yards back after the review, and the decision left the Lions in position to end the possession with Hanson's 48-yard field goal. Nicks' crew also missed clear head shots on both quarterbacks, Stafford and the 49ers'
Alex Smith
, after scrambles. The blow Smith absorbed from Lions safety
John Wendling
left the bridge of his nose bleeding.
What's next:
The Lions will play at the
Tennessee Titans
next Sunday.
September, 16, 2012
9/16/12
4:36
PM ET
Wrapping up Sunday's events at Lucas Oil Stadium:


What it means:
The Vikings fell to 1-1 after
Adam Vinatieri
's 53-yard field goal with 12 seconds left wiped out a fourth-quarter comeback from an otherwise lackluster showing. As a franchise, the Vikings still have not won in Indianapolis and are now 0-11 there all-time.
What I liked:
For the second consecutive week, quarterback
Christian Ponder
revived the Vikings' chances with an aggressive fourth quarter. Sunday, he threw two touchdown passes in less than five minutes of the fourth quarter to erase a 20-6 deficit. Granted, his 7-yard scoring pass to
Stephen Burton
was tipped twice before it was caught. But through two games, Ponder has demonstrated encouraging efficiency in pressure situations.
What I didn't like, Part I:
The Vikings' defense didn't give up a ton of yardage to the Colts (278), but rare was the stop in important situations. Quarterback
Andrew Luck
completed his first two passes of the Colts' final drive for 20 yards apiece to get in position for Vinatieri's field goal. Overall, Luck completed 20 of 31 passes for 224 yards and two touchdowns.
What I didn't like, Part II:
Ponder completed 77.1 percent of his passes, largely because the Vikings' offense was excessively short-range for most of the game. Receiver
Percy Harvin
, who caught 12 passes for 104 yards, was worked so hard he cramped up several times in the fourth quarter. Tight end
Kyle Rudolph
wasn't a factor until late in the game, and it's clear the Vikings lack a downfield threat from both a personnel and philosophical perspective right now.
What I didn't like, Part III:
Everson Griffen
's 22-yard sack of Luck in the fourth quarter was a rare instance of someone making a play. For the most part, the Vikings' defense and special teams made it more difficult on themselves. Safety
Andrew Sendejo
extended a drive with a late hit on punter
Pat McAfee
, and defensive end
Jared Allen
extended the same possession a few moments later by hitting Luck after he had taken several steps out of bounds. Finally, Griffen essentially put the Colts in field goal range with a false-start penalty with 18 seconds remaining. Without those 5 yards, Vinatieri is looking at a 58-yard attempt.
What's next:
The Vikings return to the Metrodome next Sunday to host the
San Francisco 49ers
.
September, 14, 2012
9/14/12
2:37
AM ET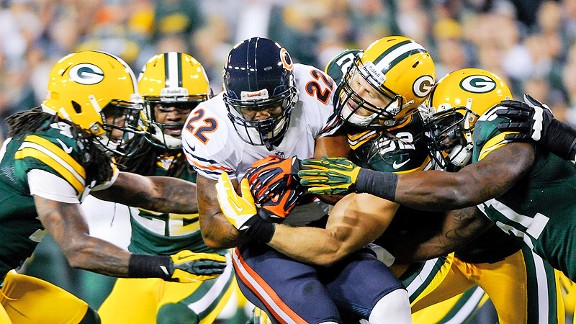 Benny Sieu/US PresswireThe Packers defense forced four turnovers, had seven sacks and limited Chicago to 168 total yards.
GREEN BAY, Wis. -- Yes, the
Green Bay Packers
were miffed in the days and hours leading up to Thursday night's divisional showdown with the
Chicago Bears
. No, it had little to do with Bears quarterback
Jay Cutler
's
challenge to their defensive backs
. The issue was much larger than that, and it goes all the way back to March 13 -- the day the Bears made their surprise trade for receiver
Brandon Marshall
.
"We thought it was kind of funny," cornerback
Charles Woodson
said, "that all of a sudden they were the team to beat because they got a couple new guys."
So it was with great delight that Woodson and his defensive teammates tore up the Bears' offense in a
23-10 victory
at Lambeau Field. It wasn't because Cutler had wished them "good luck" this week if they tried to play press coverage against Marshall and rookie
Alshon Jeffery
. It was the larger notion that Marshall's arrival had elevated the Bears to a level where they would challenge the Packers' supremacy in this division.
As a result, this game had an edge rarely seen in what is normally a friendly rivalry. The Packers got under Cutler's skin early, sacking him on the Bears' first play from scrimmage and ultimately forcing him into
one of the worst games of his career
. They sacked Cutler seven times, including 3.5 by linebacker
Clay Matthews
, and intercepted him four times. Cornerback
Tramon Williams
grabbed two of those interceptions, but even more notably, he blanketed Marshall for almost the entire game.
The Packers left the Bears' hype in ruins, limiting them to 168 total yards and 11 first downs in 57 plays. Woodson, for one, appeared quite satisfied afterward to have challenged the Bears' narrative.
"Their offense didn't look any different to me," he said. "We know those guys. We've played them a lot. They didn't look much different. They just have some new players."
The primary newcomer, Marshall, didn't see a single pass thrown his way until Williams slipped in coverage with 8 minutes, 59 seconds remaining in the third quarter. Wide open for a touchdown, Marshall dropped the ball in the end zone.
Williams said Cutler's words this week didn't get him "out of whack" but made clear that "guys wanted to come out and put on a good performance, and we did that."
[+] Enlarge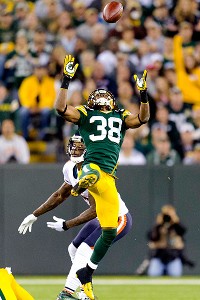 Jeff Hanisch/US PRESSWIREGreen Bay cornerback Tramon Williams grabs one of his two interceptions.
Said Woodson: "Tramon is a tremendous player, and he helped us dominate today."
Indeed, Bears coach Lovie Smith said there were plays called throughout the game for Marshall "that we couldn't get off."
This was as complete of a defensive game as I've seen the Packers play in some time, even dating back to the elite level they played during portions of their 2010 Super Bowl season. They limited tailbacks
Matt Forte
and
Michael Bush
to 85 yards on 21 carries, putting the Bears' offensive line in the unenviable position of pass-blocking against rushers highly motivated to reach Cutler. As a result, the Packers' blitz was highly effective. Defensive coordinator Dom Capers sent an extra rusher on 13 of Cutler's 35 dropbacks, according to ESPN Stats & Information. They sacked him on four of those blitzes and recorded interceptions on two others.
Most importantly, I thought, the Packers' defense got after it in a way that permeated the entire game. Cutler was hit a total of 12 times, frustrating him to the point that he was screaming at his offensive linemen and even kicked Woodson after a third-quarter blitz. Bears left tackle
Gabe Carimi
was penalized 15 yards in the second quarter after retaliating to a shove from Packers linebacker
A.J. Hawk
, and Bears players protested loudly when Packers cover man
Rob Francois
roughly shoved returner
Devin Hester
out of bounds.
You could see the tension on both sides of the ball, and even Packers quarterback
Aaron Rodgers
gestured angrily and screamed at receiver
James Jones
after a fourth-quarter interception put the Bears in position for their only touchdown. (Rodgers said afterward he and James were "not on the same page" on the play call.) The Packers' best offensive player Thursday night might have been tailback
Cedric Benson
, who helped set the physical tone by grinding out 81 tough rushing yards.
"There was definitely words out there," Packers cornerback
Sam Shields
said. "You could tell Cutler was getting frustrated. We know what Cutler does. We were just out there as a defense trying to take advantage."
Matthews, meanwhile, now has six sacks in two games this season after abusing Bears left tackle
J'Marcus Webb
all night. Matthews said he hopes the performance "becomes our theme for this defense and this team."
Yes, the Packers revealed Thursday night how amused they were by the Bears' new status as media darlings. But were you expecting their defense to be the group that realigned our thoughts on that? I'm not sure I was. So it goes. That's, as they say, why they play the games.
September, 14, 2012
9/14/12
1:00
AM ET
GREEN BAY, Wis. --
Chicago Bears
quarterback
Jay Cutler
threw four interceptions, took seven sacks and recorded the second-worst passer rating (28.2) of his career Thursday night at Lambeau Field. He screamed frequently at teammates, especially at left tackle
J'Marcus Webb
. He kicked
Green Bay Packers
cornerback
Charles Woodson
and was as defiant as ever after a
23-10 defeat
.
"I care about this," Cutler told reporters. "This isn't just a hobby. I'm not doing this for my health. I'm trying to win football games. When we're not doing the little things or things the right way consistently, I'm going to say something. If they want a quarterback that doesn't care they can get someone else."
To me, there is a difference between caring deeply about the outcome of a game and growing so frustrated that you can't think straight. That's where Cutler appeared to be as he threw passes up for grabs and pinballed wildly inside the pocket in the latter stages of the game.
Woodson wouldn't discuss the fourth-quarter play when, on a blitz, he landed at Cutler's feet after a completion to
Earl Bennett
. Cutler appeared to kick Woodson after throwing the ball.
Woodson, however, made clear the Packers fully expected Cutler to crack at some point in the game.
"Well, Jay is a guy, he'll give you a chance," Woodson said. "You just have to be in position."
It's worth noting Cutler produced one of the worst games of his career in the second game of a season he has been given everything he could have ever hoped for. The Packers took away receiver
Brandon Marshall
, who caught two harmless passes, and their pass rush overwhelmed the one area the Bears didn't address this offseason: Their offensive line. The Packers blitzed on 13 dropbacks, according to ESPN Stats & Information. They sacked Cutler on four of them and intercepting him on two others.
The only time Cutler has finished a game with a lower passer rating,
according to pro-football-reference.com
, was a 2009 game against the
Baltimore Ravens
.
More to come in a bit.

NFC NORTH SCOREBOARD
Friday, 8/22
Saturday, 8/23