NFC North:

2013 Camp Confidential NFC
August, 12, 2013
8/12/13
11:00
AM ET
ALLEN PARK, Mich. -- The
Detroit Lions
opened training camp
expressing unprecedented confidence
in the direction of their program, and, if anything, their steam has picked up since then. A relatively injury-free camp, the obvious impact of multiple newcomers and a rousing victory in the first week of the preseason have the Lions and many of their fans convinced they will bounce back from last season's 4-12 record.

"We're every bit as optimistic now as we were then," coach Jim Schwartz said late last week, "and probably more so -- particularly with some of our rookies and younger players. Now, we're saying that two weeks into camp, before we've even played a preseason game. The tale of the tape is going to be consistency over the course of time. But certainly our stance hasn't changed."
Importantly, that optimism isn't based solely on anticipation of another year of development between quarterback
Matthew Stafford
and receiver
Calvin Johnson
. It's a nod toward the early returns on the fit with tailback
Reggie Bush
. There is relief that receivers
Nate Burleson
and
Ryan Broyles
, who both suffered significant leg injuries last season, have returned healthy.
There's more. Defensive tackles
Ndamukong Suh
and
Nick Fairley
were unblockable during the practices I watched last week. Rookie defensive end
Ziggy Ansah
returned an interception for a touchdown in the first quarter of his first NFL game action. New safety
Glover Quin
's leadership is notable, and rookie punter
Sam Martin
has been perhaps the most impressive newcomer of all.
The good vibes, and presumed results, come at a crucial time for the franchise. The Lions are entering their fifth season under Schwartz and general manager
Martin Mayhew
, and there might not be a sixth if this team misses the playoffs.
"I'm a vet,"
Burleson said
. "I've been at this 11 years. I'm trying to get everyone to understand that if we don't do what we need to do, these name plates above these lockers, this furniture, [everything] is going to be shipped up out of here -- including myself. So I've got to be productive, and everybody has to have the mindset that the time is now, so in order for us to do something special and bring something special to this city, we're going to have to win."
THREE HOT ISSUES
[+] Enlarge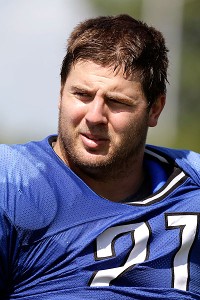 AP Photo/Paul SancyaThe Lions are counting on Riley Reiff to protect Matt Stafford's blind side.
1. Offensive line transition:
The Lions will have three new starters on the line, and here's the good news: The player in the most important position appears to be making a smooth transition.
Riley Reiff
, the Lions' first-round draft pick in 2012, has replaced retired left tackle
Jeff Backus
, and he held his own against the Lions' talented defensive line during my training camp visit last week.
Reiff bulked up this offseason after spending his rookie year in a quasi-tight end role. He might be the most soft-spoken player in the Lions' otherwise-boisterous locker room -- when I asked him about the job, he shrugged his shoulders and said, "They asked me to play left tackle so I'm playing left tackle" -- but he more than passed the eyeball test as a credible left tackle.
The same can't be said, at least not yet, about the wide-open jobs on the right side of the line. The Lions are rotating two players at right tackle and up to four at right guard, and no clear leaders had emerged by the weekend. (It was notable, however, that the Lions played rookie right guard
Larry Warford
for three-quarters of Friday night's game against the
New York Jets
.) In this case, time will tell.
2. Stafford's next step:
He failed to build on his breakout 2011 season in 2012, but in the big picture, Stafford is an experienced starter who has thrown for 10,005 yards in two seasons and who, at 25, still has plenty of room to grow.
That status, however, has generated rare expectations for a Lions quarterback, leading to training camp reports of missed passes and
microanalyses of mechanics
in a space once reserved for delineating various levels of incompetence. The franchise endorsed his progress with a contract extension that in essence locks him in for another three years at the helm, but the football world is waiting anxiously to see whether Stafford can elevate his career to an elite level.
My time at Lions camp suggested he is aware of but unaffected by those expectations. I saw no worrisome incompletions, no signs of malaise and an important sense of context as voiced by Schwartz.
"You don't [want to] take him for granted," Schwartz said. "We have a couple of guys new to our organization that come out to practice, and that's one of the first things that they want to say is, 'Holy mackerel, did you see the throw he made here?' It's a little bit like Calvin. You watch him a lot, and you forget how big he is and the plays he made."
3. Special-teams overhaul:
Lost in the Lions' busy offseason was a near-total reconstruction of their special teams. New coordinator John Bonamego has welcomed newcomers at place-kicker (likely
David Akers
), punter (likely Martin) and returner (a wide-open competition to replace
Stefan Logan
). The Lions also signed longtime special-teams ace
Montell Owens
to anchor their coverage units.
Akers is working on a limited regimen after an injury-plagued season with the
San Francisco 49ers
, but he appears healthy and will benefit from both indoor home games and Martin's strong kickoff skills. Martin has been booming punts throughout camp, and his three touchbacks (in as many attempts) in the preseason opener suggest the Lions might have found a long-term answer at the position.
The return game is unsettled and probably dependent on bottom-of-the-roster decisions at other positions. Undrafted rookie
Steven Miller
has demonstrated elite quickness while getting the majority of reps in training camp, but can the Lions squeeze a return specialist onto their roster? His minimal action as a returner in the preseason opener makes you wonder whether he is a candidate for the practice squad.
REASON FOR OPTIMISM
Of all the factors I rattled off earlier this post, the most significant might be the attention the Lions placed on their defense this offseason. You're doing pretty well if the worst thing you can say is that the strongside linebacker position is unsettled, especially when you realize that whoever wins the job will come off the field in nickel situations, anyway.
[+] Enlarge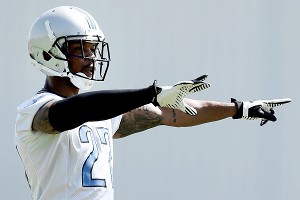 AP Photo/Paul SancyaThe Lions believe Glover Quin can provide steady leadership as well as solidify the secondary.
The Lions invested heavily at defensive end (drafting Ansah and
Devin Taylor
, signing
Jason Jones
and
Israel Idonije
), cornerback (re-signing
Chris Houston
, drafting
Darius Slay
) and safety (re-signing
Louis Delmas
and acquiring Quin). After two weeks of camp, Stafford said, "This is probably the most talented secondary we've had since I've been here," and Schwartz was lauding the leadership Quin will provide.
"A lot was made a few years back when we signed
Kyle Vanden Bosch
and Nate Burleson," Schwartz said, "and the difference that they made on the team was a big part of us making it to the playoffs [the] next year. I think the same thing, when it's all said and done, will be said about Quin because he brings that same kind of leadership, that same sort of professionalism."
We all expect the Lions' offense to score this season. If their defense can keep pace, as it appears it is equipped to do, the Lions will be a playoff team.
REASON FOR PESSIMISM
Schwartz said "there is no doubt" that the Lions have enough good pieces to make up a competent offensive line. But on the list of potential problem spots that could derail their season, the Lions' offensive line sits most prominently. If you believe in the law of averages, you wonder whether any team could come up with three good starters in one offseason, as the Lions are hoping to accomplish.
Warford has his work cut out to win the right guard job, as many have assumed he would. (The Lions got him 53 snaps in the preseason opener to accelerate that process.) Many have considered
Jason Fox
the favorite to win the right tackle job, but competitor
Corey Hilliard
got the first start of the preseason.
It's too early to judge the outcome of this overhaul, but there is no doubting the challenge it entails and the ramifications if it falls short.
OBSERVATION DECK
Excitement about the Bush acquisition has centered around his receiving skills and ability to break long runs. But you'll have to trust me on this: The Lions are just as intrigued by his ability to run between the tackles. There will be just as many opportunities for that kind of yardage in a Calvin Johnson offense as there will be anywhere else. "The things that Jahvid [Best] was able to do for us, when he got outside of the tackles, Reggie can do those things," Johnson said. "But Reggie can run inside the tackles as well. He's a good overall back."

Along those lines, the Lions also are trying to identify a change-of-pace back behind Bush, and my sense is that they're past the point of giving Mikel Leshoure an inherent advantage over Joique Bell because of his pedigree as a second-round draft pick. If Leshoure isn't any more explosive than he was last season -- and I didn't see any evidence of that at camp -- there is a real opportunity for Bell to win the job.

One of the more intriguing prospects in camp is rookie running back Theo Riddick, who has a relatively similar skill set as Bush. He is quick, a good receiver, smart in the open field and in contention for a kick return job. And like Bush, he isn't afraid to bust it inside the tackles, either.

Another interesting prospect who has gotten plenty of attention is 6-foot-7 tight end Joseph Fauria. He can get to balls no one else on the field can reach, with the exception of Johnson when he leaps, and he is a natural receiver. It will be really tough for him to be a good blocker with his lean build, but the Lions need him to be just good enough. I sensed real optimism that he can qualify for that modest expectation.

Players such as Riddick, Fauria, tight end Michael Williams and others will give the Lions some interesting roster decisions. You wonder whether they will find some room by deciding against having a No. 3 quarterback on their roster. Kellen Moore looks improved and Thaddeus Lewis is intriguing, but the only real reason to keep one of them is if he is projected to someday succeed No. 2 quarterback Shaun Hill. Otherwise, that roster spot might be more valuable elsewhere. "It's about talent and about having a plan for guys," Schwartz said. "We're flexible, and that's not just at quarterback. That's all positions."

Receiver Patrick Edwards has gotten plenty of work with the first team in camp and has the unwavering support of Burleson, who said: "In my eyes, he is going to be the surprise player that changes games this year." But Edwards didn't show much in 29 snaps Friday night, going without a catch amid two targets. He got a step on Jets rookie cornerback Dee Milliner in the end zone, but Milliner out-jumped him to knock away Stafford's pass. At some point, Edwards will need to demonstrate some game production if he is going to be in the Lions' receiver rotation.

Delmas (knees) has worked in a little less than half of the Lions' practices and did not suit up for the preseason opener, but the Lions remain confident his limited schedule will leave him ready to play in games when the regular season starts. Schwartz: "We're working hard to get there right now. ... He's feeling good right now, and we're trying to keep it that way. Lou has the advantage of having played in this defense the past few years, even though we have new wrinkles each year. The terminology is the same. He's a really hard worker. We need to balance being on the field and practicing with the point of diminishing returns. I think we've been very proactive in camp doing that. Time will tell how effective that plan has been."

Much like his week at the Senior Bowl, Ansah wasn't nearly as noticeable during practice as he was during the preseason opener. Nothing he did in three days of training camp jumped out to suggest he was on the cusp of being an elite playmaker, but he stood out immediately against the Jets. In addition to his 14-yard scoring return of an interception, he nailed running back Bilal Powell for a 2-yard loss among his 20 snaps.

Take this for what it's worth: Even the amateur observer could notice a big upswing in man coverage from the Lions' defense during 11-on-11 drills. Stafford concurred but suggested the shift was more about evaluating the Lions' newly fortified secondary than it was a scheme change. "They're trying to figure out who can cover and who can't," he said. "But they're doing pretty good out there."
August, 5, 2013
8/05/13
12:00
PM ET
GREEN BAY, Wis. – When the
Green Bay Packers
won Super Bowl XLV, it was worth wondering whether that might be the beginning of a dynasty.

With a star quarterback in the prime of his career and enough young playmakers on both sides of the ball, talk of multiple titles didn't seem all that far-fetched.
In the two seasons since quarterback
Aaron Rodgers
' Super Bowl MVP-winning performance against the
Pittsburgh Steelers
on Feb. 6, 2011, the Packers have put together regular seasons of 15-1 and 11-5 that resulted in a pair of NFC North titles.
But in that same span, they have won only one playoff game -- last season's wild-card round against a
Minnesota Vikings
team that had to make the last-minute switch to backup quarterback
Joe Webb
because injured starter
Christian Ponder
couldn't go.
What's more, in the two playoff losses -- to the
New York Giants
on Jan. 15, 2012, and to the
San Francisco 49ers
on Jan. 12, 2013 -- the Packers were, as linebacker
A.J. Hawk
so bluntly put it this week, "blasted."
The Packers gave up a combined 82 points in the two playoff losses. The 45-31 loss to the 49ers, who piled up 579 yards of offense, has put Dom Capers' defense under intense scrutiny heading into this season in large part because 49ers quarterback
Colin Kaepernick
made the Packers look completely unprepared for the read-option offense. Kaepernick rushed for 181 yards (the most ever in a game by an NFL quarterback), including a 56-yard touchdown run that broke a 24-24 tie midway through the third quarter.
"We went to the playoffs twice and got blasted," Hawk said. "We got beat bad. They took the game from us.
"Specifically, as defensive guys, we let our offense down, so that's something as a defense we need to get some pride back and take it. That's why I think this whole offseason, if you've watched anything, our practices or whatever we're doing, it's almost stepped up a notch."
Capers has spent at least a small portion of almost every training camp practice working against the read-option, using some of what he and his staff learned during their March visit to College Station, Texas, where they met with the Texas A&M coaches to study the read-option.
While Capers has insisted throughout the offseason that his defense's performance against the 49ers was an anomaly and pointed to the statistical improvement -- to 11th in yards allowed in 2012 after finishing dead last in 2011 -- the lasting image of his unit from last season is them chasing (and almost never catching) Kaepernick.
"We kind of hit the perfect storm there," Capers said. "We'd made so many strides with so many young players, and it kind of went out the window. Because when you have a game like that, you kind of say, 'How the hell did that happen?' It can happen real easy in this league. That offense, the next week went for about 400 [yards], and then in the Super Bowl it was like a track meet after that blackout."
When it comes to defending that offense, Capers' defense will be tested early. The Packers open the season at the 49ers and then host the
Washington Redskins
in Week 2. If
Robert Griffin III
is back from his knee injury by then, they will face two read-option quarterbacks in as many weeks.
"I think every team right now is working on that. Every defensive coordinator is trying to figure out how to stop this pistol-read option," Hawk said. "At the same time, offensive coordinators are working on new wrinkles to beat these defenses, so we'll see. That's what's fun. Week 1 and Week 2, we get a nice, big test. We're looking forward to it."
Three hot issues
[+] Enlarge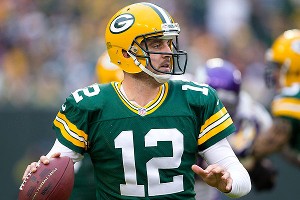 Wesley Hitt/Getty ImagesThere's no question that Green Bay quarterback Aaron Rodgers is absolutely integral to the Packers' chances in 2013.
1. Protect the investment
. There's nothing more important to the Packers than protecting Rodgers, who signed a five-year, $110 million contract extension this offseason. Rodgers was sacked a league-high 51 times last season. Not all of the sacks were the fault of the offensive line; sometimes, Rodgers held the ball too long. Nevertheless, coach Mike McCarthy decided to revamp his front five, moving right tackle
Bryan Bulaga
and right guard
Josh Sitton
to the left side.
T.J. Lang
went from right guard to left, and the right tackle position was declared an open competition that has yet to be decided.
"You say, 'Look, we have to protect the backside of the quarterback, so let's put the two most accomplished guys to date there,'" offensive line coach James Campen said.
The problem is, one of those two most accomplished players is already a scratch. Bulaga injured a knee during Saturday night's scrimmage and will miss the entire season.
The jury remains out on whether the line changes will work.
"It's a progression," Campen said. "I'd say we're climbing the hill now."
2. Find a running game:
The Packers haven't had a running back gain 100 yards or more in a regular-season game since
Brandon Jackson
rushed for 115 against the Redskins on Oct. 10, 2010. Their streak of 43 straight regular-season games without a 100-yard rusher is the longest in the NFL.
It got so bad last season that when opposing defenses often left both safeties deep and dared the Packers to run, they still couldn't do it. They finished 27th in rushing yards per game using a handful of different backs who either couldn't stay healthy or didn't produce.
Enter second-round draft pick
Eddie Lacy
of Alabama and fourth-round pick
Johnathan Franklin
of UCLA. They have shared reps with two returners from last season,
Alex Green
and
James Starks
. It's a safe bet Lacy will end up as the starter, but nothing has been decided yet.
"We have great competition," running backs coach Alex Van Pelt said. "The preseason will all work itself out."
3. Jones' impact:
In April of 2012, general manager Ted Thompson used his first six draft picks on defensive players -- a clear reaction to finishing last in the NFL in yards allowed the previous season. He didn't go as heavy on defense in this year's draft but did use his top overall pick on UCLA defensive end
Datone Jones
.
The hope is that Jones can become a three-down player capable of playing end in Capers' 3-4 defense and as one of two inside rushers in the nickel and dime packages.
Early returns suggest Jones will provide some immediate help, at least in the sub packages. Through the first week of practice, he has shown well in the one-on-one pass-rushing drill. By subjective count, he has won 10 of his 19 reps in that drill.
"You can see his quickness out there and some of the things that he's been able to do," defensive line coach Mike Trgovac said. "But some of the mistakes that he makes you don't see."
Reason for optimism
The Packers have arguably the best quarterback in the league and a trio of receivers capable of getting open and running after the catch. Rodgers' accuracy (67.7 percent over the past two seasons combined) and ability to take care of the ball (14 interceptions over the past two seasons combined) means the Packers will put up points. If receivers
Randall Cobb
,
James Jones
and
Jordy Nelson
, plus tight end
Jermichael Finley
, stay healthy, Rodgers has plenty of weapons.
Reason for pessimism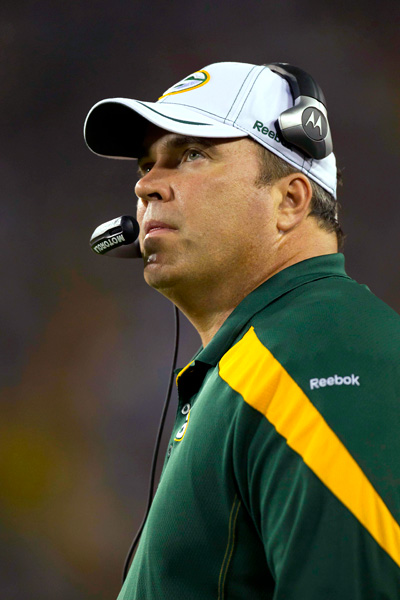 Jeff Hanisch/US PresswirePackers coach Mike McCarthy had 16 players sidelined with injuries during the team's scrimmage.
Injuries have hit the Packers hard in two of the past three seasons, and they have already begun to pile up this year. Bulaga's injury could ruin the plans for the offensive line. Two of their top three cornerbacks (
Tramon Williams
and
Casey Hayward
) remain sidelined. McCarthy was so concerned about his team's inability to stay healthy that he examined every aspect of his operation this offseason -- from weight training to nutrition to practice routine. Still, they had 16 players sidelined for their scrimmage on Saturday.
Observation deck
August, 3, 2013
8/03/13
11:00
AM ET

BOURBONNAIS, Ill. -- One year after taking over for Jerry Angelo as general manager of the
Chicago Bears
, Phil Emery put his stamp on the organization by firing longtime head coach Lovie Smith, despite a 10-6 finish to the 2012 regular season -- the fourth time in nine seasons that Smith reached the 10-win plateau.
Emery took a rather unconventional route when hiring a new head coach, bypassing 2012 NFL coach of the year Bruce Arians in favor of Marc Trestman, who spent the previous five seasons enjoying success as the head coach of the Canadian Football League's Montreal Alouettes. But Trestman is no stranger to NFL circles, having spent the bulk of his career coaching quarterbacks and calling plays for the likes of the
Minnesota Vikings
,
San Francisco 49ers
,
Oakland Raiders
,
Cleveland Browns
and
Miami Dolphins
.
While Smith's strength was defense, Trestman's strong suit is the offensive side of the ball, where the Bears typically struggled under the former regime. The most noticeable change in training camp has been the emphasis placed on reinventing the offense, while the defensive scheme has undergone little change under new defensive coordinator Mel Tucker.
Trestman's greatest challenge: maximizing the talent of quarterback
Jay Cutler
before it's too late. Cutler's four seasons in Chicago can be best described as inconsistent -- with the quarterback, coaching staff and substandard personnel all sharing the blame for the team's mediocre offensive output.
However, in the final year of his contract, Cutler is now surrounded by the most offensive talent during his tenure with the team, and by a head coach determined to make it work.
"I think on every level I've enjoyed the process with Jay, the interaction in our meetings, the level of content in our football discussions and his assimilation of the system based on the fact that he's been in so many of them over the last four or five years," Trestman said. "Jay's been all-in."
If that trend continues, the Bears have a legitimate chance to compete in the NFC North and earn just their second playoff berth in seven years. If not, the Bears would be expected to rebuild the roster heading into 2014.
HOT ISSUES
[+] Enlarge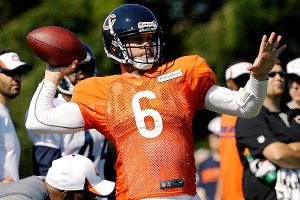 AP Photo/Nam Y. HuhJay Cutler has to hurry up and learn new coach Marc Trestman's offense in more ways than one.
1. Cutler's grasp of the offense:
This marks the fifth different offense for Cutler in the last six years, dating back to his time in Denver under Mike Shanahan. After installing the offense approximately three times over the course of the offseason program and the first week of camp, the quarterback said he is still in the process of mastering Trestman's West Coast system.
"It's been going well," Cutler said. "There have been ups and downs. That's any training camp. Guys are learning the offense and we're moving along. Just the verbiage is the most difficult aspect. Any time you go to a new offense guys are going to be in similar positions on the field. It's just learning the verbiage and being able to spit it out."
Trestman is constantly pressuring Cutler and the offense to get plays off in 16 seconds or less. This "controlled chaos" is a stark departure from the Smith era, when there wasn't such an emphasis placed on running plays in such a timely fashion.
"Practice has been chaotic, and that's the way coach Trestman wants it," center
Roberto Garza
said. "He wants it upbeat. He wants it competitive and as close to real game speed as possible so you do get those reactions to come out faster. He's doing it so there's not a big difference between practice and the game ... that's his big emphasis."
2. Finding a complement to Brandon Marshall:
Marshall joked before the start of camp that his offseason hip surgery was a result of the amount of times he was targeted by Cutler last season. Maybe he was telling the truth. Marshall was targeted a team-high 194 times in 2012. The next highest targets by a wide receiver?
Earl Bennett
with 49.
The Bears tried to address the problem in free agency by signing tight end
Martellus Bennett
to a four-year deal. Bennett had 55 receptions last season for the
New York Giants
, and should be a major upgrade over former Bears tight end
Kellen Davis
, who had a difficult time catching the football.
"I am [looking forward to having more weapons]," Marshall told ESPNChicago.com. "It was tough sledding last year. I think that's why I had to have the surgery. I had two or three guys on me every single play, but bringing in big boy Martellus, I don't think the league really knows how good he is. I didn't know, and that was one of my great friends in the league. So I'm excited to see him; he's going to be awesome this year for us."
Alshon Jeffery
, a second-round draft choice in 2012, is also being counted on to take pressure off Marshall. After hand and hip injuries forced Jeffery to miss six games during his rookie season, the former South Carolina All-American is playing with a sense of purpose in camp, and has clearly established himself as the No. 2 wide receiver on the roster, with Bennett doing his work primarily in the slot.
3. The leadership void left by Brian Urlacher:
Although Urlacher's performance on the field last season may have suffered, his leadership and influence in the Bears' locker room was as strong as ever. The future Hall of Famer is now retired, having been replaced in the middle of the Bears' defense by veteran
D.J. Williams
and rookie second-rounder
Jon Bostic
.
Urlacher's close friend
Lance Briggs
has assumed the role of calling the defensive plays from his weakside linebacker spot, a duty Urlacher handled with ease in Chicago for over a decade.
If Briggs' comments during the first week of camp are any indication, Urlacher might be gone, but he isn't forgotten.
"It's tough [without Urlacher]," Briggs said. "But we're all grown men. We have to move on."
REASON FOR OPTIMISM
Four Pro Bowlers (cornerbacks
Charles Tillman
and
Tim Jennings
, defensive end
Julius Peppers
and defensive tackle
Henry Melton
) return to a defense that scored nine touchdowns and generated 44 takeaways last season. If the core veteran group -- which includes seven-time Pro Bowl linebacker Briggs -- manages to stay healthy, there is no reason the Bears cannot once again boast one of the top defenses in the league, even with the departure of Smith and respected defensive coordinator/defensive-line guru Rod Marinelli.
On offense, the Bears can't get much worse than they were in 2012 under former offensive coordinator Mike Tice. Trestman is their first offensive-minded head coach since Mike Ditka, and while it's fair to question how he'll handle the nuances of running an NFL team, his credentials on offense are legit. With the offseason upgrades made at tight end and on the offensive line, the Bears should have enough talent for Trestman to successfully implement his offense. And if Cutler continues to buy in and respect the new head coach, the Bears should, at the very least, be respectable on offense and not have to lean so heavily on their defense.
REASON FOR PESSIMISM
Emery fired a head coach coming off a 10-6 season with 84 career wins -- the third-highest total in franchise history -- three division titles and a Super Bowl appearance. Why?
Most veterans are saying all the right things publicly about Trestman and the new regime, but the writing seems to be on the wall. Unless the Bears have a successful season, there figures to be a massive roster turnover heading into 2014, especially since 43 players on the training camp roster have contracts set to expire after the season.
Emery made it clear he does not anticipate awarding contract extensions until after the season, citing salary-cap concerns. But players don't care about the salary cap; that's a management issue. So if the Bears get off to a bad start, will the team rally for Trestman like it did so many times for Smith over the years?
With a difficult schedule that opens with home games against 2012 playoff teams Cincinnati and Minnesota, followed by a trip to Pittsburgh, the fear is that players will be looking to jump ship if the waters get rough. That never happened under Smith. But this is the calculated risk Emery took by firing a popular head coach and failing to extend contracts in the offseason.
OBSERVATION DECK
[+] Enlarge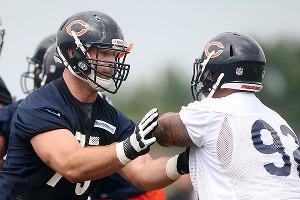 Jerry Lai/USA TODAY SportsDespite missing the team's offseason program, Kyle Long, the Bears' top pick in the 2013 draft, is on track to open the season as the starting right guard.
" The fact that guard
Kyle Long
made just five career starts at Oregon didn't deter the Bears from selecting him No. 20 overall in April's NFL draft. Long is raw and is bound to make his share of rookie mistakes, but his strength is undeniable. From a physical standpoint, Long can hang in there against experienced defenders. But it's the mental aspect of his game that needs work after he was forced to miss the Bears' entire offseason program due to NCAA rules. Despite Long's steep learning curve, he is on track to open the regular season as the Bears' starting right guard.
" The loss of Williams for at least a week due to a right calf injury gives Bostic an opportunity to work extensively with the first unit at middle linebacker. But not being responsible for calling the defensive signals, a task held by Briggs, is an adjustment for Bostic and has led him to commit a handful of mental errors. "I kind of feel like when you're talking loud and calling the plays it kind of helps you in what you are doing," Bostic said. "At the same time, we have this thing called loud and wrong. If you're talking loud everyone can hear you. But if you're wrong, everyone can hear you and tell you you're wrong." Bostic has been in charge of calling signals for the No. 2 defense since OTAs kicked off in May.
" The Bears already boast two Pro Bowlers on their defensive line in Peppers and Melton, but two other projected starters are turning in some of the best efforts so far in camp: defensive end
Corey Wootton
and defensive tackle
Stephen Paea
. Wootton sacked the quarterback seven times last season, and entering the final year of his contract he could be in line for a sizeable bump in salary if he recovers from a hip injury suffered in practice last Thursday. Paea is the heaviest he's ever been (295 pounds) and the fastest since the Bears moved up in the second round to take him in 2011. "I'm doing something right," Paea said.
" Trestman has been especially high on running back
Matt Forte
, who besides rushing for 5,327 yards in five NFL seasons is also an accomplished receiver out of the backfield. But for reasons unknown, the Bears failed to utilize Forte much last season in the passing game -- he caught a career-low 44 passes for 340 yards. That is expected to change under Trestman.
" The verdict remains out on 2012 first-round pick
Shea McClellin
after he posted 2.5 sacks as a rookie in a limited role as a situational pass rusher. However, the offseason departure of veteran defensive end
Israel Idonije
opens the door for McClellin to receive more playing time in a three-man end rotation with Peppers and Wootton. McClellin gained weight in the offseason but promptly lost it, raising more questions about whether he truly is suited to be a 4-3, hand-on-the-ground defensive end. "My expectation for Shea is simply to get better," Tucker said. "That's the expectation I have for every player on the defense. He just needs to get better." The likely scenario for McClellin this season is to move around on defense and line up in different spots along the line of scrimmage in both a two-point and three-point stance. McClellin also has the speed and agility to drop back into coverage every now and again.
"
Devin Hester
seems content in his new role as strictly a return man. Hester has not taken a single rep at wide receiver since Trestman was hired, spending time at practice either with the other specialists or on a side field catching punts from the JUGS machine. "I feel great," Hester said. "I haven't felt like this in a while. I'm very excited for the season, what's at stake this year. I do feel like we do have a great chance to make a run for the playoffs as well as the Super Bowl. I'm more excited than a lot of guys this year coming in and hopefully having fun out there on the field." Hester is in the final year of his contract and set to earn a base salary of $1.857 million if he makes the 53-man roster.
August, 1, 2013
8/01/13
11:00
AM ET
MANKATO, Minn. -- Leslie Frazier dived into history to craft a message for his third training camp as the
Minnesota Vikings
' coach. Single-season playoff runs, such as the one the Vikings went on last season, are not uncommon. Reaching the postseason regularly over time? That's what Frazier wanted his players and coaches to think about.

Research revealed that only four teams -- the
Green Bay Packers
,
Atlanta Falcons
,
Baltimore Ravens
and
New England Patriots
-- have made the playoffs in each of the last three seasons. In his opening-night speech to the team, Frazier drove home the challenge of sustaining success in the NFL.
"We looked at teams that have been able to do it over the long haul instead of just hitting it and dropping off," he said. "There are things that have to happen to sustain success. It looks like it's harder to get there than it is to stay there."
The message was especially relevant for the Vikings, who emerged from modest expectations last season to finish 10-6 and clinch a wild-card playoff berth. There is a national perception that they benefited from a perfect storm of factors, and Frazier is keenly aware of that perception. General manager Rick Spielman's decision not to extend Frazier's contract this offseason suggests a level of internal uncertainty as well.
So it's worth nothing that when I asked Frazier to describe the traits of consistent winners, he returned several times to the same theme. Setting up what will be a season-long referendum on his future, Frazier said the most important ingredient is "continuity at the top."
Those teams, Frazier said, "have been constant with their staff. Pretty constant with their front office. I think those things really matter when you're trying to build something that can be sustainable and having some continuity on your staff as well as management. So you're not always trying to reinvent yourself with a new head coach and a new general manager, or turning over in other key places."
THREE HOT ISSUES
[+] Enlarge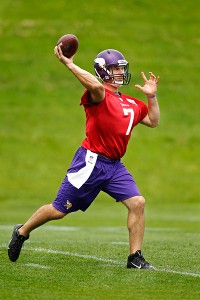 Bruce Kluckhohn/USA TODAY SportsThe Vikings are hoping that Christian Ponder can continue to build on a strong finish to the 2012 season.
1. Christian Ponder's development:
The best way to view Ponder's first full season as the Vikings' quarterback was that he was
unacceptably uneven.
Based on Total Quarterback Rating, he was a top-10 starter in his first four games, then one of the NFL's worst over the next eight games and, finally, one of the league's best in the Vikings' 4-0 finish.
A reasonable expectation for 2013 is to even out his performance. Put more bluntly: Ponder can't ever be as bad as he was during those eight games of 2012.
In the first few days of training camp, Ponder provided little evidence that he is ready to make that jump to consistency. More than occasionally, his throws went awry on what appeared to be unforced errors. Over three practices, I counted three substantial overthrows of receiver
Greg Jennings
on mid-range routes. Then there was a go route that took receiver
Jerome Simpson
four steps out of bounds, along with a ball thrown wildly up for grabs during a blitz drill.
It's fair to point out that Ponder was working in exceptionally windy conditions on the first day, even though no one will want to hear that if it happens in a regular-season game. And I don't want to make it sound as if he didn't make good throws, also. Plenty found their targets. But this post is intended to provide a snapshot of camp when I was there. I'm just telling you what I saw.
2. Young secondary:
When training camp opened, the Vikings' nickel defense featured three cornerbacks who have made a combined 22 NFL starts and a grand total of two interceptions. The departure of veteran
Antoine Winfield
has left a talented but inexperienced last line of defense in a pass-happy division.
The Vikings are hoping that
Chris Cook
(second-round draft pick, 2010) and
Josh Robinson
(third round, 2012) can man the top two cornerback jobs. Robinson would slide inside in nickel situations, with rookie
Xavier Rhodes
(first round, 2013) taking over at left cornerback. None among that trio is an established NFL player, but Frazier shrugged when I inquired about his confidence level. Frankly, there are no other options.
"Whoever is going to be out there," Frazier said, "they're going to be young. We don't have a lot of experience back there. That's one of the things we lost with Antoine: somebody who has seen a lot in our league. The way people throw the ball today, you can't hide bad play in the secondary. So we've got to get those guys up to speed. They are going to be the ones playing for us. It's not like we can go out there and find an All-Pro cornerback or nickel back to come in and help us."
I was especially intrigued by the way Rhodes performed in the early days of camp. He has plenty to learn but is exceptionally strong at the line of scrimmage; he stopped a number of receivers from getting past the five-yard mark in their routes. Rhodes will have to be careful about contact beyond the point, but it has been a while since the Vikings had a cornerback who seems so well-equipped to play press coverage.
3. Adrian Peterson's summer:
The NFL's reigning MVP missed two weeks of training camp in 2012. He took limited repetitions when he returned and sat out the preseason while completing recovery from major knee surgery. The exemplary results of that reduced regimen raised an obvious question this summer: Should the Vikings keep Peterson on a strict pitch count once again? Specifically, should he play in the preseason?
Peterson said he would do whatever he is asked but made clear that he wouldn't be insulted if he doesn't see live contact until Week 1 of the regular season. "I really don't care if I do," he said. "I'll go out and do what I do. If not, that's fine as well. It worked out pretty well last year."
Frazier generally takes an old-school approach. At the beginning of camp, at least, he seemed set on getting Peterson some preseason work. "He'll get some work in the preseason," Frazier said. "It won't be like last year where he didn't get any work."
As the preseason gets closer, I wonder whether Frazier's thinking might evolve there. After seeing how Peterson reacted to last summer's regimen, there doesn't seem to be much reason to risk his health in a completely meaningless preseason game.
REASON FOR OPTIMISM
The Vikings traded away Ponder's top receiver (
Percy Harvin
) this offseason, but overall they have put him in a fair position for success. Minnesota is the only NFC North team to return its offensive line intact, largely because it ponied up on a four-year, $25 million contract to retain right tackle
Phil Loadholt
. It replaced Harvin with veteran
Greg Jennings
and rookie
Cordarrelle Patterson
, pairing them with emerging slot receiver
Jarius Wright
. Pass-catching tight end
John Carlson
is getting another chance to team up with Pro Bowler
Kyle Rudolph
. And oh yeah, the Vikings have the game's best running back and also paid a premium (three years, $7.5 million) to retain one of its best fullbacks,
Jerome Felton
. Finally, the entire offense is entering its third season in the same scheme. Assuming the general health of that group, Ponder has more than enough around him to succeed.
REASON FOR PESSIMISM
I learned a term recently that I think applies here: Regression to the mean. Suffice it say, a lot went right for the Vikings in 2012. Can we reasonably expect similar micro-results? Is it fair to expect Peterson to approach 2,000 yards again? Can kicker
Blair Walsh
possibly be as accurate, especially from beyond 50 yards? Will the Vikings have another relatively injury-free season? How many times can they beat Packers quarterback
Aaron Rodgers
when he throws for 365 yards and four touchdowns, as he did in their Week 17 victory at the Metrodome? Can they be
as good in one-score games
as they were last year (5-1)? Those factors are why some people aren't sure if the 2012 Vikings were a fluke or if they are poised for sustained success.
OBSERVATION DECK
[+] Enlarge

AP Photo/Jim MoneJoe Webb impressed his teammates with his strong hands.

There is no shortage of interest about the conversion of quarterback Joe Webb to wide receiver, given his size and open-field running ability. I'll offer two observations here, one backed by Webb and the other by Jennings. First, Webb is in excellent condition but appeared to be laboring under the strain of how much running receivers do in a training camp practice. "It's a lot more running," Webb said. Eventually, he will get used to it. Second, Webb has excellent hands. Jennings: "One of the things I told him when I first saw him at the position is that I noticed he can catch the ball. That is the first hurdle. If you can't catch, you can't be taught. I'm sorry. If you can't catch, no one wants to take the time to do the rest of it. He has really strong hands."

In what is probably his final season with the team, the Vikings are planning to cut back defensive tackle Kevin Williams' snaps and start working rookie Sharrif Floyd into the lineup. Defensive coordinator Alan Williams said he would like to see Williams play about 35 snaps per game -- a bit more than half of a typical contest. Williams, who turns 33 later this month, seems amenable. "I know we have some great guys around here and behind me," he said. "We'll work something out and have some kind of rotation."

At this point, the Vikings are sticking by their plan to avoid playing Williams and Floyd at the same time. In nickel situations, Everson Griffen can replace nose tackle Letroy Guion. As we noted during camp, Frazier speaks with deep pride about Griffen's development.

While Jennings and Patterson adjusted to their new team, Wright was the most productive receiver during the practices I watched. At the moment, the Vikings have locked him into the slot position while Jennings and Simpson work on the outside. But Wright said: "I'm trying to prove I'm not just an inside guy. I want them to see I can play on the outside, too."

Defensive end Jared Allen said "I haven't felt this good in 10 years" upon his arrival at camp. Allen finally agreed to have surgery to repair old injuries in his shoulder and knee and developed a new swimming regime in the offseason to prepare for what will be a contract year. I think the Vikings want him back in 2014, but it will be interesting to see what his market will be like as a 31-year-old defensive end this winter.

The Vikings have started veteran linebacker Desmond Bishop on the outside, and with the second team. But Frazier wouldn't rule out a shift inside at a later date. "We're starting him at outside position," Frazier said. "We think that will help him from a learning standpoint and then see where it goes from there. We would like for him to learn dual positions. It would be good for our team if he can. But for now, learn the basics of the defense."

The Vikings are realistic about receiver Greg Childs' chances of playing again in the NFL. Childs is almost a year removed from tearing both patellar tendons and, although he has resumed running, he doesn't appear close to resuming football activities. "That's a tough injury he's coming back from," Frazier said. "… There have been only one or two documented cases when a guy made it back. And they didn't play for any extended period of time. The odds are extended against him. But he's working his butt off for a chance to come back. If anyone can do it, he can do it."