NFC North:

2013 Hall of Fame preview
August, 4, 2013
8/04/13
12:25
AM ET
Cris Carter's enshrinement speech Saturday night at the Pro Football Hall of Fame was 100 percent Cris Carter -- complete with tears, near-gospel tones and frank admissions about his life's shortcomings. He had
earlier described it
as a "letter" intended to recognize the "people when I was at my darkest point and they still believed in me," and in a touching framework to his speech, Carter welcomed all of them to the Hall alongside him.
(Here is a
full transcript
from the Pro Football Hall of Fame's website.)
As a result, Carter didn't spend much time talking about his time with the
Minnesota Vikings
or really any of his on-field exploits. Instead, he reserved some of his most reverential words for Minnesota businessman Wheelock Whitney, who was a part-owner of the Vikings when the team claimed Carter on waivers in September 1990.
Whitney connected Carter with Betty Trilliegi, a substance-abuse counselor, and took great interest in Carter's life. Here's that segment of Carter's speech:
The Minnesota Vikings, we have one of the best employee assistance programs, cutting edge as far as substance abuse, people struggling with it. And our ownership at the time was a group of people, but one of the owners was named Wheelock Whitney.

When the Vikings acquired me from Philadelphia, like most pro teams, they don't know the intel on the player until they get the paperwork, but they had already had my contract by then. But Wheelock Whitney hooked me up with a good friend of his, whose name is Betty Triliegi, and she happens to be one of the best friends a person could ever have. The reason why, she didn't teach me how to catch or run routes, but she taught me how I could live a life and have power over my life. And my demons didn't have to always haunt me.

She asked me on Sept. 19. She said, 'Cris, can you just not have a drink for one week?' And since Sept. 19, 1990, because of Betty Triliegi, and Wheelock Whitney, I've been able to keep that program together. And but for them, I would not be going into the Hall, and I greatly appreciate and I honor them tonight.
I'm sure some of you will wonder why Carter didn't mention most of the quarterbacks he played with, or any of his non-Hall of Fame Vikings teammates or even coach Dennis Green. I guess that's a question for Carter. But to me, that didn't seem what the speech was about. The speech was about the people who helped him at his darkest moments, and by the time Green was hired and those quarterbacks joined the team, Carter was already on the upswing.
Regardless, Carter provided a predictably rousing performance to end the 2013 ceremony.
Here is a video of the full speech.
August, 3, 2013
8/03/13
11:51
PM ET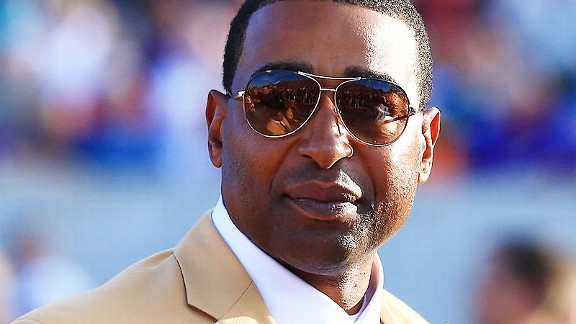 Andrew Weber/USA TODAY SportsCris Carter is fourth on the all-time reception list with 1,101 catches.
CANTON, Ohio -- Cris Carter's emotional football journey started in Ohio about four decades ago and ended in Ohio on Saturday night.
Carter, 47, grew up in Troy, which is three hours away from Canton, home of the Hall of Fame, where Carter was honored this weekend. He also starred at Ohio State in Columbus before his stellar 16-year NFL career.
On Saturday, Carter -- emotional and reflective -- came full circle, returning to the Buckeye State as a member of the 2013 Hall of Fame class. He didn't prepare notes for his speech. Carter spoke strictly from the heart in front of many of his fellow Ohioans and football peers.
"We have the greatest Hall of all the Halls," Carter said emphatically. "And to be able to join these men, on this stage, in football heaven is the greatest day of my life."
Carter's journey wasn't easy. He signed with an agent and lost his eligibility his senior year at Ohio State. Carter said his only football-related regret was leaving school early and being forced to enter the supplemental draft.
"To all the Buckeye fans, from the bottom of my heart, I sincerely apologize," Carter said.
Carter also battled drug and alcohol problems that nearly derailed his career. Carter described Sept. 19, 1990, as a landmark date in his life. That's when he was asked in rehab to change his life. He's been clean ever since.
On the field, Carter's first NFL catch was a touchdown reception in 1987 against the
St. Louis Rams
. He had just five catches his rookie year with the Philadelphia Eagles, which included two touchdowns. Former Eagles coach Buddy Ryan later coined the famous phrase that "All he does is catch touchdown passes." That stuck with Carter the rest of his career. He finished with 131 career touchdowns, which ranks eighth all time.
In Minnesota, Carter's career flourished. That's where he made eight straight Pro Bowls, had two seasons of 122 receptions, and five straight seasons of double-digit touchdowns. It's also where Carter got his life together.
Carter also can make a strong case for having the best hands in NFL history. His highlight tape displays some of the most difficult and spectacular catches ever seen. Those strong hands made Carter fourth on the all-time reception list with 1,101.
"When he came in from Philadelphia, we knew he was a great ballplayer and we knew he could play," former Vikings teammate and fellow Hall of Famer Chris Doleman said. "We wanted to just give him a clean slate to work from and let him do what he do. He's never done anything but honored the Vikings and the Vikings colors."
Consider Carter's
enshrinement speech, which was about 16 minutes long
, one final touchdown reception. He was the final speaker in the 2013 Hall of Fame class, and Carter had several tough acts to follow. Jonathan Ogden and Curley Culp were classy. Dave Robinson and Larry Allen were funny. Bill Parcells and Warren Sapp, as expected, were straight shooters.
But Carter was able to put a bow on this entire Hall of Fame. He began by playing to the hometown crowd with a chant of "O-H-I-O." Then he got more personal.
Carter's son, Duron, introduced him. Carter also made sure to thank his mother, Joyce, and asked her to stand up in front of a national audience.
"Mama, I got to tell you, I didn't have to wait to get a call from the Hall for them to tell me I was a Hall of Famer -- you've been telling me that since I was little," Carter said. "You told me everything that's ever happened in my life that's happened. But Mom, I got to tell you. I have to apologize. I'm so sorry for the bumpy flight and the bumpy ride.
"But I got to tell you, Mama, it's a smooth landing."
Carter's résumé is still growing. He is the author of a new book and an insightful NFL analyst at ESPN.
After five years as a finalist who came up just short, Carter can add one more deserving label on a historic night in Canton: Hall of Famer.
"Buckeye born and bred," Carter said in conclusion. "Now an H-O-F-er -- even after I'm dead."
August, 3, 2013
8/03/13
10:45
PM ET
I'm not in Canton, Ohio, this evening, so I can't bring you a first-hand account of the two players with NFC North ties who are being inducted into the Pro Football Hall of Fame. But I do want to bring you a highlight or two of the speeches from both Dave Robinson (
Green Bay Packers
) and Cris Carter (
Minnesota Vikings
), and we'll move in chronological order.

Robinson
Robinson noted that he played on perhaps the best left side of a defense in NFL history, one that for the most part had five Hall of Famers lining up next to each other. But my favorite part of his speech was when he evoked a bygone era of gladiator football.
"It's a Spartan game," Robinson recalled a coach once telling him, "played by Spartan-like individuals in a Spartan-like manner. It's a game of hitting and getting hit. You've got to like to hit, and you've got to like to get hit. If you don't, you won't last long in this league.
"I tell people that when you play football, you've got to like the taste of blood. You've got to remember that 50 percent of the time, it's your blood."
NFL.com has put together a five-minute video of the highlights from Robinson's speech
right here.
Here is a
full transcript of the speech
from the Pro Football Hall of Fame's web site.
August, 2, 2013
8/02/13
10:00
AM ET
Dave Robinson laughs when NFL teams abandon linebacker coverage for tight ends and instead scour the country for big safeties and cornerbacks. Because of all his accomplishments, Robinson might be most proud of the work he did as a speedy linebacker against the best tight ends of the 1960s and '70s.

Robinson
And it was his performances against Pro Football Hall of Fame tight ends Mike Ditka, John Mackey and Jackie Smith that convinced him that he, too, belonged in Canton, Ohio. Finally, 50 years after his career began with the
Green Bay Packers
, and 38 years after his retirement, Robinson will be enshrined Saturday.
"I knew who I played against," Robinson said recently, "and almost every tight end in the Hall of Fame, I played against and had good games against. I played with or against a lot of people in the Hall of Fame, and I thought I could compare my career with them. I know how others played, and I knew in my heart. These guys were Hall of Famers -- the Mike Ditkas, the John Mackeys, the Jackie Smiths -- and I knew I was in the same league."
Robinson said he ran the 40-yard dash in 4.6 seconds when he left Penn State in 1963. His speed helped him intercept 27 passes in his career,
a total bettered by only eight AFL/NFL linebackers since 1960.
But as fast as he was, Robinson's strategy for defending tight ends had nothing to do with running. Be it in the 1960s or the 2010s, Robinson believes, the only way to stop a good pass-catching tight end is to hit him at the line of scrimmage.
"I loved to contact the tight ends," he said. "You don't have to knock him down, but if you can jam him, it throws the route off something terrible. I'm frustrated when I see third-and-6, third-and-8, and these tight ends get of the line because no one contacts them. One problem is that these linebackers are 6 yards off. I would ease up to the line of scrimmage and jam them at 4 or 5 yards. Make their life [tough]. If they do that, maybe the tight ends wouldn't be leading receivers."
Jamming the tight end was no more of a glory job in the 1960s than it is now. But here's how fellow Packers Hall of Famer Herb Adderley, who played cornerback between 1961-69, described it:
"He was one of the few linebackers in the league that could hold up the tight ends at the line of scrimmage, great tight ends like Mike Ditka and John Mackey. What people don't realize is that Dave holding up the tight end gave [safety] Tom Brown more time to diagnose the play and to cover the tight end. It helped the defensive linemen to get in and rush the quarterback, because it would throw the timing off and the quarterback would have to hold the ball longer. It also helped me when I was covering the split end."
On Sunday, Robinson finally will receive the recognition for the otherwise unnoticed contributions he made to the Packers' glory years.
July, 31, 2013
7/31/13
10:00
AM ET
All Cris Carter did, as the legendary Chris Berman made famous, was catch touchdowns. There were 130 of them in all, a total that ranked second in NFL history when he retired in 2002.
But behind the touchdowns, and at the root of the shoestring catches and sideline acrobatics, was a much more basic and fundamental accomplishment. It is said that the most important NFL attribute is availability, and in truth, all Cris Carter did was play -- every week, every month and every year.
As the chart shows, Carter played in more games than all but five receivers in NFL history. Between 1988 and 2001, essentially his entire career, Carter missed only four games; that absence came when he fractured his collarbone in 1992. His availability, sustained by elite conditioning and selective avoidance of contact, seems appropriate to recall as he heads toward his induction Saturday into the Pro Football Hall of Fame.
"I tried to be one of the best-conditioned athletes," Carter said, "and I just think that's a part of the level of success you have in the NFL. You already have some level of success if you make it. … But I believe that availability sets you apart from a lot of different people. It's a rugged game, and [availability] is underrated."
Most of you who watched Carter play would accept implicitly that he was in phenomenal physical condition. Toward the end of his career, he opened a speed camp for high school, college and NFL players to use during the offseason -- an operation that pre-dated today's agent-driven workout facilities. Carter's philosophy was simple: Receivers run more than any other position group, so they need to be in better shape than anyone else.
If he left a legacy in the game, Carter hopes that was it.
"We wanted to be the best conditioned players on the field," he said. "Now, you just don't see good receivers out of shape. You see them being some of the hardest workers if you look at it now.
Andre Johnson
, one of the hardest workers.
Larry Fitzgerald
,
Calvin Johnson
,
Julio Jones
,
Roddy White
,
A.J. Green
. That's one of the things that are common with most of the receivers now is they're hard workers. They realize that. I would say that Jerry Rice set that standard also. You've got to be in great shape."
And, quite frankly, you also have to be a realist. A receiver who regularly takes direct shots from defenders is going to find himself in the trainer's room. Carter recalled this pertinent advice he received from Chip Myers, who at the time was his receivers coach with the Minnesota Vikings: "Football is not a contact sport for wide receivers. It's an avoid-the-contact sport."
It might run counter to the macho vision of football, but a receiver can best help his team when he is healthy and available. Carter accepted contact when it was inevitable, avoided it when possible and has no shame admitting it.
"You have to be smart as a football player," he said. "The number one thing is to catch the football and maintain possession. … There is a fine balance there to when to get down and save yourself from some of those blows."
Maybe my appreciation for availability is too rooted in personal experience. I covered Cal Ripken and Brett Favre in my day, and while Carter never built a comparable streak of consecutive games played, he did share the same respect for the game. He wanted to play. Every day. All the time. And look where it got him.

NFC NORTH SCOREBOARD
Thursday, 9/4
Sunday, 9/7
Monday, 9/8