NFC North:

2013 NFL Week 1 Double Coverage
September, 6, 2013
9/06/13
12:00
PM ET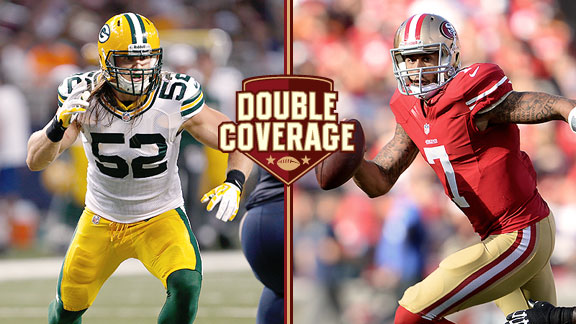 AP PhotoClay Matthews and Green Bay had all offseason to digest what Colin Kaepernick did to them in January.
The final season at venerable Candlestick Park begins in style as the
San Francisco 49ers
host the
Green Bay Packers
on Sunday.
It is a rematch of an NFC divisional playoff game in the same building. The 49ers completely outclassed the Packers on Jan. 12, as first-year starting quarterback
Colin Kaepernick
and crew had their way with a defense that looked slow and lost in a 45-31 San Francisco victory.
Packers team reporter Rob Demovsky and 49ers team reporter Bill Williamson have plenty to discuss. To the questions:
Williamson:
Rob, I think we have to start this off with this simple query: Can the Packers stop the read-option of a Kaepernick-led offense?
Demovsky:
Bill, that's what everyone has wanted to know since Kaepernick rushed for 181 yards against them in the playoff game. The number 579 -- the total yards of offense the 49ers piled up that day -- has been burned into the brains of the Packers' defensive players. Almost every day in practice during training camp, the defense went off to one end of the field by itself and worked against the read-option. But the Packers haven't seen any of it in live action since that playoff game, so at this point, there's no way to know whether they're any better equipped to handle it now.
Williamson:
That's the thing. Green Bay will be coming into this game nervous. The read-option has been on the minds of this coaching staff and its players all offseason, yet the Packers don't know for sure if they can handle it any better than they did the last time they saw Kaepernick. Kaepernick and his coach, the always-confident Jim Harbaugh, believe in their system and their personnel. They are going to challenge the Packers right away. I fully expect Kaepernick to come out gunning to make a statement -- a full-tilt San Francisco offense. If Kaepernick has early success, it could open the offensive floodgates. Now, if the Green Bay defense holds Kaepernick early, the Packers will get a confidence boost and should hang around all day.
Rob, just how confident do you think the Packers will be if they get a ton of read-option right away?
Demovsky:
Clay Matthews
said this week that the Packers know they have to take their shots at the quarterback when he tries to get outside the pocket, and if they do, perhaps they can get Kaepernick to sit in the pocket more, which ultimately is their goal. They want to make him a pocket passer if at all possible. That's their best chance for success.
There are other issues to this game, of course. Bill, considering the fact that the Packers will start a rookie,
David Bakhtiari
, at left tackle and a former undrafted free agent,
Don Barclay
, at right tackle, how big of an advantage does a pass-rusher like
Aldon Smith
have against Green Bay?
Williamson:
Other than Kaepernick and
Aaron Rodgers
, Smith might be the most important player on the field Sunday. He can change the game by himself, as his 33.5 sacks in two NFL seasons attests. Bakhtiari and Barclay have an incredible challenge ahead of them. It is also bad news for Green Bay that 49ers defensive tackle
Justin Smith
is healed from a triceps surgery. Aldon Smith had all 19.5 of his sacks in the regular season with Justin Smith playing with him, and none in 2012 without him. Having the Smith & Smith show together could mean a long day for Rodgers.
Demovsky:
But won't the 49ers have to respect the Packers' running game a little bit more with the addition of rookie
Eddie Lacy
? He looks like their first legitimate running back since Ryan Grant in 2009. If the Packers can establish Lacy on first down, they might be able to keep themselves out of obvious passing situations, and then Aldon Smith wouldn't be able to tee off and jet-rush up the field on every second and third down.
Williamson:
That is certainly the Packers' hope. It is clear that getting their ground game back on track was a focal point of the offseason. This is a passer's league, but getting yardage on the ground and keeping Kaepernick off the field will surely help Green Bay's cause as much the relief that it would give Rodgers. But here's the rub -- San Francisco is a monster against the run. The 49ers allowed just 3.7 yards per rush last season, third-best in the NFL. The Packers will be hard-pressed to break their streak of 43 regular-season games without a 100-yard rusher.
Demovsky:
Bill, we've spent a lot of time talking about how the Packers are going to defend Kaepernick & Co., but don't forget that January's playoff game was tied 24-24 midway through the third quarter, and the Packers' offense was having a decent day -- Rodgers throwing for 257 yards, two touchdowns and an interception. Can the 49ers secondary hold up against Rodgers and the likes of
Randall Cobb
,
James Jones
and
Jordy Nelson
?
Williamson:
A fine point. Look, the Packers are legitimate. They will not be embarrassed in this game. Rodgers is the best player on the planet. He and his receivers must be accounted for. If the 49ers are vulnerable on defense, it might be in the secondary, where they have the oldest defensive backs in the league. Can older players like
Carlos Rogers
and
Nnamdi Asomugha
(who may be slowed by a collarbone injury) keep the Green Bay passing game honest? If Green Bay is going to win this game, it's going to be because Rodgers is unstoppable. That's possible.
Rob, as we have discussed the major talking points of this anticipated matchup, an intriguing side story has developed. The Packers have brought in a pair of former 49ers backup quarterbacks in
Seneca Wallace
and
Scott Tolzien
. Do you think they can help Green Bay pull out a victory from the meeting room?
Demovsky:
I doubt Wallace can. He wasn't even with the 49ers for a full week. But you'd better believe they've grilled Tolzien about the 49ers. In fact, I wouldn't be surprised if that's the biggest reason they brought him in, and if they end up cutting him from the practice squad in a week or two. Now, Tolzien probably won't know much about the 49ers' game plan for this week, but considering he was with them for both meetings against the Packers last season, he likely has a good working knowledge of how Harbaugh wants to go after Green Bay.
Williamson:
I'm with you. These moves add some strategy elements, but this is going to be a big-boy game pitting two of the NFL's finest teams against one another. Once the game starts, this thing is going to all about
Patrick Willis
,
Vernon Davis
, Kaepernick, Rodgers and Matthews.
September, 5, 2013
9/05/13
1:00
PM ET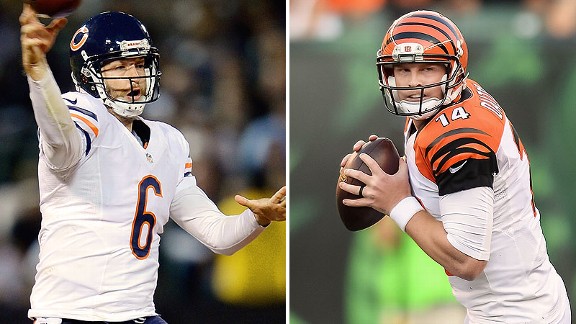 Getty ImagesChicago's Jay Cutler, left, and Cincinnati's Andy Dalton lead their respective offenses against very stingy defenses.
Two strong defensive teams led by highly scrutinized quarterbacks in
Jay Cutler
and
Andy Dalton
set the scene for what should be a hotly-contested matchup between what are expected to be ascending clubs.
Marc Trestman makes his debut as an NFL head coach at Soldier Field on Sunday, leading a Bears team with plenty of roster turnover on offense, including a totally revamped line expected to better protect Cutler as he operates the club's new scheme. That group will be tested by a Bengals defensive line, led by
Geno Atkins
, that accounted for 43 of the team's franchise-record 51 sacks in 2012, and also paved the way for the defense to finish the season ranked No. 6 for fewest yards allowed.
Chicago's defense in 2012 was even better, finishing fifth in net defense, third in scoring defense (17.3 points per game) and No. 2 in turnover differential while leading the NFL in interceptions (24) and total takeaways (44).
While home-field advantage can be key for teams, it's certainly been a factor in this series. The Bengals hold a 4-1 road record against the Bears and own a 6-3 series lead, which includes victories in their last outings (2005 and 2009).
Chicago hasn't beaten the Bengals since 2001.
ESPN.com's Matt Williamson and Bears team reporter Michael C. Wright discuss the matchup.
Wright:
The Bears hope they fixed the offensive line with a combination of scheme (shorter drops for Cutler), beefed up protection with
Jermon Bushrod
at left tackle and a pair of draft picks in
Kyle Long
(first round) and
Jordan Mills
(fifth) at right guard and right tackle, and another weapon for Cutler to find down the middle of the field when he's in trouble. But the inexperience of Long and Mills will be question marks against Cincinnati's active defensive line.
It seems Cincinnati's defense is built around Atkins, but how much of a factor are guys like
Carlos Dunlap
and
Michael Johnson
?
Williamson:
Atkins is the foundation of the defense for sure and everyone thrives off his presence, but the Bengals have a lot invested in the defensive line now in terms of finances and draft picks. This is an extremely deep and talented group that makes the entire defense go. Dunlap might be a little underrated and Johnson a little overrated, but they form an impressive pair of defensive end. These three players, along with the rest of Cincinnati's defensive front, will prove a very steep challenge for Chicago's rebuilt offensive line in Week 1.
What can the Bengals' defense expect from this new Trestman offense?
Wright:
The Bears will utilize zone blocking in the running game, which should allow
Matt Forte
to pick his own holes. That should open up the passing game, where the Bears will use West Coast philosophies such as shorter routes and drops for Cutler so he can get rid of the ball quickly. Look for the Bears to also try to use
Earl Bennett
down the seams to exploit potential matchup problems, especially on traditional running downs where the Bengals might be using base personnel.
Speaking of the Bengals, they've made the playoffs in three of the last four years, but really haven't made much noise. What are the expectations for this team now?
Williamson:
Expectations must go up. They had yet another high-quality offseason and this team has an exceptional young core of players on both sides of the ball. They clearly play in a tough division, but going one-and-done in the playoffs yet again will not be considered a successful season in Cincinnati. I fear they will only go as far as their quarterback will take them. But Bengals fans have a lot to be excited about.
Do you think this Bears defense can defend
A.J. Green
?
Wright:
They should be able to keep him from dominating the game. It's likely the Bears match
Charles Tillman
up against Green, but if the receiver winds up in front of
Tim Jennings
, the team is confident he can get the job done, too. The Bears typically don't double or shade coverage against players such as Detroit's
Calvin Johnson
, so don't count on seeing the Bears try that against Green. Cincinnati's tight ends could be an issue now that they've got two good ones in
Jermaine Gresham
and
Tyler Eifert
.
With such a talented supporting cast, do you see Dalton as just a guy surrounded by weapons, or a blossoming young quarterback?
Williamson:
He shows signs of blossoming into a solid young quarterback, and has been especially adept in the red zone, which is very noteworthy for a young quarterback. But I think he is more of the former. He is a limited passer who lacks great tools, and isn't as accurate or on time with his throws as you would like for someone with his limitations. The Bengals knew this and landed two very "Dalton-friendly" receivers for him in Eifert and
Giovani Bernard
. Eifert should develop into an exceptional target in the middle of the field as well as the red zone, while Bernard provides an easy dump-off option for Dalton. With all the Bengals' resources over the past two offseasons, it really surprises me that Cincinnati didn't do more to challenge Dalton or greatly improve its backup quarterback spot.
September, 5, 2013
9/05/13
1:00
PM ET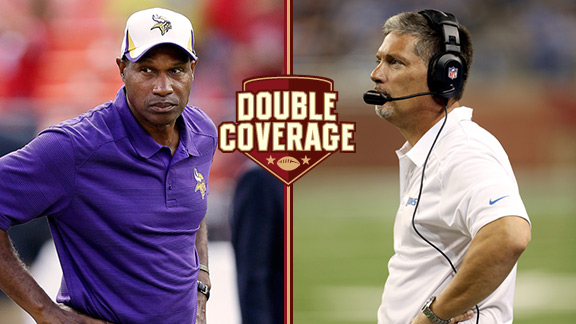 AP Photo Neither Leslie Frazier nor Jim Schwartz enters the season with much long-term job security.
Two teams in win-or-else mode will open the season Sunday at Ford Field.
In 2012, the
Detroit Lions
had their third losing season in four years under coach Jim Schwartz. A fourth in five years could end his tenure.
The
Minnesota Vikings
, meanwhile, decided not to extend the contract of coach Leslie Frazier after his 10-6 breakthrough season last year. His deal is up in 2014, and assuming the Vikings don't want to bring him back in a lame-duck situation, Frazier will either get a contract extension or be fired after this season.
The Vikings swept the Lions in the 2012 regular season after the Lions did the same in 2011. ESPN Vikings reporter Ben Goessling and ESPN NFL Nation writer Kevin Seifert discuss the matchup:
Kevin Seifert:
Ben, the Lions have had all offseason to prepare for
Adrian Peterson
, who gashed them for 273 yards in two games last season. They've got
Ndamukong Suh
and
Nick Fairley
playing next to each other on the inside and overall have a bigger and more physical defensive line than they had last year. I'm not saying the Lions are going to shut down Peterson on Sunday, but I do think the Vikings can't go into the game relying on him to carry their offense. So that brings me to the big question surrounding this team: Do you think the Vikings' passing game has improved enough to do its share?
Ben Goessling:
They'd certainly have to hope so based on what they did for
Christian Ponder
this offseason, adding
Greg Jennings
and
Cordarrelle Patterson
to their group of receivers. But the thing that concerns me with Ponder in this matchup is how he'll respond to the pressure the Lions will bring. He still seemed to struggle with that in the preseason, though he had one of his best games of the year against the Lions in the Metrodome last November. The Lions pressured him on just 11 drop-backs in both games last season, but if they can get to him more often than that, I don't like Ponder's chances of carrying the Vikings, should he need to do so. And if the Lions can exploit the Vikings' new-look secondary, Ponder could find himself playing from behind, where he hasn't been terribly good. The question is, will the Lions be able to burn the Vikings with their passing game enough to put Ponder in a hole?
Seifert:
That's a fair question, Ben. The Lions seemed to do what they needed to this offseason by signing running back
Reggie Bush
, who would presumably keep defenses off balance and give the Lions a big-time outlet for all those times when
Calvin Johnson
was in the middle of some kind of exotic coverages.
But for many reasons, the offense never really looked sharp in the preseason. The most obvious factor was that Johnson didn't play much, of course, but Bush had almost no running room behind a still-evolving offensive line. It also seemed pretty clear that the Lions don't have a No. 2 receiver to play alongside Johnson, a role that was once targeted for
Titus Young
before his well-publicized off-field issues.
With all that said, however, the connection between Stafford and Johnson is real and special. There is every reason to consider them a formidable challenge for the Vikings -- especially considering the state of their secondary. Why don't you fill in our good readers on that situation, Ben?
Goessling:
I'd be happy to. Essentially, it's my opinion that the Vikings' secondary depth might be the biggest issue facing their defense headed into the season. As a whole, it's probably the second-biggest concern behind Ponder.
The Vikings let
Antoine Winfield
go in March, moving ahead with a secondary that features one injury-prone corner (
Chris Cook
), a second-year man trying to replace Winfield's excellent slot coverage skills (
Josh Robinson
) and a rookie (
Xavier Rhodes
). There's enough talent and size to make it work, especially with safeties
Harrison Smith
and
Jamarca Sanford
offering help in coverage, but the Vikings are rolling the dice with the cornerbacks they've got. The Lions might not be deep enough at receiver to fully test the Vikings' depth, but Calvin Johnson is as big of a challenge for Minnesota as Adrian Peterson is for Detroit.
The Vikings bottled Johnson up at Ford Field last year, bracketing him with Smith or Sanford on top of Cook and hitting him throughout the game. But with Cook injured at the Metrodome, Johnson went wild for 207 yards. It will be interesting to see how the Lions use him, and what kinds of matchups they can generate against an inexperienced secondary.
You brought up Bush earlier, too, Kevin. The Vikings' run defense isn't what it used to be, and it looks like they could be dealing with injuries at the defensive tackle position this week. Stafford threw the ball a combined 93 times against the Vikings last year, and lost both games. Will Bush be effective enough to give the Lions the balance they need to win?
Seifert:
Let's put it this way. If the Vikings use the typical kind of defense the Lions usually see for Calvin Johnson, and Bush still can't get any yards against a depleted defense, then the Lions are going to have problems this season. The Lions have to be able to run the ball this year better than they did in 2012. Teams gave them more six-man boxes than any team in the NFL and they still couldn't get it done. It was a primary offseason goal and it has to be better this season.
Any last words, Ben? You're going to be out there in Detroit. I'll be elsewhere. What's the one thing that has to happen to ensure a Vikings victory? From the Lions' perspective, I'll say it will be Bush getting 100 rushing yards.
Goessling:
I think it's Ponder playing like he did in the second game against the Lions last year. The Vikings don't need to get into a shootout -- and if the game turns into that, they probably won't be able to keep up anyway -- but they need confident, reliable quarterback play this season, and this game seems as good as any for him to start it.