NFC North:

2013 NFL Week 10 Double Coverage
November, 7, 2013
11/07/13
12:00
PM ET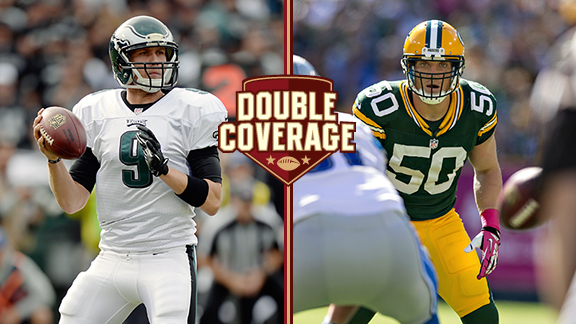 Getty ImagesNick Foles and A.J. Hawk meet Sunday in Green Bay in a game that's turned in the Eagles' favor.
If you expected the
Philadelphia Eagles
to have the edge at quarterback for their Week 10 meeting against the
Green Bay Packers
at Lambeau Field, go to the head of the class.
The teams play Sunday, a week after their quarterbacks made headline news. The Pack's
Aaron Rodgers
broke his collarbone in Monday night's loss to the
Chicago Bears
, a day after the Eagles'
Nick Foles
tied the NFL record with seven touchdown passes against the
Oakland Raiders
.
A game that looked to be safely in the Packers' column is suddenly wide open. NFC North aficionado and all-around NFL expert Kevin Seifert breaks down the game with ESPN.com Eagles reporter Phil Sheridan.
Phil Sheridan:
I'll start with the obvious one: Can the Packers win without Rodgers? Did they take his durability for granted in not having a better backup in place?
Kevin Seifert:
On a local level, the backup quarterback has been an annual source of controversy for the Packers throughout Rodgers' career as a starter. Nationally, most people didn't find out about it until Monday night.
Seneca Wallace
is the backup only because he was available when they realized none of the players they took to training camp was up to the job. He is 6-15 in his career as a starter, and his career seemed over in August 2012 when the
Cleveland Browns
released him.
The Packers' entire scheme is built around Rodgers doing things that only Rodgers can do. Think of what happened when the
Indianapolis Colts
played without
Peyton Manning
in 2011. The Packers will need to make fundamental changes to their offense -- and expect substantial elevation in other areas of their team -- to make it through this wilderness.
I have to imagine the Eagles can't believe their luck to be facing Wallace instead of Rodgers, huh?
Sheridan:
They are saying all the right things about wanting to face the best and never wanting to see anyone get hurt, but they aren't oblivious. This game looked like a double-digit loss the day the schedule came out, and it still looked like an easy Packers home win until Rodgers' collarbone broke Monday night. So it not only becomes a winnable game for the Eagles, it comes when a win, combined with a Dallas loss (the Boys are in New Orleans), would move them even with the Cowboys at 5-5.
And it's not like the Eagles owe anybody an apology when it comes to luck. They haven't had a quarterback start and finish two games in a row since September, and they've been down to
Matt Barkley
twice.
They may not have a starter as good as Rodgers, but their backup isn't half bad. Foles threw for seven touchdowns Sunday against an Oakland defense that didn't blitz or, at times, even cover receivers. Given Dom Capers' background, how would you expect him to respond to a challenge like this?
Seifert:
Capers is known for major scheme changes from week to week, depending on matchups. But as usual, the Packers are dealing with injuries that will limit his options. They are down four linebackers at the moment, although the Packers are hopeful that
Clay Matthews
can return soon -- if not Sunday -- and play with a club to protect his broken thumb.
In short, I'm not sure how many options Capers will have. He does have a group of talented cornerbacks --
Tramon Williams
,
Sam Shields
,
Casey Hayward
and
Davon House
. Capers will have to hope that they can stick with the Eagles' group of perennial All-Pros and future Hall of Famers better than the Raiders did.
Are the Eagles' receivers really that good?
Sheridan:
If they are, they have managed to keep that greatness a secret until Sunday in Oakland.
DeSean Jackson
is a dynamic player, no question about that, but he has been taken out of games in the past when cornerbacks get physical with him. The Raiders did not, and Jackson went off.
As for
Riley Cooper
and
Jason Avant
, they have not made up for the loss of
Jeremy Maclin
to a torn ACL during training camp. Cooper had great numbers Sunday -- five catches, three touchdowns, 139 yards -- but he has been neutralized more often than not during the season.
Tight ends
Brent Celek
and
Zach Ertz
had big numbers at Oakland too. So either the Eagles offense really turned a corner or the Raiders just didn't have anyone playing corner. Maybe a bit of both.
The Packers have added a more robust running game to their offense this season. Now that Rodgers is hurt, can
Eddie Lacy
& Co. carry the team until the quarterback is back? Is that even possible in this pass-happy league?
Seifert:
I tend to doubt it. Up until Monday night's game against the Bears, much of the Packers' success in the run game came against light boxes (six men or fewer) designed to focus first on the pass, according to the charting we get from ESPN Stats & Information. The Bears brought a safety into the box Monday night and the Packers still rushed for 199 yards, but we should note that the Bears have the NFL's fourth-worst rush defense this year.
And even when you run successfully, it usually takes longer to score and thus your total points can drive down. The Packers were averaging 30 points per game before scoring 20 Monday night against the Bears.
How do you think the Eagles will approach it? Eight men in the box? Nine? How about 11?
Sheridan:
This sets up a bit like the Tampa Bay game, I guess.
Mike Glennon
was making his second start, and the Bucs' passing game was not expected to be a big threat. The Eagles focused on shutting down
Doug Martin
, and they did, holding him to 67 yards on 16 carries. It helps, of course, to get a lead and force the opponent to throw the ball more.
All season, the Eagles' focus has been to stop the run while limiting big pass plays downfield. That made them vulnerable to intermediate passing and runs after the catch. Tampa Bay's
Vincent Jackson
, for instance, had nine catches for 114 yards and two touchdowns while the Eagles were focused on Martin.
That has to be the Packers' blueprint for success. If Wallace can get the ball out quickly and catch
Jordy Nelson
and
Andrew Quarless
in stride, the Packers can move the ball. The Eagles are better at tackling and covering underneath than they were, but there's opportunity there.
November, 7, 2013
11/07/13
12:00
PM ET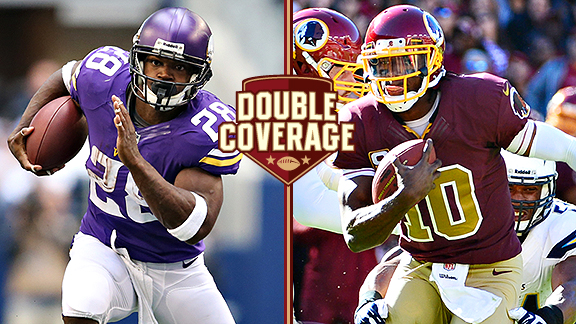 USA TODAY SportsThe running of Adrian Peterson, left, and Robert Griffin III could decide Thursday's game.
The last time the
Minnesota Vikings
and
Washington Redskins
met, it was an electrifying affair between two soon-to-be playoff teams on a picturesque autumn day in Maryland, with
Robert Griffin III
halting the Vikings' comeback attempt on a back-breaking, jaw-dropping 76-yard touchdown run that gave the Redskins a 38-26 win last October.
The circumstances couldn't be more different for Thursday's matchup in the dingy Metrodome. The Vikings are 1-7, with their quarterback situation in chaos and their defense coming off its third last-minute collapse of the season. The Redskins, meanwhile, are in the process of recovering their identity, with Griffin still on the mend from a torn ACL and regaining his comfort with the team's read-option scheme. Washington's defense has been one of only three in the league worse than Minnesota's, undoing some of the work of an offense than can still score at will.
To get you ready for the first game of Week 10, ESPN.com Vikings reporter Ben Goessling and Redskins reporter John Keim got together to discuss the matchup and what's next for two teams in the middle of tumultuous seasons:
Ben Goessling:
John, when we saw these two teams face off last October, the Vikings had no answer for Griffin, and if the Redskins' offense is at full speed on Thursday night, I'm not sure things will work out much better for Minnesota this time. Missed tackles have been one of their biggest problems this season, particularly with their back seven, and they know all too well how dangerous RG III can be when he gets into the open field.
It seems like the Redskins' offense is getting back to what it was before Griffin got hurt. Does he look comfortable running the read-option again, or is it still a work in progress?
John Keim:
Griffin started to look more comfortable running it a couple games ago. He's still not as explosive as he was, but he's also still faster than most quarterbacks. It's more his willingness to keep the ball and be a threat, something he wasn't in the first part of the season. They need him to be a threat running the ball because of how much it opens up the offense; they are just not capable of sitting back and hurting teams throwing the ball without some form of deception. That's because of where Griffin is as a passer. Teams definitely have defended the option a little differently this season, whether more disciplined against it or in terms of focus. The emphasis for almost every team has been on stopping
Alfred Morris
, mainly because teams didn't fear Griffin going wide or they thought he wouldn't run. The read-option success also is determined by the style of the defense; Denver, for example, made it tough to run. The work-in-progress part, too, comes in the passing game. The Redskins loved throwing over the middle after a zone-read fake, but teams started taking that away. So they had to go to more out-breaking routes, which take longer to develop. Also, Griffin is more accurate between the hashes.
I know players have questioned the Vikings' defensive play calls. And I know the offense hasn't helped them. But what are the other reasons this defense has struggled?
Goessling:
In some ways, the Vikings probably shouldn't have been as decent on defense as they were last season. They were only 14th in the league and 30th against the pass, but they survived because their front four got enough pressure on the quarterback to mask growing pains in the secondary. And they had cornerback
Antoine Winfield
playing some of his best football at age 35, while helping their young defensive backs get into position. This season, they haven't gotten to the quarterback consistently -- though they did it until defensive coordinator Alan Williams called off the dogs in the final minutes of the Dallas game -- and they've been burned by teams that can throw screen passes and get rid of the ball quickly. The Vikings' linebackers and defensive backs have missed quite a few tackles. Not having Winfield has hurt them there. So has not having safety
Harrison Smith
, who's out with turf toe. But it's been surprising to see linebacker
Chad Greenway
come up empty as much as he has. He might be covering for other linebackers, and he might have lost a step at age 30, but he's been targeted regularly in pass coverage and has done better work as a blitzer than he has in open-field situations.
Speaking of pass defense, what do you make of the Redskins'? They've been shredded in four games, and in the other four, they've allowed less than 220 yards. Is that because of the quarterbacks they've faced, or are they just that inconsistent?
Keim:
Both. They have faced five of the top seven rated passers and six of the top 11. The result is a pass defense that, if the quarterback has time, will get picked apart. They've done well for stretches -- holding Denver to 14 points through three quarters, for example.
Tony Romo
did not have a good game against them. They're not getting good pressure consistently, but part of the problem is the quarterbacks they've faced excel at reading a defense and unloading the ball quickly. Their safety play has been erratic to say the least. Cornerback
DeAngelo Hall
has been terrific in the past four or five games. Rookie corner
David Amerson
will make plays, but also gives them up; he's very aggressive and will get beat on double moves. He can be set up. The linebackers are inconsistent in coverage. So they have issues, but a lot does stem from the quarterbacks and passing attacks they've faced.
That might not be a problem this week, though.
Christian Ponder
was a first-round pick in 2011. Why does he still struggle so much?
Goessling:
It's been the same set of issues with Ponder for most of his three seasons with the Vikings, which is probably the most frustrating thing about him. We hear plenty about how smart Ponder is, how good he is at digesting a game plan and diagnosing a defense, but when he gets on the field, it's like he's unable to translate that into action. He seems like he thinks too much and doesn't trust himself to throw into tight windows, so he either holds the ball too long or takes off if his first read is covered. He's got good feet, and can extend drives when he runs, but he hasn't learned how to move in the pocket or how to extend plays instead of giving up on his receivers. Nobody expected him to turn into
Aaron Rodgers
or
Tom Brady
, but there are plenty of situations where Ponder could be more effective if he just played with a little more gumption.
The Redskins have been blown out every time they've been on the road this season. What has been their biggest problem away from Dan Snyder's quaint little stadium in Maryland, and do you expect those problems to carry over into Thursday's game?
Keim:
That's a good question. They've played well for stretches on the road. At Dallas, their kick and punt coverage failed them. They hit a point where it looked like they had taken over the game, only to lose all the momentum and then fall by 15 points. At Denver they were up 21-7 in the third and playing outstanding, only to fall apart in the fourth quarter and lose by 24. They were never in the game at Green Bay. Ever. Part of it, perhaps, stems from not having the same level of confidence as last season. So when something goes wrong it snowballs a lot faster. It also reflects the inconsistencies of each unit. There is always a breakdown on offense, defense or special teams that leads to momentum-changing plays. Against Denver, the defense was great for three quarters but the offense responded with weak drives and then turnovers. Against Dallas it was a punt return for a score and then a 90-yard kickoff return. They get punched in the mouth and don't respond, something they fought back against a year ago.
Why do you think the Vikings have gone from a playoff team in 2012 to a one-win team in 2013?
Goessling:
It would be convenient to put it all on the Vikings' three-man weave at the quarterback position, but the issues go much deeper than that. The team gambled on a young secondary developing, and it hasn't worked. The offensive line hasn't been anywhere near as good as it was last season, and -- it's hard to believe we've gone this long without mentioning it -- they couldn't count on
Adrian Peterson
to run for 2,097 yards again. He's fourth in the league with 711, but he hasn't been able to take over games like he did last season. With Peterson having merely a good season by his standards, the Vikings don't have much margin for error. That's why they're 1-7, and that's why I think we're both in agreement they'll be 1-8 after Thursday night.
.
November, 7, 2013
11/07/13
12:00
PM ET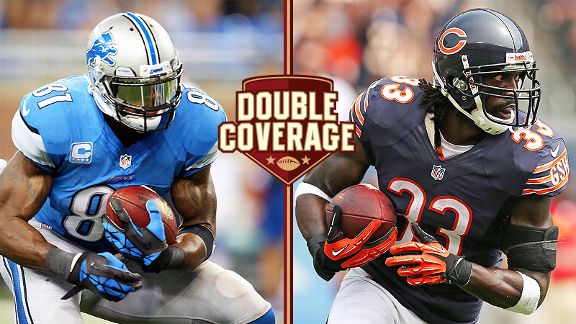 Getty ImagesCalvin Johnson's Lions and Charles Tillman's Bears meet in a divisional duel Sunday.
Coming off an upset victory over the
Green Bay Packers
on "Monday Night Football," the
Chicago Bears
face a short turnaround Sunday when they host the
Detroit Lions
, who are coming off a bye week with extra time to prepare.
Jay Cutler
tossed three interceptions the last time these teams met, and the Lions scored on six consecutive possessions to seize a 30-10 lead in the second quarter en route to a 40-32 win. With sole possession of first place in the NFC North on the line, obviously the Bears hope for a different result this time around. But the Lions are hungry as they hold a share of the division lead for the first time in more than 10 years.
ESPN.com Bears reporter Michael C. Wright and Lions reporter Michael Rothstein break down the matchup.
Michael C. Wright:
It's been more than 10 years since the Lions were at the top of the division standings after the first half of the season. How is Detroit handling the success?
Michael Rothstein:
They seem to be handling it fine thus far, but that could be because a lot of these guys haven't been around for a lot of the losing seasons. Plus, a lot of the guys who have been around in the past were on Detroit's playoff team in 2011. So they have seen some Lions success and not the consistent failure of the early to mid-2000s. There is also a confidence level about this team, something you saw two weeks ago in the final seven minutes against Dallas, which seems to be different than in prior years. This team believes it can win close games, and that in itself is a big difference.
Wright:
The Lions incorporate tons of speed on offense, but what happens when they're on a slower track such as what they might encounter with the conditions at Soldier Field? Is there anything the Lions would try to do to counteract what might be a sloppy field?
Rothstein:
It's slower for everyone, though, right? In all seriousness, I don't know how much they would do differently. Perhaps Detroit will use
Joique Bell
a little bit more out of the backfield instead of
Reggie Bush
, but that could be due to Bush potentially playing more in the slot Sunday depending on
Nate Burleson
's health. Detroit's offense won't change much. It'll still rely heavily on
Matthew Stafford
's ability to find open receivers,
Calvin Johnson
's ability to make big plays and Bush's capability to make plays in small spaces.
Wright:
Nate Burleson recently returned to practice. But what's his status for Sunday? If he's available, what does he bring to the offense?
Rothstein:
His status is completely questionable and likely will be until Friday. Burleson wants to play. He's been focused a lot on this week as a potential return date and he is practicing. But Detroit is going to be cautious with its No. 2 receiver because it doesn't want him to reinjure the arm by coming back too fast and taking a bad hit. Burleson's big thing now isn't conditioning -- he says he's in pretty good football form -- but learning how to fall and not use his arm to brace said falls. He could play Sunday, but Detroit is going to need him for the stretch run.
The Jay Cutler situation is obviously pretty fluid. How, if at all, does the Bears' offense change if he does not play?
Wright:
It doesn't change much at all. In fact, the only difference in the offense would come down to a matter of personal preferences for McCown. The coaching staff includes the quarterbacks when putting together a game plan, and it always asks them which plays they think they could be more successful with. Obviously McCown and Cutler are different people with different preferences. So that would be the only change, schematically. In terms of overall play, McCown's arm isn't as strong as Cutler's. So he incorporates more anticipation in his game than the starter. McCown is decisive with the ball, makes smart decisions and won't take unnecessary risks, which is a little different than Cutler, who sometimes gambles and forces throws into coverage in part because of his confidence in his arm.
Rothstein:
The last time Detroit saw Chicago,
Lance Briggs
was in the middle. How much has his absence shifted the defense from the last time the Lions saw the Bears?
Wright:
Well, they've played only one game since Briggs fractured his shoulder Oct. 20 at Washington, and the defense on Monday night suffered through many of the same struggles they've gone through all season with the veteran in the lineup. The Bears now have two rookies in the starting lineup at middle linebacker in Jonathan Bostic (middle) and Khaseem Greene, who has taken over on the weak side for Briggs. Against the Packers the club struggled with gap fits against
Eddie Lacy
, who rushed for 150 yards. The pass rush improved a great deal, and the team finished with five sacks. But stopping the run has been a challenge. Surprisingly, the Bears are 3-1 this season when they allow a running back to gain 100 yards or more with the only loss under those circumstances coming to the Lions.
Rothstein:
This has probably been somewhat forgotten, but Lions vice chairman Bill Ford Jr. called the Bears the "same bunch of thugs" earlier this season. Has that been mentioned at all? Does it matter?
Wright:
It was mentioned by cornerback
Tim Jennings
in the aftermath of the last matchup, but it hasn't been since.
Asked about Ford's comments, Jennings said: "So he wants to call us thugs. We can take that as a compliment, I guess. We like to think we're playing nasty. But we play within the rules, you know? I don't know whether he's just meaning we're dirty or we're just a nasty defense. We weren't too nasty when we played them. So I don't know what he's trying to get out of it."
It's quite obvious these teams don't like one another, and surely the Bears want to atone for the 40-32 beatdown the Lions put on them in the first matchup. But my sense is with a short week of preparation, the Bears are focused and want to downplay any type of bulletin board material.