NFC North:

2013 NFL Week 11 Double Coverage
November, 15, 2013
11/15/13
10:00
AM ET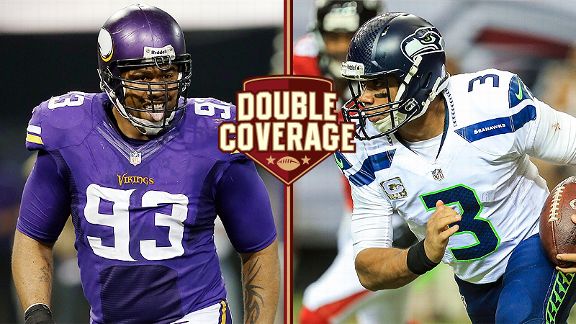 AP Photo, USA Today Sports ImagesKevin Williams' Vikings will face a challenge with Russell Wilson and the Seahawks playing at home.
.
SEATTLE -- The
Seattle Seahawks
have amassed a 9-1 record despite playing with a patchwork offensive line and a receiving corps that lost one starter in
Sidney Rice
and never had its key offseason acquisition in
Percy Harvin
.
That's about to change. The offensive line could have all its starters on the field Sunday for the first time since Week 2, and Harvin could finally make his debut as a Seahawks receiver.
If Harvin plays, it would be against his former team, the
Minnesota Vikings
, adding more drama and intrigue to the moment. ESPN.com Seahawks reporter Terry Blount and Vikings reporter Ben Goessling discuss that, as well as the other storylines for Sunday's game.
Terry Blount:
Ben, obviously, Seahawks fans are going crazy about the possible debut of Harvin and what he can add to the Seattle offense. But let's look at this from the Minnesota side. The Vikings must feel like they got a pretty good deal out of this, don't they?
Ben Goessling:
I think they were pleasantly surprised to get as much for Harvin as they did. Everyone knew they were going to trade him, so for general manager Rick Spielman to get three picks, including a first-rounder, was quite the coup. He's done a good job over the years of creating a market for his players or picks, and the Harvin trade was no different. It will be a while, though, before we know if what they did with the picks worked.
Xavier Rhodes
, whom the Vikings took with Seattle's first-rounder, is being asked to play more zone coverage than he did in college, and he has struggled with that after coming out of Florida State as a press corner. He has the skills to be a good corner, but the learning curve is steep.
While we're on the subject of Harvin, how much of a factor do you think he'll be on Sunday? He probably wants to show up his old team, but will he get the opportunities to do so?
Blount:
If he plays, I think it will be limited -- maybe 10 or 12 snaps, tops. We're talking about a guy who hasn't played in an NFL game in more than a year. Pete Carroll has said over and over they will be very cautious with Harvin. They invested $67 million in the guy. They aren't going to risk everything in his first game back, especially in a game the Seahawks should win whether he plays or not. I know Harvin is fired up about playing against his old teammates, but the coaches want to hold him back a little. They probably want him to get his feet wet and save the real show for the
New Orleans Saints
on the Monday night after Seattle's bye week.
Ben, there seem to be a lot of unknowns about the Minnesota quarterback situation, where the team is headed and with whom it's headed there --
Christian Ponder
,
Josh Freeman
,
Matt Cassel
or maybe someone who isn't there yet. What's the likely answer for the future?
Goessling:
I think in the long run it's probably someone who isn't here yet. Spielman liked Freeman in the 2009 draft -- the Vikings might have drafted him if he were still on the board when their pick came -- and the Vikings are now getting a chance to work with him on a daily basis, though they don't seem to think they need to put him on the field to evaluate him. Cassel is probably a backup at this point, and though Ponder has been better lately, he just isn't consistent enough to count on long term. The Vikings will have a high pick in what looks to be a pretty good quarterback draft, and it would be a surprise if they didn't use the pick to take another crack at getting a franchise QB.
Terry, it's been hard to get a read on the Seahawks' run defense this season. One week, they'll completely shut down an opponent's ground game. The next, they're giving up 200 yards to the Rams or the Buccaneers. Why has it been so inconsistent, and can
Adrian Peterson
exploit it this weekend?
Blount:
That's a great question. I think the Seahawks are better against the run than they were in those two games. But there are times when the front seven get so focused on rushing the passer that they discount the run, get out of position and end up missing tackles. The other problem in those two games was middle linebacker
Bobby Wagner
coming back too soon from a bad ankle sprain and not being able to play up to his usual standard. But last week against Atlanta he had nine solo tackles. The Seahawks know they are facing the best of the best Sunday, so they'll be at their best for Peterson.
Ben, the Vikings haven't won a road game this season. What would it take for them to win this one?
Goessling:
Boy, this one seems tough for the Vikings. As we've discussed, they might be able to run the ball effectively against Seattle -- Peterson had one of his biggest games there last year -- but I don't think Ponder will have much success against that defense. I could see
Marshawn Lynch
giving the Vikings trouble, and if Harvin is in the lineup, there's part of me that thinks he'll have a big game.
Terry, as I said, this matchup looks like a bad one for the Vikings. But time and again we've seen the Seahawks let inferior opponents hang around and nearly beat them. Do the Vikings have any reason for hope this weekend, or do you see this as an easy Seahawks win?
Blount:
I think the Vikings are catching the Seahawks at the wrong time. The offensive line probably will have all five starters back for the first time in eight weeks. If Harvin makes his debut, it will add enormous energy and excitement for the team and the fans. And the Seahawks are coming off their best game of the season, a game in which they looked like the Super Bowl contenders everyone expected to see. This is their last game before the bye, so they will go all out to make sure they get there with their 13th consecutive home victory.
.
November, 15, 2013
11/15/13
10:00
AM ET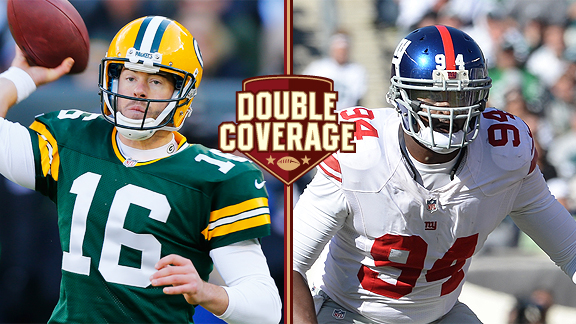 Gregory Shamus/Getty ImagesNew Packers quarterback Scott Tolzien will face Mathias Kiwanuka and an improved Giants pass rush.
.
The
New York Giants
will be looking for their fourth win in a row following an 0-6 start. The
Green Bay Packers
will be trying to snap their first two-game losing streak since 2010. The two teams square off Sunday at MetLife Stadium in East Rutherford, N.J. ESPN.com Giants reporter Dan Graziano and ESPN NFL Insider Matt Williamson (filling in for Packers reporter Rob Demovsky) break down the matchup for you.
Dan Graziano:
Hey, Matt. Thanks for filling in while Rob's on the inactive list this week. The big question the Giants have this week is: Who is
Scott Tolzien
and what can we expect to see from him? So let's start with that one.
Matt Williamson:
Well, Dan, that's a good question! I don't think we really know the answer, but he did move the team well and was generally a smart distributor of the football. And we know Green Bay has weapons to get the ball to. We obviously don't have a lot of tape to evaluate, but I think the Packers are better off with Tolzien over
Seneca Wallace
.
While we are talking quarterbacks, what on Earth is going on with
Eli Manning
? Despite this winning streak, he really has not played well at all.
Graziano:
Matt, my theory on Eli is that the protection issues at the beginning of the season were so egregious that he just fell into this zone of discomfort from which he's been unable to extricate himself. He just doesn't look right back there, and while the protection issues have improved some, they're still present. They've had no blocking help from the tight-end position at all. They're very vulnerable in the middle of the line, and I'm not sold on either tackle, to be honest. They haven't had reliable blitz pickup help from the running backs. Downfield,
Hakeem Nicks
isn't playing wide receiver the way he used to play it. A lot has gone on around Manning to make him far less comfortable with his surroundings, and I'm not sure what it's going to take before he starts playing with that old Eli confidence again. Great quarterbacks make the best of bad situations, and Manning has not done that this year. As the Giants' situation improves, they will need him to play much better if they're really going to make this miracle run they still believe they can make.
Now, they get another break this week with
Aaron Rodgers
out and Tolzien in, but they are already talking about that improved Packers running game. What do you see from
Eddie Lacy
& Co. and how do you think they'll attack the Giants, who have generally been pretty good against opposing running backs this season?
Williamson:
This Packers' running game is terrific and should continue to excel even with less of a passing threat with Rodgers sidelined. The left side of the Packers' offensive line is playing great, but -- as with the rest of the team -- isn't healthy on the right side and has had to do a lot of shuffling of personnel there. Still, Green Bay's rushing attack isn't easy to prepare for as they can run a wide variety of plays out of a wide variety of personnel groupings and formations. Lacy is quick to get downhill and is a punishing runner who can wear a defense down, and he also excels at reading his blocks and showing patience with the ball in his hands -- rare traits for a rookie running back. The Packers' ability to run the ball will probably be the most crucial component of this football game.
Along those lines, I feel like the Giants might actually have a respectable rushing attack of their own now with
Andre Brown
carrying the rock. Do you agree?
Graziano:
Yeah, the 30 carries and 115 yards for Brown on Sunday in his first game back off a twice-broken leg were eye-opening. I think the workload they gave him showed that the Giants knew just how much they were missing this season at running back.
David Wilson
never got going and then got hurt, and they patched it together with
Brandon Jacobs
and
Peyton Hillis
. But watching Brown run with vision and power and gain yards after contact Sunday, it was obvious that he's the Giants' best option going forward and the best they've had all season. The injury risk has to be considered, given Brown's history, but at this point the Giants need to win pretty much every game, and they're going to have to lean hard on Brown to do it. Even if he can't be as productive every week as he was against the Raiders, the legitimate threat he poses on film should open up the play-action passing game as a way for Manning to combat those protection issues.
So the Giants feel they can offer a balanced offensive attack against a Packers defense that couldn't get the ball back from the Eagles in the final 9:32 of Sunday's game. Was that a
LeSean McCoy
issue, or are the Packers really struggling on defense right now?
Williamson:
The Packers are struggling on defense and allowing too many big plays. I expected last week's return from injury by
Clay Matthews
to pay off much more than it did. However, we know that Matthews is a truly great player, and maybe he just needed a week to get back into the swing of things. I still expect Matthews to torment the Giants' tackles this week. On the inside of their defensive line, the Packers have a lot of sheer mass and power with guys like
B.J. Raji
,
Johnny Jolly
and
Ryan Pickett
. I also expect the Giants' interior offensive line to have a difficult time moving this group in the running game. This could be a bounce-back week for Green Bay on this side of the ball.
The Packers' run defense had a very difficult time when the Eagles stacked both of their offensive tackles on the same side of the formation. While I expect the Giants could use some personnel groupings with six offensive linemen, I don't see them duplicating what Philadelphia did to make room for McCoy.
Watching the Giants game from last week, I noticed they had a difficult time getting the Raiders'
Pat Sims
blocked. Sims is a big-bodied and powerful defensive tackle in much the same mold as the Packers' group. I think that bodes well for Green Bay this week.
And expect the Giants to have a difficult time blocking little-known
Mike Daniels
in the passing game. Daniels has taken over the
Cullen Jenkins
role in this defense -- a spot Green Bay drafted
Datone Jones
for in the first round -- as an interior pass-rusher, and he has excelled in that role.
The Giants' defense is based entirely on great defensive line play. This is a deep group with a ton of important resources tied up in it, but it hasn't been an elite group. It is improving, however. Where do you see this unit right now and this week against the Packers?
Graziano:
Well, the sack numbers have come up. The Giants had only six sacks in their first seven games, but then got eight in their past two games. So they've moved from last in the league in sacks, where they spent most of the season, to a tie for 30th in that category. Odd thing is, of the eight sacks in their past two games, only four have come from defensive linemen. Safety
Antrel Rolle
has as many sacks (two) in the Giants' past two games as defensive end
Jason Pierre-Paul
has in their past 16. Pierre-Paul did get one against the Raiders, and he says he's on the verge of a breakout. And the line has been very good, as I mentioned, against the run this year. But over the first seven games of the season, opposing quarterbacks did a good job of unloading the ball before the Giants' pass-rushers could stop them from doing so. Not sure they get the full test this week against Tolzien, but at some point we're going to find out whether the front four really has improved, or whether it's just been feasting on lesser competition.
Thanks again, Matt. Catch you online in one of our game chats soon, I'm sure.
.
November, 14, 2013
11/14/13
12:00
PM ET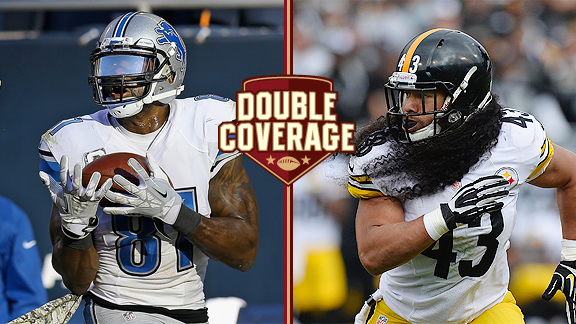 Getty ImagesCalvin Johnson's Lions look to continue their success against Troy Polamalu's struggling Steelers.
The respective histories of the
Detroit Lions
and
Pittsburgh Steelers
suggest that the latter would be 6-3 and the former 3-6 heading into their game Sunday at Heinz Field.
But it is the Steelers who have scuffled this season, and they are still trying to dig out from an 0-4 start. The Lions, meanwhile, sit atop the NFC North and have the pieces to make a lengthy postseason run assuming they can keep up their winning ways.
The Steelers have little margin for error as they try to stay on the fringes of the AFC playoff picture, and the Lions will try to maintain their grip in first place in the NFC North when the teams meet at 1 p.m.
ESPN.com NFL Nation reporters Michael Rothstein (Lions) and Scott Brown (Steelers) take a closer look at the first matchup between the two teams since 2009.
Brown:
Michael, I'm not surprised that the Lions are playing so well this season, and my question for you is, what has the signing of running back
Reggie Bush
done for the offense?
Rothstein:
It's been huge, Scott. Bush's signing in the offseason spreads defenses out and forces teams to make a choice. Either double
Calvin Johnson
or continuously roll safety coverage Johnson's way or bring a defender down into the box to stop Bush -- but that leaves things open for
Matthew Stafford
to find Johnson. He has the ability to take a dump-off play and turn it into a massive touchdown -- something he has done twice on screens this season. While he doesn't change the offense the way it would if Stafford or Johnson were missing, he's a massive cog there.
Speaking of that -- and I feel as if I've asked this question weekly -- how do you think Pittsburgh handles that matchup against the Detroit offense?
Brown:
Michael, it's hard to like the matchup if you are the Steelers. Speed in their secondary has been an issue this season, particularly at safety, and I'm not sure anyone can run with Bush if the Lions isolate him on linebacker or safety as a receiver.
The Steelers are going to have to pay Johnson the extra attention he demands, and last I checked they will only be allowed to have 11 defensive players on the field. Assuming the Steelers use a combination of double and bracket coverage on Johnson, there are going to be some one-on-one matchups that the Lions may be able to exploit.
The Steelers haven't generated a consistent pass rush this season, but it will be absolutely essential that they do so against Stafford. If he is allowed to get comfortable in the pocket Sunday it will be a long day for the Steelers.
The best thing the Steelers can do for their defense is to control the clock, but it won't be easy to run on Detroit's front seven. Does it start on the Lions' defense with tackles
Ndamukong Suh
and
Nick Fairley
, and how have other teams tried to neutralize those two?
Rothstein:
Yes, most of what Detroit does defensively starts with Suh, and to a lesser extent, Fairley. Suh is having one of the most consistent seasons of his career, this despite the constant presence on double teams each week. The attention Suh is given opens rush lanes for Fairley, but he hasn't been completely consistent taking advantage of them.
For every game he has like Sunday's against Chicago, he has a game where he disappears. But the pressure Suh, Fairley and the defensive line put on quarterbacks has led to incomplete passes and interceptions often.
If there is a concern with the Detroit defense, it is with its cornerbacks, who have been inconsistent. Can
Ben Roethlisberger
take advantage of this with his current crop of receivers?
Brown:
Antonio Brown
has really emerged as a No. 1 receiver and made the Steelers look smart for not overpaying for
Mike Wallace
. That said,
Emmanuel Sanders
has not been consistent enough to give the Steelers a receiving option to pair with Brown.
Sanders has a ton of talent, and he is a big-play threat. I keep waiting for him to break out. This could be the week for him to do it as the Steelers are going to have to score their share of points to keep up with the Lions. Lost in the Steelers' 55-31 loss at New England a couple of weeks ago is how much success the Steelers had attacking the Patriots' cornerbacks.
If the Lions' cornerbacks are vulnerable, the Steelers will go after them, and Detroit has to be mindful of the middle of the field where tight end
Heath Miller
and
Jerricho Cotchery
work and are trusted by Roethlisberger.
Michael, I don't see the Steelers winning this game unless they score a lot of points. What needs to happen for the Lions to lose?
Rothstein:
That's an interesting question, Scott, and with the Lions you just never know. I'd probably start with if any of the Lions' starters in the secondary went down with injury. That would necessitate playing either an inexperienced safety or rookie
Darius Slay
if one of the corners goes down. Roethlisberger is good enough that he'd pick on that side of the field consistently.
Another would be to force turnovers. Stafford has been quite good this season, essentially throwing less than two interceptions per 100 attempts (he has a 1.9 percent rate), which is in the top 10 of the league and tied with
Drew Brees
. If Detroit's offense can hold on to the ball and everyone is healthy, it'll score points.
I'll close out with this: You mentioned Pittsburgh trying to establish the run first. What's been going on there? It seems as if there has been a rotating cast of players because of injuries and other issues. Do the Steelers even have a reliable running attack?
Brown:
Depends on the week, it seems, when it comes to the Steelers' running game. It has gotten a lot better since
Le'Veon Bell
became the feature back, and the Steelers have rushed for over 100 yards in their last two games.
To put into perspective how important it is for the Steelers to establish the ground game, they have run the ball just over 51 percent of the time in their three wins and around 30 percent of their time in six losses.
The Steelers have to run the ball against the Lions, and a big component of that is not falling behind early, something that has been a problem this season.
November, 14, 2013
11/14/13
10:00
AM ET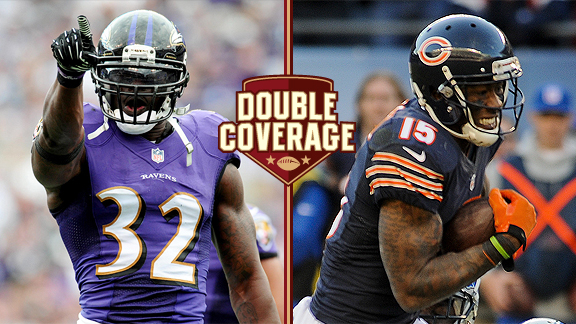 USA TODAY SportsJames Ihedigbo and the Ravens' secondary face a challenge in Bears receiver Brandon Marshall.
LAKE FOREST, Ill. -- If the playoffs started today, the
Chicago Bears
and the
Baltimore Ravens
would be out. There are still seven games left in the season, but none of them can be squandered, so this matchup Sunday will see both teams fighting to get into contention in their respective conferences.
The Bears enter the contest without quarterback
Jay Cutler
and two-time Pro Bowl cornerback
Charles Tillman
, while the Ravens are coming off their first victory in more than a month. ESPN.com Bears reporter Michael C. Wright and Ravens reporter Jamison Hensley break down the matchup.
Michael C. Wright:
Last weekend, Baltimore snapped a three-game losing streak. Does the win restore any faith in the defending Super Bowl champions' ability to return to the playoffs?
Jamison Hensley:
The Ravens believe Sunday's overtime win over the
Cincinnati Bengals
was a good start to getting back to the postseason for a sixth straight year. Even though the Ravens knocked off the AFC North leaders, no one is boasting that this is a playoff team because it was far from a statement game. The Ravens' offense can't run the ball, and the defense can't get opponents off the field late in the fourth quarter. The defending Super Bowl champions definitely have some serious flaws this season.
Baltimore's attitude would change if they can win in Chicago. The schedule suggests that this is a pivotal game. If the Ravens can change their fortunes on the road and beat the Bears, they will be at .500 entering a stretch of three straight home games against the Jets, Steelers and Vikings. The Ravens have had great success under head coach John Harbaugh in November and December, and things are set up for them to do it again this year. That is, if the Ravens can get the franchise's first victory in Chicago.
Speaking of attitude, how are the Bears dealing with losing Cutler again?
Wright:
Well, after all the second-guessing about when head coach Marc Trestman should've pulled Cutler or about whether the quarterback should have played in the first place, I'd say there's a fair amount of confidence in backup
Josh McCown
. Before being thrust into action on Oct. 20 at Washington when Cutler tore a muscle in his groin, McCown was already one of the favorites in the locker room. General manager Phil Emery has called McCown a "glue guy," and other players consider the 34-year-old quarterback a father figure.
In three games filling in for Cutler, McCown has completed 42 of 70 passes for 538 yards and four touchdowns, with no turnovers and a passer rating of 103.1. Obviously, in his first full start, McCown played a major role as the Bears upset the
Green Bay Packers
at Lambeau Field. He has demonstrated mastery of Trestman's offense, and the quarterback attributes that to the fact he learned the scheme from the ground up, and actually had some input in the implementation of it.
Joe Flacco
received the huge contract, but clearly hasn't been playing like a $120.6 million quarterback. What has been his biggest issue, and do you see him turning things around this season?
Hensley:
Flacco takes a lot of heat because he hasn't put up the expected numbers after signing one of the richest contracts in NFL history. But he is in a tough situation. He lost his two favorite targets when
Anquan Boldin
was traded and
Dennis Pitta
went down with a dislocated hip. Flacco has been sacked 30 times (only
Ryan Tannehill
and
Ben Roethlisberger
have been sacked more). Harbaugh applauded Flacco for making plays while scrambling. But Flacco is really running for his life.
While Flacco hasn't had the strongest supporting cast, he also hasn't been the same quarterback he was during the Ravens' championship run. The biggest change is his inability to connect deep. On Sunday, Flacco was 0-for-7 with an interception on throws at least 15 yards downfield, which qualifies as the most deep attempts without a completion he has had in his career. With all of the problems on offense, the Ravens desperately need more big plays out of Flacco.
What's the biggest concern for the Bears' pass defense?
Wright:
Where would you like to start? There are several. But the most significant right now is how the Bears will perform without one of their best players in Tillman, who on Monday was placed on the injured reserve/designated to return list. Tillman, with three interceptions and three forced fumbles, was one of the main reasons the Bears are tied for fifth in the league with 20 takeaways. Since coming into the league in 2003, Tillman ranks in the NFL's top 10 in interceptions (36), interception-return yards (675), defensive touchdowns (nine), forced fumbles (42) and passes defended (133). That level of production is difficult to replace. But the Bears are confident in backup
Zack Bowman
's ability to get the job done. Bowman started 12 games in 2009 and led the team with six interceptions. When Bowman has played this season, he has been adequate (one INT). He has size (6-foot-1, 196 pounds) similar to Tillman, which allows him to match up well with bigger receivers.
The Bears have struggled against the run, and you'd think they could be in for a long game against someone such as
Ray Rice
. But from what I've seen so far, he hasn't been the Rice I remember from last season. What's the deal with him?
Hensley:
Rice injured his hip in Week 2 and hasn't been the same since. He insists he's at full strength, but the numbers say otherwise. Rice's average of 2.5 yards per carry is worst among qualified running backs. But you can't put all of the blame for the NFL's 30th-ranked rushing attack on Rice. The Ravens' offensive line has struggled to open holes, and because Flacco can't throw the ball deep, defenses are stacking the box with eight players.
Getting some semblance of a running game is key to turning around the season, which is why the Ravens need to commit to the ground game against Chicago. Under Harbaugh, the Ravens are 45-12 when they gain more than 100 yards rushing. That's the fifth-best mark in the NFL, which shows how important a running game is to the Ravens.
Baltimore has been up and down in terms of run defense. In their five losses, the Ravens have given up an average of 124.4 yards rushing. The Bears'
Matt Forte
had good back-to-back games before he was shut down against the Lions. What's the key to him rebounding against the Ravens?
Wright:
The No. 1 key would be better blocking from the offensive line. For the first time all season, the Bears on Sunday probably lost the battle at the line of scrimmage on offense. At best, Trestman said he would call it a draw. The Bears know it's unacceptable for Forte to average 1.9 yards per carry on 17 attempts, and Trestman said one of the major contributors to the performance against the Lions was that several players missed assignments on key plays. Going into that game, the Bears knew they wouldn't put together a strong rushing game, but thought they'd have a chance to pop three or four explosive runs against Detroit's dominant front. Obviously that didn't happen. But if the Bears clean up some of the execution issues up front, Forte should be able to rebound. Going into Sunday's game, he was averaging 4.7 yards per carry. He'll have to get back on track if Chicago expects the offense to run smoothly because it is by establishing Forte that the Bears set up their play-action passing game.