NFC North:

2013 NFL Week 12 Double Coverage
November, 21, 2013
11/21/13
10:00
AM ET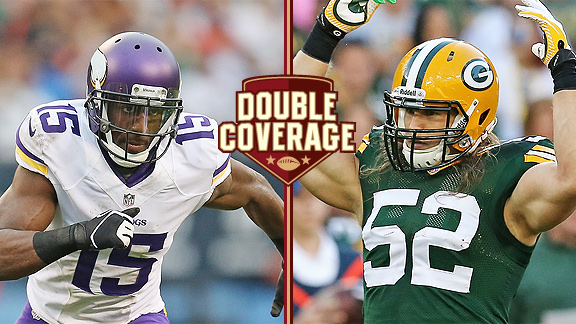 Jonathan Daniel/Getty ImagesIt's been a rough season for Greg Jennings and the Vikings, who hope to split their season series with Clay Matthews' Packers.
A month ago, when the
Green Bay Packers
left Minnesota with a 44-31 victory over the Vikings, all seemed right in their world.
They were 5-2 and in first place in the NFC North.
A week later, their season took an unexpected turn when quarterback
Aaron Rodgers
broke his collarbone. He hasn't played since, and the Packers have lost three in a row.
Meanwhile, the Vikings' slide has continued. They have lost five of their last six and still haven't answered their questions at quarterback.
Packers reporter Rob Demovsky and Vikings reporter Ben Goessling discuss Sunday's rematch at Lambeau Field.
Demovsky:
Ben, when these two teams met last month in Minneapolis, the Vikings had just gone back to quarterback
Christian Ponder
after
Josh Freeman
's disastrous start against the
New York Giants
. Has their quarterback situation -- both short term and long term -- cleared up at all since then? From here, it sure doesn't seem like it has.
Goessling:
It looked like it might have, until last week. Ponder had started every game since then and was having one of his best games of the season Nov. 7 against the
Washington Redskins
when he left with a dislocated shoulder. We've got to grade that one on a curve because of the Redskins' porous defense, but Ponder looked more decisive, a little less skittish in the pocket and more confident while throwing on the run. That lasted through the first half Sunday in Seattle, but the two interceptions Ponder threw in the second half were unconscionable and the Vikings might make another switch at quarterback this week. If I'm them, I would take a look at Freeman and see if he's improved at all with a month to study the offense. The Vikings know what Ponder is at this point, and he's not going to be a franchise-level quarterback. The Vikings continue to say they don't need Freeman to play to evaluate him, but with so little on the line, why not put that $2 million to good use, see if he can give the team a spark and roll the dice on something different?
Speaking of quarterbacks, it seems like
Scott Tolzien
has played well for the most part, but he's been unable to avoid the turnovers that Rodgers simply doesn't commit. Can the Vikings -- a team that has been terrible at generating takeaways -- count on a couple this weekend, or do you see Tolzien excelling against a weak defense?
Demovsky:
After throwing five interceptions the past two weeks, including three Sunday against the Giants, Tolzien knows he absolutely must take care of the ball. The strange thing is, he's been fantastic throwing the deep ball. Some backups get into trouble with interceptions when they're trying to force the ball down the field. That wasn't the case with Tolzien last week. All three interceptions were on short or underneath throws, including the one
Jason Pierre-Paul
returned for a touchdown. Assuming Tolzien does a better job taking care of the ball this week, where he really needs to improve is in the red zone. The Packers have scored just two touchdowns on their past nine trips inside the 20, so along with taking care of the ball, that's where I expect a lot of Tolzien's focus to be this week.
I know I asked you this about
Greg Jennings
before the first meeting, but given the somewhat strange circumstances surrounding him being inactive last week, how do the Vikings feel now about the investment they made in the former Packers receiver this offseason?
Goessling:
You know, when Leslie Frazier talked about Jennings on Monday and said how he couldn't predict for sure whether Jennings would be back against the Packers, it was the first time I wondered about that. It seemed to me Frazier was miffed about the whole situation, whether Jennings decided he couldn't play or whether a valid injury cropped up at the last moment and kept him out of the game. Durability was absolutely a concern with Jennings before the Vikings signed him, and it was a day they were counting on him, with
Jerome Simpson
probably due to sit because of his drunken driving arrest. Whatever caused it, there's no question the Vikings were hoping Jennings could lend some stability to their passing game and help their quarterback, be that Ponder, Freeman,
Matt Cassel
or whomever. They're paying him enough that they have to count on him to make that contract worthwhile.
We've talked before about Jennings' digs at the Packers. What kind of a reception do you expect he'll get on Sunday, and could he be in for a better game with injuries surfacing again for the Packers in the secondary?
Demovsky:
I can't imagine the reception for Jennings will be friendly at Lambeau Field. People here don't take too kindly to those who bash their team or their quarterback. Jennings said some pretty hurtful things this offseason, and regardless of whether he was "just messing around," those words have not been forgotten. I would be willing to bet that every time Jennings touches the ball -- which lately hasn't been much -- he'll get booed. Regarding the Packers' secondary, the fact that it's still having communication breakdowns this late in the season isn't a good sign.
Jennings didn't do much of anything in the first meeting against the Packers, and neither did
Adrian Peterson
. I'm not sure which one was more surprising. But since Peterson carried only 13 times (for 60 yards) against the Packers, he has gotten 25, 20 and 21 carries in the past three games. Is he the Vikings' only hope for success on offense?
Goessling:
Depends on what the Vikings get at quarterback -- which is pretty hard to predict these days. They had planned this year to have more balance on offense, and without it, they've suffered from Peterson having merely a good, not historic, season. He said after Sunday's game that his groin injury was bothering him a lot, and it's the first time in the past two years I've heard Peterson admit an injury was affecting him like that. There were certainly runs where it looked like he just didn't have that top gear like he normally does, and it kept him from breaking a couple. I'm not so sure the best thing wouldn't be to sit him down for a game or two and let him get healthy, rather than having him try to play when he's clearly not 100 percent. The fact the Vikings could be missing center
John Sullivan
because of a concussion doesn't help either. Their best chance to get going on offense would be to feed Peterson, get a lead and try to pressure Tolzien. If Peterson is not at his best, it might not be feasible to lean on him so much.
What about the Packers' running game? It was striking to see
Eddie Lacy
& Co. pound the ball at will against the Vikings in October. Was that legit, or are teams taking that away now because Rodgers is gone?
Demovsky:
That was legit. He leads the NFL in rushing over the past seven games. Less than three weeks ago, the Packers ran for a season-high 199 yards against the Bears. The past two weeks, however, both the Eagles and the Giants have loaded the box to stop the run, and it has worked. There weren't many yards for Lacy to get last week against the Giants, and he averaged only 1.9 yards per carry on 14 attempts. It's like defenses have completely changed the way they're playing the Packers. With Rodgers, they used to dare the Packers to run the ball. Now, they're daring them to throw it by bringing extra defenders up to the line of scrimmage.
November, 21, 2013
11/21/13
10:00
AM ET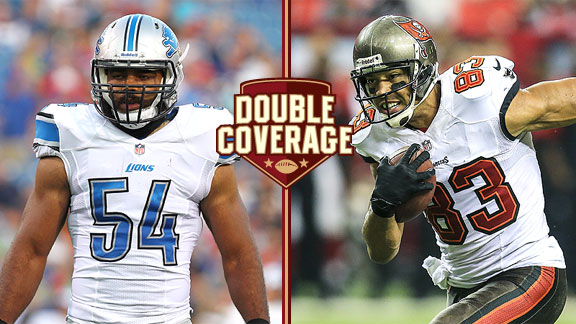 USA Today SportsDeAndre Levy and the Lions will need to keep Vincent Jackson in check on Sunday.
Tampa Bay started its season terribly before finding some answers the past two weeks. Detroit started its season strong but is suddenly vulnerable and has some questions.
Only the Lions are in the playoff picture heading into the last six weeks of the season. Meanwhile, the Buccaneers can play spoiler and give a damaging blow to the Lions' playoff hopes.
The Buccaneers will try to do that with a rejuvenated defense that caught the eye of Detroit quarterback
Matthew Stafford
.
"They are an extremely talented defense," Stafford said. "Probably the most talented defense we've played all year."
ESPN.com NFL Nation reporters Michael Rothstein (Lions) and Pat Yasinskas (Buccaneers) break down Sunday's matchup.
Rothstein:
What has happened over the past couple of weeks to turn this Tampa team around?
Yasinskas:
The short answer is that the Bucs suddenly have gotten much better at finishing games, a huge problem early in the season. But it goes much deeper than that. Coach Greg Schiano has a reputation for being stubborn and inflexible. But he's changed in recent weeks. His mood has been lighter on the practice field and when he's met with the media. More importantly, he's adjusted some things on the field. He's stopped stunting so much on the defensive line, and that's created more straight-ahead rushes for defensive tackle
Gerald McCoy
. Schiano has used cornerback
Darrelle Revis
in more man-to-man coverage after playing him in a lot of zone early in the season. The Bucs also have been running the ball much better, and that's a tribute to the offensive line.
Speaking of McCoy, he and
Ndamukong Suh
came out in the same draft, and early on, it looked like Suh clearly was the better player. But McCoy has been outstanding of late. What kind of a year is Suh having?
Rothstein:
Suh's actual statistics are fairly pedestrian and wouldn't really stand out to anyone if they were just watching Detroit from afar. But he has faced a lot of double-teams throughout the season and has been somewhat consistent throughout the year. He played his best in the two games against Chicago -- four quarterback hurries in Week 10, two sacks in Week 4 -- but he and the rest of the Detroit defensive line almost inexplicably struggled to reach Pittsburgh quarterback
Ben Roethlisberger
this past Sunday.
Detroit has not blitzed much this season, putting a lot of pressure on the front four, starting with Suh.
That'll lead into my next question -- how has
Mike Glennon
been progressing this season, and how does he move when he is pushed in the pocket a little bit?
Yasinskas:
Glennon has been a pleasant surprise. He was thrown into the lineup when
Josh Freeman
was benched, and he struggled at first. But Glennon has steadily improved and has been very good in recent weeks. He had only three incompletions in Sunday's victory over Atlanta. He's shown poise and leadership. Glennon's strength is his big arm, and the Bucs are trying to develop more of a deep passing game. They showed signs that's catching on when
Vincent Jackson
caught two long passes against the Falcons.
I first saw Glennon when I was covering the filming of "Gruden's QB Camp" this past spring. Watching Glennon's college tape, I thought he didn't have the mobility to succeed in the NFL. As it turns out, I was wrong. Glennon is not a running threat, but he's not a statue, either. He's been extending some plays by scrambling.
Speaking of deep passing games, the matchup I can't wait to see is
Calvin Johnson
against Revis. I saw the Lions-Steelers game, and it seemed like Johnson disappeared in the second half. What was all that about? Revis and Johnson went head-to-head in a 2010 game, and Johnson caught just one pass for 13 yards. Do you see Revis, with a little bit of help, being help to keep Johnson quiet?
Rothstein:
It depends on what Tampa tries to do defensively. When teams have tried covering Johnson with single coverage, he's destroyed opponents. It happened a good amount against Dallas and early against Pittsburgh. It goes to the situation most teams have had to face this season -- do you double-team Johnson and give a lighter box to
Reggie Bush
and
Joique Bell
, or do you play single high to focus on Bell and Bush and put Johnson in lighter coverage?
That said, Revis is one of the best corners in the league -- something Stafford acknowledged Tuesday -- and it should be an intriguing matchup Sunday. Johnson likes going against the top corners in the league and has had some success this season in those matchups, notably against Arizona's
Patrick Peterson
(six catches, 116 yards, two touchdowns) and Dallas'
Brandon Carr
(14 catches, 329 yards).
One of the other ways teams have had success against Detroit is to pressure Stafford, which hasn't been easy this season. It goes back to that first question with McCoy, but is he the key to any pressure Tampa might get?
Yasinskas:
McCoy is the central piece of the defensive line, and everything feeds off him. But he's not alone in the pass rush. End
Adrian Clayborn
has some pass-rush skills, and the Bucs have started lining up outside linebacker
Dekoda Watson
as a rush end. But the Bucs also like to use their linebackers as blitzers, and
Lavonte David
(five sacks) is a very good pass-rusher. But it all goes back to McCoy. The Bucs rely on him to push the quarterback off the spot, and the other players can clean up.
You mentioned Bush. At least from a distance, it seemed like he got himself in the doghouse by fumbling against Pittsburgh. Is Bush in good graces with the coaching staff, or will we see less of him Sunday?
Rothstein:
Doghouse? No. But he needs to work on protecting the ball better and hanging on to it, period. He's struggled with drops all season and lost fumbles two of the past three weeks. He's too big a weapon for Detroit to move away from him -- especially at home -- but if he continues on this trend, Bell might steal some of his snaps.
November, 21, 2013
11/21/13
10:00
AM ET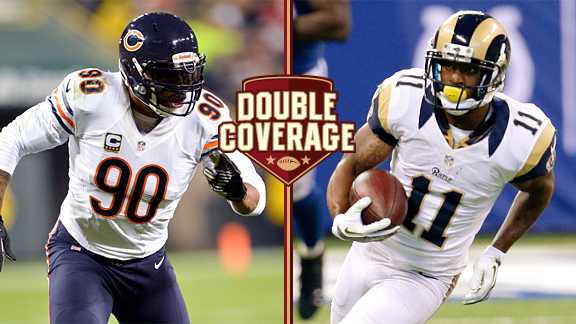 AP PhotosJulius Peppers' Bears and Tavon Austin's Rams will add another chapter to an old rivalry.
The
St. Louis Rams
and
Chicago Bears
have been playing each other seemingly forever. The series dates to 1937, when the Rams franchise was based in Cleveland.
Much has changed over the years, with the Rams moving around before settling about 4 1/2 hours south on I-55.
Sunday's game between the teams will be the 89
th
in their history, but it represents much more for each.
At 6-4, the Bears are still in the hunt for the NFC North Division and, failing that, a potential NFC wild-card berth. The Rams are clinging to their playoff lives at 4-6 and probably need to win out to reach the postseason.
ESPN.com Rams reporter Nick Wagoner and Bears reporter Michael C. Wright take a closer look at Sunday's matchup.
Wagoner:
There's been lots of talk about the quarterback situation up there, something that we can relate to in St. Louis.
Josh McCown
seems like he's done a good job filling in for
Jay Cutler
. What does he bring to the table that allows him to have success, and how do teammates view him?
Wright:
Aside from the immense physical gifts such as athleticism and his ability to make up for whatever limitations he may have in terms of arm strength with anticipatory skills, McCown possesses an engaging personality that makes his teammates play hard for him. Bears general manager Phil Emery in the past has called McCown "a glue guy." Having played for several teams where he gained experience as a starter and worked behind quarterbacks such as
Kurt Warner
and
Jon Kitna
, McCown has taken what he's learned and applied it to his own play while relaying some of those experiences to Chicago's younger players. That's part of the reason McCown is widely considered a fatherly figure in the locker room. McCown's teammates respect him immensely because the veteran knows his role and works just as hard as starter Jay Cutler to be prepared to assume that role when the situation calls for it.
Speaking of backup quarterbacks, this game is certainly going to be a Backup Bowl and
Kellen Clemens
seems to be settling in as the replacement for
Sam Bradford
. What does he bring to the table and how confident is the team in his ability to get it done down the stretch?
Wagoner:
After reading your response about McCown, I was tempted to just copy and paste it and simply sub in Clemens' name where appropriate. Clemens' numbers are about what you'd expect from a backup and fall in line with his career totals. He had pretty much the ideal game you'd want him to have against Indianapolis. He didn't have to throw much, but when he did, he made no mistakes and took advantage of big-play opportunities. What's more, he's completely unafraid to step up in the pocket and take a hit to deliver the ball or pull it down and try to make something happen with his legs. His teammates respect him and it shows in the way they battle for him week to week. To be sure, Clemens is no Bradford, but he has already given the Rams all they want on the field and has been a key mentor in the locker room for his many young teammates.
Switching gears a bit, Chicago's defense has taken an obvious step backward this year. How much of that do you attribute to the change in coaching staff and how much is a product of aging core players on the defense at large?
Wright:
There's a little bit of all of that going on, but the biggest blow to the defense by far has been injuries. The Bears lost starting nickel corner
Kelvin Hayden
for the year before the season even started, then lost franchise defensive tackle
Henry Melton
with a torn ACL only to see his replacement,
Nate Collins
, lost for the season with the same injury. Two-time Pro Bowl cornerback
Charles Tillman
landed on the injured-reserve list due to a torn triceps suffered Nov. 10, and seven-time Pro Bowl linebacker
Lance Briggs
has been out the past three games with a small fracture in a shoulder. Oh, did I mention the Bears also lost starting middle linebacker
D.J. Williams
for the season with a torn pectoral muscle, starting defensive tackle
Stephen Paea
has been in and out of the lineup -- and there's a chance he could miss Sunday -- with a nagging turf toe injury and defensive end
Shea McClellin
missed the past two games due to a strained hamstring? So injuries have destroyed chemistry for the Bears. Considering all the defense has gone through, it's somewhat a surprise it hasn't performed more poorly.
With the Rams coming off a bye, what areas needed the most work during the time away, and is the team confident it was able to sufficiently address them?
Wagoner:
I suppose the simple answer to this question is they needed to work on everything during the bye week, but it's more detailed than that. The Rams are again the youngest team in the league and the thing they struggle with most is consistency. They simply haven't been able to string together good performances. So the mission over the bye was to get healthy, get their young guys extra reps in practice and try to position themselves to follow up a dominant win against Indianapolis with another strong performance this week against the Bears. Most notably, they must find a way to be better week to week on defense. They've had some thoroughly dominant performances surrounded by clunkers. Without Bradford, the margin for error is even smaller, so it falls on the defense to pick up the slack by putting up strong performances every time out. The Rams were riding high after the win against the Colts. They believe they can win every week. We'll see if the bye served them well or killed whatever momentum they might have built in Indy.
On the subject of that defense, the Rams clearly have a tall order coming Sunday. With
Brandon Marshall
and
Matt Forte
and the emergence of
Alshon Jeffery
and
Martellus Bennett
, this seems like as good a group of skill position players as the Bears have had in a long time. Do you view it that way and what does that mean for the team moving forward?
Wright:
Absolutely, it's probably the best they've had collectively in the past 20 years and signifies a shift in philosophy for the organization. Prior to the addition of coach Marc Trestman; the Bears always spent their money to build elite defenses while sacrificing quality on offense. But Emery has made it clear the Bears want to start fielding more explosive offenses while continuing the tradition of strong play on defense. So the Bears have invested heavily on offense in free agency and the draft, and it appears they'll be able to keep the group together for a long time, especially if they can secure Marshall for the long term because his contract is set to expire after next season. So while it appears the Bears are set on offense, they've got to immediately turn the attention back to the defense, which is aging and has several players coming up on the end of their contracts at season's end. Tillman's deal is about to expire and the team must decide if it wants to continue to invest huge cap dollars in defensive end
Julius Peppers
. I'd expect an interesting offseason for the Bears this spring, and a radically changed defense in terms of personnel in 2014.
Last spring, it seemed that a good portion of the Chicago fan base really hoped that somehow
Tavon Austin
would fall to the Bears. He's obviously made plenty of noise recently for the Rams and seems to be ascending. How much is there that we haven't yet seen from this guy?
Wagoner:
Austin is still just scratching the surface of his big-play potential. His breakthrough performance against the Colts was nice, but now it's up to him and the Rams to find a way for him to duplicate it on a more regular basis. Responsibility for Austin's early-season struggles was shared by all parties -- some of it was his struggles to catch the ball and run good routes consistently, some was a product of an offense unsure how to deploy him best -- but it seems things are opening up for him a bit. The Rams have made a more concerted effort to get him the ball down the field in recent weeks as opposed to throwing the short screens and hitches that went nowhere in the first half of the season. That doesn't even include his home run ability as a returner. Austin still has plenty of room to get better, but in the meantime, his breakout game should not only bolster his confidence but open some other things up for the offense.