NFC North:

2013 NFL Week 15 Double Coverage
December, 13, 2013
12/13/13
10:00
AM ET
[Editor's note: This article has been updated to reflect Sunday's results.]
For the
Baltimore Ravens
and
Detroit Lions
, the playoffs are beginning well before the actual postseason starts. In reality for both teams, they begin Monday night.
Both the Ravens and Lions are fighting for playoff berths and are hanging on to those spots by head-to-head tiebreakers -- in the Lions' case for the NFC North title and for the Ravens, the No. 6 seed in the AFC.
The Ravens need to win to keep pace with Miami, which beat New England on Sunday, for a wild-card berth. The Lions need a win to keep pace with Chicago, which won Sunday at Cleveland.
ESPN.com Detroit Lions reporter Michael Rothstein and Baltimore Ravens reporter Jamison Hensley break down what might happen Monday and who might leave "Monday Night Football" still with a playoff berth in their hands.
Rothstein:
Up until Sunday, Detroit's run defense had been very, very good. Add to that
Ray Rice
appears to be struggling this season. What's going on with Rice and does the Lions' stout run defense mean more of Monday night's game is on the shoulders of
Joe Flacco
?
Hensley:
Rice's best two games over the past eight weeks have come against NFC North teams, but a lot of backs have had success against the
Chicago Bears
and
Minnesota Vikings
this year. The Ravens would love Rice to duplicate what
LeSean McCoy
(217 yards rushing) did against the Lions, but I'm pretty sure there's not going to be any snow in Ford Field. Getting the run game on track has been the biggest challenge for the Ravens, who are averaging a league-worst 3.0 yards per carry.
Baltimore hasn't abandoned the ground attack. The Ravens, though, haven't shown much confidence in it either. They have put the ball in the hands of their $120.6 million quarterback to win games. Flacco has thrown over 30 passes in nine of the past 10 games. The problem with that strategy has been the increase in turnovers. Flacco has thrown a career-worst 17 interceptions, including three Sunday. Only two quarterbacks --
Geno Smith
and
Eli Manning
-- have thrown more.
Speaking of turnovers, why have the Lions had so much trouble holding onto the ball this year?
Rothstein:
It's a combination of factors, starting with
Matthew Stafford
. In some ways -- and yes, weather is an excuse here -- Sunday's "fumbleathon" against Philadelphia can be attributed to the weather because so many of those miscues happened when visibility was nil and in blizzard-like conditions. But Stafford has thrown a lot of interceptions in the second half of the season and some of those are just poor reads with which he should be doing better. Others are the fault of his receivers, who lead the league in drops with 41, according to ESPN Stats & Information.
Reggie Bush
has had some fumbling issues, too, and that has been a major problem for the Lions' top free-agent acquisition. It really comes down to Bush improving his ball security and Stafford making smarter decisions.
You mention the
Jimmy Smith
-
Calvin Johnson
matchup in the video. Every team has kind of schemed differently for Johnson this season. What do you think the Ravens will do?
Hensley:
The Ravens don't have their cornerbacks shadow the same receivers, but they will want Smith on Johnson as much as possible because he's their most physical defender. Smith is going to have to play better against Johnson than he did in the 2012 preseason. In the game, Smith was beaten by Johnson on a leaping, 18-yard touchdown. He later held Johnson when the receiver went past him on the next drive.
But Smith is playing with more confidence and more aggressiveness in his first full season starting. He has allowed only 22 catches over his past 10 games. That is an impressive total when you consider he has covered the likes of Cleveland's
Josh Gordon
, Cincinnati's
A.J. Green
, Chicago's
Brandon Marshall
and
Alshon Jeffery
and Pittsburgh's
Antonio Brown
during that time.
The Ravens have some speedy receivers as well with
Torrey Smith
and
Jacoby Jones
. Of course, Flacco will need time to get the ball to them. How difficult will it be for the Ravens to slow down the Lions' pass rush?
Rothstein:
Depends which pass rush shows up. If it is the one that played in the last Green Bay game (seven sacks), then Flacco's success will be predicated on whether he can make the first read correctly. If the pass rush is less successful, then Flacco could have a big day. Much of it will depend on how many people Baltimore keeps home besides the five offensive linemen.
If Baltimore decides to try to block
Ndamukong Suh
one-on-one, it'll be a long night. The pass rush's success also will depend on rookie end
Ziggy Ansah
. If Ansah is healthy enough to play, he becomes a huge difference-maker for the Lions as teams have really struggled to deal with Suh on the inside and Ansah outside. If Ansah can't play -- he injured his shoulder against Philadelphia -- then that's a big bonus for the Ravens.
The Ravens were a Super Bowl team last year. Now, they appear to be very much in the middle of the pack. Did
Ray Lewis
and
Anquan Boldin
make that big of a difference?
Hensley:
I would argue that the Ravens have missed a healthy
Dennis Pitta
(out 12 games with dislocated hip) and Jacoby Jones (injured knee in season opener) more than Boldin and Lewis. You can throw in there that the Ravens have missed the same production from Ray Rice as well. Offensively, the Ravens haven't had as much of a void with Boldin as previously thought. Torrey Smith has assumed the No. 1 receiver job, and rookie
Marlon Brown
has been a weapon in the red zone with six touchdowns. And defensively, there hasn't been much talk of the loss of Lewis because
Daryl Smith
has played so well in the middle. The Ravens defense is statistically much better than last year's group.
So, why has there been so much of a drop-off this year? The offensive line and Rice have been major disappointments. There have been too few running lanes and too many sacks allowed. The lack of a running game and the inability of Rice to make plays in the open field have hamstrung this offense. The other problem has been coming up short in close games. Last year, the Ravens had the NFL's most wins in games decided by three points or fewer. This year, Baltimore has the second-most losses (four) in such games. The Ravens have begun to find a way to win those close games recently, which is why they're back in the playoff race.
The Ravens have historically come through in these December games, which is why they've made the playoffs in each of the past five seasons. Do the Lions feel added pressure in times like these because they've made the playoffs only once since the 1999 season?
Rothstein:
I don't think they do, but there is a lot at stake for Detroit over these last three games. Besides the Lions' second playoff appearance in three seasons, this is a chance at Detroit's first division title since 1993 and if the Lions don't make the playoffs, there probably will be at least a conversation about Jim Schwartz's future in Detroit.
So there are, without question, a lot of things weighing on the Lions. But for them it has been all about the mistakes they have been making and what they need to correct. Whether they do that over the last three games will essentially decide their fate.
December, 12, 2013
12/12/13
12:00
PM ET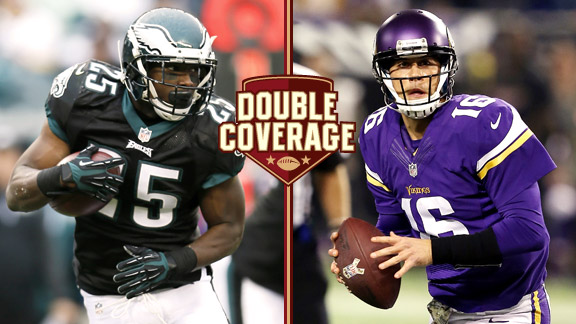 AP PhotoLeSean McCoy and the explosive Eagles offense visit Matt Cassel and the struggling Vikings.
The
Minnesota Vikings
and
Philadelphia Eagles
couldn't be in much different places than they were a year ago.
In 2012, the Vikings made a seven-game improvement, winning their final four games and riding
Adrian Peterson
's 2,097-yard season to a 10-6 record and a playoff berth. The Eagles, meanwhile, lost nine of their final 10 games, finished 4-12 and fired longtime coach Andy Reid. This season, it's Philadelphia that's racing toward the playoffs, with a new quarterback (
Nick Foles
), one of the most exciting offenses in football and an 8-5 record. The Vikings haven't been able to settle on a quarterback, have blown five leads in the last minute of games and might be preparing to part with coach Leslie Frazier after starting the season 3-8-1.
To get you ready for the game, ESPN.com Vikings reporter Ben Goessling and Eagles reporter Phil Sheridan discuss the matchup and the rapidly changing directions of both teams:
Ben Goessling:
Phil, it's been surprising to see how much better the Eagles' offense has worked under Nick Foles than
Michael Vick
, considering how well Chip Kelly's system seemed to suit Vick. What is Foles doing to make it work so well, and just how bad of a matchup is this for the Vikings' defense?
Phil Sheridan
: At the moment, I'd have to say the Eagles' offense is a tough matchup for any defense. Their past two opponents, Arizona and Detroit, came in as well-regarded defenses. The Eagles scored 24 points on the Cardinals by early in the third quarter and then exploded for 34 second-half points in the snow Sunday against the Lions. The Eagles are able to run or pass at a high level right now, which makes them just plain tough to defend.
As for Foles and Vick, it does seem counterintuitive that a running threat wasn't as effective as the relatively slow-moving Foles in Kelly's offense. But Foles is good at several key facets of what Kelly wants done. He's become adept at keeping the tempo up in the no-huddle. He's been accurate in the passing game. And he's made good decisions when Kelly's play call presents him with an option.
Kelly gave a hearty endorsement of
Toby Gerhart
, whom he faced while he was at Oregon and Gerhart played at Stanford. Kelly said he thought Gerhart could be an impact player who just happens to be stuck behind one of the great backs of all time. What's the deal? Can Gerhart replace Peterson and keep the Vikings' offense going?
Goessling:
It depends on his health. He's dealing with a hamstring issue of his own, so if Peterson does indeed miss the game because of his sprained foot, Gerhart might not be able to handle the same kind of workload as Peterson. He's only got two games of 20-plus carries in the NFL, but then again, as Kelly said, he's certainly built to take a pounding. He's a stout, physical back who runs well between the tackles and does a solid job picking up blitzes. Plus, he's not exactly afraid to embrace the idea that he's auditioning for other teams before he hits free agency in March. He certainly isn't going to be a featured back in Minnesota behind Peterson, and while I'm sure the Vikings would like to keep him, he might find better opportunities elsewhere.
What's the key to solving the Eagles' defense? The Vikings probably won't be at full strength this week, given their running back situation and the fact they've been shuffling through quarterbacks all year. What do they need to do to move the ball and avoid the turnovers the Eagles have been creating lately?
Sheridan:
It is still possible to move the ball on the Eagles. They give up a lot of yardage and are vulnerable to runs after the catch in the short- and intermediate-passing game. I was fascinated to see if they could handle
Calvin Johnson
and
Reggie Bush
on Sunday. But the weather limited Johnson and Bush didn't play at all, so that riddle remains unsolved. Teams have been able to move the ball but have bogged down or turned it over in the red zone. If the Vikings can find ways to score from inside the 20, they can stay in the game.
One key for opponents is not falling behind. Green Bay, Washington and Arizona did, and that allowed the Eagles' defense to concede rushing yards and go hard after quarterbacks. That has led to turnovers as much as anything.
Not so long ago, it was intimidating for opposing offenses to come into the Metrodome and deal with
Jared Allen
coming off the edge with all that crowd noise behind him. Is Allen still that kind of force, and has the atmosphere changed with the team struggling this season?
Goessling:
Allen hasn't been the same guy this season. He'll still play hard, and he's as relentless in his pursuit of a quarterback outside the pocket as anybody you'll find in the league, but he just looks like he's lost a step. He isn't as quick around the edge as he used to be, and he's gotten lost when he's been double-teamed. The guy who has brought more of the Vikings' pass rush this season is right end
Brian Robison
, who got a contract extension from the team during the season. He's not quite as quick off the edge as Allen was in his prime, but he might be a better edge rusher now, and he's good at knowing when to disengage from his blocker, step back and deflect a pass.
The Metrodome has lost a little of its edge in recent weeks with the Vikings struggling, but I wouldn't sleep on the fans there: If the game is close Sunday, they'll still get loud. They've only got two more games to crank up the volume in that old Teflon-coated warehouse before it's torn down, so I'd expect the noise level to be there, if partly for nostalgic reasons.
From afar, it would seem like the Eagles have every reason to be confident heading into the final stretch of the season. How far do you think they're capable of going in the playoffs?
Sheridan:
That's a heck of a question, because the whole idea of the playoffs seemed so remote just a few weeks ago. Gradually, as the Eagles got within striking distance of the Cowboys in the NFC East, it seemed like a good first season for Kelly if the Eagles could get a taste of the postseason.
Now? After five wins in a row, they are in sole possession of first place in the division. Foles and
LeSean McCoy
are putting up epic numbers. The defense hasn't allowed more than 21 points in nine games. That sounds to me like a team that can win a home playoff game. Can they go to Seattle or New Orleans and win? That seems like a stretch, but the Eagles keep raising their own ceiling.
Leslie Frazier's first NFL coaching job was here in Philadelphia as an assistant on Andy Reid's staff. He seems to be in a tough spot there, with the kind of quarterback issues that undermine even good coaches. Is the feeling that Frazier is to blame for this season, and what kind of job security does he have?
Goessling:
I certainly wouldn't put it all on Frazier -- the quarterback situation has been a mess, and the Vikings have also paid dearly for GM Rick Spielman's decision to cut
Antoine Winfield
and go almost completely with young defensive backs. That's had as much to do with the Vikings' defensive issues as anything else, and when you've got problems at quarterback and in the secondary, you're going to have a really hard time in today's NFL. Players are still playing hard for Frazier, but the Vikings have blown five leads in the last minute, and coaching issues seem to have contributed to at least a couple of those breakdowns. What's more, Frazier didn't get a contract extension after the Vikings' surprise playoff berth last year, so to come back, he'd either have to coach into the final year of his deal or get an extension. Neither one of those seem as likely as him paying the price for the Vikings' many issues this year.
December, 12, 2013
12/12/13
10:00
AM ET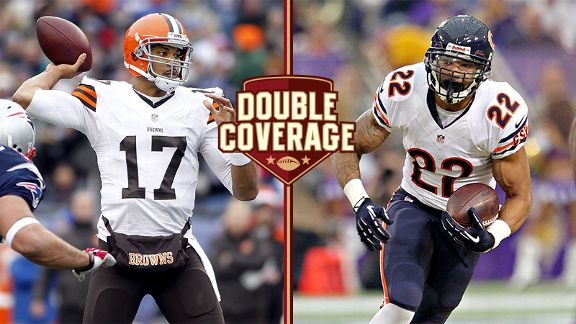 USA TODAY SportsJason Campbell has been steady for the Browns at quarterback, while Matt Forte's versatility poses a challenge for opposing defenses.
The
Chicago Bears
won a very important game over Dallas on Monday night that kept the team in the playoff hunt.
Chicago's offense under first-year coach Marc Trestman had a huge game, especially
Josh McCown
at quarterback. Trestman used to coach in Cleveland, and he once coached Cleveland hero
Bernie Kosar
at the University of Miami. He has been winning with McCown playing for
Jay Cutler
.
While the Bears fight for a playoff spot, the Browns fight to simply win a game. They've lost four in a row and eight of nine, including gut-wrenching losses the past two weeks to Jacksonville and New England. Cleveland is quarterbacked by
Jason Campbell
, the Bears' backup last season.
Bears writer Michael Wright of ESPN Chicago and ESPN.com Browns writer Pat McManamon look ahead to Sunday's game.
McManamon:
Mike, the Bears are fourth in the league in passing offense under Trestman. He came from Canada with the reputation as an offensive wizard and produced 45 points in a frigid December game. What does he do in the passing game and in the offense to get these results and this success?
Wright:
Pat, probably the most important thing Trestman and the offensive coaching staff have done is taught the importance of understanding the actual concepts of the offense as opposed to simply telling players where to go on any given play. The players know exactly what the offense wants to accomplish on a given play, and each player knows how they individually help the club to make the play work by carrying out their particular responsibilities. For instance,
Brandon Marshall
may not be the primary receiver on a certain play. But he'll know exactly why he needs to run a route at a particular depth to free up the No. 2 or No. 3 receiver underneath. As you know, every player knows what they're supposed to do on a particular play, but Trestman makes sure they know why, and that's played a significant role in the offense's success. And it's taught at every level, from the line to the running backs out to the receivers. That, to me, leads to a certain synergy that's paramount in offensive football.
Pat, I know the loss to New England was disappointing considering the Browns blew a 26-14 lead and the fact there were a couple of controversial calls down the stretch. But is there any feeling at all of encouragement about what the team might be able to do in the coming weeks after the way it played against the Patriots?
McManamon:
Any positive in a storm, Mike, and the Browns will take it. They point to the heart the team showed in bouncing back from a bad loss to Jacksonville, and to the fact that they did not quit after that loss. They also point to Campbell, who has had three incredible games and two very average ones. The one in New England was one of the incredibles. Finally, they point to
Josh Gordon
, who has done so many good things the past month.
These are all building blocks -- and good building blocks. But the problem with the Browns is they've given their fans nothing but building blocks since 1999, and since 2007 they have won 27 games -- total. Fans are sick of building, tearing down and rebuilding. They show loyalty and faith every time there is a restart. They're ready to really win and not just come close. Anything that happens in the final three games won't matter a whole lot.
Let's turn to quarterback, Mike. Campbell has been shockingly good in Cleveland. Did the Bears ever see this guy in Chicago? On Chicago's side, has McCown taken the job from Cutler permanently?
Wright:
They saw it, Pat. The problem is the Bears couldn't afford to keep Campbell. When the Bears brought him in, they paid him a $2 million signing bonus and a base salary of $1.4 million, and his cap number was $3.754 million. So when the Bears started making decisions in the offseason about some of the free-agent additions they needed to make, Campbell was more of a luxury than a priority. The Bears spent big to bring in left tackle
Jermon Bushrod
and tight end
Martellus Bennett
, and after losing linebackers
Brian Urlacher
and
Nick Roach
in free agency, they needed to add two more starters at linebacker. Remember, the Bears also placed the franchise tag on defensive tackle
Henry Melton
, which resulted in a cap hit of $8.45 million. McCown, at $840,000, was simply a cheaper option than Campbell.
Speaking of McCown, he's the first Bears quarterback to produce three consecutive 300-yard passing games. But he hasn't taken the starting job from Cutler. Trestman has made that very clear, and even McCown says that right now, he's simply playing his role until Cutler returns. So right now, the team has been on record on numerous occasions saying Cutler is the guy as soon as he's medically cleared to play.
Out here in Chicago, Campbell made his only start during a slaughter at San Francisco in which I'm not sure Cutler would have made a difference. How would you measure his play out there in Cleveland?
McManamon:
Surprisingly good. Perhaps shockingly good. Campbell had a good game against Kansas City, a very good game against Baltimore and an excellent game against New England -- along with so-so outings against Cincinnati and Pittsburgh when he was dealing a painful and unspecified rib injury. Campbell returned from a concussion to a lot of uncertainty. But he stepped in against New England and threw for 391 yards and three touchdowns. More importantly, he brought a sense of calm to the Browns' offense that was badly needed.
It's a bit of a mystery where this Jason Campbell has come from. He is not the same guy he was in his one start in Chicago, and he is far better even than when he was starting in Oakland. He still has limitations -- a strong pass rush should give him problems -- but to call him anything but a positive in Cleveland would not be fair to him.
Mike, Chicago's one weakness might seem to be its 2-4 road record. Can the Bears win on the road, and with a game following this one in Philadelphia, don't they pretty much have to win in Cleveland if they hope to make the playoffs? Even if it means playing on the road following a Monday night game?
Wright:
It's been more than a month since the Bears have won on the road (Nov. 4 at Green Bay), and they absolutely have to win Sunday to have any realistic shot of making the postseason. Because of their putrid 4-6 conference record, the Bears would lose out in any tiebreakers for an NFC wildcard. So Chicago needs to win the division to make it to the postseason. But right now, Chicago is a half-game behind the
Detroit Lions
, who swept the Bears this season. So they've got to win out, basically, and hope the Lions slip. If the Bears do manage to win at Cleveland, the road gets tougher at Philadelphia in a game that has been flexed to a night matchup. A win at Philadelphia would mark the team's first consecutive wins since September. But remember, Chicago still has to host the
Green Bay Packers
in the season finale Dec. 29. And by then, the Bears could be facing a Packers team with a healthy
Aaron Rodgers
back in the fold.
Pat, Josh Gordon has gone off over the past four games. What's he doing to opponents that makes him so difficult to handle, and how much of a focal point has he become to what the Browns are doing offensively now?
McManamon:
First of all, a little perspective on Chicago not winning a road game since Nov. 4. The Browns have won one game since Oct. 3, home and away.
As for Gordon, he's just an amazing physical presence, with size and sprinter's speed that lets him get away from defenders. He also has amazing strength, and has learned how to avoid jams and run routes. It is rare on a play that he is not open. Teams have refused to double-cover him, and they've paid. Bill Belichick had a week to prepare, gave the job of covering Gordon to
Aqib Talib
, and Gordon had the best game by any receiver against New England this season. The Browns lack a run game, and Gordon can't catch every ball. But he clearly has grown into option No. 1 on almost every pass play.
December, 12, 2013
12/12/13
10:00
AM ET
IRVING, Texas -- The
Green Bay Packers
and
Dallas Cowboys
are two of the most storied franchises in NFL history, but with three games to play in the 2013 season both are on the outside of the playoff chase and in need of a win.
The Packers have fallen on hard times without
Aaron Rodgers
but won last week against the
Atlanta Falcons
. The Cowboys are coming off a humiliating loss to the
Chicago Bears
and have a short week to get ready.
ESPN.com Packers reporter Rob Demovsky and Cowboys reporter Todd Archer debate the matchup in this week's Double Coverage.
Archer:
I'll skip the "What's Aaron Rodgers status?" and ask about Ted Thompson's approach to the backup quarterback. The Cowboys pay
Kyle Orton
a lot of money to hopefully never throw a pass. Is there any regret form the Packers that they did not have a better backup quarterback situation behind Rodgers, considering their struggles without him?
[Editor's note: Rodgers was officially ruled out for Sunday's game on Friday.]
Demovsky:
Thompson admitted at the end of training camp that he probably should have signed
Vince Young
much earlier than he did, although after watching Young for about a month, I'm not sure he would have been any better had the Packers signed back in the spring. Where they probably erred was in not drafting a quarterback. They overestimated what they had in
Graham Harrell
and B.J. Coleman, and neither one developed enough. When Ron Wolf was the GM, he made it a regular practice to draft a quarterback in the middle-to -late rounds. Not all of them worked out, but guys like
Ty Detmer
,
Mark Brunell
,
Matt Hasselbeck
and
Aaron Brooks
all came up through the Packers' system.
Packers defensive coordinator Dom Capers said
Tony Romo
is "playing probably as good as he has in his career." Do you agree with that assessment?
Archer:
I'd agree with that, sure. It's hard to argue against his numbers. He has 3,244 yards passing with 27 touchdowns and seven interceptions. He's taking care of the ball. He had one really careless throw and it cost the Cowboys big-time in their loss to the
Denver Broncos
. Romo gets most of the blame for the December/January woes this team has had, but in his last 16 games he has 34 touchdowns and seven picks. It's hard to play better than that. But you know what? He has to. This defense is so bad that Romo has to be nearly perfect. There can be no poor drives. If they don't get points they at least need to chew up time because there's not an offense the Cowboys can slow down right now.
When the Packers won Super Bowl XLV at AT&T Stadium they were able to overcome so many injuries, especially on defense as we talked about. The difference this year is Rodgers missing time, but is there anything more to it than that?
Demovsky:
They did end up with 15 players in injured reserve in their Super Bowl season, and then during that game itself they lost
Charles Woodson
to a broken collarbone. But you know what? This defense played fine early this season and even during the stretch
Clay Matthews
missed because of his broken thumb. Capers said last week that losing Rodgers had nothing to do with the Packers' defensive slide, but I'm not buying it. The Packers' defense got four turnovers in the Thanksgiving game at Detroit and still got walloped 40-10 because the offense couldn't do a darn thing with them. To be sure, there are issues on defense. Their failure to address needs at safety has hurt them up the middle, where their inside linebackers also haven't played well enough.
It sounds like Monte Kiffin is already taking heat, but how much of it is personnel? When I saw Packers castoff
Jarius Wynn
playing Monday night against the Bears, to me that was a red flag that there are talent issues, perhaps some of them caused by injuries.
Archer:
There are talent issues and there are depth issues. Blame the owner and GM who constructed this team. Blame the coaches -- Kiffin and Rod Marinelli -- for saying the line was a position of strength. The Cowboys thought they had pieces to fit Kiffin's scheme at the start of the year.
DeMarcus Ware
has not been DeMarcus Ware in part because of injuries, but he acknowledged he has to play better.
Bruce Carter
was supposed to be the ideal weak-side linebacker and he just has not made any plays. The corners are more man corners and Kiffin has tried to play more man but all of them --
Brandon Carr
,
Morris Claiborne
and
Orlando Scandrick
-- have had issues.
Sean Lee
has been hurt and could miss Sunday's game with a neck injury. He's been good but the defense has been lit up with him on the field, too. It's just a mess. Until Jerry Jones realizes he needs better players, not necessarily better schemes, it will be a mess.
Let's stick with the defensive coordinators. From the outside looking in, it appears Capers is catching a lot of grief too. Are the Packers committed to the 3-4 regardless or could they pull a Dallas and move to a 4-3 in the future?
Demovsky:
When the cornerstone of the defense is Matthews, an outside linebacker, I would think they'd have to stick with the 3-4 even if they part ways with Capers, which I'm not sure will happen anyway. Mike McCarthy has continually praised Capers and the defensive staff. It's probably more about personnel. They need a few more playmakers to help out Matthews. They haven't gotten enough production from their defensive front. I'd look for an overhaul in personnel more than a coaching change.
Knowing the temperature in the Cowboys locker room like you do, how do you think they will react to getting steamrolled Monday night? Is this a group that will fight? Or will they pack it in?
Archer:
This is where I have to give Jason Garrett credit. This team has fought. Maybe they didn't fight all that much in the losses to New Orleans and Chicago, but they have not packed it in. You saw the last time the Cowboys packed it in in 2010 at Lambeau Field when Wade Phillips was the coach. The Cowboys lost 45-7 and were completely disinterested. Phillips was fired the next day and Garrett took over. There is some gumption to this team. They do work hard. They do the right things. I'll say it again: Most of it is a talent issue. I'd expect the Cowboys to come out with the effort Sunday because they're still very much in the playoff chase. But do they believe they can really make a run? I don't know about that.