NFC North:

2013 NFL Week 16 Double Coverage
December, 20, 2013
12/20/13
10:30
AM ET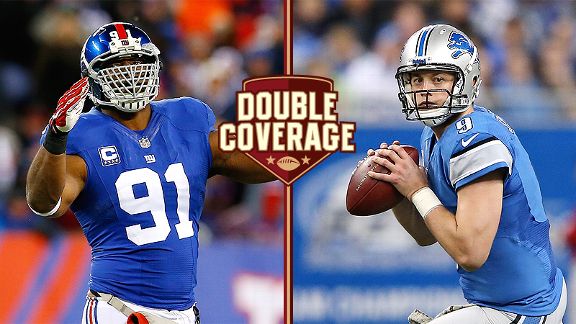 Getty ImagesJustin Tuck, left, and the Giants will be trying to end the playoff hopes of Matthew Stafford's Lions.
It is a battle of disappointments on Sunday at Ford Field: the
New York Giants
, who have been disappointing all season, against the
Detroit Lions
, who have been one of the more surprising teams over the second half of the season -- in a bad way.
The Giants have no playoff hopes. The Lions need to win their final two games and then hope for help (i.e., losses) from Green Bay and Chicago.
Taking you through Sunday's matchup are ESPN.com NFL reporters Michael Rothstein (Lions) and Dan Graziano (Giants).
Rothstein:
The Giants have struggled all season, and
Eli Manning
has been at the forefront of that. What has changed there?
Graziano:
It's basically just a complete bottoming-out on all fronts, starting with the protection. A line that wasn't great to begin with is down two starters and has been playing a rookie at right tackle all season. The blocking help the line used to get from running backs and tight ends disappeared when the Giants let
Ahmad Bradshaw
and
Martellus Bennett
leave in the offseason.
Hakeem Nicks
has had a terrible year at receiver, playing like he is more worried about staying healthy in advance of free agency than trying his best to win. There has been no run game at all for long stretches. And Manning has failed to elevate above his miserable circumstances, missing too many throws and too often looking as though it has all been too much for him. It's been a total whitewash of a season for the Giants' offense. They are the only team in the league that has been shut out even once this season, and they've been shut out twice.
What is the deal out there in Detroit? To my eyes, the Lions should have put this division away by now with
Aaron Rodgers
and
Jay Cutler
having been out for so long. What is the main reason they seem to have squandered such a great opportunity?
Rothstein:
I don't know whether there are enough words to describe all that has gone on, although the simplest way to put it would be consistent end-game meltdowns, either from turnovers, coaching decisions or a defense that suddenly faltered.
A lot of it has to do with
Matthew Stafford
, who has had accuracy issues in the second half of the season. Really, there have been issues everywhere but the lines, from turnovers to coverage breakdowns on defense.
This is a team that should be safely in the playoffs right now instead of needing to win out and get help.
That obviously leads to job-security questions for Jim Schwartz. Although that doesn't seem to be the case for Tom Coughlin, has this season given any indication as to how much longer he plans to be on the sideline?
Graziano:
No, Coughlin is really a what-you-see-is-what-you-get sort of guy. He's completely believable when he insists he's focused on only this week's game and doesn't want to address anything beyond this season. People close to Coughlin insist he won't quit as long as he feels he can still do the job, and there is no indication he feels otherwise. He has as much passion and energy as anyone else in the building (and right now, more than most!). I don't think Giants ownership would fire him, and I'd be stunned if he got into the offseason and decided he was done. As one person close to him told me, "He has no hobbies. There's nothing for him to retire TO." At 67 years old, he understands why the questions get asked, but he doesn't view himself as near the end of a career, I don't think. As of now, he plans to be part of the solution here, and it would be a major upset if he wasn't back in 2014.
One of Coughlin's biggest immediate problems is keeping his quarterback from getting killed. How is that Detroit pass rush looking these days?
Rothstein:
Eli, meet Ndamukong. He will be the guy tossing you to the ground today. In all seriousness, though, the Lions' pass rush has been interesting. The Lions have been great at applying pressure (other than against Pittsburgh) but don't have the actual numbers to show for it, which can be confusing.
What teams have done is bottle the middle on
Ndamukong Suh
and
Nick Fairley
, and have either a tight end or running back help on either
Willie Young
or Ziggy Ansah on the ends.
So to answer your question, it has been OK, but not the consistently dominant force some were expecting.
That leads into my last question. The Lions' run defense, headed by that front, has been one of the best in the league this season. Have the Giants figured any way to solve their run woes?
Graziano:
Andre Brown
was hot for a while when he came back from his injury, and the offensive line was starting to block better for the run. But the past two weeks have seen a step backward, and the way the line is configured now, with starting left guard
Kevin Boothe
playing center and backups rotating in and out at left guard, has left it very vulnerable and one-dimensional. The Giants were able to take advantage of some good matchups with Brown running well, but against tougher fronts like the one they saw against Seattle last week, they struggle. I imagine they will struggle against the Lions' front in the run game as well.
Two straight disappointing games for Stafford and
Calvin Johnson
. Do you expect Megatron to blow up this week and victimize the Giants' secondary?
Rothstein:
Kind of. As cornerback
Rashean Mathis
told me this week, if the Lions don't find their urgency now, they'll never find it this season. So I'd imagine you would see Johnson -- who is Detroit's best player -- at the forefront of that if the Lions have any shot over the next two weeks. Plus, those two drops he had against Baltimore will gnaw at him all week long. I expect he'll have a big game.
Stafford, on the other hand, I'm not as sure about because he seems genuinely rattled this second half of the season. Detroit needs to find what was working for him at the start of the season and bring that back, otherwise its season is over.
.
December, 20, 2013
12/20/13
10:00
AM ET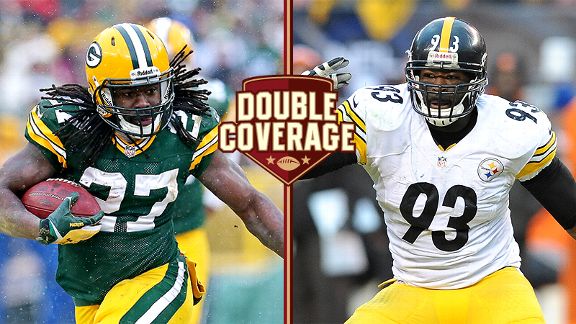 Getty ImagesJason Worilds and the Steelers will have to stop Eddie Lacy -- one of the league's best running backs this season.
The last time the
Green Bay Packers
and
Pittsburgh Steelers
met, the Lombardi trophy was on the line.
In Green Bay, the memories of Super Bowl XLV are alive and well.
In Pittsburgh, all Steelers quarterback
Ben Roethlisberger
said he remembers from that game is one thing: "We lost," he said this week.
The stakes are much different heading into Sunday's game at Lambeau Field. The Steelers (6-8) are in the midst of disappointing season, while the Packers (7-6-1) are fighting for their playoff lives.
Packers reporter Rob Demovsky and Steelers reporter Scott Brown discuss the rematch:
Rob Demovsky:
Let's start with this question. Steelers coach Mike Tomlin said this week that he doesn't regret passing on
Eddie Lacy
in favor of drafting running back
Le'Veon Bell
. Right now, Lacy looks like the better pick, but it's still too early in their careers to say anything definitive. How has Bell fit into the Steelers offense and what's the biggest reason he's only averaging 3.3 yards per carry?
Scott Brown:
Bell has become a big part of the offense and he has added another dimension to it with his pass-catching abilities. He is fourth on the team in receiving, and the Steelers don't just throw screen passes or checkdowns to Bell but also use him as a receiver. Bell is still finding his way as a runner and I'd say his low rushing average is a combination of playing behind a line that is better at pass blocking as well as the adjustment he is making to the speed of the game at this level. Bell has shown flashes, such as when he hurdles a cornerback or plants a defensive end with a stiff-arm, two things he did Sunday night against the Bengals.
Rob, are you surprised at all at the success Lacy has had so early in his career and what has his emergence meant to the Packers offense?
Demovsky
: The only thing that has surprised me about Lacy has been his durability. As everyone around the Steelers knows, there were major questions about his injury history coming out of Alabama. Then, early on his conditioning looked a little off -- although it was not as bad as that unflattering picture of him that was circulating during training camp. Then, he sustained a concussion and missed a game and as half. But ever since he has returned from that, there haven't been any major issues. He's managed to play through a sprained ankle the past two weeks. Whenever they get quarterback
Aaron Rodgers
back, they'll be tough to stop because defenses will have to respect both the run and the pass. That's something Rodgers hasn't really had since he's been the starter.
I've heard a lot of people say they think the Steelers got old in a hurry, especially on defense. Even Roethlisberger looks like an old 31. What do you see in that regard and how much, if at all, has that impacted what's happened to the Steelers this season?
Brown
: Age has certainly been a factor in the decline of the defense this season, but I think it's a bit of a misconception that the Steelers' problems stem from them getting old in a hurry. There is still age on the defense, most notably in the secondary, but the Steelers have quietly gotten younger on that side of the ball -- and will continue to do so after the season. What made the Steelers consistently good before this current stretch is they always seemed to have younger players ready to step in for starters who had passed their prime. Perhaps the best example of this is
James Harrison
and the kind of player he turned into after the Steelers released
Joey Porter
following the 2006 season.
The Steelers are actually pretty young on offense and while Roethlisberger is 31, he has played every snap this season. I think the offense will step to the forefront in the coming seasons while the Steelers retool the defense and Bell and the offensive line get better.
Rob,
Matt Flynn
had trouble sticking with a team before he returned to Green Bay. Is it too strong to say that he saved the season -- or at least prevented the Packers from dropping out of playoff contention after Rodgers went down with the broken collarbone?
Demovsky:
I'm not sure if Flynn saved their season as much as the Detroit Lions' ineptitude saved their season. Same with the
Dallas Cowboys
and
Atlanta Falcons
. It's not exactly like Flynn lit up a couple of defensive juggernauts. That said, it's obvious Flynn has a comfort level with the Packers offense that he did not have in Seattle or Oakland. How else can you explain why he has performed reasonably well here and so poorly in those places?
This is obviously the first meeting between these two teams since Super Bowl XLV. Roethlisberger said this week on a conference call with reporters at Lambeau Field that the only thing he remembers about that game is that his team lost. Given that the Steelers don't have the playoffs to play for this season, does avenging that Super Bowl loss give the Steelers any extra motivation this week?
Brown
: They can say that it doesn't, but I'm sure they would love a little payback for that loss even if a win by the Steelers on Sunday would come on a considerably smaller stage. I have been impressed with how the Steelers have remained focused even though they only have a sliver of hope of sneaking into the playoffs -- and that's if they manage to win their final two games. The Steelers, in fact, could already be eliminated from postseason contention before kickoff Sunday depending on what happens in the 1 p.m. ET games.
If their showing against the Bengals is a guide, the Packers will get the Steelers' best effort no matter what transpires in the early games. The Steelers seemingly had nothing to play for last Sunday night and they jumped all over the Bengals and cruised to a 30-20 win. It was their most impressive win of the season as much for the circumstances under which it came as for the opponent.
Rob, the Steelers offense has really been on the rise since offensive coordinator Todd Haley removed the reins from the no-huddle attack. Given some of the difficulties Green Bay has had on defense do you think it will need to score a lot of points to beat the Steelers?
Demovsky
: The Packers defense gave up 332 yards in the first half alone last Sunday against the Cowboys. They couldn't stop the run -- they haven't really done so since early in the season -- and they seem to have costly coverage breakdowns. When their defense has been at its best is when it has created turnovers. Those two fourth-quarter interceptions of
Tony Romo
sure made up for a lot of defensive mistakes. The same thing happened when they pitched a shutout in the second half against the Falcons the previous week. If Roethlisberger & Co. take care of the ball, then I expect the Steelers will force the Packers to match them in a shootout type of game.
December, 19, 2013
12/19/13
10:00
AM ET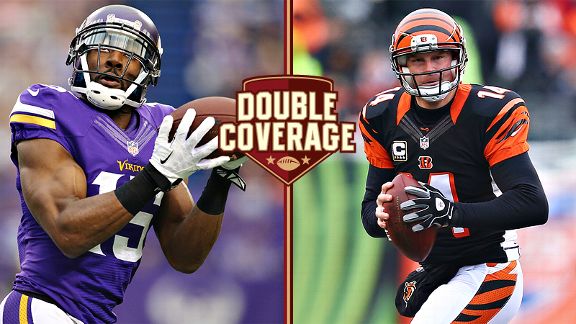 Getty ImagesCan Greg Jennings and the Vikings help spoil the playoff hopes of Andy Dalton and the Bengals?
The
Minnesota Vikings
and
Cincinnati Bengals
are two teams headed in completely opposite directions.
For the Vikings, the 2013 season has been a difficult one, defined mostly by a quarterbacking carousel and the lack of wins because of it. As for the Bengals, the year has been a mostly good one. With home wins over the Packers and Patriots, and road victories against the Lions and Chargers, the Bengals have looked for much of the year like a team poised for a longer postseason run than the past two years. Cincinnati's 2011 and 2012 seasons ended with first-round playoff losses.
If the 9-5 Bengals are even going to get to this postseason this year, though, they first have to bounce back from a Sunday night loss at Pittsburgh and beat the four-win Vikings. Such a win isn't a guarantee. Minnesota has embraced the role of postseason spoiler, rolling NFC East-leading Philadelphia last weekend.
To break down the contest, ESPN.com Vikings reporter Ben Goessling and Bengals reporter Coley Harvey teamed up for this edition of Double Coverage. As this week's visitor, we'll start with Ben:
Ben Goessling:
Andy Dalton
was one of the Vikings' options at QB when they drafted
Christian Ponder
in 2011. The Vikings seem to have given up on Ponder, and while Dalton has been better, it's hard to tell whether he's going to be the answer in Cincinnati long-term. How do the Bengals feel about his progress?
Coley Harvey:
It certainly appears that for now the Bengals feel comfortable with Dalton moving forward. Despite calls at times this season from some groups of angry fans, the Bengals have remained firm in their support of him. No matter how poorly Dalton played, they weren't shopping for another quarterback, and they weren't trying to give backup
Josh Johnson
any shared playing time. In short, they were committed to seeing Dalton through the year. And why not? Although he has had some struggles this season, Dalton has still shown that he can handle the duties of being a starting quarterback. He was the AFC's offensive player of the month for October, and had three consecutive 300-yard passing games during one stretch. If Dalton can't get the Bengals past the first round of the playoffs, it will be interesting to see whether the sides discuss a contract extension, with the 2014 season his last on his current contract.
To your broader point, Ben, that 2011 quarterback class certainly hasn't been all that amazing.
Speaking of progressing quarterbacks, it seems like
Matt Cassel
has given the Vikings some semblance of offensive success in games he's appeared in this season. Why didn't Minnesota stick with him sooner?
Goessling:
That's been the big question all season here, and on Sunday, coach Leslie Frazier finally gave those of us in the media a hint of what we'd expected all along. He said the Vikings always liked Cassel, but had to go through the "process" a little bit, and unfortunately weren't able to win games in the meantime. The "process" I believe he's referring to is the act of evaluating Christian Ponder to a point where the Vikings could be absolutely sure he wasn't the answer at the position. When
Josh Freeman
got inserted into the mix -- and both Frazier and general manager Rick Spielman said the Vikings planned to play Freeman soon -- that complicated things even more. The biggest thing Cassel had working against him was his age (31), and the Vikings didn't necessarily see him as the long-term guy. The question will be whether the quarterback tryouts wind up costing Frazier his job, but now that Cassel's starting, maybe Frazier will be able to make a case to keep his job by showing he can win when he has a competent quarterback.
The Vikings have struggled all year with small, shifty running backs. How do you expect
Giovani Bernard
to fare against them Sunday?
Harvey:
If the Vikings have struggled with those types of backs, then they could be in serious trouble Sunday, Ben. Bernard has been the five-tool player the Bengals thought they were drafting earlier this year and more. Not only can he hit the edge hard on pitches and outside runs, but he has enough power in his smaller body to hit the middle of a defensive line hard and keep going. His most important trait, though, may be what he's able to do as a receiver. You'll see the Bengals use him fairly regularly in the screen game. If the blocking sets up right on those plays, he won't just go for 5 or 6 additional yards. He typically will break off another 10, 15, 20 or more yards after the catch. Once the rookie gets in space, it's like he hits a fourth and fifth gear.
Having said all of that, I do believe he and the more between-the-tackles running
BenJarvus Green-Ellis
will be keys to the game. If they get going, the Bengals have a chance to showcase the balanced offense that has been coming on of late.
Minnesota has obviously had one of the NFL's best rushing attacks the past seven seasons because of
Adrian Peterson
.
Matt Asiata
did a great job of getting to the end zone last week. What kind of challenge do you think he poses the Bengals if he ends up playing in place of Peterson?
Goessling:
Not much of one, based on what we saw last week. Asiata averaged less than 2 yards a carry, and while he runs hard between the tackles, he doesn't offer much else; he doesn't break tackles the way
Toby Gerhart
can, and Peterson's gifts are obviously on a different level from either of those guys. I think Peterson will play, though; he wanted it known last week that he could have gone, and Frazier said after the game that he expected Peterson would be back. The guy prides himself on his pain tolerance, and as hard as he pushed to play last week, I'd be really surprised if he's not in there Sunday.
Assuming he plays, how tough a matchup is this for Peterson? The Bengals have been one of the NFL's best teams against the run this year. What's made them so effective there?
Harvey:
It won't be an easy one for Peterson. This Bengals' defense prides itself on playing physically, emotionally and flowing quickly to the football, particularly when it's on the ground. If this were a normal week, I might contend that as good as Cincinnati's run defense has been that Peterson might still end up surprising them and have a big day. This isn't a normal week, though. The Bengals are coming off a loss that had many questioning their heart and attitude, and they also happen to be playing this game at home. There's something about Paul Brown Stadium this season. Opponents have struggled, and the Bengals have fed off the crowd's energy. Cincinnati is 6-0 at home this season, and the defense is a big reason. If linebacker
James Harrison
(concussion) doesn't play, that could take away a key piece of the Bengals' run defense.
Cincinnati lost punter
Kevin Huber
to a season-ending injury last week and is bringing along his replacement,
Shawn Powell
, this week. He'll be kicking to Minnesota's
Marcus Sherels
. How dynamic is Sherels, Ben? His numbers seem so-so for most of the season, but he does have a return for touchdown.
Goessling:
I think you summed it up nicely there, Coley. Sherels did have the punt return touchdown, but his numbers otherwise have been just OK. The thing the Vikings like about him is that he doesn't make mistakes. He fumbled a punt earlier this year, but he's typically very sure-handed and makes good decisions about when to call for a fair catch. He doesn't get them in trouble by taking unnecessary chances, and special-teams coordinator Mike Priefer is a big fan of his partly because of his decision-making skills. But watch out, though. The Vikings are trying to find ways to get
Cordarrelle Patterson
the ball now that teams have stopped kicking to him, and Frazier mentioned they could give him a look on punt returns. If that happens, the Vikings will have a completely different kind of threat back there on punts.
December, 19, 2013
12/19/13
10:00
AM ET
The
Philadelphia Eagles
have found themselves in the middle of the NFC North race as much as the NFC East race over the past month. Sunday night's game against the
Chicago Bears
is their third game in a row against an opponent from the North.
Two weeks ago, the Eagles and Bears helped each other out. Chicago defeated the
Dallas Cowboys
, pushing the Eagles into first place in the East. The Eagles beat the
Detroit Lions
, opening the door for the Bears in the North.
They won't be helping each other this week. ESPN.com Bears reporter Michael C. Wright and Eagles reporter Phil Sheridan discuss some of the issues facing both teams.
Sheridan:
Like the Eagles, the Bears survived this season when a backup quarterback took over and played unexpectedly well. Unlike the Eagles, who stayed with
Nick Foles
, Chicago went back to
Jay Cutler
and sent
Josh McCown
to the sideline. So, Michael, how is that scenario playing out in the locker room, on the field and among the fans?
Wright:
The reaction is quite a bit different between the fans and the players, obviously. In the immediate aftermath of Cutler's ankle injury on Nov. 10 against Detroit, Bears coach Marc Trestman told the team and the media that Cutler would be the starter again as soon as he was medically cleared to play. The coach never wavered on that declaration, and that was apparent even among the players during McCown's incredible four-game run. In answering questions about McCown during that stretch, Trestman and the players seemed to temper the compliments regarding the backup, making it a point to state that Cutler was still the starter once he would be able to return to action. So within the locker room, the message was always that Cutler would return, but among the fan base, as McCown flourished, the call to make him the permanent starter grew louder regardless of what Trestman and the players said on the record. Cutler certainly helped himself by bouncing back from a bad start at Cleveland to throw for three touchdowns in a win, but there's certainly a segment of the Chicago fan base still calling for McCown to be the man under center.
Phil, Chicago's defense simply can't stop the run, so
LeSean McCoy
is poised to have a pretty big game if the Eagles decide to feature him. What was the deal with McCoy running the ball just eight times against the
Vikings
?
Sheridan:
That was one of the head-scratching strategies Chip Kelly deployed Sunday. It was like stepping into a time machine and watching an Andy Reid-coached game. Kelly's explanation was simple enough: The Vikings were missing four cornerbacks and the Eagles thought they could exploit the inexperienced backups. Then, he said, the Eagles fell behind and had to throw, but McCoy had run for 217 yards the week before, mostly in the second half as the Eagles staged a comeback win. Ultimately, there is no explanation or excuse for eliminating a weapon as dangerous as McCoy from your offense. That's supposed to be the defense's job.
The Eagles did a better job against
Larry Fitzgerald
and
Calvin Johnson
in recent weeks than against the Vikings' deeper, less star-studded receiving corps. How much more dangerous are the Bears now that
Alshon Jeffery
has emerged alongside
Brandon Marshall
? Is Jeffery even better at this point?
Wright:
In the past, teams focused most of their game plan on shutting down Marshall. That involved double-teams and shading coverage over to his side. Teams are now finding they can't do that anymore because if you double Marshall, you put Jeffery in one-on-one matchups that he's going to win the majority of the time. The Bears say teams are now starting to mix it up against those receivers, which makes it important for Cutler to be able to quickly recognize the coverage and distribute the ball accordingly. I wouldn't say Jeffery is the better receiver overall at this point, but I will say that he tracks the ball in the air better than anybody else on Chicago's roster, which has allowed him to make some unbelievable grabs in contested situations. I'd say one player to watch is No. 3 receiver
Earl Bennett
. With all the focus on Marshall and Jeffery, the Bears have made it a point in recent weeks to involve Bennett more in the offense. Remember, Bennett played college football with Cutler at Vanderbilt, so there's chemistry. Bennett has hauled in a touchdown in each of the past two games.
How will Philadelphia's secondary look on Sunday? I know the Eagles are banged up, causing something of a musical-chairs effect in the secondary. At this point, do you know which guys the Eagles will have available to face Marshall, Jeffery and tight end
Martellus Bennett
?
Sheridan:
We don't know yet, Michael. The larger problem is that, even when everyone is healthy, the Eagles' secondary isn't equipped to handle a receiving corps as deep and talented as the Bears' is. The Eagles have the 31st-ranked pass defense for a reason. During their five-game winning streak, they were able to give yards but minimize points allowed by forcing turnovers and playing well in the red zone. That formula fell apart in Minnesota. As for the injuries, the biggest loss would be nickel corner
Brandon Boykin
, who leads the team in interceptions and is a very good cover guy. It looks like rookie safety
Earl Wolff
will be back after missing four games with a knee injury, but it remains to be seen how effective he'll be after missing that much time. If the Bears go three or four wide, the Eagles will be hard-pressed to match up with all those weapons. Their best hope would be to pressure Cutler, but they have struggled against guys who get the ball out as quickly as he does.
There's a chance linebacker
Lance Briggs
returns Sunday night. What impact would that have on Chicago's defense? Can the Bears clamp down on the Eagles or is this thing destined to be a shootout like their win over Dallas two weeks back?
Wright:
I see this one being a shootout. I think Briggs will have an impact on the defense in terms of making sure the calls get in quickly and the defense is lined up correctly. Briggs should also be an upgrade over rookie
Khaseem Greene
, who has filled in on the weak side over the past seven games. But Briggs has been on the shelf for a month and a half, and there's no way he's in football shape yet. So you have to wonder how much he will actually be able to contribute from a physical standpoint. If Briggs plays like the Briggs we all know, then Chicago will have a much better shot at controlling Philadelphia's rushing attack, but I'm not sure he'll return as that guy. So let's count on a shootout. The team with the defense that gets that one or two key stops down the stretch will be the team that comes out on top.
Early in the season, Philadelphia's frenetic pace seemed to be the next new thing, the revolution. Now that the Eagles have basically an entire season under their belts, how have teams adjusted to their pace on offense? Is it still as big an advantage as it seemed to be early in the season?
Sheridan:
It has been an effective tactic at times. The up-tempo approach is one of the reasons Foles replaced
Michael Vick
as the No. 1 quarterback. Vick is obviously a bigger threat in the read-option, but Foles is more comfortable with the pace Kelly likes. Hard to blame Vick, who had a career's worth of offensive football to unlearn. But the pace can hurt the Eagles, too. When they have a couple of three-and-outs in a row, as they did against the Vikings, their defense is back on the field way too quickly. And when a team moves the ball as well as the Vikings did, the defense wears down. It was useless by the fourth quarter. The Eagles defense has been on the field for more plays than any team in the NFL. That is partly a side effect of Kelly's up-tempo offense.