NFC North:

2013 NFL Week 3 Double Coverage
September, 20, 2013
9/20/13
12:00
PM ET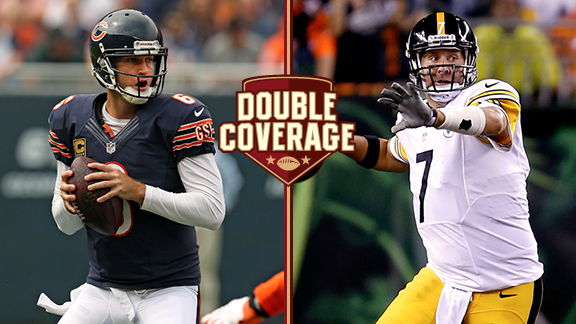 Kirk Irwin/Getty ImagesQuarterbacks Jay Cutler, left, and Ben Roethlisberger lead offenses headed in opposite directions.
ESPN.com Bears reporter Michael C. Wright joins me for Double Coverage as we preview the
Chicago Bears
-
Pittsburgh Steelers
game, which will be played Sunday night at Heinz Field.
Michael, I never thought I'd say Pittsburgh sports fans are fortunate to have the Pirates, but more than halfway through September we have bizzaro world going on here. The Buccos are headed for the postseason and the Steelers haven't come close to resembling a playoff team.
Two touchdowns in two games has Steelers fans firing offensive coordinator Todd Haley already, and yet the biggest issue the offense might face is it simply doesn't have the personnel on that side of the ball.
On the subject of the Steelers' offense, how difficult will Bears cornerbacks
Charles Tillman
and
Tim Jennings
make it for wide receivers
Antonio Brown
and
Emmanuel Sanders
to get open?
Wright:
The thing about those guys is they're not speed burners by any stretch, but they're a pair of crafty veterans. If the Bears decide to match their corners according to who they think is the most dangerous, they'll likely put Tillman on Brown.
In Week 1 against Cincinnati, the Bears matched Tillman with
A.J. Green
, and in the past they've matched him up against Detroit's
Calvin Johnson
. I don't think you'll see a ton of press coverage because the Bears like to play zone, keep everything in front of them and make the offense play dink-and-dunk football until they make a mistake the defense can capitalize on.
I'd say you'll see equal amounts of Cover 2 and a single-high safety look. When the Bears play with a single-high safety, that's when you see the cornerbacks manned up in press coverage.
I know the past four times the Steelers started 0-2, they recovered to finish with a winning record, but how much of a sense of urgency is there in that locker room?
Brown:
The Steelers have done more than just pay lip service to the reality that there better be a sense of urgency in a locker room that is one floor below the library where six Lombardi Trophies are displayed.
The veterans met among themselves before the Steelers' first practice of the week, and I know one message they especially wanted to convey to the younger players is that the 0-2 start is unacceptable.
Free safety
Ryan Clark
also said he wants to make it clear that the Steelers can't depend on turning around their season simply because they are the Steelers. Or that the fact the Steelers have made the playoffs three of the past four times they have opened 0-2 will enable them to start playing better. And he is absolutely spot-on.
The defense has played well overall, but it has yet to force a turnover, and that has to change Sunday night. That leads me to my next question: How well is quarterback
Jay Cutler
playing, and how have he and new coach Marc Trestman meshed?
Wright:
Cutler has improved in each of the past two games, generating passer ratings of 93.2 and 97.2. Cutler is No. 5 in the NFL in completion percentage, and he's brought the team back from late deficits in back-to-back outings.
What's important to note about Cutler is the fact he's finally confident in the protection (remember, he's taken a beating over the past four seasons) and believes in Trestman's system. Cutler has been sacked only once through the first two games. Through the first two games of 2012, he'd been sacked six times. So now Cutler is confident enough to step up into the pocket and find weapons without trepidation about being hit in the mouth by a defender.
As far as Cutler's relationship with Trestman, so far so good. Trestman came into the Bears with the mandate to protect Cutler, which obviously went a long way with the quarterback. Trestman has said the true measure of their relationship will come when they face adversity together.
Speaking of adversity, how significant was the
Maurkice Pouncey
injury to the Steelers' offense?
Brown:
It cost the Steelers the offensive player they could least afford to lose aside from
Ben Roethlisberger
, and Pouncey's season-ending knee injury had a ripple effect.
It devastated the Steelers psychologically, as Pouncey is so respected in that locker room that his teammates voted him a captain at the age of 24. I truly believe the Steelers' season opener might have turned out differently had Pouncey not gotten hurt on Pittsburgh's first possession.
The Steelers were fortunate that an experienced center like
Fernando Velasco
was not on an NFL roster when Pouncey went down. Velasco picked up the offense quickly and played admirably last Monday night in Cincinnati. But he is no Pouncey, who was the unquestioned leader of a young line that is still trying to find its way.
So the Steelers go into their second straight game against an opponent that looks considerably better than them on paper. That said, what should concern the Bears most when it comes to the Steelers?
Wright:
They've definitely got to be concerned about two things: their own pass rush (just two sacks so far, compared to eight last year at this point in the season), and surrendering explosive plays in the passing game (which often come as the result of their lack of a pass rush). Roethlesberger's ability to move and buy time should make things even tougher for the Bears.
The Bears allowed two completions of 40-plus yards in the opener, and six connections last week for gains of 20 yards or more. That's too much. As you know, players such as Brown and Sanders can easily turn those long completions into touchdowns. And given Roethlisberger's mobility, Chicago's secondary can cover the receivers for only so long before they break open.
My final question for you is how much Roethlisberger's mobility is wasted because, as it looked last Monday night, his receivers aren't on the same page with him?
Brown:
Roethlisberger addressed that very question this week, and he said a major reason he and the receivers have been out of sync at times is because opposing teams are disrupting the wideouts' timing.
Neither Brown nor Sanders is particularly big, and opposing cornerbacks are jamming them at the line of scrimmage. The two are simply going to have to fight through it when teams get physical with them.
Roethlisberger's mobility is still an asset, and he could jump-start the offense by using it to extend plays and find one of his receivers down the field. That is one of Roethlisberger's trademarks, and, like most things with the Steelers' offense, there hasn't been enough of that through the first two games.
September, 20, 2013
9/20/13
12:00
PM ET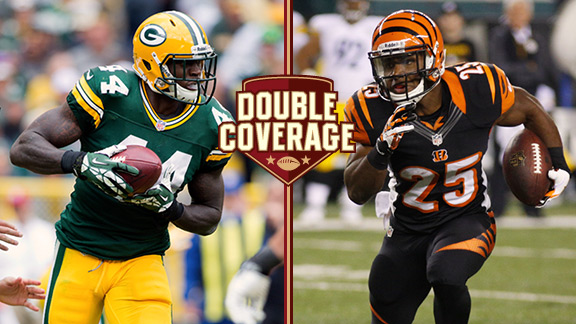 AP Photo Running backs James Starks and Giovani Bernard look to continue the success they had in Week 2.
As the
Green Bay Packers
and
Cincinnati Bengals
enter the third week of the season, both teams are looking to capitalize off Week 2 victories.
The Packers, buoyed by quarterback
Aaron Rodgers
' record-tying 480-yard passing performance, improved to 1-1 with a 38-20 win over Washington last Sunday. The Bengals also moved to 1-1 after being sparked Monday night by rookie running back
Giovani Bernard
's two-touchdown effort in a 20-10 win over the Steelers.
This week, ESPN NFL Nation's Coley Harvey and Rob Demovsky preview the Packers-Bengals game.
Coley Harvey:
Rob, we'll pose the first question to you. If Rodgers' impressive outing last week against Washington was foreshadowing, then defenses across the NFL better buckle up for a long season. I mean, 480 yards? That's special no matter who did it. Still, I have to ask since it seemed like Washington's defense threw in the towel a little early: Were Rodgers' yards simply a function of him being that in sync with his receivers, or was some of it a function of the Packers rightfully beating down a team that eventually didn't want to be there? If it was mostly Rodgers and his receivers, how much do you think they can sustain this high-octane offense?
Rob Demovsky:
I don't know if Washington threw in the towel as much as it's just not a very good pass defense. The Eagles shredded them the week before, too. And then losing safety
Brandon Meriweather
to a concussion in the second quarter against the Packers didn't help. One thing about Rodgers is he's great at taking what the defense gives him. If a defense is going to play tight press coverage, he will work the ball down the field. If the defense is going to play soft and give cushion, he'll use the underneath routes to get his guys the ball, which is what he did against Washington, and his receivers did the rest. He doesn't force very many throws. This year, he seems even more in tune with his receivers.
Randall Cobb
destroyed the 49ers and Redskins from the slot. Also, Rodgers has a lot of trust in tight end
Jermichael Finley
right now.
However, it looks to like the Bengals might have the best pass defense the Packers have faced so far this season. What makes them so effective?
Harvey:
I'd venture to say that it's a combination of things. For starters, the Bengals have gotten decent push from their defensive line in the first two games. The unit's two sacks, though, only tell part of the story. Against Pittsburgh's
Ben Roethlisberger
on Monday, the group was in the backfield often, making it difficult for Big Ben to get comfortable in the pocket. That lack of comfort, combined with the defensive backs' ability to stay with receivers, made it difficult for Roethlisberger to connect deep. Roethlisberger completed only four of his 15 attempts of 20 yards or more.
Stepping away from the passing game, I'm curious about Green Bay's rushing attack. What made
James Starks
go off last week? And how confident are the Packers in him in the event
Eddie Lacy
doesn't go this week?
Demovsky:
Starks has always been a powerful, decisive runner, so it wasn't a total shock to see him rush for 132 yards against the Redskins. After all, Starks was good enough to be their starter in Super Bowl XLV. In fact, he was their starter throughout that playoff run following the 2010 season and had a 100-yard game against the Eagles in the wild-card round. Starks' problem over the years is that he could never stay healthy over long periods of time, but he's been healthy since the beginning of training camp this year and waited for his turn. Packers coach Mike McCarthy was so satisfied with Starks' performance against Washington that he's going to start him against the Bengals regardless of Lacy's status.
Speaking of running games,
Giovani Bernard
sure looked effective against the Steelers on Monday. What dynamic does he add to the Bengals' offense?
Harvey:
Good points about Starks. That's the beauty of the NFL. When hot-shot youngsters come along, it's so easy to forget how good and dominant older players once were -- and in Starks' case, still can be.
I guess you could say the Bengals are going through a similar situation themselves right now with the rookie Bernard coming in and stealing attention from 28-year-old
BenJarvus Green-Ellis
. The elder running back had a rather sneaky-good evening Monday. While most attention was focused on Bernard's two-score night, Green-Ellis rushed for 75 yards, picking up virtually all of them while running between the tackles.
Whenever the Bengals need an explosive play, though, they turn to Bernard. Two Packers who could be important in slowing him are linebackers
A.J. Hawk
and
Clay Matthews
. Football fans in Ohio are probably curious to know how important Hawk, in particular, is to Green Bay's defense. What say you?
Demovsky:
Hawk has been a steady player but has never really lived up to where he was drafted -- fifth overall in 2005 out of Ohio State. He plays in the Packers' base and nickel packages but he comes off the field when they go to their dime package in obvious passing situations. But I'm sure he'll be charged up for the rare opportunity to play in his home state.
September, 19, 2013
9/19/13
2:00
PM ET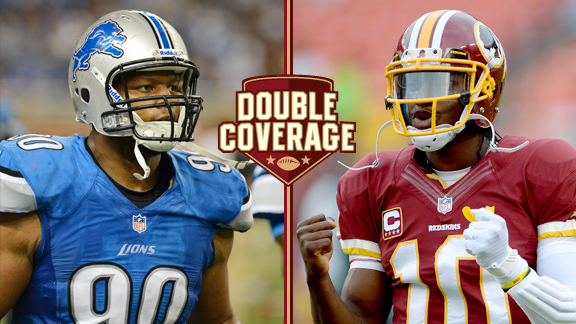 Getty ImagesWill Ndamukong Suh and the Lions defensive line cause Redskins Robert Griffin III issues on Sunday?
The
Washington Redskins
are dangerously close to letting yet another season of big expectations stumble into one of grand disappointment. And the season is only two games old.
If this isn't a must-win for them, it's awfully close. The
Detroit Lions
need a win after a close loss to Arizona -- and to rebound from their disappointing season a year ago. A 1-2 start will not help restore confidence in the Motor City.
Should we mention that Detroit has never won in Washington? The Lions are 0-21 in the nation's capital (and its suburbs).
ESPN Redskins reporter John Keim and ESPN Lions reporter Michael Rothstein break down the key elements to this matchup.
Keim:
Why don't we start up front defensively because that seems to be the Lions strength. The focus on Suh often centers on his extracurricular activities, but how well has he played and why is this unit strong up front?
Rothstein:
John, he's been nothing short of dominant thus far. While he may not have the statistics to back that up, his disruption has been the reason for both of linebacker
DeAndre Levy
's interceptions and he commands a presence in the middle of the defensive line that must be accounted for. Unfortunately for Suh, even in talking about his dominance, his other transgressions pop up because he negated one of Levy's interceptions going for a touchdown with his block on
John Sullivan
that resulted in a six-figure fine. But the Redskins will have to double-team Suh or he'll cause major havoc for Washington's offense.
Sticking with that, the biggest question around Washington is with Robert Griffin III. Considering Suh's dominance, how mobile is RG III these days and will a dominant defensive line cause him major issues?
Keim:
Everyone says he's mobile (and healthy), but we haven't seen it -- the mobility that is. Maybe it's the brace. Green Bay did a terrific job pressuring him up the middle with blitzes and keeping him contained on the outside. He's seeing five-man or more rushes on 42 percent of his drop-backs compared to 21 percent a year ago. The interior of the line is not built to handle big, strong defensive tackles, and that's where Washington could have a problem. This group is better on the move. If the Lions can pressure him with just the front four, the Redskins are in trouble. The question will be whether the Redskins can get their run game going against this group. They're so much better when they can then use play-action passes.
Speaking of which, it sounds like the Redskins aren't the only team with defensive backfield issues. Why have the Lions struggled in the back end?
Rothstein:
They've struggled back there -- kind of. A lot of the focus has been on rookie
Darius Slay
, who has been replaced in his first two NFL games by veteran
Rashean Mathis
. So there are some problems when Slay is in, but with a rookie, that should be expected. The rest of the defensive backfield has been decent.
Chris Houston
is playing well thus far opposite Slay/Mathis, defending three passes, making 11 tackles and not being beaten much by opposing receivers.
Bill Bentley
has had some issues at nickel, though, and it wouldn't be shocking to see teams go at him if Mathis plays more to see if they can lull him into a pass interference call or two.
Speaking of defense, what is going on with Washington? More than 1,000 total yards allowed in the first two games? That almost has to be more concerning than anything related to Griffin, right?
Keim:
Very much so. The offense will come around and showed legitimate signs of life last week, despite the lopsided score. The same can't be said of the defense. It misses too many tackles, and it's not sound against the run. Linebacker
London Fletcher
is not getting off blocks to make tackles, and the defense surrenders too many big plays. Other than that? Things are terrific. The Eagles and Packers forced the Redskins into a lot of nickel looks, and they're struggling to stop the run. Teams are also forcing the Redskins to prove they can tackle in space, and thus far they've failed. They start two rookies in the secondary (assuming they open in nickel), and that's led to breakdowns in communication or technique. Corner
David Amerson
takes his eyes off his work at times. I like his talent, but he's still growing as a player. Safety
Bacarri Rambo
would not have started if they had a legitimate option at free safety. He's made mistakes too. But at least they can improve. I'm surprised how bad this group has played. I thought with
Brian Orakpo
returning they would do better (playing fine down the stretch last season). They need to get a lot of pressure from their four-man rushes or else risk exposing a weak secondary.
I'm guessing the Lions offense is excited to face this group. How dangerous can this group become, and what has
Reggie Bush
added?
Rothstein:
If the Lions can hold on to the ball -- currently the league leaders in drops with eight -- they are extremely effective. Adding Bush to the team gives Detroit two players who can score any time they touch the ball along with
Calvin Johnson
. The question for this week is whether Bush will play. If he is able to come back from a helmet to the knee against Arizona on Sunday, Washington will have some major problems. If not, the Skins will likely do well to focus on Johnson and make
Joique Bell
and the other Lions options beat them. It will be interesting to see how Washington handles Detroit if Bush is healthy. Thus far, opponents have dropped deep against Johnson and given Bush space, but I'd imagine as he continues to be effective, that'll change.
I'll close with this question: What's the vibe around the Washington locker room? I'd imagine there is a bit of surprise of the predicament the team is in. To put it succinctly, is this team just struggling or does it have a dominant performance in it?
Keim:
Michael, the vibe is that they've been here before, having gone 3-6 a year ago only to win seven straight. But if they're honest with themselves, they would admit this is a lot uglier because they haven't been in either game and the defense could have given up 50 last week. Last year, there was only one game in their first nine that they didn't have a chance to win (Pittsburgh). They are surprised, but I think they understand how to handle this situation. It was a resilient group a year ago, and it needs to prove it again now. I think the offense has a dominant performance in it. I'm not sure what the defense has, other than a desire to not face a high-powered offense. As long as Griffin keeps getting his game back, the offense will be fine. There's no simple solution for the defense. It needs to create turnovers and get lots of help from the offense. So one side of the ball is struggling mightily, the other side is working through some rust.
September, 19, 2013
9/19/13
12:00
PM ET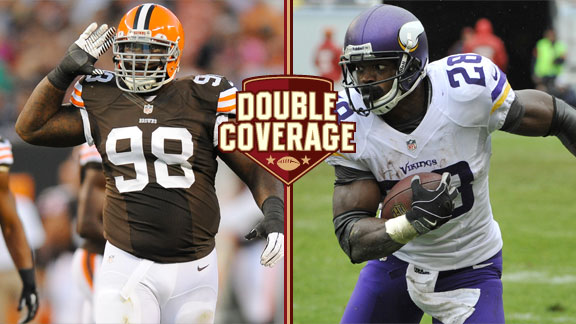 Getty ImagesPhil Taylor and the thus-far stout Browns run defense gets a major test in Adrian Peterson.
A pair of teams desperate for their first victory square off in Minneapolis this weekend when the
Minnesota Vikings
host the
Cleveland Browns
.
The Vikings are coming off a last-second loss in Chicago, after which players were venting about the defensive call that led to the Bears' touchdown with 10 seconds left. Minnesota goes from Minneapolis to London for a date with the
Pittsburgh Steelers
, and the Vikings are in dire need of some positive momentum.
The Browns, meanwhile, have scored just 16 points in a pair of losses, and already have made major changes. They will start
Brian Hoyer
at quarterback this weekend with starter
Brandon Weeden
out because of a thumb injury. Meanwhile, the Browns traded running back
Trent Richardson
on Wednesday, parting with their top playmaker in exchange for the
Indianapolis Colts
' 2014 first-round draft pick.
As the teams meet for the first time since 2009, ESPN.com Vikings reporter Ben Goessling and ESPN NFL Insider Matt Williamson break down the game:
Goessling:
Matt, the last time these two teams faced each other, it was on opening day in 2009,
Brady Quinn
was under center for the Browns and Brett Favre was playing his first regular-season game in a Vikings uniform. How things have changed since then. The Vikings have their own quarterback issues --
Christian Ponder
probably keeps his job for now after a solid second half in Chicago last week, though he's in serious need of some consistency. With Hoyer at quarterback, Richardson gone to Indianapolis and
Josh Gordon
coming back from a suspension, what can we expect from the Browns' offense?
Williamson:
I was feeling optimistic about Cleveland's offense going into Week 3 with Gordon returning and the disaster at the right guard position seemingly resolved. But now Weeden is out and Hoyer is in. That doesn't bother me nearly as much as the loss of Richardson, who should be the foundation of this offense as a runner and underrated receiver. I truly think the Colts got themselves a great young back. But that leaves the Browns in a very precarious situation in the backfield. It is going to be a long year on this side of the ball.
The Vikings had an outstanding rookie class in 2012 and made three picks in the first round of this latest draft. Although there are obvious concerns at the quarterback position, Minnesota has quietly established a fine young nucleus. What roles do you see for its three first-round picks for this game, as well as going forward in 2013?
Goessling:
It's interesting you bring that up, because
Cordarrelle Patterson
's role -- or perhaps his absence -- has been a big topic of conversation this week. He got only five snaps in the Vikings' first game, and had just six as a receiver last Sunday, even after he ran the opening kickoff back 105 yards for a touchdown. He's young, and raw, but he might also be one of the most dangerous players the Vikings can put on the field, aside from
Adrian Peterson
. Coach Leslie Frazier all but called for Patterson to be on the field more during his news conference Monday. The challenge for the Vikings is to either work him into their base offense or go to enough multiple-receiver sets that they can use him, but I don't doubt we'll see him more going forward.
That could be especially important considering how good the Browns have been against the run in their first two games. They've allowed just 59.5 yards per game -- how will they fare against Peterson this weekend?
Williamson:
Well, facing Peterson is obviously the ultimate challenge, and his run blocking, including the tight ends and fullbacks, is quite good as well. But I am very impressed with the Browns' run defense -- and it starts up front. I believe that
Phil Taylor
is on the verge of stardom; his battle with
John Sullivan
, an excellent center in his own right, in the middle of the formation, will be crucial for the success of Cleveland's interior run defense. But the Browns also have very good size at outside linebacker and do a nice job containing the outside run; their second- and third-level defenders get to the ball carrier well.
I mentioned before that the right guard position has been a nightmare, but the Browns' excellent set of offensive tackles,
Joe Thomas
and
Mitchell Schwartz
, also has struggled much more than would be expected against two formidable defenses. As you know,
Jared Allen
is still playing at a very high level. But as some might not know,
Brian Robison
is also excelling this year and
Everson Griffen
is a highly athletic and intriguing end, too. Could Minnesota's defensive ends rule the day?
Goessling:
They certainly could. They struggled in Week 1 in Detroit, as
Matthew Stafford
found
Reggie Bush
on a number of early screen passes before the rush could get home. But the Vikings put consistent pressure on
Jay Cutler
last week, and Allen caused a Cutler fumble that Robison returned 61 yards for a touchdown. The Vikings also have not played at home yet, which means they will have the advantage of the crowd disrupting the opposing offense's snap count for the first time this year. Minnesota has enough issues on the back end of its defense that it needs a strong pass rush to cover up for some of those deficiencies, and if the defensive line can get to Hoyer, the Vikings should be able to slow the Browns down and win the game.
To close this up, what's the biggest thing you think the Browns need to do to win the game? What kind of a shot will they have without Weeden and Richardson?
Williamson:
I really don't like Cleveland's chances at all, but its defense could keep this game close and limit Peterson's production. Of course, Ponder could have a very poor game, or the Browns could score on defense or special teams. But I can't see their offense this week moving the football with any sort of consistency. As Cleveland's front office is doing, it is time to start looking toward next year.