NFC North:

2013 NFL Week 6 Double Coverage
October, 10, 2013
10/10/13
1:00
PM ET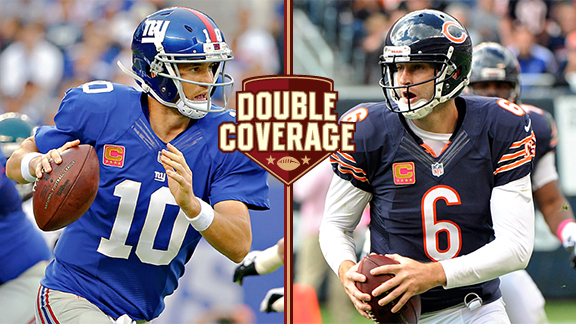 USA TODAY SportsGiants quarterback Eli Manning and Bears quarterback Jay Cutler are having drastically different seasons.
Desperate teams make for intriguing matchups, which might be exactly what we see Thursday night at Soldier Field, when the winless
New York Giants
face a
Chicago Bears
team coming off two consecutive losses.
The Giants are off to their first 0-5 start in more than 20 years, while the Bears hope to get back to the positive vibe created by a 3-0 start. After Thursday, the Bears will play only one game in 24 days as they travel to Washington on Oct. 20, before taking their bye the next week.
ESPN.com's Bears reporter Michael C. Wright and Giants reporter Dan Graziano break down the matchup.
Michael C. Wright:
No team has ever started the season 0-5 and made the playoffs. My guess is everybody in that locker room believes the Giants can be an exception to that. What's the feeling in the locker room and is there genuine belief the Giants can right the ship?
Dan Graziano:
I think the Giants are shell-shocked, Michael. I don't think, in their wildest imaginations, they could ever have expected to be 0-5 with 20 turnovers and a minus-100 point differential. I truly don't believe they know where to put themselves or how to handle this situation. Last week, with a division game in front of them and an 0-4 record, there was talk of being able to fight their way back into things. Now, when you ask them about that, they say they don't even want to think about whether they can make the playoffs. It's all just, "We just need to win a game -- find a way to win one game." Things are truly awful with the Giants on every level right now, and the worst thing about what they've done is the 20 turnovers -- most of any team in the league. With that in mind, I'm inclined to think that Chicago is absolutely the worst possible place in the world for them to have to go on this particular short week. Am I right? Is the Bears defense the same kind of turnover-generating monster it was in the Rod Marinelli days?
Wright:
You might be, Dan. But at the same time, the turnovers seem to have dried up somewhat. The Bears forced 11 takeaways during their 3-0 start, but over the past two games, they've taken the ball away three times, and had no takeaways Sunday in the loss to New Orleans. Given New York's penchant for turnovers, and the fact that takeaways have been ingrained in the culture of this team's defense dating back to the start of the Lovie Smith regime, I'd guess the Bears find a way to force at least one turnover in this game. The Bears lead the league in points off takeaways (55), rank No. 1 in takeaways (14) and since 2004, have returned more interceptions for touchdowns (28) than any team in the NFL. So despite the recent drought, the Bears still field a turnover-producing defense.
Speaking of turnovers, Dan,
Eli Manning
leads the league in interceptions. Why? Is it the result of bad luck, bad decisions? Is he just forcing things and trying to make a play because of the team's dire situation?
Graziano:
After Sunday's game, Tom Coughlin said he really believes Manning is trying to do too much -- to take too much of the responsibility on himself. And honestly, I think that excuse held up a lot through the first four games, as several of the interceptions came when the team was well behind late and he had no choice but to try crazy throws to get them back into it. But Sunday was flat-out weird. The score was 22-21 Eagles early in the fourth quarter when Manning threw his first interception, and it was the first of three he would throw in the span of nine throws. The whole game fell apart as a direct result of those plays, and Coughlin also pointed out that Manning was flagged for three costly intentional grounding penalties in the game. Coughlin called Manning's mistakes "demoralizing" to the team, and it was clear he was uncomfortable criticizing the quarterback with whom he has won two Super Bowls. I think Manning is a quarterback who's just not comfortable right now, and his performance may be a symbol of the team at large as one that finds itself in uncharted territory and unsure of what to do and how to act. This all started because of a horrible offensive line that's still not doing its job, but Manning's errors Sunday were largely unforced, and I think they're evidence that the problems are snowballing.
How about the Bears? They looked so good those first three games and now have lost two. They also looked more vulnerable to the pass rush Sunday against the Saints. The Giants have only five sacks this year and aren't the fearsome pass-rush unit they were in the days when they were able to sack
Jay Cutler
nine times in a single half. But will they get opportunities to turn it around Thursday night? Or do the Bears protect Cutler better than they used to?
Wright:
The protection is definitely better under Marc Trestman, who prioritized keeping Jay Cutler clean from the first day he became head coach. The Saints definitely got to Cutler early on, sacking him three times in Chicago's first 12 plays from scrimmage. But after that, the protection held well and didn't surrender another sack. Give New Orleans coach Sean Payton and defensive coordinator Rob Ryan credit for devising a few blitzes the Bears admitted they weren't prepared for. Chicago's offense is almost exactly the same as the system run by the Saints, so Payton likely gave Ryan some pointers about the scheme's vulnerabilities in protection. The offensive line has given up nine sacks through the first five games. Last year, they'd given up that many in the first two games. So I wouldn't count on the type of performance we saw a few years ago when Cutler absorbed nine sacks in that brutal first half against the Giants. This is a much-improved offensive line, bolstered by an offensive scheme designed to get the ball out of Cutler's hands quickly.
Since we're being a little nostalgic here, what about Tom Coughlin? Under Coughlin, the Giants have been in these types of situations before where they've struggled, but later rebounded wonderfully. Aside from the losses, what's different about the current situation?
Graziano:
I think you see symptoms of decay on the lines, and to me that means the problems run deeper and will take a long time to correct. Yes, they're 0-5, but they're also 3-10 in their past 13 games dating back to the midpoint of last season. The offensive line is a wreck, and they haven't developed replacements for their aging and injured guys. The defensive line doesn't get sacks anymore (
Jason Pierre-Paul
has one in his past 11 games), and they haven't developed anyone in the pipeline on that side either. These are foundational problems that are showing up and killing this team, and the only way to fix them is with a few good drafts. The Giants, I believe, are embarking upon a painful rebuild, and I'm fascinated to see if they can accomplish it while Manning is still in his prime, and take advantage of whatever window he has left.
Coughlin's going to get to coach them as long as he wants to, however, as a result of the two Super Bowl titles. But how about the Bears' first-year coach? What's different there with Marc Trestman at the helm this year?
Wright:
The biggest difference is the level of trust Trestman has established among the players -- Cutler, especially -- in such a short period of time. It has totally changed the culture in the locker room, and you see evidence of it every day at Halas Hall. In the past, coaches rarely stepped foot into the locker room, but now, you see coaches in there every day chatting with the players. Most important, Cutler totally believes in what the team is doing offensively, and that certainly wasn't the case in the past. You can see that in the way Cutler reacts to adversity. In past years, the Bears had a tendency to go into a tailspin when they fell behind or when Cutler was taking sacks or turning the ball over. Not anymore. The Bears put together come-from-behind victories in their first two games, and in the past two losses, the club rallied from horrid starts to get back in serious contention. Trestman is definitely a very cerebral coach, and almost every player in that locker room raves about him being a good listener.
.
October, 10, 2013
10/10/13
12:00
PM ET
One of the biggest games of the week features two of the highest-paid quarterbacks in the NFL.
The
Baltimore Ravens
'
Joe Flacco
signed a six-year, $120.6 million contract just a few months after being named the Super Bowl Most Valuable Player. About seven weeks later, the
Green Bay Packers
'
Aaron Rodgers
agreed to a seven-year, $130.75 million deal.
Over the previous four seasons, Flacco and Rodgers are the only NFL quarterbacks to pass for at least 3,600 yards and 20 touchdowns each season while throwing 12 interceptions or fewer.
But the big-money contracts have been the only similarities between these two quarterbacks this season. Flacco has yet to break out because of inexperienced targets and a struggling offensive line. Rodgers, meanwhile, is on pace for another 5,000-yard passing season.
Will these trends continue for both quarterbacks this Sunday in Baltimore? Here's how Packers team reporter Rob Demovsky and Ravens team reporter Jamison Hensley see the game unfolding.
Jamison
Hensley
: Rob, it wasn't even 20 minutes after the Ravens had beaten the Dolphins and
Terrell Suggs
was already bringing up Rodgers' name. It's clear that he is already on the minds of the Ravens' defense, which has been riding the strength of its pass rush. Suggs is having a career year with seven sacks in five games and
Elvis Dumervil
has three sacks. Will the Ravens be able to get to Rodgers on Sunday?
Rob
Demovsky
: The Lions couldn't get to Rodgers last Sunday, but their pass rush typically comes from the interior. The Ravens, particularly with Suggs rushing from the outside, present an entirely different challenge. You better believe he will have Rodgers' attention. This might be one of those games in which he relies on a lot of short and intermediate routes to get the ball out of his hands quickly and take some pressure off his tackles. He trusts that his receivers will get yards after the catch if he gets them the ball quickly.
Are there signs Flacco and the Ravens' offense will get things rolling, or is this going to be an issue all season?
Hensley
: There have been signs of life from the Ravens' running game, but as we saw in the playoffs, the Ravens will only go as far as Flacco takes them. His numbers -- 57.7 percent completion rate, five touchdowns, eight interceptions -- have been extremely disappointing, although it's not all his fault. If the Ravens want to get their offense rolling, they need the players around Flacco to step up. Flacco's wide receivers are inexperienced outside of
Torrey Smith
, and the Ravens' pass protection has been awful this season. Flacco has been sacked 14 times (only seven quarterbacks have been sacked more) and has been hit 18 times the past two weeks. Baltimore is hoping the addition of left tackle
Eugene Monroe
, who is expected to make his Ravens debut Sunday, will solidify Flacco's blind side.
It seems like the Ravens have caught a break with
Clay Matthews
being out. How will the Packers do in his absence?
Demovsky
: Losing their $66 million linebacker is a blow, no question about it. He's one of only a couple of difference-makers the Packers have on defense. But they appear better equipped to play without Matthews than they were last season, when he missed four games with a hamstring injury. That's largely because of the emergence of
Mike Neal
, a former defensive end who converted to outside linebacker in the offseason. Neal had his best career game, with six tackles and a sack, on Sunday against the Lions. He gave Lions left tackle
Riley Reiff
all kinds of problems, so Monroe will have has hands full. The Packers also have seen some signs of life from last year's first-round pick, outside linebacker
Nick Perry
. He had his first career two-sack game against the Lions.
However, without Matthews, defensive coordinator Dom Capers might have to send more blitzers in order to pressure Flacco. How have the Ravens handled the blitz?
Hensley
: The Ravens are having problems with any type of pressure this season, whether it's blitzes or four-man rushes. The problem has been the lack of productivity on first downs. The inability to consistently run the ball has put the Ravens in second-and-long and third-and-long too often, which makes it very predictable that the Ravens are going to have to throw the ball. Running backs
Ray Rice
and
Bernard Pierce
are both averaging fewer than 3 yards per carry. Rice looked better last Sunday, but his longest run is 14 yards this season. The Ravens are going to remain committed to the run. Their hope is it starts paying off more in the form of big plays.
Speaking of running games, what's been the key to the Packers's ground game this season?
Demovsky
: Coach Mike McCarthy said last week that he believes a running back who makes the right reads and decision is the key to the running game, so that would lead you to believe the improvement has come largely from the running back position. To be sure, rookie
Eddie Lacy
, who rushed for 99 yards against the Lions, is a big part of that. He's a much more powerful runner than they've had in recent years. However, when you consider that they've had two other running backs go over 100 yards --
James Starks
with 132 against the Redskins in Week 2 and rookie
Johnathan Franklin
with 103 in Week 3 against the Bengals -- I'm not sure how you can't give props to the offensive line, too. That group has made major strides.
What kind of a run defense will the Packers be facing Sunday?
Hensley
: It really depends on which run defense shows up for the Ravens. Two weeks ago, the Ravens gave up 203 yards rushing to the
Buffalo Bills
. Last Sunday, Baltimore held the Dolphins to 22 yards on the ground, which is the fourth-fewest rushing yards allowed in a game in Ravens' history. The Ravens were so dominant that Miami just abandoned the run game. You couldn't have two bigger extremes, but the Buffalo game appears to be a temporary lapse. Baltimore is strong up the middle with
Haloti Ngata
and
Chris Canty
and is tough on the edges with Suggs, who is an underrated run-stopper, and
Courtney Upshaw
. Inside linebacker
Daryl Smith
has been the biggest surprise of the defense this season with his ability to anticipate where the ball is going.
The Ravens' secondary, though, is the area of the defense that has struggled the most. The Ravens gave up three 40-yard passes to Miami's
Ryan Tannehill
. Out of all those talented wide receivers, who should the Ravens fear the most?
Demovsky
: All three receivers are dangerous in their own way.
Randall Cobb
works from the slot and is perfect for that role. He runs those short-to-intermediate routes precisely, much the same way
Greg Jennings
and
Donald Driver
used to. Rodgers loves to hit Cobb on the run in the middle of the field, and that attracts a lot of attention from the safeties. That often means either
Jordy Nelson
or
James Jones
could have single coverage on the outside. Nelson works the sidelines like few I've seen. He's already made two catches this year where it didn't look like there was any way he'd be able to stay in bounds, yet he got both feet in before falling out of bounds. Jones is surprisingly effective going deep. For a guy who supposedly doesn't have top-end speed, he rarely gets caught from behind.
The Packers' run defense has made significant improvements over last season and currently rank fifth in the league in rushing yards allowed. How big of a test will Ray Rice be?
Hensley
: Rice hasn't been the same playmaking running back. He hasn't broken a run longer than 14 yards. He's fumbled twice. Some of the blame can go on the offensive line failing to open holes. Rice has also been dealing with a hip injury the past two weeks. But the Ravens need big plays from Rice and it starts with him breaking tackles. There were signs of Rice bouncing back to form last Sunday in Miami. If the Ravens are going to keep up with the Packers on the scoreboard, they're going to need big plays from Rice.
What has been the biggest improvement in the Packers run defense?
Demovsky
: The Packers got bigger across the front line with the return of defensive tackle
Johnny Jolly
from his three-year suspension. When Jolly last played for the Packers in 2009, they led the NFL in rushing defense. With Jolly back, defensive coordinator Dom Capers has used him along with
Ryan Pickett
and
B.J. Raji
up front in obvious running situations to form a massive front in their 3-4 package. Matthews plays a big part in their run defense, too. He's an underrated run defender, so his absence could be a factor there, too.
.
October, 10, 2013
10/10/13
12:00
PM ET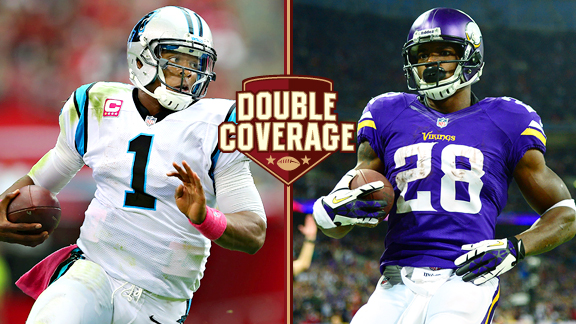 Getty ImagesCam Newton looks to take advantage of a spotty Vikings secondary, but the Panthers may have their hands full with Adrian Peterson.
Both the
Minnesota Vikings
and
Carolina Panthers
have reason to feel they should be better than 1-3 through their first four games of the season. One of those teams will get to stoke its flickering playoff hopes Sunday at Mall of America Field, while the other will fall even further out of the picture.
The Vikings have yet to announce whether
Christian Ponder
or
Matt Cassel
will start, and it might not be long before
Josh Freeman
takes over the quarterback job. But while the quarterback position might be the most intriguing question facing the Vikings at the moment, it probably isn't the most pressing one. That would be in the secondary, where the Vikings are hoping
Chris Cook
and
Jamarca Sanford
return from injuries to help a team that's given up an average of 326 passing yards a game and allowed decisive touchdowns on a pair of last-minute drives.
That could be good news for a Panthers team that's so far had more problems on offense than defense. Carolina has scored just 74 points, turning the ball over nine times and throwing for more than 220 yards just once this season. Third-year quarterback
Cam Newton
-- who came into the league with Ponder in 2011 -- has continued to struggle. Even though the Panthers have allowed the third-fewest points in the league, outscoring opponents through four games, they are trying to keep their season alive, just like the Vikings are.
ESPN.com Vikings reporter Ben Goessling and Panthers reporter David Newton broke down this week's matchup:
Ben Goessling:
David, I have a feeling the Panthers are as steamed about their record through four games as the Vikings are. Both of these teams lost in the waning seconds in Week 2, and neither has gotten good enough quarterback play to help their playoff aspirations after late-season surges in 2012. At first glance, though, this matchup would seem to favor the Panthers, who have done an excellent job of stopping the run and might force the Vikings to lean on their passing game more than they'd like to at home. How do you think this defense matches up against
Adrian Peterson
, and how much trouble can it give whomever starts for the Vikings at quarterback?
David Newton:
This matchup definitely seems to favor the Carolina defense that has played well enough to win every game. Yeah, Arizona scored 22 points. But that's a bit misleading since two came on a safety late in the third quarter and the last came on a real short field with just over two minutes left after Cam Newton's fourth turnover. The Panthers actually improved from 10th to third in total defense, holding Arizona to 250 total yards. Stopping Adrian Peterson will be the challenge, but Carolina has done a good job all season of making opponents pass with a stout front seven that is allowing only 92.3 yards a game. The key in my opinion will be how much pressure the front four can put on whomever the Vikings play at quarterback. Arizona went with three-step drops and quick passes to somewhat negate that and frustrate pass-rushers
Greg Hardy
and
Charles Johnson
. But what has made Carolina successful against the rush and the pass is that it has been able to stop both without using a lot of blitz packages that sometimes opens big holes for big-time backs like Peterson.
While we're on defense, the Vikings haven't really faced a quarterback that can run and throw like Newton this year, and they are ranked 30th on defense. How do you see that matchup?
Goessling:
I don't particularly like it for the Vikings. They probably struggled the most in Week 1 against the
Detroit Lions
, when they were facing a team with a dynamic passing game and a shifty running back (
Reggie Bush
) who did a lot of his damage thanks to missed tackles on the first and second levels of the Vikings' defense. The Vikings also haven't faced much of the read-option in the last two years, and when they did see it -- particularly against
Robert Griffin III
last year -- they struggled with it. I could see Cam Newton giving the Vikings problems with his feet, and
Ben Roethlisberger
also showed how you can burn the Vikings' young secondary by keeping plays alive. If Newton can avoid turnovers (and the Vikings have caused 12 of them this season), he could direct the Panthers' offense to a big day.
Here's the question the Vikings are probably asking themselves, though: How erratic will Newton be? He's part of that 2011 quarterback class (like Ponder) that has struggled quite a bit in the NFL, and as you mentioned, his turnovers cost the Panthers against Arizona. Will he be able to take advantage of the Vikings defense, or will they have their chances to create a few takeaways off of him?
Newton:
Let me clarify first. Newton's turnovers in the fourth quarter did lead to the widening of the margin at Arizona, but he played well early and the Panthers would have been -- should have been -- up by two scores at halftime if
Steve Smith
hadn't dropped a 4-yard touchdown pass and
Brandon LaFell
a first-down pass at the Arizona 15. But Newton has been inconsistent with his throws, particularly if pressured. When given time like he had against the Giants he was able to pick apart the defense. Teams that have pressured Newton, particularly with five-man fronts, have forced him into mistakes. Looking at the numbers, it appears the Vikings haven't done a great job of pressuring quarterbacks. That to me is where this game will be won or lost for Minnesota.
While we're on quarterbacks, what's been wrong with Ponder this year? And if Josh Freeman is the answer, why not go ahead and give him a shot this week?
Goessling:
Ponder's issues have been the same ones we've seen from him during his entire run in Minnesota. It just seems like he's apprehensive about pulling the trigger unless he's got a perfect throwing lane or a receiver who's a step clear of his defender. That throws off his timing, or he gives up and takes off, when a more confident quarterback might be able to hit a receiver for a 15-yard gain in tight coverage. Essentially, he's just not confident enough to make the tough throws, and his interceptions have come when he's flinched and either thrown a pass too early or failed to put enough on the ball. That might be why the Vikings seem ready to move on -- Ponder's issues are about more than his physical attributes, and that's a hard thing to fix.
As for Freeman, the Vikings want to give him time to learn the offense, and while I'm guessing we'll see him in a week or two, particularly if the Vikings lose, my hunch is Matt Cassel will get a chance to build on his Week 4 win this Sunday.
To wrap this up, what do you think is the biggest key to a Panthers victory?
Newton:
I almost laugh when you say key to victory because this team simply doesn't know how to win -- at least on a consistent basis when it matters. This is the third straight 1-3 start and they haven't had a winning record since 2008. But as coach Ron Rivera keeps saying, they are close. But they were close last week and blew countless opportunities to take command in the first half and wound up looking dismal. It seems almost every week it's a breakdown in another area, or multiple areas. If I had to pick one key, though, it would be for the offensive line to give Newton protection. When he has time, the Panthers score points. If they score points, the defense will take care of itself.
How about for the Vikings?
Goessling:
I agree that getting to Newton is a big part of the equation; they need to force him into turnovers and keep him from putting their defense on its heels. This is a team that plays its best when it gets an early lead, can run Adrian Peterson and turn its defensive line loose. If the Vikings do that, they might be able to cover up their issues in the secondary and sneak out with a victory.
.