NFC North:

2013 NFL Week 7 Double Coverage
October, 18, 2013
10/18/13
12:00
PM ET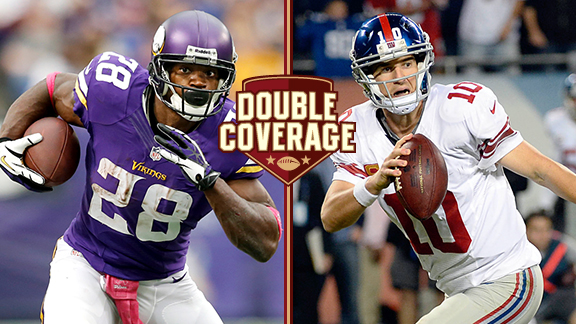 USA TODAY SportsAdrian Peterson and Eli Manning will likely have to carry the offenses on Monday night.
This time last year, the
New York Giants
and the
Minnesota Vikings
were both 4-2 and headed for winning seasons. But as they get set to square off on "Monday Night Football" at MetLife Stadium, the Vikings are 1-4 and the Giants an even more miserable 0-6.
ESPN.com Giants reporter Dan Graziano and ESPN.com Vikings reporter Ben Goessling break down the matchup of NFC disappointments.
Dan Graziano
: Ben, the Giants only have four interceptions and five sacks, so I imagine there were a lot of people in the Vikings locker room interested in playing quarterback in this game. Why did the Vikings pick newcomer
Josh Freeman
, and what do you expect their offense to look like with him running it for the first time?
Ben Goessling:
A lot of this, I think, is an attempt to make a quick-course correction after things with
Christian Ponder
didn't pan out. If it works, GM Rick Spielman can make people forget about the Ponder pick, the Vikings might win a few games to keep coach Leslie Frazier's job and they could have a solution to their quarterback problem for next season. If it doesn't work? They're only out $3 million.
As for Monday night, I'd expect the Vikings to try to limit how much they put on Freeman, so I expect we'll see plenty of
Adrian Peterson
(not that we wouldn't anyway). Considering how bad the Giants have been at stopping the run, that could be a good approach for the Vikings. They're always better when they can get a lead and let Peterson go to work, and they haven't done a good job of controlling the clock so far this season. This matchup might give them a shot to do that.
Now back to the quarterbacks: We know
Eli Manning
has a tendency to turn the ball over, but this has been strange even by his standards. What has been his biggest problem?
Graziano
: Yeah, 15 interceptions in six games is stone-cold ridiculous, and I think it speaks to a general lack of comfort for Manning, who for years has thrived on comfort and routine and familiarity. The Giants started the season with major problems on the offensive line, and they have continued (and in some cases worsened) as the year has gone along.
The inability to establish any kind of run game, combined with the early-season failures in pass protection, rattled Manning, and even though the protection has improved overall and
Brandon Jacobs
managed to rush for 106 yards against Chicago, Manning still just doesn't seem right. He's not making those great, deep sideline throws he used to make, he's missing too many easy throws, and even when he's throwing well, he's staring down receivers and isn't setting his feet. He's just been erratic, and the result the past couple of weeks has been interceptions in the worst possible spots. The Bears didn't really pressure him that much, but he coughed it up anyway in the clutch. Just not himself.
Will he have a chance to get comfortable at all Monday night? How's that Minnesota pass rush these days?
Goessling
: It hasn't been up to the Vikings' normal standards, which has been one of their biggest issues on defense. In the past, the Vikings have been able to survive because their pass rush generated enough pressure to mask issues in the linebacking group and the secondary. But the Vikings have just 10 sacks this season, and what's worse, they've had to bring pressure to get some of them -- three of the 10 are from linebackers
Chad Greenway
and
Erin Henderson
. They shouldn't have to bring extra pressure with
Jared Allen
,
Brian Robison
,
Everson Griffen
& Co. on the defensive line, and having to do so exposes a porous secondary, which might be even worse this week with
Harrison Smith
battling turf toe. So, yeah, I think this might be a good week for Manning to get on track.
The Vikings also haven't been as good as they're accustomed to being against the run. Is Jacobs in line to hurt them, or do you see his game against the Bears being a fluke?
Graziano
: Got to be a fluke, Ben. The Bears are down to third-stringers in the middle of that defensive line, and the Giants' game plan wisely took advantage of it for Jacobs' throwback-to-2008 game. His 106 rushing yards against Chicago represent 26 percent of the Giants' team total for the season. And, perhaps, most importantly, both he and
Da'Rel Scott
injured their hamstrings in that game. Scott has been released, and Jacobs didn't practice Monday. Even if he does play, they may not want to work him as hard as they did in Chicago.
The backups are rookie
Michael Cox
, who doesn't have an NFL carry yet, and
Peyton Hillis
(yeah, same guy), who signed Wednesday and is no sure thing to even get a uniform for this game. New fullback
John Conner
looked to be an asset as Jacobs' lead blocker in Chicago, so it's possible things are getting better for the Giants in the run game. But based on their options for carries, this has to come down to Manning and the passing game getting on track.
But I'd like to get back to something you said in your last answer. Ten sacks! That's twice as many as the Giants have. Oddly, in spite of the overall yardage totals, one thing they have done well on defense is stop the run up the middle. They're allowing just 3.9 yards per carry and have held
Matt Forte
,
LeSean McCoy
and
Jamaal Charles
to 67, 46, 65 yards, respectively, in the past three weeks. Peterson is obviously his own special case, but he didn't have a big game Sunday. Do you think the off-field tragedy was or could be a factor in his performance?
Goessling
: I didn't see that as a huge issue on Sunday, though I'm sure it was on his mind. It had more to do with the Panthers' stout run defense and the inability of an offensive line that was pretty good last season to open holes for Peterson. As a result of that, he has gotten anxious at times, trying to turn every run into a big play, and he just hasn't looked as fluid this year as he did last season. Missing
Jerome Felton
, his Pro Bowl fullback, for the first three games didn't help, but now that Felton is back, Peterson has everything he had last year.
If the Giants have been able to hold the point of attack up the middle, Peterson might not have as much success as I would have initially thought. He's obviously capable of breaking a big run at any time (he has touchdown runs of 78 and 60 yards this season), but we're still waiting for him to control a game like he did so often last season.
To wrap this up, complete this sentence for me: The Giants will win on Monday if they ...
Graziano
: Get some pressure on Freeman and don't turn the ball over more than once. I'm not holding my breath. Thanks, Ben. This has been fun. See you Monday night.
.
October, 18, 2013
10/18/13
12:00
PM ET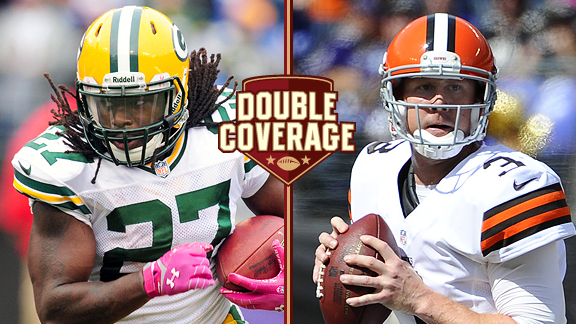 USA TODAY SportsThe Packers may have to rely more on their run game, while Browns QB Brandon Weeden seeks to recover from a forgettable outing.
The
Green Bay Packers
have made it past a difficult stretch in which they played four playoff teams from last season in their first five games.
And they came out of it with a respectable 3-2 record.
The
Cleveland Browns
, despite going from
Brandon Weeden
to
Brian Hoyer
and now back to Weeden at quarterback, also aren't out of anything yet at 3-3.
ESPN.com Packers reporter Rob Demovsky and Browns reporter Pat McManamon break down the matchup:
McManamon:
Rob, what will Green Bay do at receiver with all those injuries, and how much will it affect the offense?
Demovsky:
It's bound to have a significant impact.
Randall Cobb
more or less became the focal point of the passing game last season and if anything, that intensified this season. Sure, he's only a slot receiver and the Packers still have the deep threat of
Jordy Nelson
on the outside. But in this offense, a lot of those quick-hit passes -- especially against teams that blitz -- are directed to the inside. No team used more three-receiver sets than the Packers had until Cobb went down last week against the Ravens. They had used a three-receiver set on 90 percent of their snaps. That number likely will go down beginning this week against the Browns. They might have to rely on their new-found running game more than ever. But with fewer threats in the passing game, teams might be able to load up to stop running back
Eddie Lacy
.
The Browns have offensive issues of their own, Pat. Brandon Weeden's turnovers in the loss to the Lions looked like killers, especially that backhanded, underhand flip. How can they get him to play smarter?
McManamon:
That backhanded, underhand flip will live for a long time in the annals of Cleveland Browns misplays since 1999, Rob. A lengthy list just got longer. As for getting him to play smarter, that's the challenge. And the challenge has gone on for 18 starts. Weeden actually started fairly well as a 29-year-old rookie, but he struggled the end of last season and this season he's played in fits and starts. Which of course won't be good enough against Green Bay. With Brian Hoyer injured, the Browns have few other options -- it's not like
Tom Brady
is on the streets waiting for a job -- so they will stick with Weeden. But you have to wonder whether the Browns aren't coming to the conclusion that what they see is what he'll be when it comes to this 30-year-old quarterback.
Rob, Weeden does not read the rush well and does not move well. The Packers are ninth in the league in sacks. Is that yet another bad recipe for Weeden and the Browns offense?
Demovsky
: It remains to be seen whether they can keep up their sack pace. They did it without
Clay Matthews
last week, getting five sacks at Baltimore, but now they're going to be without another outside rusher,
Nick Perry
. Matthews and Perry each have three sacks on the season, which ties
A.J. Hawk
for the team lead. At some point, those injuries have to slow down their pass rush. The one thing that's helping them is they're playing the run very well, probably the best they have since they led the league in rushing defense in 2009. After shutting down
Ray Rice
last week, they're up to third in the NFL in rushing yards allowed per game (78.2). That's putting teams in a lot of third-and-long situations, which allows defensive coordinator Dom Capers to blitz. That's how Hawk got all three of his sacks against the Ravens.
Perhaps the Browns can help protect Weeden if they run the ball effectively to keep the Packers from rushing like crazy. What are their prospects for doing that?
McManamon:
Running the ball would protect Weeden. But it helps to have a ... well ... a running game. At present, the Browns are in make-do mode with the running game, and as the season continues that will more and more become a problem. Since the trade of
Trent Richardson
the Browns have relied on aging
Willis McGahee
, young
Bobby Rainey
and fullback
Chris Ogbonnaya
. These guys give effort, but there's only so much they can give. McGahee can't run outside, Rainey is inexperienced and Ogbonnaya is what he is. The Browns rank 22nd in the league by running for 86.8 yards per game -- though they are averaging 3.9 yards per carry. If the Browns want to run, they will have to commit to it and pound it out, something I am not sure they can do.
Rob, the Browns have had 19 starting quarterbacks since 1999 -- and it appears next year or soon after that number will hit 20. Do the Packers and their fans realize just how fortunate they have been these many years to have
Brett Favre
and
Aaron Rodgers
?
Demovsky:
They should. There are only a handful of organizations who can say they've had the kind of quarterback transition that the Packers had. The 49ers with
Joe Montana
to
Steve Young
come to mind. Maybe the Colts have that now with
Andrew Luck
following
Peyton Manning
. Not only was Favre a great quarterback, but he was there week in and week out. Rodgers is pretty much the same way. Those guys rarely get injured and when they do, they still play.
Most Packers fans here are still fond of Mike Holmgren, for leading them to the Super Bowl XXXI title. His tenure with as a Browns executive was much shorter. What impact, if any, did he have on the organization?
McManamon
: Let's just say the feelings for Holmgren are a lot warmer in Green Bay -- odd as that sounds -- than in Cleveland. Many fans feel Holmgren's epitaph with the Browns should be "As a president, he was a great coach." A lot of that is frustration at constant losing. Some is frustration at the job title and salary scale Randy Lerner gave Holmgren. More still that Holmgren never took on the coaching duties himself. On balance, Holmgren's tenure was no worse than many, and better than some. He and GM Tom Heckert brought in some good players who are helping the team win now. But with any regime change comes more change, and Joe Banner has gotten rid of some of Holmgren's guys -- notably Richardson. Holmgren's biggest gamble was selecting a quarterback in the first round a year ago who is now 30. But Weeden clearly would have been helped by more continuity in the front office.
.
October, 17, 2013
10/17/13
1:00
PM ET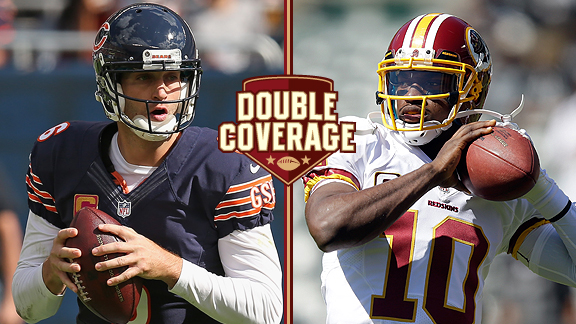 Getty ImagesJay Cutler will use his big targets; Robert Griffin III hopes to count on a stable run game.
The
Washington Redskins
again are facing a must-win game -- that is, if they want to start achieving what many thought they would this season. Otherwise, they're staring at a disastrous season. The
Chicago Bears
don't need to win with the same urgency, but they need to keep pace with Green Bay for first place in the NFC North.
There's no doubt quarterback
Jay Cutler
wants a better showing than what he provided the previous time he faced Washington. Redskins corner
DeAngelo Hall
made the Pro Bowl after the 2010 season in large part because of his four interceptions off Cutler in the road win.
The Bears have not played in Washington since Dec. 6, 2007, when the emotionally charged Redskins, playing shortly after the death of safety Sean Taylor, won 24-16.
This also will be a reunion between Cutler and Redskins coach Mike Shanahan, who drafted the quarterback in Denver in 2006. Cutler threw for a career-high 4,526 yards in his last season with Shanahan (2008). The Redskins tried to trade for Cutler before the 2009 season.
ESPN.com Redskins reporter John Keim and Bears reporter Michael C. Wright take a look at the matchup.
John Keim:
The Bears have a strong-armed quarterback who has some big targets. And the protection seems pretty solid. How dangerous is the Bears' passing game right now, and is this just about talent?
Michael C. Wright:
John, it's a combination of talent and scheme. The Bears prioritized protecting Jay Cutler when new coach Marc Trestman took over. So they went out and signed left tackle
Jermon Bushrod
and left guard
Matt Slauson
in free agency, and drafted right guard
Kyle Long
and right tackle
Jordan Mills
. The Bears also added
Martellus Bennett
to give them a threat down the middle and somewhat of a mismatch against safeties and linebackers. The club already possessed weapons outside in
Brandon Marshall
and
Alshon Jeffery
and in the backfield with
Matt Forte
. So the Bears used a combination of additions and Trestman's West Coast scheme, which emphasizes getting the ball out of Cutler's hands quickly, to get to where they are today.
It's difficult for me to characterize the passing game as "dangerous" right now because we haven't yet seen the Bears put together a full game in that department. What I will say is that Cutler has more weapons at his disposal than he's used to, and he's playing a much more efficient game now than he has in the past.
Sticking with quarterbacks, RG III clearly isn't the same guy, so I've got to ask whether the Redskins are trying to find a way to compensate for that? And if so, what are they doing?
Keim:
That's a tough question to answer because there have been too many games in which they had to change their offense just because they had fallen far behind, especially in the first couple of games, when Griffin was not going to run the ball. He is running much better, so they're now back to what they used to do; it's just a matter of executing.
Griffin ran the zone read-option more Sunday night at Dallas than he had all season -- the Cowboys' playing a lot of man coverage helped open the outside for him. What they need to do is stay in games and run the ball. Their offense looks different at times because they can't use as much play-action, thanks to game situations. They're so much better when they're running well and using play-action. Griffin can operate in the pocket, but it's not what he does best. And he's shown signs of growth in terms of keeping the ball alive and finding receivers and not just running.
I wonder if the Bears will be able to pressure him. I know the Bears have had injuries up front, but it still seems like
Julius Peppers
is a bit too quiet. Is he still a dangerous player?
Wright:
You want to say Peppers is, because it's hard for me to believe he has all of the sudden lost it after back-to-back seasons of 11 sacks or more. But we might finally be seeing Peppers on the decline. In four career games against the Redskins, Peppers has registered just two sacks. So far this season, he's posted only one, which is a concern, considering Peppers collected 3 1/2 sacks in 2012 through the first six games. Certainly, the injuries inside at tackle play a role in Peppers' lack of production. The Bears lost two starters at defensive tackle in franchise player
Henry Melton
(six sacks last season) and his replacement,
Nate Collins
. The club also has played without
Stephen Paea
, who is fighting through turf toe. That has forced the Bears to play starting defensive end
Corey Wootton
inside at tackle, along with a host of unheralded players such as
Landon Cohen
, who signed two days before the club faced Detroit on Sept. 29, and surprisingly played in that game. I think Peppers is still dangerous, but he certainly doesn't look the part now.
It looked to me like
Alfred Morris
was a big part of RG III's success last year, but early on he seemed to struggle. I know lack of opportunity played a part in that because the Redskins were behind. But do you see Morris sort of regaining his form moving forward because he looked better against the Cowboys?
Keim:
I like Morris a lot and it's funny because I didn't think he looked that great against Dallas, with the exception of a few runs (including his touchdown). There's no doubt the coaches want him carrying the ball more, and his main issue this season has been the lack of carries. He's averaging 5.2 yards per carry, but has yet to carry more than 16 times in a game (he had three such games last season). Morris is a better runner than a year ago; a little quicker and more knowledgeable about where to hit the hole. With his patience and vision, he does an exceptional job setting up his blocks. But he needs more work -- and unlike last year, the Redskins have been unable to establish the run early in games. That must change.
The Redskins also need to make more big plays. And I see that the Bears have allowed 29 pass plays of 20 yards or more and have a new middle linebacker this week. Where do you think the Redskins can take advantage?
Wright:
Not only do they have a new middle linebacker, John, but the Bears will line up rookie Jonathan Bostic, a second-round pick. So the Redskins might be able to take advantage there. Bostic turned heads in the preseason with big hits and a couple of impressive plays. But he made too many mistakes, which is why the Bears opted to start
D.J. Williams
at that spot in the first place. As far as the explosive plays in the passing game go, I think they're a function of the team being unable to generate pressure with the front four, which in turn leaves the secondary in coverage for way too long. Chicago's injury situation up front likely means it won't improve the pass rush sufficiently to help out a secondary that has struggled some at the safety position with
Major Wright
and
Chris Conte
.
Let's turn to the Redskins' defense. It pretty much shut down Dallas' high-powered offense Sunday. What can Chicago expect to see?
Keim:
Good question, because the defense was dreadful for the first three games and in the fourth, it faced
Matt Flynn
playing behind a bad line in Oakland. Sunday night was a bit of a surprise, but in reality it's how I expected the defense to play entering the season. They have the talent to be middle-of-the-road, capable of a good game and also a clunker if the matchup is bad. They have used three corners and one safety in the secondary quite a bit, adding speed and giving them the ability to disguise coverages a little longer. They will blitz, from the slot in particular. They will run stunts up front -- linebacker
Brian Orakpo
, end
Stephen Bowen
and nose tackle
Barry Cofield
work well together. They will use five linebackers at times in obvious pass situations, with
Ryan Kerrigan
in a four-point stance. They need to play out of their base defense because their main goal is to stop the run. Their secondary has done a better job lately of limiting big plays, but everything starts with their ability to stop the run. If Forte has a big game, I have a hard time seeing the Redskins limiting this offense enough to win the game.
.
October, 17, 2013
10/17/13
12:00
PM ET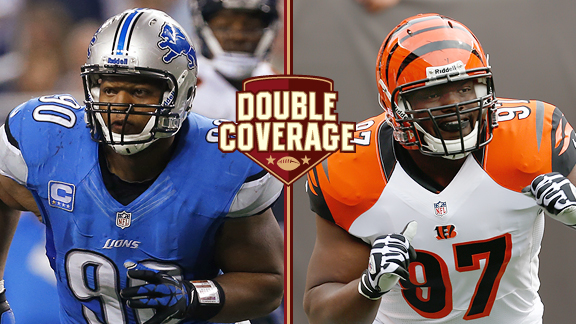 AP PhotoNdamukong Suh and Geno Atkins lead two of the league's best front fours.
The
Detroit Lions
have a chance to solidify themselves for a playoff push. So do the
Cincinnati Bengals
. They may be in different conferences, but this game should be a good test for both teams as to where they stand in the larger picture of the NFL.
Both teams lead their divisions, and both won on the road last week. And in the wacky world of the NFL, Detroit has beaten both teams Cincinnati has lost to (Chicago and Cleveland) while the Bengals have beaten one of the two teams the Lions lost to (Green Bay).
As for this week's game, Bengals reporter Coley Harvey and Lions reporter Michael Rothstein break down what should be an interesting matchup.
Rothstein:
Detroit's cornerbacks continue to either be banged up (starters
Chris Houston
and
Rashean Mathis
) or really young (rookie
Darius Slay
). How much of a problem is
A.J. Green
going to pose in this situation? Does he feast on these matchups?
Harvey:
Given the Lions' lack of experience and consistency at cornerback, that could be a problem for Detroit this weekend. Or maybe it will be a good thing. Here's what I mean: Green does well when he's going one-on-one against particular defensive backs, and he seems to relish having opportunities to expose both really good and really poor corners. Against Buffalo's
Leodis McKelvin
on Sunday, Green caught six passes for 103 yards and a touchdown. He was targeted 11 times as the Bengals went more to their receivers than they had the week before. As good as McKelvin is, though, he's no
Charles Tillman
, whom Green caught nine passes against in Week 1. He also isn't
Joe Haden
, who allowed Green to catch seven balls but held him to just 51 yards in Cleveland three weeks ago. So Detroit having a revolving door at corner could be problematic since Green has had his opportunities against some of the league's best this season.
As far as the inexperience and inconsistency at the position being a good thing for the Lions, I say that because that might prompt Detroit to double-team Green. As we've seen this season, Green struggles when safeties are able to come over the top and help out in coverage against him. If double coverage ends up being a cornerstone of the Lions' game plan, Green could have a tough day.
We'll stick with receivers, and I'll ask you, Michael, about
Calvin Johnson
. We know he's hobbled a bit with that knee injury, but how much do you think he's looking forward to squaring off with a guy like Green, who also is considered one of the game's best receivers?
Rothstein:
Johnson seems to enjoy seeing other top receivers on the field, but he gets more excited to see topflight opposing cornerbacks like
Patrick Peterson
. For instance, he and Peterson swapped jerseys after their Week 2 game.
His knee is a concern. He didn't quite look like himself against Cleveland on Sunday, dropping a couple of passes and not being his typical deep threat. But when he is out there, teams still have to pay extra attention to him because he is the top receiver in the game.
Johnson's presence changes a lot, even if he can't go deep. Detroit can still use him on underneath routes, and he's still likely to draw the double-team or added attention, especially in the red zone. As long as he can do some things and run some routes, Johnson will be out there and making a difference.
That leads me to this question -- how will Cincinnati's defense handle both the questionable health of Johnson combined with everything else Detroit's offense has to offer?
Harvey:
Cincinnati's top corner,
Leon Hall
, likely will draw the bulk of reps against Johnson, even though, at 5-foot-11, he stands some six inches shorter than his 6-5 counterpart. It'll be interesting to see how Hall and the other defensive backs handle the threat of the deep ball, assuming Johnson can run better and get underneath those passes this week. If he's forced to go underneath, the Bengals feel confident their cover linebackers --
Rey Maualuga
,
Vontaze Burfict
and
Michael Boley
-- and cover safety
Taylor Mays
can disrupt short- to intermediate-range passes.
When it comes to stopping
Reggie Bush
in the run game, the Bengals have the type of defensive front that will make such a matchup intriguing. Last week, against the No. 3 rushing offense in the NFL, they gave up 130 yards on the ground but limited
Fred Jackson
to just 35 yards on 10 carries. With fewer big-play threats in the Lions backfield, the Bengals have to be glad they're keying primarily on one running back this week. That said, it'll be interesting to see what they do with linebacker
James Harrison
. He factored heavily in the run defense last week, but with the passing threat Detroit possesses, he likely won't be on the field as much this week.
Speaking of defensive players,
Ndamukong Suh
continues to be a disruptive force in the Lions' interior. Statistically speaking, though, it seems he wasn't very productive last week. Any idea what happened there, Michael?
Rothstein:
That hasn't been unusual. His numbers have not been astronomical, but he picks up double-teams on almost every play, it seems. So just the attention he draws assists everyone. There have been hurries that have led to interceptions as well. He is playing extremely well and very consistent.
Has
Andy Dalton
said anything about Suh this week? They had a prior run-in, and a hit on
Brandon Weeden
last week is being looked at by the league.
Harvey:
Dalton was asked about the body slam Suh gave him during the 2011 preseason opener. But being the polite politician that he is, the quarterback didn't show any ill will toward Suh. Quite the contrary, actually. Like several of his offensive linemen, Dalton simply called Suh a good player and credited the way he passionately plays the game. Though few linemen wanted to make the Dalton-Suh incident a storyline this week, they will have that play in the back of their minds, rest assured.
Oh, and is there a week when the league isn't looking at one of his hits?
Final question for you, Michael. Why does Bush have only one rushing touchdown this year? Is that a function of being part of a good passing offense or something else?
Rothstein:
It's a misleading number, Coley. He would have had two rushing touchdowns in Week 1, but both were reviewed and taken away at the 1-yard line.
Joique Bell
rushed both of them in instead. And he has two receiving touchdowns, so he is finding the end zone. Detroit is more of a passing team that likes to employ screens with its running backs, so that could be why those numbers look strange. But Bush is having a good season, no doubt.