NFC North:

2013 preseason reaction Week 3
August, 26, 2013
8/26/13
12:15
AM ET
If
Christian Ponder
's preseason is done, at least he saved his best work for his closing act.

Ponder went 7-of-9 for 48 yards on his final drive during the
Minnesota Vikings
'
34-14 loss
to the
San Francisco 49ers
on Sunday night, directing a 12-play, 78-yard drive that ended with a 3-yard touchdown pass to
Joe Webb
on a fade route. It was as assertive and accurate as Ponder has looked all preseason, and though most of his completions were underneath the 49ers' coverage, he converted two third downs (one on a 7-yard scramble, the other on his touchdown to Webb), and the scoring pass was Ponder's second of the night. It helped him finish with his best stat line of the preseason -- 17-of-23 for 116 yards, two touchdowns and an interception -- but it also dressed things up after another ragged start for Ponder.
On the Vikings' first play, he threw too far out in front of
Greg Jennings
, who was in single coverage against a safety, on a deep ball off play action. He threw incomplete to
John Carlson
on second down, and fumbled on third down after
Ahmad Brooks
beat
Phil Loadholt
and sacked Ponder. It took the Vikings four series to get a first down, and on their first sustained drive of the night, Ponder floated a couple of high passes -- one caught by Jennings, the other caught by
Stephen Burton
out of bounds -- instead of driving the ball downfield.
He finished the night with an average of 5 yards per pass, not unlike much of the work he did last season, and while the night again came with a significant caveat --
Adrian Peterson
was on the field for just two plays -- Ponder had opportunities to connect on a few big throws that he didn't hit. He'll likely sit out the Vikings' final preseason game Thursday night, which means fans will head into the regular season relying more on faith than concrete evidence that Ponder is progressing.
Here's a rundown of the rest of the night:
It wasn't a good night for the Vikings' secondary. Chris Cook left the game with a groin injury (no small thing, considering all the trouble Cook has had staying on the field) and Josh Robinson spent much of the night dealing with the attention 49ers quarterback Colin Kaepernick paid to him. Kaepernick targeted Robinson four times on a 84-yard touchdown drive, hitting rookie Quinton Patton for a 19-yard gain in the slot against Robinson and connecting with Patton on a 5-yard touchdown after two completions to Marlon Moore against Robinson. If Cook is out for any length of time, the Vikings' big gamble in the secondary could become even riskier with Robinson and rookie Xavier Rhodes starting.
Defensive tackle Kevin Williams left the game with a knee injury after a chop block in the second quarter and will have a MRI on Monday. Early indications are that the injury isn't serious, but defensive end Jared Allen was ticked about the low hit; interviewed on TV he called it a dirty play. Sharrif Floyd also is out for the rest of the preseason after a chop block caused him to have a minor knee operation, and Christian Ballard is still away from the team because of personal issues. The Vikings' lack of depth at defensive tackle, at the moment, looks a bit unnerving.
The Vikings' offensive line had another uncharacteristically bad night. Loadholt offered little resistance to Brooks on Ponder's fumble, and was later flagged for holding. And left tackle Matt Kalil had a pair of unnecessary-roughness penalties, earning one after he joined a shoving match between Brandon Fusco and a 49ers player. Coach Leslie Frazier had to sit Kalil down for a play to cool him off, and after Kalil sustained a knee injury in a poor performance in the Vikings' second preseason game, tonight wasn't a good follow-up.
On Ponder's interception, Burton stopped early on a crossing route and was a step shy of catching the pass. Burton's had a strong preseason, but Ponder's interception might have been a completion had Burton finished his route.
Webb, the former quarterback who is competing with Burton for one of the final receiver spots, provided another reminder of why he might fit in as a pass-catcher. He did a nice job on his touchdown, going up for a jump ball and pulling down Ponder's pass in the corner of the end zone. With his size, strength and leaping ability, Webb could be a nice weapon in the red zone.
As promised, Desmond Bishop got plenty of work, playing with the Vikings' first-team defense in the first half and remaining in the game with the No. 2 defense in the second half. He gave up a catch to Moore when Kaepernick stepped out of the pocket and drew Bishop toward the line of scrimmage, but Bishop stopped Kendall Hunter for a loss and made a nice open-field tackle of D.J. Harper in the fourth quarter. Though he's still struggling somewhat in pass coverage, Bishop can help the Vikings' run defense, and he looked more assertive Sunday than he did against Buffalo.
Before he left with his injury, Cook made an impressive tackle of Chad Hall, coming across the field to drag down the receiver after a four-yard screen pass.
Chad Greenway sold the 49ers on the idea that he was rushing before dropping back into coverage on his second-quarter interception of Colt McCoy. The turnover set up the Vikings' first touchdown, when Ponder hit Zach Line -- who turned a screen pass into a 61-yard touchdown in the Vikings' first preseason game -- for a 1-yard score.
August, 24, 2013
8/24/13
1:18
AM ET
OAKLAND, Calif. -- Maybe
Jay Cutler
, at least for the time being, put an end Friday night to the notion that he's overly reliant on receiver
Brandon Marshall
.

Cutler completed 12 of 21 passes for 142 yards and a touchdown in the
Chicago Bears
'
34-26 victory
over the
Oakland Raiders
, with none of those falling into the hands of Marshall, who dropped two balls and had another one knocked away by
D.J. Hayden
. In a little more than two quarters of action, Cutler produced a passer rating of 93.8, which would have been higher had his targets not dropped a total of five passes over the first two quarters.
But enough of all that. Let's take a deeper look:
What it means:
Even though the Week 3 game goes down as the most important game of the preseason, the Bears can't put too much stock in their strong performance against what was clearly an overmatched Raiders team. The Bears operated efficiently in the passing game (3-of-6 on third down), and the rushing attack tore chunks (110 yards in the first half) out of Oakland. The offensive line protected Cutler well, allowing no sacks. Most importantly, the Bears finished the game without any starters going down to injury.
The Bears can walk away encouraged because of the way they executed what up to that point was the most extensive game plan of the exhibition season. Defensively, the Bears shut down the Raiders, holding them to 0-of-6 on third downs in the first half, with
Isaiah Frey
and
Tim Jennings
picking off passes.
So Chicago's starters ended the exhibition season on a high note considering they won't see any action in the preseason finale at Soldier Field against Cleveland.
Forte on fire:
The movement generated up front by Chicago's zone blocking schemes continues to create monstrous creases for
Matt Forte
to slash through for big yardage. Consider this: over Forte's past four quarters of action, he's averaged 10.7 yards per attempt. He broke off runs of 17 and 35 yards against the Raiders.
Forte reeled off a 58-yard run against San Diego last week to finish with 74 yards on eight attempts.
As a receiving threat out of the backfield, Forte caught two passes for 33 yards against the Raiders, including a 32-yard touchdown in the first quarter.
Rookies poised to start on the right side of the OL?
It certainly looks that way. The Bears gave rookies
Kyle Long
and
Jordan Mills
their first starts of the preseason last week against San Diego, and then gave them another shot with the first unit Friday in Oakland. The rookies produced a strong showing in their debut, and followed up with another productive outing.
They never surrendered a sack on Cutler. The defense applied pressure on Cutler only once, but the rookies weren't responsible. On one occasion the rush came from the left side. Cutler bobbled a snap on another play and was forced to run up the middle to salvage the play.
With Long, a first-rounder, and Mills, a fifth-round pick manning the right side, the Bears rolled up 110 yards rushing (7.3-yard average) in the first half. The staff kept Long and Mills in the game for a couple more series in the second half to give them some extra work.
Considering this outing likely earned Long and Mills starting jobs, it's unlikely they'll receive much, if any, action next week against the
Cleveland Browns
as the club closes the preseason.
If Mills has truly won the starting job at right tackle, it's worth pondering what might happen with veteran
J'Marcus Webb
, who opened training camp as the starter in that spot. Webb's roster spot could be in jeopardy considering the club has other backup options at right tackle in
Jonathan Scott
and
Eben Britton
. Scott's recent knee issues, however, might make the team think twice about parting with Webb.
Short-field scores:
Offenses should certainly take advantage of short-field situations and put points on the board when those situations arise, but that doesn't always happen. With the Bears lately, they've definitely taken advantage.
Against the Chargers last week, Chicago's first-team offense took possession three times on the plus side of the field, and turned that into a total of 13 points. In the win Friday, the Jennings INT of
Matt Flynn
set up the Bears at the Oakland 32. On the very next play, Cutler fired a short pass to Forte, who did the rest of the work en route to the TD.
Diversity on O:
We certainly expected Bears coach Marc Trestman to flash more of the new system considering the fact they'd be using an actual game plan to attack the Raiders. The little glimpse the Bears provided indicated this team will be diverse in terms of formations.
In the first quarter alone, the Bears lined up in a three-tight end formation, and another look in which fullback
Tony Fiammetta
motioned from the slot into the backfield to lead-block for Forte. The club also showed an empty set (no running backs) with Forte lined up in the slot.
Coming into the game, Trestman wanted to be able to attack the Raiders without showing too much of what the Bears will do on offense in the regular season. So keep that in mind. What we saw was only a small peek.
What's next:
The Bears will take the weekend off before cutting the roster to the NFL-mandated 75-player limit on Tuesday. The starters won't see any time in the final preseason game Thursday against Cleveland. But several on-the-bubble players will be given their most extensive action of the preseason in their final bids to secure roster spots.
August, 23, 2013
8/23/13
11:23
PM ET
GREEN BAY, Wis. –
Vince Young
took a major step toward winning the
Green Bay Packers
' backup quarterback job Friday in the Packers'
17-10 preseason loss
to the
Seattle Seahawks
.

The former first-round draft pick outplayed
Graham Harrell
, who couldn't produce any points in five series (including four with the starting offensive line).
Young, who replaced Harrell in the third quarter, led an 11-play, 80-yard touchdown drive on his first possession. Although Young nearly threw an interception on his third play, the 30-year-old showed that if nothing else, he can still make plays with his feet. He scrambled for 21 and 18 yards on the touchdown drive. He also showed he can be effective running play-action bootlegs. He hit tight end
Andrew Quarless
for 16 yards on one such play, which helped set up Young's 1-yard touchdown pass to fullback
Jonathan Amosa
.
Young's second -- and final -- series was a three-and-out that was ruined by a shotgun snap that sailed over his head. He finished 6-of-7 passing for 41 yards. With one touchdown pass and no interceptions, his rating was 130.7. He rushed three times for 39 yards.
Harrell relieved starter
Aaron Rodgers
, who got only one series, and played the entire second quarter behind the starting offensive line, plus another series in the third quarter with the No. 2 offensive line. Harrell's four series with the top offensive line ended with a punt, a fumble by receiver
Jarrett Boykin
, a turnover on downs after
Jermichael Finley
dropped a potential touchdown pass on fourth-and-goal at the 2 and another punt. The ball Finley dropped was not a good throw. Harrell, who was 6-for-13 passing for 49 yards with a 52.4 rating, also overthrew several open receivers. His biggest gain was a 25-yard pass-interference penalty on Seahawks cornerback
Richard Sherman
.
[+] Enlarge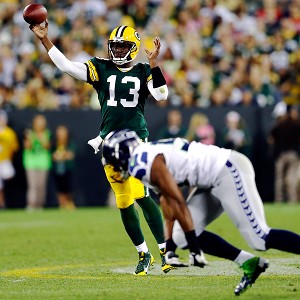 P Photo/Tom LynnVince Young, bidding to back up Aaron Rodgers, led the Packers to their only touchdown Friday.
Here's a rundown of the rest of the night:
In his lone series, Rodgers went 10 plays and completed 4 of 7 passes for 41 yards. It led to a 38-yard Mason Crosby field goal. It was the Packers' only possession of the first quarter. In last year's third preseason game at Cincinnati, Rodgers played the entire first half -- 41 plays over six series. Rodgers took a hard hit on his final play, when center Evan Dietrich-Smith appeared to be late to pick up defensive end Benson Mayowa on a loop move to the inside.

In his preseason debut, running back DuJuan Harris looked rusty and might have reinjured his knee. He rushed for 2 yards on three carries but missed an opportunity for a big gain when he failed to bounce a first-quarter run outside, where there was a big hole. Harris missed the first two preseason games because of a knee injury and then limped off the field in the second quarter and did not return.

Rookie running back Eddie Lacy had no running room. In eight carries, he had minus-5 yards.

Safety Morgan Burnett dropped out after the first series with an apparent hamstring injury.

First-round draft pick Datone Jones, who had played only one preseason snap before Friday because of the ankle injury he sustained Aug. 9 against Arizona, was questionable entering this game after dropping out of practice Wednesday. But after going through warm-ups with no problems, he played a handful of plays in the first half, mostly as the lone defensive lineman in coordinator Dom Capers' "Bat" package, which is a variation of a dime defense.

Outside linebacker Clay Matthews rushing against a running back is a matchup the Packers would take every time. On a five-man rush, Matthews easily beat Seahawks running back Robert Turbin and sacked Russell Wilson.

Starting left tackle David Bakhtiari had a rough series in the second quarter, when he was called for a holding penalty that wiped out an 11-yard run by Lacy and then got beat on an inside move by linebacker Mike Morgan, who tipped a Harrell pass.

Crosby rebounded from his woeful practice Wednesday, when he missed three consecutive field goals. He made his only field goal attempt of the night, the 38-yarder in the first quarter.

Rookie safety Chris Banjo helped his case for the No. 4 safety job. He stopped tight end Luke Willson a yard short of the first-down marker on a third-and-5 pass in the second quarter. He also made a tackle on special teams.

Seahawks receiver Golden Tate, who caught the controversial touchdown pass on the Hail Mary at the end of the Seahawks' victory over the Packers last season, was booed when he took the field to return a second-quarter punt.

Casey Hayward and Jerron McMillian both intercepted Wilson. It was Hayward's preseason debut after missing the first two games because of a hamstring injury.

The first half was very chippy and had several altercations and near fights.

The Packers dropped to 1-2 in the preseason.

The following players were not in uniform: WR Randall Cobb (biceps), CB James Nixon (ankle, knee), S Sean Richardson (neck), CB Tramon Williams (knee), OL JC Tretter (ankle), T Bryan Bulaga (knee), T Derek Sherrod (leg), TE Matthew Mulligan (elbow), WR Jordy Nelson (knee) and DE Jerel Worthy (knee).
August, 22, 2013
8/22/13
11:00
PM ET
Some thoughts on the
Detroit Lions
' third preseason game, a
40-9 win
Thursday night over New England, in extended form for those who have felt short-changed this preseason: