NFC North:

2013 Week 1 Upon Further Review NFC
September, 9, 2013
9/09/13
12:00
PM ET
A review of four hot issues from the Detroit Lions' 34-24 win over the Minnesota Vikings:
[+] Enlarge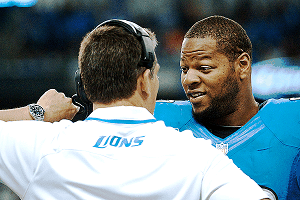 Tim Fuller/USA TODAY SportsSunday wasn't the first time Lions coach Jim Schwartz has seen a play from Ndamukong Suh come under scrutiny.
Ndamukong Suh facing discipline:
Suh's low block on Minnesota center
John Sullivan
eliminated an interception return for a touchdown by linebacker
DeAndre Levy
in the second quarter. Frankly, it isn't that surprising, either. By the time Suh made contact with Sullivan, Levy already was well past Sullivan and on his way to the end zone. Suh told reporters he spoke with Sullivan about the play and that he wasn't going for his knees. Watching it again, it is tough to say. Suh said he was aiming for Sullivan's waist, but it is not clear from the re-watch exactly where Suh was trying to hit Sullivan. Either way, Suh's conduct and play will come into scrutiny again this week.
First-half miscues can't happen again:
In some ways Detroit got away with one Sunday against Minnesota. Yes,
Reggie Bush
was special and the defensive line put a ton of pressure on Vikings quarterback
Christian Ponder
and did a good job tying up
Adrian Peterson
, but Detroit cost itself too many points off of its own errors. Suh's penalty cost the Lions a touchdown because
Matthew Stafford
was intercepted on the following play. A poor hold from rookie
Sam Martin
cost Detroit a field goal. A hold by
Brandon Pettigrew
on a fourth-and-1 call also killed a drive and Detroit had to settle for a
David Akers
field goal. Do those types of things again and it'll cost Detroit a game.
The defensive line could be really good:
For all the discussion above about Suh's questionable play, he and the rest of the defensive line were extremely effective and showed their depth. The Lions rotated eight defensive linemen and although Suh (87 percent) and
Nick Fairley
(75 percent) took the majority of snaps at defensive tackle, there was enough of a break to keep them fresh. Reps were almost equal at defensive end, with starters
Willie Young
and
Jason Jones
each taking 29 of 55 snaps and
Israel Idonije
and
Ziggy Ansah
taking 26 each. If Detroit has success this season, it will be because of this position group. As a group, they combined for three sacks and five of six quarterback hurries and also helped contain Peterson.
Blocking was strong:
Detroit's offensive line had three new starters Sunday -- left tackle
Riley Reiff
, right guard
Larry Warford
and right tackle
Jason Fox
-- but looked like a competent, veteran group that has been playing together for a long time. Add to that Fox played only 15 snaps because of a groin injury and was replaced by
Corey Hilliard
, and it is impressive Stafford was sacked only once and hit four times. Three of those hits and the sack came from
Jared Allen
. Otherwise, Minnesota's defense was well blocked almost the entire game.
September, 9, 2013
9/09/13
12:00
PM ET
An examination of four hot issues from the Bears' 24-21 win over the Bengals:
No pressure from the defensive line:
Let's not get too worried about it now because Bengals quarterback
Andy Dalton
let the ball fly quickly at the end of his drops. Cincinnati's game plan was to get rid of the ball quickly and take what the defense was giving it. That meant lots of dink-and-dunk football.
[+] Enlarge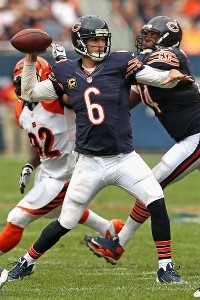 Jonathan Daniel/Getty ImagesJay Cutler and the Bears' offense got off to a slow start, but rallied in the second half to beat Cincinnati.
"There were times we were getting frustrated," Bears defensive tackle
Henry Melton
said. "You couldn't really even get into your pass-rushing moves because the ball was already coming out. They were playing small ball."
Defensive end
Shea McClellin
posted the lone sack, but that play came in a timely fashion considering it was Cincinnati's final drive. Again, this isn't something to be concerned with. Also, after one game, I'm not buying the theory that defensive end
Julius Peppers
has all of the sudden lost it. Trust me, he hasn't.
Slow start on offense:
Left tackle
Jermon Bushrod
said if there was anything he thought the Bears could've done better Sunday, it would have been getting out to a faster start.
The Bears converted on just 2 of 8 third downs in the first half, while generating 97 yards of offense, compared to Cincinnati's 245. The 10 points Chicago scored in the first half came as a result of prime field position from a
Charles Tillman
interception and a 15-yard personal-foul penalty by
Dre Kirkpatrick
, which gave the Bears possession at the Bengals' 44.
"We could always start faster," Bushrod said.
Missed tackles:
Bears defensive coordinator Mel Tucker thought the defense performed well, but admitted the unit missed too many tackles while squandering opportunities to get off the field on third down -- issues that seem to go hand in hand.
In the first half, the Bengals converted on 71 percent of their third downs.
"It wasn't like it was third-and-short. It was third-and-10, third-and-11," linebacker
Lance Briggs
said. "Those are defensive-heavy, winning-percentage downs. That's stuff we have to correct. I missed a lot of tackles today."
No running game:
Matt Forte
averaged 2.6 yards on 19 attempts, which is a little low. But it's to be expected considering the caliber of competition the Bears faced Sunday against Cincinnati's dynamic front seven.
What's important is Forte was able to gain 8 yards on a crucial fourth-and-1 with the game on the line.
September, 9, 2013
9/09/13
12:00
PM ET
A review of four hot issues from the Green Bay Packers' 34-28 loss to the San Francisco 49ers:
[+] Enlarge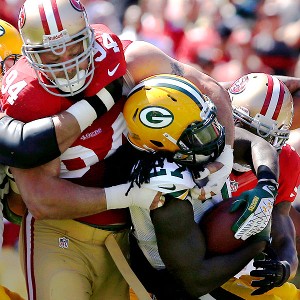 AP Photo/Jeff ChiuThe 49ers were able to hold Eddie Lacy to only 41 yards on 14 carries.
Running in place:
As productive as Packers quarterback
Aaron Rodgers
was in the passing game, throwing for 333 yards and three touchdowns (with one interception on a ball that went off the hands of tight end
Jermichael Finley
), there were little or no signs of life in the running game that coach Mike McCarthy seemed so committed to improving this offseason. The Packers averaged just 3.3 yards per carry on 19 attempts. Rookie running back
Eddie Lacy
didn't have much room to run, but he didn't break many tackles, either, on the way to a 14-carry, 41-yard day that included a lost fumble.
Feast or famine:
An examination of the Packers' possession and drive chart showed it was either feast or famine for Rodgers & Co. On nearly half of their possessions, they failed to gain a first down. They had 13 total possessions in the game. On six of them, they failed to move the chains. Five of those drives ended with punts while the other was Lacy's fumble. Their inability to sustain drives was evident in the time-of-possession battle, which they lost. The 49ers had the ball for 38 minutes and 35 seconds, while the Packers had it for just 21:25. An improved running game would have helped.
Coaching decision
: Perhaps McCarthy will offer a further explanation for his decision to accept an illegal formation penalty on the 49ers in the second quarter rather than taking his chances on a fourth-and-1. On third-and-1 from the Packers' 5-yard line, 49ers running back
Frank Gore
was stopped for no gain before the penalty was announced. Declining it would have meant the 49ers would have to decide whether to go for it on fourth down or settle for a field goal. Instead, McCarthy took the penalty, making it third-and-6 at the 10-yard line. On the next play, offsetting penalties (which were improperly assessed) nullified the play. On the next snap, the 49ers scored a touchdown that put them ahead 14-7.
Defensive help:
The Packers' secondary struggled without a pair of key players -- safety
Morgan Burnett
and cornerback
Casey Hayward
. Both missed the game because of hamstring injuries, and the 49ers attacked the Packers up the middle. Surely, the
Washington Redskins
will look at how
Colin Kaepernick
went after the middle of the Packers defense and threw for 412 yards, and they will try a similar approach Sunday at Lambeau Field. The Packers need the playmaking ability of Hayward, who had a team-high six interceptions last season, and the steadiness of Burnett to shore up the passing defense.
September, 9, 2013
9/09/13
10:14
AM ET
A review of four hot issues from the Minnesota Vikings' 34-24 loss to the Detroit Lions:
[+] Enlarge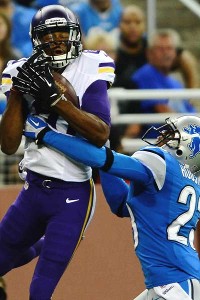 Andrew Weber/USA TODAY SportsWeek 1 proved to be a standout game for Vikings wide receiver Jerome Simpson, who had seven receptions for 140 yards.
Defensive breakdown:
The Vikings gave up 400 yards or more in four of their final five regular-season games last season, but in three of those games, the Vikings were leading in the fourth quarter and teams were trying to rally. On Sunday, however, there was a different issue. The Vikings allowed 201 yards in the first half, permitted the Lions to hold the ball for more than 20 minutes and wound up giving up 469 yards for the game -- more than they allowed at any point last year. It was obvious that they were missing defensive tackle
Kevin Williams
, and they didn't seem to know exactly how to defend all the ways the Lions were using
Reggie Bush
. But missed tackles were an issue (Bush gained a career-high 104 yards after the catch), and the Vikings will see a running back who can burn them in multiple ways again next week, when they face the Bears and
Matt Forte
. Williams should play on Sunday, though, and it was obvious against the Lions how much the Vikings need him.
No pressure for Stafford:
As deep and as talented as the Vikings' defensive line can be, it didn't do much to rattle
Matthew Stafford
. Stafford was pressured on only four drop-backs, and
Jared Allen
's fourth-quarter sack was the only one the Vikings got. Williams can help here, as well, but rookie
Sharrif Floyd
didn't get much of an interior push, and the only heat from
Brian Robison
and
Everson Griffen
came on a couple of plays late in the game after Stafford had released the ball. The Vikings have typically had plenty of success pressuring
Jay Cutler
, but the Lions' offensive line is far from settled, too, and the Vikings missed an opportunity to get Stafford off his game. That was a big part of how the defensive line covered for a young secondary last year. The Vikings couldn't do it on Sunday.
Where is Patterson?
Rookie
Cordarrelle Patterson
looked ahead of the curve during the preseason, but in his first real game, the first-round pick was virtually invisible. He played just five offensive snaps -- one fewer than converted QB
Joe Webb
-- and with
Sam Martin
booming five kickoffs into the end zone, Patterson got to return only two. He caught the only pass
Christian Ponder
threw to him for a 10-yard gain, but for as much as the Vikings praised Patterson's game-breaking potential, they didn't give him much chance to show it against Detroit.
Simpson breaks out:
After a disappointing first year with the Vikings, receiver
Jerome Simpson
had one of the best games of his career on Sunday, catching seven passes for 140 yards, including a diving catch on a 47-yard pass directly over his head. "That's the type of catches that I make," he said. "Those are them Jerome Simpson catches." He had trouble getting separation thanks to a mysterious back injury last year, but if Simpson is healthy, he'd give the Vikings a much-needed deep threat. That was particularly important on a day in which the team didn't use Patterson, and Ponder connected with
Greg Jennings
on only three of the seven passes he targeted toward him.