NFC North:

2013 Week 10 WAS at MIN
November, 8, 2013
11/08/13
3:10
AM ET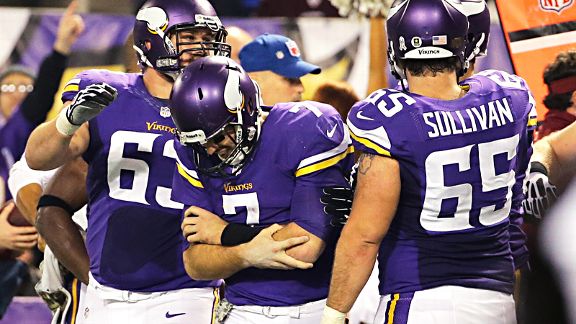 AP Photo/Ann HeisenfeltChristian Ponder dislocated his left shoulder during the Vikings' win over the Redskins.
MINNEAPOLIS -- The last time
Christian Ponder
played this well, the last time he did this much to fan the flickering flames of hope in his ability to be the
Minnesota Vikings
' long-term quarterback, the same thing happened: He got hurt.
Last Dec. 30, as Ponder was leading the Vikings to a 37-34 win over the
Green Bay Packers
to secure the NFC's final playoff spot, he took a helmet shot from
Morgan Burnett
to his right elbow. He finished the game, but his arm swelled up so badly he was barely able to throw a ball 10 yards the next week. He sat out of the Vikings' playoff game at Lambeau Field, missing both his opportunity to start in the postseason and to build some kind of momentum for himself.
The circumstances were similar Thursday night -- during a
34-27 Vikings victory
-- as Ponder rolled to his left, stretching for the pylon in hopes of scoring on a 15-yard run near the end of the third quarter against the
Washington Redskins
. He had recovered from an early, ugly interception on a deep ball to
Greg Jennings
, hitting 16 of his next 20 passes for 164 yards and a pair of touchdowns, benefiting from a game plan that kept the Vikings' offense moving and the ball coming out of Ponder's hand quickly. He looked in control. He looked assertive. He looked like a viable quarterback. There was nowhere near as much at stake for the Vikings, but there might have been even more on the line for Ponder than there was last December.
And whatever equity the quarterback built for himself Thursday night now rests on his ability to return quickly from
a dislocated left shoulder
. He has played reasonably well in the Vikings' past three games, at a time when a small bit of reliability seems enough to secure the starting spot. The first time Ponder got hurt this season, it gave the Vikings a convenient excuse to bench him; this time, players could be heard hoping for him to come back. Now, it would seem, is Ponder's opportunity to create the momentum that has slipped out of his hands so many times in Minnesota.
"I think Christian is really growing," coach Leslie Frazier said. "I'm sure he'll tell you this: It wasn't the right decision to throw that football where he threw it [on the interception]. That did not cause him to go into the tank and have self-doubt. He came back and played some of his best football. So he's growing and maturing as a quarterback."
That didn't sound like something Frazier would say about a quarterback he was planning to sit down anytime soon. The Vikings, once again, seem committed to seeing where Ponder can develop, even if it's only for the moment and even if it's only because they have no better alternative. Offensive coordinator
Bill Musgrave
is putting Ponder in the shotgun more often and calling for a no-huddle offense more regularly because it works for Ponder. The quarterback said he is getting more input into the game plan each week, and he's spent considerably more time in the Vikings' offense than
Matt Cassel
, who replaced Ponder on Thursday night, or
Josh Freeman
. The Vikings seem cautious about going back to Freeman too soon after his ugly performance against the
New York Giants
three weeks ago, and they appear to regard Cassel as their best option to come in as the No. 2 quarterback. Even if Ponder's opportunity hasn't come through the most impressive set of circumstances, it's in his hands now, and he doesn't need to apologize for that.
He does need, however, to hang onto it. If healthy enough, he'll be returning in 10 days for a devil of a matchup: a date with the
Seattle Seahawks
' snarling defense in one of the NFL's toughest road environments.
Percy Harvin
, who screamed at Frazier after Ponder overthrew him on an easy pass last year in Seattle, could be returning from a hip injury and standing on the other sideline.
Some of the decision will be out of Ponder's hands. He said he expects to play against Seattle -- and Frazier sounded hopeful based on the fact the injury is to Ponder's non-throwing shoulder -- but the Vikings' medical staff will have the final call. Still, the team's apparent reluctance with Freeman and its view that Cassel is best used as a backup means the door, somehow, is once again wide open for Ponder, at least for this season.
"I just want to start as many games as possible and stay out there and keep playing," Ponder said. "I'm going to do everything I can to be healthy. The expectation is to go."
At the moment, it seems, Ponder's expectation lines up with the Vikings' hope.
November, 7, 2013
11/07/13
11:33
PM ET
MINNEAPOLIS -- A few thoughts on the
Minnesota Vikings
'
34-27 win
over the
Washington Redskins
on Thursday night:

What it means:
The Vikings improved to 2-7, getting their first win on American soil this season (after winning their first game in London). And just like in that win, they had
Matt Cassel
playing in relief of
Christian Ponder
. The difference here is, the Vikings are probably hoping Ponder will make a quick recovery after one of his best games with the team. He rallied them back from a 27-14 deficit just before hurt his shoulder. That development could throw the Vikings' quarterback situation off again.
Stock watch:
Rising, contingent on his health: Ponder. After throwing an interception on a deep ball for
Greg Jennings
on his second pass of the game, Ponder looked as good as he has in his career with the Vikings. He hit 17 of his 21 passes for 174 yards and two touchdowns, benefiting from a game plan that got the ball out of his hands quickly and let the Vikings' receivers run after the catch. Ponder hit
John Carlson
for a 28-yard touchdown rolling to his left, and looked like he had a 15-yard rushing touchdown to put the Vikings ahead at the end of the third quarter when he left the game with a shoulder injury. The touchdown was overturned,
Adrian Peterson
finished the drive and Cassel quarterbacked the rest of the game. But just like at the end of last season, Ponder got hurt just as he was building some momentum. He'll have nine days to get healthy for the Vikings' next game, but depending on how severe the injury is, that might not be enough time.
Williams:
Defensive tackle
Kevin Williams
had one of the finest nights of his career, bulling through the Redskins' offensive line and collecting 2.5 sacks. It was Williams' first game with two sacks since Oct. 18, 2009, against Baltimore, and it was the third-highest single game total of Williams' career.
Carlson comes up big:
Carlson signed a five-year, $25 million contract with the Vikings in 2012 as part of an attempt to upgrade the team's two-tight-end sets. But Carlson caught just eight passes in his first season with the Vikings, and has been similarly quiet this year. With
Kyle Rudolph
out Thursday because of a fractured foot, though, Carlson caught seven passes for 98 yards, coming just 7 yards short of his career high. Rudolph is expected to miss another month, which could give Carlson a chance to finally show his worth.
What's next:
The Vikings (2-7) have a nine-day break before traveling to Seattle to face the Seahawks.
November, 7, 2013
11/07/13
7:30
PM ET
MINNEAPOLIS -- The
Minnesota Vikings
deactivated guard
Charlie Johnson
for Thursday's game against the
Washington Redskins
, adding him to the list of six players they had already ruled out. That means both
Matt Cassel
and
Josh Freeman
are active for the game, and the Vikings can essentially avoid divulging who their backup quarterback is, unless
Christian Ponder
gets injured or is benched.
Freeman
Cassel
Here's how banged up the Vikings are: They had listed defensive tackle
Letroy Guion
as doubtful for Thursday's game, but put him on their active roster simply because they had already used their seven inactive spots on other players who were injured. Essentially, the Vikings have more injured players than they have inactive designations. Guion likely won't play, and
Sharrif Floyd
is listed as the starting nose tackle alongside
Kevin Williams
.
That point is worth mentioning, because the Vikings have resisted the idea of putting Floyd and Williams on the field at the same time, preferring to play Floyd at three-technique. He has rushed from the nose-tackle spot on some occasions in the nickel package, but hasn't had to play there much against the run. It'll be interesting to see how he fares against a team that likes to run up the middle, and how he'll do against the Redskins' option offense.
Joe Berger
will start in place of Johnson at left guard, and
Xavier Rhodes
will start at right cornerback in place of
Chris Cook
. That's another spot where injuries are forcing the Vikings to use their first-round picks differently than they had planned.
Here is the full list of Vikings inactives: