NFC North:

2013 Week 12 Upon Further Review NFC
November, 25, 2013
11/25/13
8:50
AM ET
A review of four hot issues from the
Chicago Bears
'
42-21 loss
to the
St. Louis Rams
:
Run D still porous:
Zac Stacy
's 11-yard run on St. Louis' first play from scrimmage set the tone for what wound up being a rough day for Chicago's run defense. Two plays later,
Tavon Austin
took a pitch left, reversed field right and juked Bears safety
Chris Conte
to pick up a block to go down the home team's sideline for a 65-yard touchdown. St. Louis ripped the Bears for 82 yards rushing on its first three plays and set a Rams franchise record by finishing the first quarter with 123 yards rushing (100 coming on Austin's running and a 35-yard gain by Stacy).
[+] Enlarge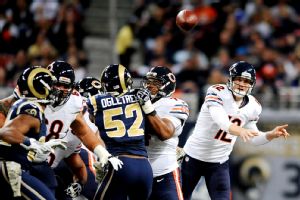 Michael Thomas/Getty ImagesDespite a tough road loss, Bears QB Josh McCown still threw for 352 yards and two touchdowns.
Austin and Stacy joined the company of runners such as
Jonathan Dwyer
,
James Starks
,
Adrian Peterson
,
Reggie Bush
,
Ray Rice
and
Eddie Lacy
, all players to bust runs for gains of 25 yards or more this season against the Bears. Chicago has now given up eight runs for gains of 32 yards or more, including three runs of 40-plus yards.
The Bears talk every week about needing to improve in this area. It's time now to actually do it.
Resilience:
The Bears took a 14-0 punch in the face from the Rams, who scored their first two touchdowns 54 seconds apart, but stayed in the game because of their resilience. After Stacy scored on a 1-yard run to put the Rams up 14-0, Chicago marched 80 yards in 11 plays on the ensuing drive, capped by a
Josh McCown
7-yard scoring strike to
Martellus Bennett
.
When the Rams took a 21-7 advantage at the end of the first quarter, Chicago responded with 5:19 left before intermission with McCown hitting
Brandon Marshall
for a TD pass to pull the Bears within a touchdown, 24-14 at the half. The wheels didn't start to fall off until the final 3:05.
Penalties still an issue:
By halftime last week, the Bears had already topped their season high with six penalties for 61 yards. Chicago nearly topped that in the first half Sunday, as it was flagged five times for 47 yards in the first half. In all, the Bears were flagged 10 times for 84 yards with two calls taking away touchdowns.
The Bears played relatively clean football over the first eight games, but that's obviously changed some over the past two contests. With the Bears still fighting for a postseason spot, one penalty can make the difference in winning or losing. So the club needs to clean up some things.
Josh McCown:
With
Jay Cutler
sidelined, if the Bears are forced to play the backup quarterback another week, McCown certainly inspires confidence. Although McCown threw an interception late in the game, he stood with poise in the face of tremendous pressure all game and delivered the ball accurately despite taking some vicious shots. McCown finished with a passer rating of 102.4 with a pair of touchdowns.
November, 25, 2013
11/25/13
8:00
AM ET
A review of four hot issues from the
Minnesota Vikings
'
26-26 tie
with the
Green Bay Packers
:
Patterson
More work for Patterson:
Rookie receiver
Cordarrelle Patterson
saw his role in the Vikings' offense continue to increase on Sunday. Patterson again started at split end for Minnesota, but moved around the Vikings' offense, being targeted with a team-high 11 passes and catching eight of them for 54 yards. Coach Leslie Frazier said earlier this month that the Vikings couldn't have gone any faster indoctrinating Patterson into their offense than they did, but it's been clear in the last two weeks how much more comfortable with Patterson the Vikings are than they were a month ago. They've lined him up at a number of different receiver positions, and though he's mostly running simple in-breaking routes, he seems to be developing a better connection with quarterback
Christian Ponder
each week.
Cole impresses in debut:
With
Erin Henderson
away from the team because of a personal matter, second-year man
Audie Cole
started at middle linebacker for the Vikings. He blitzed up the middle on the first play of the game, sacking Packers quarterback
Scott Tolzien
("I wasn't mad about it when they [called the blitz]," Cole joked), and ended the day with 13 tackles, including 11 solo stops and two tackles for loss. He also recorded three other hits on the quarterback. Henderson has done a solid job at middle linebacker, and it would seem likely he will return to the spot when he rejoins the team, but Cole's performance could get the Vikings thinking about ways to use him.
Red zone issues resurface:
Both the Vikings and Packers could have spent the night kicking themselves for failing to turn long drives into touchdowns, but for the Vikings, Sunday's game might have signaled a return to the trouble they had in the red zone earlier this year. The Vikings scored touchdowns on just seven of their first 15 red zone trips this year, and after getting touchdowns on eight of their next 11, the Vikings are 2-for-7 in their last two games. They were 2-for-5 on Sunday, but their inability to turn short field goal opportunities into touchdowns might have cost them the game. "We've got to make sure we score touchdowns in the red zone, rather than kick field goals," quarterback Christian Ponder said. "It's disappointing we had [the game] in our hands and it slipped out."
Vikings don't opt for free kick:
The Vikings and Packers played to the first tie under the NFL's new overtime rules, which allowed both teams to possess the ball and kick field goals in overtime. The teams traded punts after that, and when
Marcus Sherels
fair caught
Tim Masthay
's final punt with a second left in the game, the Vikings could have opted to try to win the game on a free kick. But they would have needed to snap the ball from their own 34 and try either a field goal or a drop kick, and while Frazier said the Vikings considered it, he added, "where the ball was placed, it just wasn't a realistic option." The
San Francisco 49ers
tried the NFL's first free kick since 2008 earlier this year; the 49ers were also the last NFL team to make one, when Ray Wersching hit a field goal from 45 yards out.
November, 25, 2013
11/25/13
8:00
AM ET
Four hot issues from the
Detroit Lions
'
24-21 loss
to the
Tampa Bay Buccaneers
.
The turnovers:
This, more than anything, is a big concern. While some players said this hasn't been a problem, that's not entirely accurate. The Lions have now committed three or more turnovers in three of the past four games. Two of those games, Sunday against Tampa Bay and last week against Pittsburgh, were losses. The third, Detroit's come-from-behind win over Dallas, very easily could have been a loss as well. If anything, it's a disturbing trend for Detroit heading into the final five games of the season. Detroit hasn't had a positive turnover margin since Week 6 (Cleveland) and has forced just one turnover total in the past five games. For a defense that was extremely opportunistic early in the season, this is a large reason for its recent struggles.
Burleson
The playoff picture:
Still, all is not lost for Detroit. If the playoffs began today, the Lions would be in and would have a game at Ford Field. As I wrote yesterday, that's the beauty of the NFC North, where even losses or ties can't hurt anyone at this point in time. But Detroit's margin for making the playoffs is essentially division-title-or-bust at this point, and Thursday's game against Green Bay has the feel of an elimination game.
Detroit's run defense:
Lost in Sunday's loss will be how the Lions stopped the run -- again. Detroit hasn't allowed a rushing touchdown since Week 4 against Chicago, and held Tampa Bay to less than 1 yard a carry. Think about that for a second. While Tampa's rushing offense doesn't have a marquee back, the Lions made the Buccaneers completely ineffective on half of their plays (Tampa ran the ball 24 times and passed 21 times). Much of the run defense has to do with the front seven, and the Lions have been superb in this area from the first week of the season on.
Burleson's return:
Veteran wide receiver
Nate Burleson
had a strong performance in his first game back from a broken forearm. He was second in targets (10) to
Calvin Johnson
(14). He had seven receptions for 77 yards and a touchdown. And most important, he made it through the game healthy. Burleson's production shouldn't be a concern the rest of the season. He played what appeared to be a full complement of plays for a receiver and didn't seem to have many issues playing with his protective brace, even if he did continue to pick at it throughout the game. He fumbled once, but he admitted he was carrying the ball too loosely in that scenario. If Detroit is going to make the playoffs, the Lions need similar production on a weekly basis from Burleson.
November, 25, 2013
11/25/13
8:00
AM ET
GREEN BAY, Wis. -- A review of four hot issues from the
Green Bay Packers
' 26-26
tie
against the
Minnesota Vikings
on Sunday:
Too early for two:
Mike McCarthy became the latest in a long line of coaches who made the mistake of trying a two-point conversion too early in the game. The Packers coach made the call with 11:42 remaining after
Eddie Lacy
's 3-yard touchdown run cut the Vikings' lead to 23-13. McCarthy gave away one sure point, and quarterback
Matt Flynn
couldn't convert on a throw to tight end
Andrew Quarless
. The Packers got two more possessions and scored a touchdown (and kicked the extra point) with 3:30 left and then kicked a field goal with 46 seconds left. That field goal, which forced overtime, would have been the go-ahead points had McCarthy gone for the PAT earlier. "I think once you cross that fourth quarter like you've got to look at the whole picture -- how many series were available to you at that time, obviously what was going on on the headsets just getting ready for each series on offense, the way they were running the football on defense, you're playing at home is a positive because you've got to the crowd behind you," McCarthy said. "I'm comfortable with the decision. We had a good play. Frankly, I wish had a couple more reps in that play; I think it would have been a little clearer for [Flynn]. So I thought it was a solid decision."
[+] Enlarge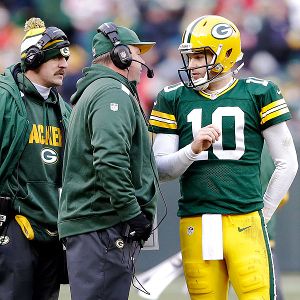 Tom Lynn /Getty ImagesMatt Flynn has a better grasp of the Packers offense than Scott Tolzien.
More for Flynn:
It didn't take long for Flynn to show how much better versed in the Packers offense he is than
Scott Tolzien
. On the second play of Flynn's first series in relief of Tolzien in the third quarter, he had a run-pass option play and checked to the run. The play went for 34 yards when
James Starks
ran off right tackle. On the next series, the Packers went to the no-huddle offense, something they did with Tolzien only in two-minute situations. "I've always been comfortable here in this offense making the checks, making the audibles," Flynn said. "I kind of know what the coaches are looking for run-wise. Definitely need to study and get more familiarized with what we're trying to get accomplished but there was definitely, they gave me the freedom. They said, 'Are you comfortable with no-huddle?' And I said, 'Yeah, let's get it rolling.' We had some success doing that. But not enough." Though McCarthy wouldn't commit to a starting quarterback for Thursday's game at the
Detroit Lions
, it's hard to imagine him not going with Flynn if
Aaron Rodgers
is unavailable again because of his broken collarbone.
Lacy bounces back:
The Vikings stacked the box against Lacy just like the
New York Giants
did a week earlier when they limited him to just 27 carries on 14 yards. This time, Lacy was a tackle-breaking machine against a similar defensive strategy by the Vikings. More than half of his yards came after contact. According to ESPN Stats & Information, 56 of Lacy's 110 rushing yards came after contact. His 4-yard gain on fourth-and-1 in the fourth quarter was made even more impressive by the fact that he was first hit 2 yards behind the line of scrimmage. Lacy also caught a season-high six passes for 48 yards, giving him 158 total yards from scrimmage. Lacy had to leave the game late in the overtime period after he had problems with his asthma, but his tackle-breaking ability elicited some of the loudest cheers from the fans at Lambeau Field and provided a boost of energy for the offense. "I think it lights a spark under Packer Nation," fullback
John Kuhn
said. "You hear the fans get riled up after something like that so if it jacks the fans up, you know our sideline is going to be happy."
Up-and-down defense:
The Packers had a season-high six sacks, including
Clay Matthews
' first two-sack game of the season, and they didn't have any major coverage gaffes that led to big plays like they did against the Giants. Then again, they were playing against
Christian Ponder
, one of three Vikings quarterbacks to play this season. But as has been the case with this defense this season, there's almost always one major weakness. This time, it came against the run. Missed tackles were a killer. It's one thing to give up 146 yards rushing to
Adrian Peterson
, but it's another to let
Toby Gerhart
get 91 more on only eight carries. On the second-half drive in which the Vikings kicked a field goal to take a 23-7 lead, it was worth wondering whether the defense had mailed it in. "You're going to have your missed tackles against AP," Matthews said. "It always seems that he's good enough to exploit you when you're out of gaps. And that's kind of been the theme whenever we've given up too many yards rushing. I'm sure that'll be addressed. You know he's going to make his plays but not that many."

NFC NORTH SCOREBOARD
Thursday, 9/4
Sunday, 9/7
Monday, 9/8