NFC North:

2013 Week 13 Upon Further Review
December, 2, 2013
12/02/13
8:00
AM ET
A review of four hot issues from the
Chicago Bears
'
23-20 loss
to the
Minnesota Vikings
:
Cutler
McCown
Cutler's return:
Backup quarterback
Josh McCown
performed well in relief of
Jay Cutler
, completing 23 of 36 passes for 355 yards and two touchdowns. And while the team will gladly welcome back Cutler, there's still got to be at least some concern about the potential for the starter returning to the lineup rusty next Monday night against the
Dallas Cowboys
. Cutler has played in just one game in the past five weeks, and hasn't played an entire contest since Oct. 10. So in addition to the rust factor, there's also got to be a little trepidation about the quarterback's conditioning level. So if the plan for Cutler is to bring him back for the Dec. 9 game, the Bears need to work overtime repping the quarterback to knock off some of the rust while making sure he's in condition to go all four quarters without any drop off, because fatigue causes mistakes. At this point, the Bears can't afford many more.
Front four:
What a difference a couple of players make on the defensive line. Recent addition Jeremiah Ratliff made his Bears debut, and the team also welcomed the return of defensive tackle
Stephen Paea
. The Bears started Sunday's game with Paea and
Corey Wootton
inside at the tackles with
Julius Peppers
and
Shea McClellin
on the outside before bringing in Ratliff with 10:57 left in the first quarter. The addition of Ratliff allowed for some creativity with the lineup. At times, the Bears kicked Peppers inside to play alongside Ratliff with Wootton and McClellin outside at the ends. The Bears scored sacks on each of Minnesota's first three drives, with two coming from Peppers and another one split behind Paea and nickel corner
Isaiah Frey
. Peppers finished the game with 2.5 sacks.
Run D:
The Bears applied pressure to
Christian Ponder
on passing downs, but the defense's futility in stopping the run emerged once again with
Adrian Peterson
and
Cordarrelle Patterson
shredding the unit. Peterson gained 60 yards on his first eight carries. With a 33-yard score on his first carry, Patterson became the second receiver to line up in the backfield against the Bears in two weeks and bust a long touchdown run. (St. Louis'
Tavon Austin
scored on a 65-yard run on his first attempt of the game last week.) The coaching staff places the blame mostly on missed run fits, but in some cases, players are just being beaten physically by the opponent.
In addition, the staff constantly discusses the need to stop teams from hitting the Bears for large chunks of yardage, yet the defense hasn't responded. In addition to Patterson's 33-yard run, Peterson broke a 23-yard gain in the first quarter and finished with 211 yards, averaging 6 yards per attempt.
Jeffery a major factor:
Second-year receiver
Alshon Jeffery
produced his fifth 100-yard outing of the season, hauling in 11 passes for 245 yards, including an 80-yard touchdown that made him the club's first 1,000-yard receiver of the season. Jeffery finished with two touchdowns on the day.
The Bears fantasized in the past about owning a true pick-your-poison scenario with their receiving corps, and it appears they've finally made that a reality with Jeffery and
Brandon Marshall
. This should be an exciting duo for at least the next couple of years; especially if rookie
Marquess Wilson
blossoms the way the club expects he will, and provides a threat in the slot.
December, 2, 2013
12/02/13
8:00
AM ET
A review of four hot issues after the
Minnesota Vikings
' 23-20
win
over the
Chicago Bears
:
Peterson wills his way past Bears:
Adrian Peterson
might not have all of his breakaway speed as he plays with a strained groin, but the performance he turned in on Sunday was the kind of tour de force he churned out so often in the second half of his MVP season a year ago. Peterson ran for 211 yards against a steady diet of eight- and nine-man fronts; he faced at least eight defenders in the box on 24 of his 35 carries, according to ESPN Stats and Information, and averaged more yards per carry with eight or more in the box (6.1) than he did against seven defenders or fewer (5.8).
[+] Enlarge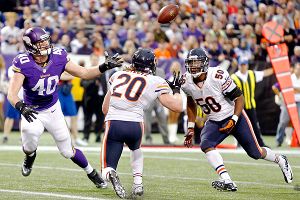 Bruce Kluckhohn/USA TODAY SportsRhett Ellison's tipped ball for an interception was one of his two crucial plays that could have cost Minnesota the game.
QB decision looming:
The Vikings will wait to see how
Christian Ponder
recovers from a concussion as they try to make a decision on their quarterback for Sunday's game in Baltimore, but
Matt Cassel
once again had the Vikings' offense running smoother than Ponder has at many points this year. Cassel threw for 243 yards, and handled extra pressure better than either Ponder or
Josh Freeman
has this season. He hit 11 of his 17 throws for 148 yards and a touchdown against five or more pass-rushers, according to ESPN Stats & Information. His completion percentage against such fronts (65.9 percent this season) is better than Ponder's (61.9 percent) or Freeman's (33.3 percent). Cassel could be competing with either Ponder and Freeman, or just Freeman, to play next week against the Ravens, but he did enough to possibly get another start.
Special teams confusion:
The end of Sunday's game brought a number of odd special teams situations that seemed to confuse the Vikings. First, after
Blair Walsh
tied the game in regulation, the Vikings kicked deep to
Devin Hester
, who returned the ball 57 yards and might have scored if Walsh hadn't angled him out of bounds. Coach Leslie Frazier admitted after the game the Vikings shouldn't have kicked to Hester, adding they expected him to down the ball in the end zone like he had with Walsh's other deep picks. When the Bears tried a 67-yard field goal on the final play of regulation, the Vikings hurried
Cordarrelle Patterson
out to return the kick, barely getting him on the field in time. And then, after
Rhett Ellison
's face mask penalty wiped out Walsh's would-be game-winning field goal in overtime, the Vikings' field goal unit stayed on the field before the offense came back out to try to get Walsh closer than 54 yards on third down. Frazier said the Vikings wanted to get 4 more yards for Walsh, but Peterson lost three and Walsh missed from 57.
Ellison gets "elephant off my back:"
Had the Vikings lost, Ellison likely would have worn much of the blame; he couldn't control what might have been a touchdown pass from Cassel with less than five minutes to play. He wound up tipping the ball toward the Bears' defense, where
Khaseem Greene
wound up intercepting it and running it back to midfield. Then, Ellison's face mask penalty negated Walsh's field goal, setting off a bizarre scene in which referees sorted things out amid postgame fireworks. Wide receiver
Greg Jennings
had to be pulled back from the tunnel up to the Vikings' locker room. Asked what he was thinking after the mistakes, Ellison replied, "That I really screwed the team over and that I made a big mistake." And when Walsh hit the game-winning field goal, Ellison said it was "like an elephant off my back. I don't know. It was just a miracle, I guess."
November, 29, 2013
11/29/13
8:00
AM ET
Four hot issues from the
Detroit Lions
' 40-10
win
over the
Green Bay Packers
.
Defensive line domination:
It was the type of performance Detroit had been waiting all season for. The Lions had built this defensive line, with
Ndamukong Suh
and
Nick Fairley
as their anchors, figuring this type of game would be what they would see with regularity.
[+] Enlarge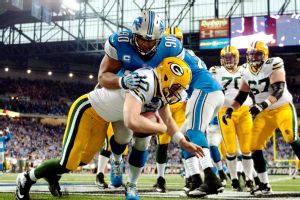 Tim Fuller/USA TODAY SportsNdamukong Suh and the Lions sacked Matt Flynn seven times on Thursday.
It hasn't been, though. Detroit saw increased protections from opponents all season long, something that has prevented the Lions from getting to quarterbacks. Not on Thursday, when the entirety of the defensive line showed up. Perhaps most impressive was Ziggy Ansah, the rookie defensive end who sacked
Matt Flynn
twice. He routinely beat his man and caused havoc for the Packers.
Turnovers still a problem:
Detroit's win was good. The Lions' defense was suffocating. But Detroit put a lot of pressure on its defense in the first half. The Lions had three turnovers on their first four drives, including one in Green Bay's red zone and one that turned into a fumble-six for the Packers. Against almost any other team in the league on Thursday, that could have been disastrous for Detroit. It is the third straight game the Lions have lost the turnover margin and fourth time in the past five games.
In the past four games, Detroit has turned the ball over 17 times. The Lions have forced only four turnovers during the same stretch. The turnover issues over the past four games have sent the Lions' turnover margin plummeting as they now have eight more turnovers than they have forced.
"We really need to fix the turnover issue," receiver
Kris Durham
said. "That's for sure. We really need to fix that up."
The Lions haven't had a positive turnover margin since Week 6 against Cleveland, when the Lions were plus-1 in turnovers.
About those playoff chances:
They are very much alive for the Lions right now. While it is more likely still going to be division title or bust for Detroit, a divisional title is a decent proposition now. The Lions all but eliminated the Packers on Thursday, being two games up in the win column with four games to play. At least until Sunday, the Lions have a game-and-a-half lead on Chicago (because of the season sweep) as well.
Kicking issues:
David Akers
missed a field goal.
Sam Martin
had two kicks sail out of bounds in a dome. Luckily for the Lions, those miscues didn't hurt Detroit much, but in a closer game they could have been critical. They were especially rare gaffes for Martin, who said after the game "something wasn't right." He was trying to place the ball in the corner to prevent any returns and ended up pulling it. Just not a strong day for the Lions' kickers.
November, 29, 2013
11/29/13
8:00
AM ET
DETROIT -- A review of four hot issues from the
Green Bay Packers
' 40-10
loss
to the
Detroit Lions
on Thursday at Ford Field:
Who's to blame?:
One question needs to be asked after a game like this, when a team is completely dominated in all facets of the game: Was it the fault of the players or the coaches? It comes down to performance or scheme. Noting that it starts with himself, coach Mike McCarthy did go on to defend the plan he and his coaching staff put together for this game. "You line up with 46 [players] each and every week and you put a plan in for those guys to be successful, and we didn't even come close to hitting the mark today," McCarthy said after the game. For their part, the players -- especially on the defensive side of the game -- defended the coaches. Defensive coordinator Dom Capers, whose unit allowed a season-worst 561 yards of total offense, has come under fire again in recent weeks. "The scheme's definitely not an excuse," linebacker
A.J. Hawk
said. "The coaches are up in the box and on the sideline. It's us. It's us 11 out there, good plays or bad. We can't blame anybody but ourselves."
[+] Enlarge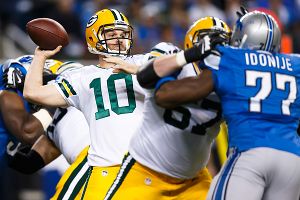 AP Photo/Rick OsentoskiMatt Flynn was sacked seven times and led only one drive that resulted in points against Detroit.
Flynn flops:
Maybe it won't matter if
Aaron Rodgers
comes back for the Packers' next game, Dec. 8 against the
Atlanta Falcons
. But if he doesn't, where would McCarthy turn at quarterback?
Matt Flynn
played poorly against the Lions even if he didn't get much help from the offensive line. In fact, a decent case could have been made for pulling Flynn in favor of
Scott Tolzien
, who was pulled from the previous game against the
Minnesota Vikings
. Flynn completed just 10 of 20 passes for 139 yards with no touchdowns and one interception. He was sacked seven times and led only one drive that resulted in points, and that was a 54-yard field goal after the Packers started with great field position at their own 40-yard line. Flynn might have a better command of the offense, but Tolzien might be more decisive and appears to have a better arm. Flynn held the ball too long and didn't have much zip on the ball. "I didn't really feel Matt had a lot of great opportunities, frankly," McCarthy said. "Hey, he didn't play clean either."
Trouble for Tramon:
Cornerback
Tramon Williams
could face discipline from the NFL after he bumped an official in the fourth quarter. Williams appeared to push away the hand of back judge Dino Paganelli after Lions running back
Joique Bell
's 1-yard touchdown. Williams was penalized for unsportsmanlike conduct. He said he did not realize that it was an official. "I just saw a guy walk in front of me and kind of brush up on me," Williams said. "I just kind of knocked his arm off. That's about it. It was just emotions running. It wasn't much there. There wasn't anything behind it."
Ross' revenge:
The Packers once viewed
Jeremy Ross
as a triple-threat kind of player -- one who could return kicks, catch passes and even run the ball. But when he fumbled a kickoff against the
Cincinnati Bengals
in Week 3, they cut him. Maybe that was a mistake. Ross, who was signed by the Lions last month, did a little bit of everything against his old team. He caught a 5-yard touchdown pass against cornerback
Davon House
. He had one rush for 24 yards, and he had a 35-yard punt return in the second quarter that helped set up a touchdown.