NFC North:

2013 Week 14 ATL at GB
December, 8, 2013
12/08/13
9:30
PM ET
GREEN BAY, Wis. -- The
Green Bay Packers
were booed off Lambeau Field at halftime of Sunday's game against the
Atlanta Falcons
.
"That's the first in five years for me," linebacker
Clay Matthews
said. "But you've got to expect it."
But it did not rattle them.
[+] Enlarge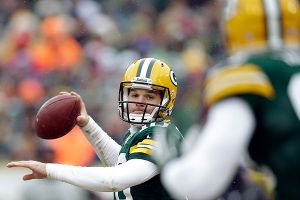 AP Photo/Tom LynnPackers QB Matt Flynn will be aiming to get rid of the football quickly against Dallas on Sunday.
Neither did
Matt Flynn
's fluke interception that was deflected by defensive tackle
Peria Jerry
, bounced off of linebacker Paul Warrilow's right foot and into the hands of linebacker
Sean Weatherspoon
, who returned it 71 yards for a touchdown that gave the Falcons a 21-10 halftime lead.
"I told them it's lonely being a warrior sometimes," Packers coach Mike McCarthy said.
"They make a huge play with the tipped interception for seven points, so it definitely has a chance to take some air out of your balloon," McCarthy added. "But our guys didn't blink and we played our best football in the second half. As a coach, that's what you look for in your football team."
The calming influence of Flynn helped, and after the 22-21 victory, they could laugh about it in the home locker room.
"Obviously, I need to work on my tackling," said right guard
T.J. Lang
, who missed a chance to bring down Weatherspoon at the Packers' 21-yard line. "It's something that's just one of those bad bounces that go against you. Acknowledged that at halftime and knew we were going to have to play mistake-free football in the second half, and that's what we did."
Flynn rebounded from a poor performance in the Thanksgiving blowout loss at Detroit to complete 24-of-32 passes for 258 yards with one touchdown and one interception.
McCarthy went back to the no-huddle offense, something he didn't use at all against the Lions, and Flynn spread the ball around to eight different players. Although he was sacked five times -- some of which were the result of his indecisiveness -- and lost a fumble, Flynn played well enough to give the Packers their first win since Oct. 27, and their first since
Aaron Rodgers
broke his collarbone on Nov. 4.
"The thing about Matt is he's always very calm, and that's great to have an in a guy that's running your offense," tight end
Ryan Taylor
said. "It's great to have a guy in the huddle that's even-keeled. Whether you're down by 11 or you're up by 1 and needing a first down to win the game, he's always the same guy. It's nice to have a guy like that in the huddle. It keeps everybody calm. It keeps everybody going."
December, 8, 2013
12/08/13
8:55
PM ET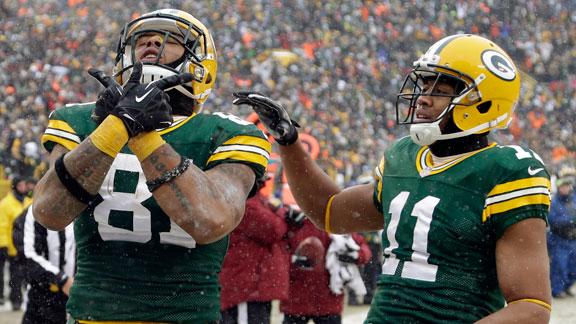 GREEN BAY, Wis. --
Jarrett Bush
did not play a single snap on defense in the
Green Bay Packers
' Thanksgiving loss at the
Detroit Lions
.
He also had an eight-game stretch earlier this season in which he played just one snap on defense, although he missed four of those games because of a hamstring injury.
[+] Enlarge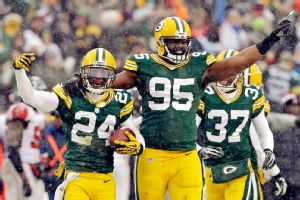 AP Photo/Mike RoemerJarrett Bush, left, celebrates with Datone Jones after closing out Green Bay's victory with an interception.
The only extended playing time the eighth-year cornerback received since playing 20 snaps on defense in the season opener came during a two-week stretch in which
Sam Shields
was inactive.
Otherwise, he played only on special teams.
Until Sunday
.
The oft-criticized Bush, who has had his ups and downs as a defensive player but has long been a solid special teamer, was part of a revamped configuration in defensive coordinator Dom Capers' dime defense. Cornerback
Davon House
was benched, and rookie
Micah Hyde
took his place in the nickel (five defensive backs) package, opening up a spot for Bush as the sixth defensive back.
Sure enough, the
Atlanta Falcons
tested Bush. And perhaps much to the surprise of the 77,550 in the Lambeau Field crowd -- many of whom likely booed Bush at various times during his career -- Bush came up big when it mattered most in the final stages of Sunday's 22-21 victory.
Bush broke up a fourth-and-5 pass that
Matt Ryan
threw to tight end
Tony Gonzalez
with 1:55 left in the game. After the Packers punted the ball back to the Falcons one last time, Bush ended things when he intercepted Ryan's deep pass down the right sideline intended for receiver
Harry Douglas
.
"You love to see him have success because of how hard he works and what he's poured into our football team, into this program the last eight years," Packers coach Mike McCarthy. "I'm very happy for Jarrett Bush and the way he played today."
It was a bit of redemption for Bush, who has been in and out of the lineup throughout his career.
"Yeah, it was; I'm not going to lie," Bush said. "At the same time, I helped my team. I felt like I helped my team win. That's what I'm here for."
It was a much-needed performance from the Packers' defense, too.
After allowing 473 rushing yards in the previous two games, the Packers held the Falcons to just 83 rushing yards. Perhaps more importantly, the missed tackles and blown assignments that plagued the Packers during their 0-4-1 stretch over the last five weeks weren't as big of an issue, especially when the Packers pitched a shutout in the second half.
"It just goes to show the type of talent and what we can do each and every week," linebacker
Clay Matthews
said. "We obviously haven't been living up to that billing."
Unlike in the loss to the Lions on Thanksgiving, when the Packers forced four turnovers but still got blown out, they made their takeaways count. Linebacker
Mike Neal
's sack and forced fumble that was recovered by defensive tackle
Johnny Jolly
in the fourth quarter set up the go-ahead touchdown.
Jolly also had a key tackle for a 2-yard loss on running back
Jason Snelling
in the fourth quarter, forcing the Falcons to try a 52-yard field goal that came up short.
It all came during a week in which questions were raised about
Capers' future as defensive coordinator
.
"He's the best, and I love him," Packers linebacker
A.J. Hawk
said. "I feel like us, defensively, we need to stand up for him. We need to play for him because his scheme is awesome.
"We finally decided to stand up and make plays when we need to. Jolly's TFL he made late in the game was huge. The sack-fumble with Jolly recovering was big. Jarrett's fourth-down stop, that was huge."
December, 8, 2013
12/08/13
8:00
PM ET
GREEN BAY, Wis. -- Before
Jermichael Finley
's season-ending neck injury, fellow
Green Bay Packers
tight end
Andrew Quarless
marveled at Finley's penchant for breaking tackles and dragging defenders.
"When he left, I really wanted to match his intensity," Quarless said Sunday. "That's one of the things I told him in the hospital that day. I said he was playing with such intensity."
Before Sunday, though, Quarless was all talk.
In the first six games that followed Finley's injury against the
Cleveland Browns
on Oct. 20, the Packers new starting tight end combined for just 13 catches for 102 yards without a touchdown.
That changed on Sunday. Quarless set career bests with six catches and 66 yards, including the go-ahead touchdown on a 2-yard back-shoulder catch with 12:01 left in a much-needed 22-21 victory over the
Atlanta Falcons
at Lambeau Field.
Quarless' performance came only days after his position coach, Jerry Fontenot, said he needed more from the fourth-year tight end, who has finally recovered from the 2011 knee injury that kept him out of all last season. Quarless had just one catch for 7 yards in the Thanksgiving loss at the
Detroit Lions
and also needed to improve as a blocker.
"Coming out of the last game on Thanksgiving, one of my biggest things me and him talked about was finishing," Quarless said. "I'm usually a good guy off the line but it takes four, five seconds every play, so you've really got to play every play all out. That was my approach, just really finishing. That was my biggest thing this week was to finish, and we finished with a win, thankfully."
That quarterback
Matt Flynn
went to Quarless on third-and-goal from the 2-yard line in the fourth quarter spoke volumes about the tight ends' role in Sunday's game plan.
"Andrew played a great game," said Flynn, who had 10 of his 24 completions to the tight ends. "When you've got teams that are locking on [receiver] Jordy [Nelson] and things like that, you've got to really utilize your tight ends. So, we gave them a chance to make plays, and they did it."
It wasn't just Quarless.
Brandon Bostick
caught two passes for 28 yards, including a 19-yard catch and run down the sideline in the second quarter.
Ryan Taylor
caught two passes for 7 yards.
As a position group, the Packers tight ends combined for 10 catches, 101 yards and a touchdown against the Falcons. In the previous six games, they had just 20 catches, 206 yards and one touchdown.
"Jermichael's a hell of an athlete, a hell of a player, and it's tough to replace a guy like that," Taylor said. "But we have the talent in our room that we can put together a full game, and we can make an impact as a group. I don't know how many balls we caught today as a room -- I know I had two, Andrew had five or six, Bostick had two. If one tight end was catching 10, 11 balls, that would be a heck of a day."
December, 8, 2013
12/08/13
7:05
PM ET
GREEN BAY, Wis. -- In the NFC North, you can go six weeks between victories and still be in contention for the division title.
Just think where the
Green Bay Packers
might have been had quarterback
Aaron Rodgers
not broken his collarbone on Nov. 4.
[+] Enlarge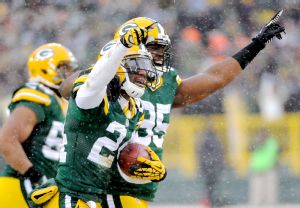 Benny Sieu/USA TODAY SportsJarrett Bush's interceptions sealed the Packers win over the Falcons.
Nevertheless, Sunday's
22-21 victory
over the
Atlanta Falcons
on a cold, snowy day at Lambeau Field allowed the Packers to keep their playoffs alive. With three games remaining, the 6-6-1 Packers moved within a half game of the division-leading
Detroit Lions
(7-6).
"I think we're lucky to be where we're at, honestly, with the past month that we've had," Packers right guard
T.J. Lang
said. "But hey man, you take it week by week. We knew this week was a must-win game for us if we wanted to be playing in the postseason, and we took a step there. We've still got three games left. Our mindset is to take it week by week and prepare as hard as we can throughout the week and go out on Sunday and do whatever we have to do to get a win."
For that, the Packers can thank their oft-criticized defense, which pitched a second-half shutout and clinched the game on cornerback
Jarrett Bush
's interception; backup quarterback
Matt Flynn
, who rebounded from his woeful Thanksgiving performance against the Lions; and big production from their special teams -- including kicker
Mason Crosby
, who made all three of his field goals in difficult conditions, and punter
Tim Masthay
's 62-yard boot that backed up the Falcons on their last possession.
They also can thank the erratic Lions, who followed their Thanksgiving blowout win over the Packers with a 34-20 loss at the
Philadelphia Eagles
on Sunday.
"It's huge," Packers linebacker
Clay Matthews
said of the Lions' loss. "Obviously, it gives us hope heading into the postseason only being half a game behind now. Obviously, we have to take care of ourselves first, and that is winning. We took a good step today, and we need to finish this fourth quarter of our season out strong."
Not bad for a team that was booed off Lambeau Field as it headed into the locker room at halftime trailing 21-10.
"We're a bunch of fighters, man," Lang said. "We're not going to lay down and just let people walk over us. We've got too much pride, too much character in this locker room to do that. The second half was good for us. It definitely feels good."
So it's a three-game race to the finish with likely only the division winner going to the playoffs. It's hard to imagine a wild-card team coming from this second-rate division.
"It's crazy, man, but I'm glad we're in this position," Packers defensive tackle
B.J. Raji
said. "We had some tragedy. The month of November was something to remember, no pun intended. I'm just happy we're in the position we're in."
The Packers finish with games at the
Dallas Cowboys
, home against the
Pittsburgh Steelers
and finally at the
Chicago Bears
, who are 6-6 heading into Monday night's home game against Dallas and also remain in the race. The Lions finish with the
Baltimore Ravens
and
New York Giants
at home and at Minnesota. The Bears' last three games are at the
Cleveland Browns
, at the Eagles and home against the Packers.
The Packers know they still need help, and they don't know whether Rodgers will return next week or at all this season. But they still have some hope on both accounts despite going 0-4-1 between victories.
"It's tough to win in this league, "Packers coach Mike McCarthy said. "We were reminded of it again today. We were reminded of that in our last five opportunities. It's great the Lions lost, but we're about the Dallas Cowboys. They play in Chicago tomorrow. We hope they just beat the heck out of each other and go for it. We're going to get ready for these Cowboys."
December, 8, 2013
12/08/13
4:00
PM ET
GREEN BAY, Wis. – A few thoughts on the
Green Bay Packers
'
22-21 victory
over the
Atlanta Falcons
on Sunday at Lambeau Field.

What it means:
The Packers kept their playoff hopes alive and live to fight another day. They got back to .500 at 6-6-1. Their much-maligned defense pitched a shutout in the second half, and oft-criticized cornerback
Jarrett Bush
made two big fourth-quarter plays, including a game-clinching interception. The Packers won for the first time since quarterback
Aaron Rodgers
broke his collarbone on Nov. 4 against the
Chicago Bears
.
Stock watch:
The Packers have been looking for more production from their tight ends ever since
Jermichael Finley
sustained a season-ending neck injury in Week 7. They finally got it from
Andrew Quarless
, who had a career-high 66 yards receiving on six catches. He caught the go-ahead touchdown pass on a 2-yard back-shoulder fade with 12:01 left in the fourth quarter.
Wacky play:
In perhaps one of the wackier plays of the season, quarterback
Matt Flynn
's dump-off pass for fullback
John Kuhn
in the second quarter was tipped and kicked before Falcons linebacker
Sean Weatherspoon
returned it 71 yards for a touchdown. Defensive tackle
Peria Jerry
deflected the pass before it bounced off the right foot of linebacker
Paul Worrilow
and into Weatherspoon's hands. The play stunned the Lambeau Field crowd. The Packers did not appear to realize the ball was intercepted until well after Weatherspoon took off running. Guard
T.J. Lang
was the only one to have a chance to stop him, but Lang missed the tackle at the Packers' 21-yard line, and the touchdown gave the Falcons a 21-10 lead.
Lacy's production:
Running back
Eddie Lacy
set two Packers rookie records on Sunday. His seventh rushing touchdown of the season broke Samkon Gado's rookie record set in 2005, and he surpassed John Brockington's mark of most carries by a rookie. Brockington had 216 in 1971. Lacy returned from a second-quarter ankle injury to rush for 65 yards on 20 carries.
What's next:
The Packers play at the
Dallas Cowboys
on Sunday. Will Rodgers return? If not, the Packers appear likely to stick with Flynn.
December, 8, 2013
12/08/13
2:58
PM ET
GREEN BAY, Wis. --
Green Bay Packers
running back
Eddie Lacy
appeared to sprain his right ankle on the final play of the first half against the
Atlanta Falcons
.
Lacy
He did not start the second half, and his return was listed as questionable.
However, after missing the first two series of the third quarter, he returned and he carried four times on a drive that ended in a field goal that pulled the Packers to within 21-16 with 45 seconds left in the third quarter.
Lacy's right ankle was heavily taped.
The injury occurred on a meaningless play with the Packers just running out the clock. It's not known why they didn't take a knee and head into the locker room.
Lacy, who entered the game as the eighth leading rusher in the NFL this season, rushed for 32 yards on 11 carries in the first half and also caught two passes for 22 yards. He scored the Packers' only touchdown of the first half on a 1-yard run. It was his seventh rushing touchdown of the season, the most ever by a Packers' rookie running back.
James Starks
, the only other halfback active for the Packers, started the second half.