NFC North:

2013 Week 14 DET at PHI
December, 8, 2013
12/08/13
9:05
PM ET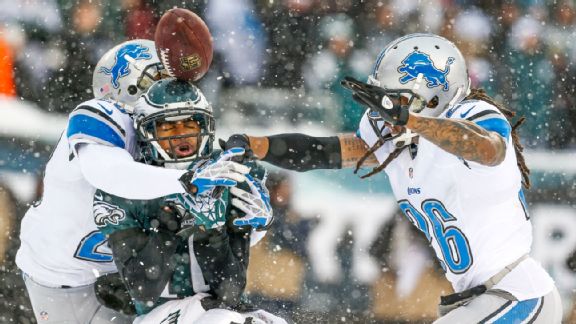 AP Photo/Brian GarfinkelLions CB Chris Houston (left) and Louis Delmas try to jam up Eagles WR DeSean Jackson.
PHILADELPHIA -- Detroit's latest fourth-quarter collapse had been completed a moment earlier and already
Stephen Tulloch
and
Ndamukong Suh
were gone inside the Lincoln Financial Field tunnel.
After what happened again Sunday, it made some sense. The Lions had just collapsed in the fourth quarter for the third time in four games for their third loss in four games, this time a
34-20 loss
to Philadelphia in which the defense disappeared in the final 15 minutes.
A defense that had been one of the best in the league against the run let
LeSean McCoy
set an Eagles record with 217 yards, and afterward there was annoyance, disappointment and even a hint of disgust.
"We just didn't play well," linebacker
DeAndre Levy
said. "It's not fun to lose and go out there and play soft. We just played like crap in the second half."
Soft?
Of all the things Detroit could be described as this season, that was not going to be one of them. If anything, for much of the season, the Lions' defense -- especially their front four -- had been described as the opposite. Perhaps a little too violent. A little too aggressive.
But on Sunday, one of their defensive leaders had no other word for it.
"A little bit, man," Levy said. "I think mentally and physically soft. We gave up a big play and we continued to fit runs the wrong way, missed tackles, myself included. I think everybody on the defense had a breakdown here or there that hurt us, and that's just something we've got to get on the same page with.
"When we feel the momentum switch, we've kind of got to get guys together and not panic and stay focused and keep battling."
The Lions did essentially everything opposite of that Sunday. Big play begat big play. Touchdown came after touchdown. And a Detroit shutout in the first half turned into complete failure in the second.
The Lions, at one point in the second half, led 14-0 and appeared to be in complete control of the game despite having an offense struggling to move the ball in a snowstorm that left anywhere from six to eight inches of snow on the field.
Nick Foles
, who had his interception-less streak snapped by
Chris Houston
in the first half, completed passes. McCoy started to find holes and Detroit, as it has done often over the past month, began to make mistakes.
The Eagles, offensively impotent in the first half, scored touchdowns on five straight possessions in the second just as the Lions started to tighten up.
"Us as the leaders on the team, we have to get a hold of, get a feel of the game," Levy said. "We give up a play, we can't start panicking, we can't start getting down on ourselves.
"We have to be able to respond on the next drive and we've been up-and-down doing that this year. I think we've had stretches where we've responded well and we just didn't do it this second half."
Not at all. Not on defense, where the Lions allowed 388 yards in the second half on defense. Not on offense, where the Lions gained 83 yards in the second half and fumbled the ball seven times throughout the game, losing three.
How bad was it? Returner
Jeremy Ross
, who had both a kick and a punt return for a touchdown, gained 243 yards on returns. The Lions had 228 yards on offense the whole game. It was that bad everywhere.
Detroit's most glaring failure came on defense, specifically against the run.
"I'm puzzled by the whole situation," Delmas said. "I've never seen my defense have one running back who could do that much and be able to have that much success on our defense."
Part of the issue, it would seem, is how Detroit approached the second half. The Lions saw, as Delmas mentioned, what they had done to Philadelphia in the first half. They contained McCoy. They held Foles to 35 yards passing and the Eagles to 90 yards of offense. So they had confidence after Ross returned the punt for the touchdown and a 14-0 lead.
Then Philadelphia scored touchdowns on its next five drives, taking what could have been a much-needed win for the Lions and turning it into a loss. Just like Tampa Bay and Pittsburgh did last month.
"I think we got too comfortable relying on the weather and underestimating them throwing-wise and being able to put that foot in the ground and running the ball," Delmas said. "But I don't take no credit from them. They are a great offense and obviously they proved that."
Detroit proved something, too. Every time the Lions appear ready for all this -- for winning the NFC North, for making the playoffs, for taking another step as a franchise -- something like this happens. For every dominating performance -- Green Bay on Thanksgiving -- there is at least one that allows for just as much doubt.
Speaking of those Packers, they are now back in the NFC North race with three games left. And Chicago can once again tie Detroit, record-wise, if the Bears knock off Dallas on Monday night.
"We put a little bit of pressure on ourselves with this loss here," Levy said. "Obviously each game here on out is going to get bigger and bigger for us.
"We have to seize the moment, embrace it a little bit and be ready to battle."
At times this season, Detroit has been ready. At other points, it has appeared to be ready, has played like it was ready -- and then, like Sunday, gave it all away at the end.
December, 8, 2013
12/08/13
4:13
PM ET
PHILADELPHIA -- A few thoughts on the
Detroit Lions
'
34-20 loss
to the
Philadelphia Eagles
.

What it means:
What a complete collapse by the Lions. They held Philadelphia to essentially nothing in the first half: no points and fewer than 100 yards in a mess of a snowstorm. But then the snow subsided, and so did the Lions' control of the game. Philadelphia scored 34 points in the second half and ended up with 299 yards rushing for the game -- literally running right past Detroit in the second half. The Lions, who had one of the top run defenses in the league entering the game, allowed 6.5 yards per carry after giving up fewer than 2 yards a carry in each of their past four games. They hadn't allowed a rushing touchdown since September and only five the entire season. They gave up four Sunday.
It was yet another second-half mess, the third time in four games Detroit has surrendered a lead in the fourth quarter. Now it has three games to try to hold on to the NFC North lead and a playoff berth.
Stock watch:
Rising:
Jeremy Ross
. The returner had a career day with 172 kick-return yards and 71 punt-return yards, two touchdowns and more total yards -- 243 -- than the Lions' offense did. Falling: Detroit's run defense. The Lions had been stout up the middle and contained running back after running back. Not Sunday.
LeSean McCoy
had a career-high 217 yards and rushed for two touchdowns, completely embarrassing the Lions. Meanwhile, fumbles. The Lions had seven of them and lost three -- two from
Joique Bell
, who scored Detroit's only offensive touchdown, and one from
Matthew Stafford
.
Ross has a career day:
Two weeks ago, Ross started to claim the punt- and kick-returner gig as his own. He might not let go of it for a while now. Ross returned a punt 58 yards for a touchdown and a kick 98 yards for a touchdown -- the first time a kick and punt return for a touchdown happened in the same game for the Lions since Dec. 17, 1977, when Eddie Payton, the brother of Walter Payton, accomplished the feat.
What's next:
The Lions have two straight home games -- two critical home games -- first on Dec. 16 against the
Baltimore Ravens
, then against the
New York Giants
the next week.
December, 8, 2013
12/08/13
2:24
PM ET
PHILADELPHIA -- Three halftime thoughts from the
Detroit Lions
' game against the
Philadelphia Eagles
. Detroit
leads 8-0
at halftime from Lincoln Financial Field.

Let it snow:
The weather was, by far, the big story in Philadelphia during the first half. It snowed throughout the first half and made moving the ball essentially impossible. More than midway through the second quarter, the Eagles had 16 yards on 15 plays. No real ability to gain traction and footing, so all straight ahead running here. It was the same for Detroit, which mostly used
Joique Bell
during the first half, especially with
Reggie Bush
essentially not playing after aggravating his injured calf muscle during warm-ups.
Fumbles all over the place:
Part of the issues in the snow were holding on to the ball. Detroit fumbled six times in the first half -- the NFL record for fumbles in a game is 10 -- but only lost two, both on Bell runs. Quarterback
Matthew Stafford
fumbled four snaps in the first half, out of shotgun and under center. Not a pretty sight.
Johnson breaks a record:
Calvin Johnson
caught two passes in the blizzard of a first half Sunday, but one of them was a big one. Johnson caught a 33-yard post, giving him the
Detroit Lions
franchise record for receiving yards with 9,175. He passed
Herman Moore
, who has 9,174. Johnson also caught a facemask full of snow on the play for his effort on the post. That, though, was fairly common throughout the game Sunday.
Bonus thought:
Rashean Mathis
had a heck of a half in the snow. He had three pass breakups, including two in the end zone on Philadelphia's only sustained drive of the half. Mathis had no tackles in the first half, but he might have had the two best defensive plays. Also helping was
Chris Houston
, who picked off
Nick Foles
for Foles' first interception of the season.