NFC North:

2013 Week 14 Upon Further Review
December, 10, 2013
12/10/13
8:00
AM ET
A review of four hot issues from the
Chicago Bears
' 45-28
win
over the
Dallas Cowboys
:
Cutler's return:
Backup quarterback
Josh McCown
turned in another stellar effort in relief of
Jay Cutler
, throwing for 348 yards and four touchdowns with no interceptions to go with a passer rating of 141.9. McCown has thrown for 1,055 yards over his past four starts with eight TDs and only one interception. But with Cutler returning to the practice field last week, it's only a matter of time before the Bears try to bring him back into the starting lineup. And naturally, some will begin to question if McCown deserves to remain the starter because of the way he has performed. Bears coach Marc Trestman has made the team's plans at that position known early in the week to eliminate any chance of the situation festering into something that could cause a distraction. Look for Trestman to make a declaration early in the team's preparation for Sunday's game at Cleveland, too. There's too much on the line to be dealing with distractions.
[+] Enlarge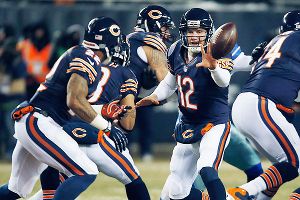 AP Photo/Charles Rex ArbogastJosh McCown passed for 348 yards and four touchdowns against the Cowboys.
McCown knows role:
McCown's humility throughout his brief tenure as the starting quarterback should be applauded. Coming off the strong performance against the Cowboys, and a largely successful stint over the past month as the starter, McCown fielded multiple questions concerning whether he deserved the staff's consideration as the possible full-time starter. McCown hasn't wavered on his answers regarding the situation throughout his entire run under center.
"I'm the backup, and Jay's our starter. So if Jay's healthy, Jay should be the starting quarterback. That's really it," McCown said Monday night. "I don't go out here going, 'If I do this, now I'm gonna be the starter.' That's not my mindset. I've told you guys: My mindset is to serve our team as the backup quarterback as best I can, play efficient football, play winning football, and keep us in contention so whenever he takes back over, we're in position to continue to make the playoff run."
Run D still struggling:
DeMarco Murray
ripped off 99 yards in the first half against the Bears, averaging 7.6 yards per attempt, and that average only increased to 8.1 yards for the game. Murray ran the ball only five times in the second half, but finished with 146 yards. Trestman even acknowledged after the game the Bears "certainly didn't stop the run as much as we would have liked to."
The Bears have allowed 100-yard rushers, including a 211-yard performance by
Adrian Peterson
, in six consecutive games.
Pass rush just OK:
After ramping up the pass rush against Minnesota on Dec. 1 with five sacks, the Bears sacked Cowboys quarterback
Tony Romo
just twice Monday night.
James Anderson
and
Jeremiah Ratliff
each sacked Romo, and the Bears did try to manufacture some pressure via the blitz. Of Dallas' 28 snaps in the first half on offense, 14 of those plays were runs. So it was difficult for Chicago to be effective with the pass rush because the Cowboys were so successful running the ball. Dallas averaged 7 yards per attempt in the first half. The Cowboys were able to throw the ball only seven times in the second half because the Bears dominated time of possession.
December, 9, 2013
12/09/13
8:00
AM ET
GREEN BAY, Wis. -- A review of four hot issues from the
Green Bay Packers
' 22-21
win
against the
Atlanta Falcons
on Sunday at Lambeau Field:
[+] Enlarge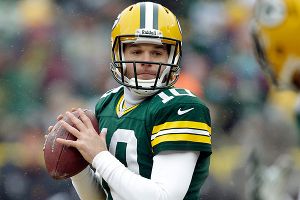 AP Photo/Tom LynnMatt Flynn completed 14-of-16 passes outside the numbers in Green Bay's 22-21 win against Atlanta.
Flynn works well outside
: In his first start against the
Detroit Lions
,
Matt Flynn
was unable to take advantage of one-on-one matchups on the perimeter. In his second start against the Falcons, it was clear the plan was to attack the Falcons along the sidelines. Relying heavily on out routes, corner routes and fades -- many of them
to his tight ends
-- Flynn completed 14 of 16 passes outside the numbers, according to ESPN Stats & Information. More than half of Flynn's yardage -- 149 of his 258 yards -- came on such passes. The Falcons entered the game allowing the second-highest completion percentage on passes outside the numbers. On the first series, Flynn hit tight end
Andrew Quarless
for 15 yards on an out pattern. "We had some success early with it, and so we just stuck to our guns," Flynn said. "We took some shots when we thought it was the right time, but mostly if they're backing off, there's no reason to throw deep, especially on a field like that, weather like that. Get [it] in your guys' hands and let 'em go to work."
Safety dance:
It was another rough outing for the safeties.
Morgan Burnett
gave up a pair of touchdowns -- a 36-yarder from quarterback
Matt Ryan
to receiver
Drew Davis
and a 2-yarder from Ryan to tight end
Tony Gonzalez
, both in the second quarter. On Davis' touchdown, safety
M.D. Jennings
missed what would have been a touchdown-saving tackle. On Gonzalez's touchdown, Burnett bit on the play-action fake, leaving the tight end wide open. Jennings was benched late in the second quarter in favor of
Sean Richardson
, who played most of the remainder of the game. "They said my role was going to increase a little because I had deserved it, they felt like I deserved it," said Richardson, a second-year pro who missed the first part of the season while recovering from neck surgery. "I just thank them for the opportunity, and for believing and trusting in me."
Too early for two, again
: For the second time in three games, coach Mike McCarthy called for a two-point conversion early in the fourth quarter. After going for it -- and failing --
with 11:42 left in the Week 12 tie
against the
Minnesota Vikings
, McCarthy did it again -- and failed again -- with 12:01 left against the Falcons after the Packers took a 22-21 lead. The fact that it failed both times is irrelevant. That's just too early in the game to sacrifice one sure point even though a successful two-point play would put the Packers ahead by a field goal. "Obviously, two points makes it a field goal lead," McCarthy said. "I felt it was kind of a no-brainer at that time."
Lucky Lacy's injury wasn't worse:
Running back
Eddie Lacy
's day -- and perhaps his season -- was almost ruined by
an ankle injury on the final play of the first half
. The play probably never should have been called. McCarthy was clearly intent on running out the clock (there were four seconds remaining), and the play was a run to the left by Lacy for 1 yard. He sprained his right ankle on the play and hobbled to the locker room. He missed the first two series of the second half before he returned with his right ankle heavily taped. When asked whether he regretted not having Flynn take a knee, McCarthy said: "No. There's other play calls I regret, but I won't share that with you. That's for the team."
December, 9, 2013
12/09/13
8:00
AM ET
PHILADELPHIA -- Four hot issues from the
Detroit Lions
' 34-20
loss
to the
Philadelphia Eagles
.
Fourth-quarter follies:
This is Detroit's third straight loss in which it had a lead in the fourth quarter, and while Sunday could be viewed as more of an aberration due to the weather conditions, the way the Lions have lost these games is certainly a cause for concern. Two of those losses -- at Pittsburgh and at Philadelphia -- ended up being by double digits. Against Pittsburgh, three of the Steelers' last four drives ended in points -- a field goal in the third quarter and two touchdowns in the fourth quarter.
On Sunday in Philadelphia, the Eagles scored touchdowns on five of their final six drives and could have scored on the game's final drive except they chose to run the clock out instead. Considering how close most playoff games are and how little room for mistakes Detroit has to even make the playoffs, this is a big concern.
[+] Enlarge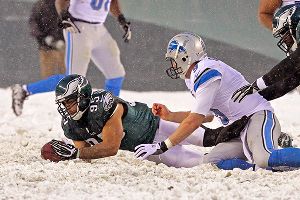 Elsa/Getty ImagesThe Lions lost three fumbles and the turnover battle to the Eagles, 3-1.
Turnovers:
Again, this game is probably an anomaly for judging statistics, but with three turnovers Sunday -- all of them fumbles -- the Lions now have three or more turnovers in four straight games and five of their past six. It isn't a coincidence Detroit has struggled in these games, now losing three of their last four. The Lions haven't won the turnover margin -- a statistic that most consider a good barometer of team success -- since Week 6 against Cleveland.
Jeremy Ross:
The Lions made some good free-agent signings during the offseason, including starting running back
Reggie Bush
and starting cornerback
Rashean Mathis
. Returner Jeremy Ross is making Detroit look very good again as an in-season signing. The Lions picked him up after division rival Green Bay discarded him, and he has been an impact special teams player. He had two returns for touchdowns Sunday (one kick, one punt) but has consistently been giving the Lions good field position since he won the job from
Micheal Spurlock
. The job is his for the immediate future, too, since Detroit released Spurlock on Saturday to make room for cornerback
Chris Greenwood
.
Run defense issues:
There is a bit of a skewed look here because of the weather, but
LeSean McCoy
shredded Detroit in the second half and that he was able to do it in a game in which few players were able to get any true footing is a concern. The best the Lions can do, especially defensively, is wash away this game because they can't let this loss linger from a run-defense perspective. Detroit has been good against the run all season, particularly with how the defensive line has played to open up lanes for linebackers
DeAndre Levy
and
Stephen Tulloch
, but they need to remember how they played for the past two months instead of just on Sunday.
December, 9, 2013
12/09/13
8:00
AM ET
BALTIMORE -- A review of four hot issues following the
Minnesota Vikings
'
29-26 loss
to the
Baltimore Ravens
:
Peterson's health:
For the Vikings, this is probably
the
issue: Running back
Adrian Peterson
will have a MRI on his sprained foot on Monday, and while he was optimistic about his prognosis on Sunday -- he said X-rays were negative, and added he would push to play Sunday against the
Philadelphia Eagles
-- Monday's tests might have the final say about whether Peterson plays again this season. He said the pain was in the middle of his foot, which would be in the region of the dreaded Lisfranc injury, and turf toe could also still be in play. We'll find out more after his exam on Monday.
Peterson
Henderson
Toby time?
In Peterson's absence, running back
Toby Gerhart
continued to show what a capable replacement he can be, romping 41 yards for one of the Vikings' would-be game-winning touchdowns in the fourth quarter and posting 89 yards on 15 carries. It is the third time in four weeks that Gerhart has posted at least 60 yards, and it was the first time this season he has carried the ball more than 10 times in a game. He is averaging 6.2 yards per carry this season, and could be making a case for more of a shared workload in the final games of the season (though it will be hard to convince Peterson to carry the ball less, if he's healthy). Gerhart will be a free agent after the season, and it's looking increasingly likely that he's going to make himself some money.
Henderson marginalized:
The Vikings moved
Erin Henderson
to outside linebacker this week, putting him back on the field after he'd missed the last two games in the wake of his Nov. 19 drunken-driving arrest and a subsequent personal issue that kept him away from the team for several days. But with
Audie Cole
starting at middle linebacker, and once again playing every snap, Henderson saw how little the Vikings use their third linebacker in their current defense. He played just six snaps in the loss, one more than
Marvin Mitchell
saw on defense. When Henderson was the Vikings' weakside linebacker last year, he still played in the middle in the nickel package, keeping his snap counts high. But without the nickel snaps, Henderson didn't get a chance to do much. Cole was in coverage on
Marlon Brown
's two big catches on the Ravens' last drive -- including his game-winning touchdown -- but the linebacker nearly tipped Joe Flacco's pass away before Brown could catch it in the back of the end zone, and coach Leslie Frazier credited Flacco for a good throw more than he pointed to a coverage breakdown.
Fines coming?
Peterson was critical of both referees and Ravens fans after the game, pointing out a number of calls he disagreed with and calling the Ravens' fans the "worst in the NFL" after they were throwing snowballs on the field in the fourth quarter, and it stands to reason he might hear from the league this week. Fullback
Jerome Felton
was also critical of the referees, saying there were four questionable calls that all went against the Vikings, but other players were more diplomatic, particularly when discussing two dubious pass interference calls in the fourth quarter. "I'm not going to say anything to get on Roger Goodell's list," defensive end
Brian Robison
deadpanned.