NFC North:

2013 Week 16 NYG at DET
December, 22, 2013
12/22/13
11:45
PM ET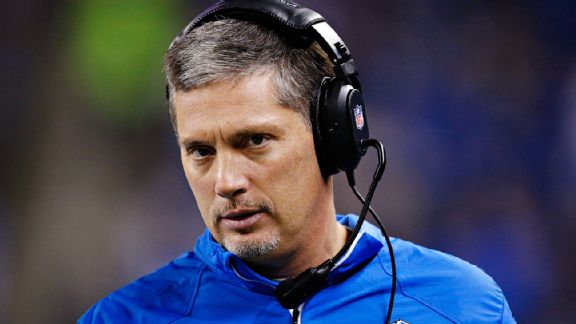 AP Photo/Paul SancyaFor the second straight year, Jim Schwartz's Lions collapsed in the second half of the season.
DETROIT --
DeAndre Levy
sat at his locker staring off into the distance, his team's playoff chances extinguished, his team's season effectively over.
He didn't get up. Maybe, he couldn't.
A few weeks ago, the
Detroit Lions
were 6-3. A week ago, they controlled their destiny in the NFC North. Now six days and two losses later, they're done. They're out of the playoffs for another season after a 23-20 overtime loss to the
New York Giants
on Sunday.
What else could Levy do, but sit, stare and fight back the emotions that brought him to this point, brought the Lions to this point.
While teammates packed up and left, Levy stayed, waiting, thinking, contemplating.
He collected his thoughts after spending all week waking up in the middle of the night for treatment on his foot so he could play Sunday. But now all he could do was take his massive hands and rub his beard. Or bury his face in those same hands.
The emotions he must have felt in that moment, the Lions' fifth loss in six games and second straight on a game-losing field goal.
"Today's a big game, man. Can't miss," Levy said as he hobbled out of the locker room. "There's no tomorrow after this is how I approached it. And we didn't come through."
That's been the theme the second half of Detroit's season. Not coming through. Being a play short. A drive short. A decision short. Losing leads. Making turnover after turnover but not forcing many of its own.
The way the Lions lost Sunday -- losing another fourth-quarter lead, turning the ball over again in the fourth quarter, curious play-calling toward the end -- was emblematic of so many of Detroit's problems this season under coach Jim Schwartz.
This is the second consecutive season the Lions have collapsed down the stretch. In 2012, Detroit lost eight straight games to end the season. This season, with the NFC North begging to be won by the Lions after injuries decimated the Packers and Bears, the Lions lost five of six games after holding fourth-quarter leads in every game.
Some of that can be attributed to players, the ones who make the same mistakes over and over again. But when the same problems keep popping up over and over again, that goes to the coaches.
"We've come a long way, but we're still not quite there, obviously," Schwartz said about the lack of significant progress from 2011 -- a playoff season -- to 2013 -- what looked like a playoff season. "We are still a play away from turning these games around on offense, defense or special teams.
"Any more than that, I think, just like I've always done, I think we'll characterize it after the season."
Schwartz, though, wouldn't answer whether he had done enough in his first five seasons to warrant being brought back for a sixth. He wouldn't answer any other questions about his job security. And when the Lions handed out quote sheets after the game, most of those questions and answers were deleted.
Schwartz steadfastly said he would be focused on the season finale against the Vikings, on a game that means nothing as far as making the playoffs, a place the Lions had been aiming toward all season.
Not after Detroit collapsed again, leading to whether or not Schwartz keeps his job.
Quarterback
Matthew Stafford
said he would like Schwartz to return as the Lions' coach. Receiver
Nate Burleson
wants Schwartz back, too.
"He's a good coach," Burleson said. "When you lose, everybody wants change and change makes people feel good. So, I'll be the first one to say this: Change isn't always the best thing."
Schwartz isn't thinking about what might have been.
"Speculation is not my business," Schwartz said. "My business is coaching the team and trying to keep the team focused. That's job enough without worrying about all the other stuff.
"Where we were, you can't worry about where we were. It's about where you are in the present."
The present includes wondering what went wrong the final seven games.
Maybe that's why Levy sat at his locker on Sunday.
As he watched guys he might only be teammates with for one more week walk by him, he didn't move. He did eventually stand up on his good right foot, put his green jacket on and paused for another minute, almost in disbelief.
As he stood, a Lions worker reached over him, pulling the "54 LEVY" nameplate from his locker. Levy didn't initially see him, but the man reached over Levy.
The man stopped, turned and asked Levy, "Are you OK, man?"
Levy nodded. It was all he could do.
There were no more answers for these Detroit Lions. There were no more weeks of making promises they eventually couldn't keep. There were no more declarations.
Just another season for a franchise with an all-to-familiar end.
December, 22, 2013
12/22/13
7:43
PM ET
DETROIT -- A few thoughts on the
Detroit Lions
' 23-20
loss
in overtime to the
New York Giants
.

What it means:
In many ways, this was a fitting end to Detroit's season: a fourth-quarter turnover returned for a touchdown to tie the game, the Lions choosing to play for overtime instead of taking a shot of getting in field goal range on the last drive of regulation, then seeing their season end on a winning field goal in overtime.
This loss epitomized so many of the Lions' problems this season -- the turnovers, the questionable clock management and play calling and, ultimately, a collapse that saw Detroit go from controlling its own destiny to out of the playoffs in six days.
Yes, the Lions have one more game to play -- on the road at Minnesota -- but they are now out of the playoffs for the fourth time in five years under Jim Schwartz, and the Lions might be close to a coaching change.
Stock Watch:
Rising --
Nick Fairley
. The defensive tackle has games where he disappears. Then he plays like he did Sunday, where he recorded a safety and had multiple pressures on New York quarterback
Eli Manning
. Falling --
Matthew Stafford
. Another game, the same problems over and over again. He threw another fourth-quarter interception -- this time a pick-six to
Will Hill
-- that took a seven-point Detroit lead and turned it into a tie game.
The case for Bell:
After
Reggie Bush
lost another fumble -- his second since guaranteeing he wouldn't fumble again this season in November --
Joique Bell
received the majority of the work for the Lions in the backfield. Not surprisingly, Bell played well. He scored Detroit's first touchdown of the game and kept the Lions in the game while the rest of the offense looked listless. He finished with 91 yards rushing and 63 yards receiving, and should make the Lions at least think about who should receive the majority of carries for Detroit the rest of this season and possibly beyond. He runs hard, smart and with patience.
What's next:
The Lions have their season finale on Sunday at Minnesota.
December, 21, 2013
12/21/13
12:00
PM ET
If the
Detroit Lions
had been able to solve their woes a week ago -- or if
Justin Tucker
's 61-yard field goal had fallen short or right instead of sneaking through the uprights -- the Lions might have been able to mask their issues behind the happy cloud of winning for another week.
They would still be in line for a playoff berth. Still be in control of everything that would happen to the rest of their season.

But Tucker's kick was good. Three losses in four games became four losses in five games, and Detroit turned from a team bound for the playoffs to one needing help.
How can the Lions do their part when it comes to securing a playoff berth? Here are four keys.
Stop the turnovers:
This should just be a cut-and-paste addition from the past five weeks, but Detroit continues to turn the ball over at a very high pace. The Lions are now at three or more turnovers in six of their past seven games. The Lions have not had this sort of consistent stretch of miscues at any time since at least the 2001 season.
Sure, Detroit has had games with more turnovers, but this stretch has been historically rough for the Lions. Detroit's players have insisted the mistakes are physical, and that they are going to correct them. But they have also been saying that for weeks now. It's time for the Lions to either fix them or watch their season officially conclude.
Fix Stafford:
Whatever has been going on with Detroit's fifth-year quarterback
Matthew Stafford
, the Lions need to get him back to the player he was in the first half of the season. That player was making steps toward being one of the top young quarterbacks in the league with more fourth-quarter comebacks, high completion percentages, and a strong efficiency rating. The Stafford of the second half of the season has been the opposite. He -- and the Lions -- have lost leads in the fourth quarter of four straight losses.
He has every tool to be one of the top quarterbacks in the league. He is intelligent, possesses a strong arm, good confidence, and the ability to rally his team late. But something has been off the past two months. Detroit needs him to rediscover it. Fast.
Don't be distracted by your fate:
The Lions have no real control over what will happen to them outside of the Lions actually winning their games. And they can't really scoreboard watch since Green Bay also plays a late afternoon game, and Chicago is the Sunday night game this week. So no matter what, the Lions will be in the playoff race when they take the field. Whether they are when they leave it is entirely up to them.
Treat yards preciously:
If there is one thing the Giants do well -- the only thing they do well, really, from a statistical perspective -- it is keep teams from moving the ball. So this rolls into two of the other keys. New York is in its current position because offensive turnovers allowed defenses short fields all season long. The defense, though, has been pretty stingy with yards, so if the Lions have the same turnover issues they have had the past few weeks, it could be a long day for them.