NFC North:

2013 Week 16 Upon Further Review NFC
December, 23, 2013
12/23/13
8:00
AM ET
CINCINNATI -- A review of four hot issues after the
Minnesota Vikings
'
42-14 loss
to the
Cincinnati Bengals
on Sunday.
Peterson
Peterson's health:
Running back
Adrian Peterson
came out of Sunday's game once the Bengals built an insurmountable lead, and even Peterson -- who said he was "devastated" by the Vikings' decision to hold him out the previous week with a sprained foot -- couldn't argue with this one too much. The question now is, will Peterson come back for the final game of the season against the
Detroit Lions
? He's unlikely to be completely healthy next week, and with nothing on the line for either team, it might make sense to sit Peterson down, rather than risking an injury in a meaningless game. Peterson effectively lost his shot at a second straight rushing title Sunday, and although he'll probably want to play, it doesn't seem to be worth starting him.
Third-down meltdown:
The Vikings' defense has been one of the NFL's worst on third down all season, but even by their standards, Sunday's game was ugly. Bengals quarterback
Andy Dalton
hit eight of his 11 throws on third down, for 137 yards and a touchdown. In the process, he helped the Bengals convert six third downs of 7 yards or longer. It helped that he didn't face much pressure all day from the Vikings' defense; he saw four or fewer pass-rushers on 27 passes and completed 21 of them for 293 yards. The Vikings have allowed a 71.9 QBR when rushing four this season, which is the fourth-worst total in the league, according to ESPN Stats & Information, and on a day when the Vikings again brought little extra pressure, Dalton shredded them on passing downs.
Patterson's big day wasted:
The Bengals were the second team to kick to rookie
Cordarrelle Patterson
in the past month, and Patterson responded by returning four kicks for 143 yards, staking the Vikings to an average starting position of their own 43 on those returns, according to ESPN Stats & Information. Patterson also had a 35-yard touchdown run in the fourth quarter, but his returns set up just one Vikings touchdown.
Frazier's future:
Coach Leslie Frazier said he's focused solely on Sunday's game against the Lions, not on his own job status. But in a week in which neither team has much on the line, other than the future of its coach, what kind of an effort will Frazier be able to coax out of his team? The Vikings will talk all week about playing hard and finishing on a positive note, but no player wants to get hurt in the final week of the season and spend much of his offseason recovering. The final game at the Metrodome figures to have some energy, and the many players who are voicing support for Frazier will have one more chance to play hard for him. But will that translate into a win, and will a win mean anything for Frazier? It's sure to be a topic we'll revisit throughout the week.
December, 23, 2013
12/23/13
8:00
AM ET
PHILADELPHIA -- An examination of four hot issues from the
Chicago Bears
'
54-11 loss
to the
Philadelphia Eagles
:
Cutler
Give Cutler a chance:
This loss conjured flashbacks of offensive lines featuring players such as
Chris Williams
,
Frank Omiyale
and
J'Marcus Webb
. The Bears gave up a season-high five sacks, and quarterback
Jay Cutler
also absorbed plenty of shots throughout the night just as he was releasing his passes. Most of the night, Cutler had a defender in his face when trying to throw the ball. Obviously, that can't happen Sunday in the season finale against the Packers with the NFC North crown at stake. "We lost the line of scrimmage," Bears coach Marc Trestman said. "We didn't do as good a job as obviously we've done at protecting Jay. He got hit probably more in this game than he's been hit at any time during the season."
Run defense isn't getting any better:
Guess what? It's not going to get any better. The Bears are what they are against the run: horrible. The Bears have allowed a 100-yard rusher in 10 games, and on Sunday they let two running backs (
LeSean McCoy
and
Bryce Brown
) hit the century mark. "Any time you cannot stop the run, it's disappointing," defensive tackle
Jeremiah Ratliff
said. "We did not stop McCoy like we would have liked to, but we have to put this game behind us and move on."
More offensive line:
Speaking of the offensive line, they also failed to open holes for the rushing attack. It's telling when Trestman says the Bears "couldn't even start a run" against the Eagles.
Matt Forte
entered Sunday's game having run for 100-plus yards in three consecutive games. At one point against the Eagles, Forte had carried five times for 6 yards. "There is no excuse for what happened or what we didn't do," Forte said. "Nobody played well on our side. It was just one of those games where everything was going their way and nothing went our way."
Trestman's message after the game:
It must have been a good, uplifting message because for a team that had just blown the opportunity to wrap up a division championship and a postseason berth, the Bears were remarkably calm after the game. In fact, nobody seemed down at all about what had just transpired. Maybe the Bears just want to forget about this game and move on to the next one as quickly as possible. Maybe moping too much over the loss to the Eagles isn't conducive to the club's next objective Sunday against the Packers. "It's just a game. The same thing happened to [the Eagles] last week," defensive end
Julius Peppers
said. "We've got a resilient group. We're gonna be fine. We're gonna bounce back from this."
December, 23, 2013
12/23/13
8:00
AM ET
GREEN BAY, Wis. -- A review of four hot issues from the
Green Bay Packers
' 38-31
loss
to the
Pittsburgh Steelers
on Sunday at Lambeau Field:
Bell outlasts Lacy
: In the battle of rookie running backs, the Steelers'
Le'Veon Bell
got the better of it, although things might have been different had
Eddie Lacy
been able to stay in the game. Lacy reinjured his sprained right ankle -- the one that had him in a walking boot for most of the days between games the past two weeks -- and missed the entire fourth quarter. Lacy was on his way to another big game. As it was, he rushed for 84 yards on 15 carries (a 5.6-yard average) and scored two touchdowns. By running his season total to 1,112 yards rushing, he surpassed John Brockington's rookie rushing record of 1,105 set in 1971. Lacy's status for the regular-season finale against the
Chicago Bears
remained in doubt. "I'm definitely going to do everything I can do to get it feeling as good as I possibly can so I can go out and be with my team next week," Lacy said. Bell rushed for 124 yards on 26 carries and scored one touchdown. The Steelers passed on Lacy because of injury concerns and Steelers coach Mike Tomlin said last week that it was "an easy decision" to draft Bell over Lacy.
[+] Enlarge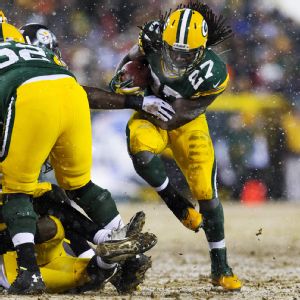 Jeff Hanisch/USA TODAY SportsEddie Lacy rushed for 84 yards on 15 carries against the Steelers, but missed the fourth quarter with a sprained ankle.
Pick-six times three
: In his career as the Packers' starting quarterback,
Aaron Rodgers
has thrown exactly one interception that was returned for a touchdown -- against the
Tampa Bay Buccaneers
in 2009. Since his Nov. 4 collarbone injury, Rodgers' replacements have thrown three of them. The latest pick-six came in the third quarter against the Steelers. Flynn had a run-pass option on the play and decided to throw a quick hitch to
Jarrett Boykin
, who was split out to the right. However, tight end
Andrew Quarless
, who was lined up in the backfield intending to block for Lacy, collided with Flynn as he was in his throwing motion. The ball sailed on Flynn, and Steelers cornerback
Cortez Allen
returned it 40 yards for a touchdown. "It's a run play first but with a pass option," Quarless said. "It was just a messed-up play. I'm anxious to look at it on film." Said Flynn, who has two of the three pick-sixes this season: "I've got to do a better job of understanding where my tight end has to fill according to where his linebacker is and get out of his way. I was coming up, and he hit me on my left side and turned me and pulled the ball up. It was just one of those unfortunate plays, and I definitely wish I could take that one back."
Killer penalties
: The most memorable penalties were
Nick Perry
's encroachment on fourth-and-3 in the fourth quarter when the Steelers were lining up for a field goal, and
T.J. Lang
's false start (announced as a penalty on
Don Barclay
) with 20 seconds to go. "Presnap penalties are unacceptable," coach Mike McCarthy said. Penalties were a problem throughout the game. The Packers had nine penalties -- one short of their season high -- for 90 yards.
B.J. Raji
's personal foul for unnecessary roughness when he retaliated after Steelers guard
Cody Wallace
hit him came on a drive that ended with a touchdown that put the Steelers ahead 24-21 late in the third quarter. In the second quarter, guard
Josh Sitton
's face mask penalty on third-and-8 from the Steelers' 35-yard line wiped out an 8-yard catch by
Jordy Nelson
. The Packers ended up punting on that drive.
Let them score:
A week after the
Dallas Cowboys
let the Packers score the go-ahead touchdown in order to give themselves as much time as possible, the Packers used the same strategy. But they may have waited one play too long to do it. The Packers let Bell score on a 1-yard touchdown run on second-and-goal with 1:25 remaining. However, had they done it one play earlier, they not only would have saved themselves a few seconds but also a timeout. They burned their last one after Bell rushed for 4 yards on first-and-goal at the 5. When asked why they didn't let Bell score on that play, Packers linebacker
A.J. Hawk
said: "I don't know. That's a good question."
December, 23, 2013
12/23/13
8:00
AM ET
A review of four hot issues from the
Detroit Lions
' 23-20
overtime loss
to the
New York Giants
.
The collapse
: It is finally complete now, the Lions' descent of missed opportunity from NFC North leader to out of the playoffs. And of course, it comes with one last insult that might be the cruelest of all. For all the opportunities Detroit squandered to win the division, the Lions would have had one more chance to win the NFC North after both Green Bay and Chicago lost Sunday. Had the Lions won, they would have been win-and-in Sunday in Minnesota.
[+] Enlarge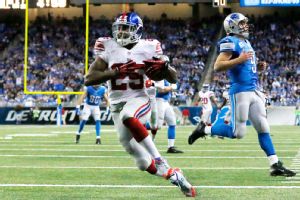 AP Photo/Paul SancyaWill Hill's pick-six was the 19th interception of the season for Matthew Stafford. The 38-yard return tied the game late in the fourth quarter.
Instead, the Lions can start making those offseason plans they had been putting off for a few weeks. The carnage included the fifth loss in six games and the fifth straight loss in which the Lions lost a fourth-quarter lead.
The future:
Jim Schwartz's tenure in Detroit looks like it might be coming to a close after five seasons. The Lions missed the playoffs in four of those years and had collapses in the past two seasons. Schwartz did some good things with the Lions, who hired him after the franchise went 0-16 in 2008. But his tenure might have plateaued with the playoff berth in 2011. The same problems that afflicted this team in the middle of the season remained toward the end of the year, and players, most notably quarterback
Matthew Stafford
, appeared to regress.
The turnovers:
This has been the most persistent problem the Lions have had this season and a large reason the Lions are playing for nothing but pride Sunday. For the sixth straight game, Detroit committed three or more turnovers, including a
Reggie Bush
fumble and a Stafford pick-six interception. For the sixth straight game, the Lions lost the turnover margin.
The main turnover culprits have been Bush, who lost his second fumble since making the promise he wouldn't fumble again the rest of the season after a Week 10 loss to Pittsburgh, and Stafford. Stafford now has thrown two or more interceptions in four of the past five games, and the only game in which he didn't throw an interception was against Philadelphia in the snow.
The quarterback:
Stafford probably will not admit it, but he needs help from someone to fix his game right now. He has too much talent and is too intelligent a quarterback to continue to make the same baffling decisions every week. Sure, the Lions didn't help him this season by dropping a league-high 46 passes -- including two Sunday against the Giants.
But too often he is either missing receivers or not making the right throws or the correct reads, either from a throw perspective or an arm slot perspective. Stafford is getting good protection and has the best receiver in the NFL in
Calvin Johnson
. He has good leadership qualities.
This offseason should be spent helping to make sure he never has a season like this again. He is now at 19 interceptions -- one away from his career-high 20 interceptions he threw as a rookie. Perhaps a visit to a quarterback guru such as Steve Clarkson or George Whitfield Jr. is in order.

NFC NORTH SCOREBOARD
Friday, 8/22
Saturday, 8/23