NFC North:

2013 Week 2 Upon Further Review NFC
September, 16, 2013
Sep 16
3:00
PM ET
An examination of four hot issues from the
Detroit Lions
' 25-21
loss
to the
Arizona Cardinals
:
[+] Enlarge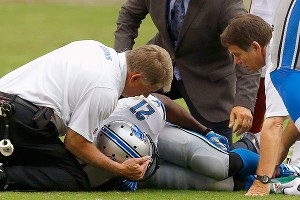 AP Photo/Ross D. FranklinReggie Bush has been banged up over the first two games, a disturbing trend for the Lions.
Reggie Bush's health:
In two games this season, Bush has dislocated his thumb, pulled his groin and taken a helmet to the left knee. And these are just the injuries we know about. The concern right now, although Bush wasn't worried about it when talking after the loss, is whether or not his knee will keep him out of Sunday's game against the
Washington Redskins
. Bush's availability, as he has already shown, changes the offensive dynamic. His work on screens and underneath routes as a player who can score from any spot on the field makes the Lions more productive. Without him, increased attention will be paid to receiver
Calvin Johnson
.
Play calls at the end of the first half:
This largely went unnoticed last week because Detroit scored on its final possession of the first half and ended up beating Minnesota, but the Lions held on to a timeout. In that case, it made sense in case Detroit needed to attempt a field goal. Same thing happened again against Arizona without similar success. On the last drive of the first half, the Lions had all three timeouts and 53 seconds to work with. They ran two plays -- a handoff to Bush for no gain and a handoff to
Joique Bell
that lost a yard. There was very little aggressiveness in the calls, and if they had been more aggressive, they could have gotten points out of the drive.
"The first play might not have looked like an aggressive play," Detroit coach Jim Schwartz said. "But all of our plays are designed to work. If we could have got a first down at that point, we could have rolled.
"But there's another side to that, too. If you go three-and-out real quick, burning all of your timeouts and then they get the ball back in that situation, too. After we didn't make any yards on that first play, we decided to go into halftime at that point."
There is logic there, although if you assume
Sam Martin
delivers a decent punt, Arizona getting the ball back and scoring seems unlikely.
Penaltypalooza:
Wrote about this after the game, but it is worth mentioning again. Detroit needs to become a more disciplined team. Penalties will happen. No team will go through a season, and likely not a week, without some gaffes -- and likely some big ones at bad times. But over the past two weeks, this has turned into a trend for Detroit at bad times -- either putting teams in position to score or taking touchdowns away from the Lions.
Right cornerback:
Schwartz said, "I don't know that we have competition" at right cornerback following the loss, but he pulled rookie starter
Darius Slay
for the second straight week in favor of veteran
Rashean Mathis
. This time, though, Mathis took over much earlier. This will be worth watching this week.
September, 16, 2013
Sep 16
1:00
PM ET
A review of four hot issues from the Packers' 38-20 victory over the Redskins on Sunday:
Reviewing Rodgers:
Quarterback
Aaron Rodgers
has had plenty of games where he's taken more deep shots down the field, but against the Redskins he piled up his franchise-record tying 480 yards passing in a much different manner. He utilized short drops and relied on the hitch route to put the ball in the hands of his receivers and let them do the work. As ESPN Stats & Information told us Sunday night, 283 of the Packers' receiving yards came after the catch. That was the most YAC by any team since the start of the 2008 season. According to ProFootballFocus, Rodgers got the ball out of his hands in 2.5 seconds or less on 33 of his 46 drop-backs.
[+] Enlarge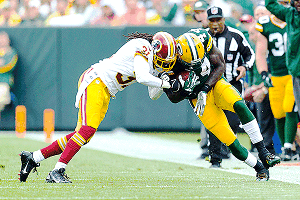 Jeff Hanisch/USA TODAY SportsPackers RB James Starks didn't let this helmet-to-helmet hit by Washington's Brandon Meriweather stop him from having a productive game.
Helmet hits:
No one in the Packers locker room after the game was willing to come right out and say the two helmet hits delivered by Redskins safety
Brandon Meriweather
were dirty plays. But after the Monday film review, I suspect the Packers will be unhappy about them at the very least. Meriweather wasn't penalized either time for helmet-to-helmet contact, the first of which knocked out running back
Eddie Lacy
in the first quarter; the second knocked out Meriweather himself in the second quarter after leading with his helmet against
James Starks
. Said Packers right guard
T.J. Lang
: "I saw the first play on the replay. I'm not really sure what happened there. I know Eddie was spinning off some tackles trying to get some extra yards, ended up jumping over the pile where he was met by the safety. It's one of those plays where you don't like to see helmet-to-helmet contact. It's just one of those safety concerns that they try to eliminate from the game. I'm not going to tell the refs how to do their jobs. I don't know if it should have been a penalty or not, but hopefully Eddie's all right."
Sharing the carries
: Depending on the severity of Lacy's concussion, which may not be known for several days, the Packers may want to divide up the running back duties more equally between Lacy and Starks. It was Starks' 132-yard performance that snapped the team's ignominious streak of consecutive games without a 100-yard rusher at 44. "Maybe this will start a little string," Rodgers said. Or maybe it will make coach Mike McCarthy decide to take some of the workload off Lacy, at least for a while. In the opener at San Francisco, Lacy handled 14 of the 15 carries by running backs and appeared to be headed for another busy day against the Redskins. A running back combination might not result in many 100-yard individual games, but it might be the best thing for Lacy at this point.
New special-teams standout:
With special-teams ace
Jarrett Bush
(hamstring) sidelined for the first time since Week 16 of the 2007 season, the Packers may have found a new star on the coverage units. Cornerback
Davon House
, who had three special-teams tackles in the opener against the 49ers, had two more against the Redskins. On the Packers' first punt of the game, House beat the Redskins' jammer at the line of scrimmage and outran two Washington players down the field to tackle returner
Chris Thompson
after only a 3-yard return.
September, 16, 2013
Sep 16
12:00
PM ET
An examination of four hot issues from the Bears' 31-30 win over the Vikings:
[+] Enlarge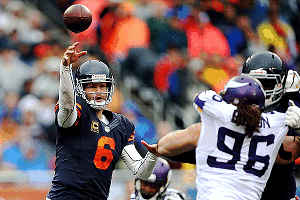 Jerry Lai/USA TODAY SportsKeeping his cool has helped Jay Cutler rally Chicago during critical times this season.
Cutler's comebacks:
In crunch time,
Jay Cutler
has been more composed than in past performances, which is why he was able to recover from three turnovers and rally the team for the second consecutive week. Cutler believes in the system and the coaches, and that's paid dividends. It's also a reason the normally fiery Cutler, according to teammates, has been the calmest player in the huddle during critical situations.
On the sideline, Cutler's sounding board is quarterbacks coach Matt Cavanaugh.
"Nothing really rattles him," Cutler said. "He just taps the bench and says come over and sit down. We talk it out. If I've got to vent, he lets me get it off my chest and moves straight to the pictures. He's a calming influence."
Pass rush still lacking:
The Bears forced three turnovers, which is pretty standard for the defense, but the club still hasn't generated consistent pressure on opposing quarterbacks. The Bears go into Week 3 with just two sacks. At this point last season, the team had racked up eight.
"Early on last year, we started off with a bunch more sacks," defensive end
Corey Wootton
said. "I don't think we played up to our caliber with the arsenal we have up front."
The front four's highest-paid defenders,
Julius Peppers
and
Henry Melton
, have combined for five tackles with zero sacks. With them earning a combined $18.35 million in base salary this season, they're making a combined $458,750 per tackle so far, by my math.
Dual-threat Forte:
Matt Forte
touched the ball 30 times and finished with 161 yards from scrimmage, way above his average of 102 yards per game going into the season. Forte has recorded 150 yards or more from scrimmage in 13 career games.
What's more, Cutler targeted Forte more than go-to receiver
Brandon Marshall
for the first time since last season's Week 2 loss at Green Bay. The change stems from the way the club now deploys Forte in the passing game, and provides Cutler another weapon when teams take away options such as Marshall,
Alshon Jeffery
and
Martellus Bennett
.
"We've got some guys that want the ball," Cutler said. "Whenever we give them opportunities, they make plays."
Cracks in special teams:
Cordarrelle Patterson
's 105-yard TD return on the opening kickoff marked the first time the Bears gave up a kickoff-return touchdown since Sept. 30, 2007, against Detroit. Although the Bears immediately responded with a 76-yard return by
Devin Hester
, there appear to be weaknesses in Chicago's coverage units.
"I saw a big hole. No way I could've missed it," Patterson said.
In the opener, the punt-coverage unit surrendered a 50-yard return by
Adam Jones
on the team's first punt of the day, but it was nullified by an illegal block above the waist.
"It's hard to be minus-2 in turnovers and get a kick return for a touchdown and win the game," Bears coach Marc Trestman said.