NFC North:

2013 Week 4 Upon Further Review NFC
September, 30, 2013
9/30/13
12:30
PM ET
An examination of four hot issues from the
Chicago Bears
'
40-32 loss
to the
Detroit Lions
:
[+] Enlarge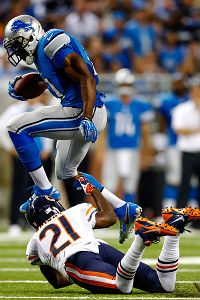 Rick Osentoski/USA TODAY SportsReggie Bush ran (and jumped) over the Bears in the first half Sunday, but Chicago's defense clamped down on him after that.
Run defense:
The Bears allowed
Reggie Bush
to gain 112 yards in the first half, then held him to 27 yards in the second half. With
Henry Melton
out, the Bears played
Stephen Paea
at the 3-technique spot and moved
Nate Collins
to nose tackle. The Bears might want to consider trying Collins at the 3-technique and Paea at nose.
After the game, Paea wore a walking boot due to minor turf toe on his left foot, and maybe that injury diminished Paea's effectiveness.
"I've played some 3 [technique] before, but it's just a matter of time, repetitions and practice," Paea said.
Jay Cutler:
This could come off as odd, but despite Cutler's horrid performance (65.6 passer rating with three interceptions, plus a fumble returned for a touchdown), this game might have shown growth on the quarterback's part.
Detroit scored 17 points off turnovers, and Cutler appeared to be the culprit on every giveaway but one (his first interception). How the quarterback handled himself in the heat of battle and afterward gives reason for optimism. Despite the mistakes, Cutler held up well and nearly brought the Bears back. After the game, Cutler showed accountability for his contribution to the loss and told it how it was, which signals he'll take the appropriate steps to correct the issues.
"I have to give us a better chance to win. I mean, three picks. It's hard to come back from that," Cutler said. "[I] have to play better."
Third-down conversions:
The Bears converted just one of 13 third downs, and no matter how well the defense plays, it's difficult to overcome that deficiency. It's not all on Cutler. In the second quarter,
Jordan Mills
was whistled for a false start on third-and-10. Two series later, Cutler was in a third-and-21 situation after a 9-yard sack on second down. In the third quarter, a 27-yard gain on third down was negated by a
Kyle Long
penalty. Then, on the next series, Cutler was sacked and fumbled for
Nick Fairley
's 4-yard touchdown.
"The big thing was third down," Bears coach Marc Trestman said. "We did horribly today [on third down], and that starts with me."
Too much pressure:
Cutler was sacked three times and spent most of the day under duress. This team has invested too much into protecting Cutler for this to continue.
"Either we didn't execute on the play or we didn't give Jay enough time to throw the ball," running back
Matt Forte
said. "Give credit to them for giving a great rush, but we didn't do our part."
September, 30, 2013
9/30/13
12:30
PM ET
A review of four hot issues from the
Detroit Lions
' 40-32
win
over the
Chicago Bears
:
First place:
This is, without question, a big deal for the Lions. While Detroit might have matching 3-1 records with the Bears, it has beaten Chicago, and that means first place in the NFC North for now. It also sets up what could be the ultimate statement game for the Lions on Sunday at Green Bay against the
Packers
. Detroit has not won there since 1991 -- and if they pulls it off, the Lions might take a step into being considered a major contender in the NFL this season.
[+] Enlarge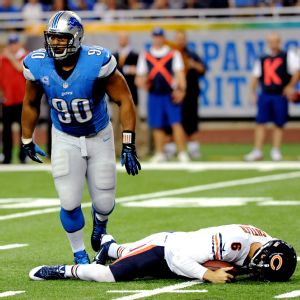 AP Photo/Jose JuarezNdamukong Suh sacked Bears quarterback Jay Cutler twice during the Lions' 40-32 victory.
But that's still six days away. For now, first place in a division it has never won should sit pretty strong with Detroit a month into the season.
Secondary concerns:
There's still a bunch to learn here throughout the week, but both of Detroit's starting cornerbacks,
Chris Houston
and
Rashean Mathis
, were knocked out of Sunday's game by injury. Mathis insisted he passed the two concussion tests that were given to him Sunday, so that could bode well for his return against the Packers. Houston left Sunday's game with a leg injury -- he was battling a hand injury during the week -- and his status for Green Bay will be a big issue. He is Detroit's top cornerback, and he'll be needed against
Aaron Rodgers
and the Packers. Going into a major game without him will be dicey.
The dominance of Ndamukong Suh:
The fourth-year defensive tackle out of Nebraska is playing the best football of his career. He had his best game, statistically, this season by sacking
Jay Cutler
twice. One of the sacks forced a fumble that led to a
Nick Fairley
touchdown, after which Fairley knocked Suh down in the ensuing celebration.
Much was made last week of Suh's matchup against Bears rookie
Kyle Long
on Sunday. Instead, Suh saw double-teams most of the game and still pretty well dominated the rookie.
"He's a grown man," Long
told MLive.com after the game
. "That's a grown man I played against [Sunday]."
As written about a lot here in the past seven days, Suh's ability to control an offensive line opens things up for Fairley, and ends
Ziggy Ansah
and
Willie Young
in a way few other defensive tackles can replicate.
Big game for Brandon Pettigrew:
The tight end has been criticized in the past for his inability to hang on to the ball in critical situations. Even his coach, Jim Schwartz, said he has to catch better in traffic. Quarterback
Matthew Stafford
made Pettigrew a priority Sunday by targeting him seven times. The bigger deal? Pettigrew caught all seven passes for 54 yards. If Pettigrew can do this consistently, it gives Detroit three tight ends who can make plays, an advantage as the season continues on.
September, 30, 2013
9/30/13
12:30
PM ET
LONDON -- An examination of four hot issues following the
Minnesota Vikings
' 34-27 win over the
Pittsburgh Steelers
:
Who's the QB?
That will be the Vikings' big question during and after their bye week, as they prepare for their next game against the
Carolina Panthers
on Oct. 13. Coach Leslie Frazier said Sunday, "If you're asking, our quarterback is
Christian Ponder
," even after
Matt Cassel
threw for 248 yards and a pair of touchdowns in the Vikings' first win of the season. Players such as
Greg Jennings
and
Adrian Peterson
have stood by Ponder in his struggles, but even those two seemed relieved to be praising, instead of defending, their quarterback after Sunday's win. Frazier will have to gauge how his team would react to a return to Ponder, and Cassel's struggles the past two years in Kansas City are proof he has had his own issues. But it will be interesting to see how Frazier navigates the next two weeks and how his players will react to whatever decision he makes.
[+] Enlarge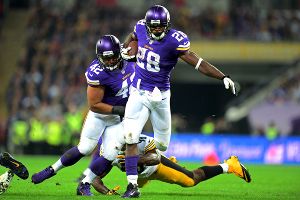 Jamie McDonald/Getty ImagesStars like Adrian Peterson have helped the NFL as a consistently popular draw in London.
Peterson emerges:
The numbers would suggest Peterson hadn't played poorly in three games before Sunday -- he had still run for 281 yards in three games -- but the NFL's reigning MVP hadn't looked like himself until heading to London. With fullback
Jerome Felton
back, Peterson seemed more comfortable, romping for 140 yards in the Vikings' win. His 60-yard run in the first half was actually set up by quarterback-turned-receiver
Joe Webb
, who sealed off safety
Troy Polamalu
after seeing something on a previous play. "He came to me on the sideline," Peterson said. "He was telling me, 'Hey, on the 42 Lead, Troy [Polamalu], the safety, is cramming in, and he's shooting right down. So just trust me on being able to pin him in. You can get it outside.' And sure enough, the next time we caught it, it happened exactly the way he was playing."
Secondary struggles:
The Vikings won, and they survived without
Chris Cook
and
Jamarca Sanford
, but those facts probably won't dampen concerns about their defensive backs after the Vikings allowed more than 300 yards passing for the third time in four weeks. Steelers quarterback
Ben Roethlisberger
had to throw on almost every play in the fourth quarter with Pittsburgh down 17, but he targeted second-year cornerback
Josh Robinson
throughout the game, and Robinson added a 48-yard pass interference penalty to the Steelers' production for the day after he grabbed
Antonio Brown
and put the ball at the Vikings' 1.
London calling ... again?
This won't emerge as a front-burner topic for a while, but it wouldn't be surprising to see the Vikings back in London before they open their new stadium in Minneapolis in 2016. Vikings players gushed about the accommodations the team had at The Grove Hotel in Watford, England, and Frazier spoke glowingly about the experience after the Vikings won at Wembley Stadium on Sunday and lifted a little pressure off themselves before their bye week. Before the game, team officials privately weren't keen on the idea of coming to London as the home team again and taking players out of their routine for a week in addition to giving up a home game. But it will be interesting to see if the Vikings have different feelings now that they've seen a week in London is manageable. Frazier is a big believer in settings like these, which encourage team bonding, and if the London trip emerges as a turning point in the season, you can bet the Vikings will consider doing it again. With the team at the University of Minnesota's TCF Bank Stadium in 2014 and 2015, the NFL is likely to ask.