NFC North:

2013 Week 7 CHI at WAS
October, 20, 2013
10/20/13
7:03
PM ET
LANDOVER, MD --
Chicago Bears
assistant head coach/special teams coordinator Joe DeCamillis appearance in the FedEx Field visitor's locker room on Sunday after the Bears'
45-41 loss
to the
Washington Redskins
said it all.
Although the Bears prohibit assistant coaches from speaking to the media following games, DeCamillis' foul mood can likely be attributed to a controversial fourth-quarter call that went against the Bears as the club attempted a surprise onside kick.
After a
Robbie Gould
field goal cut the Redskins' lead to 38-34 with 8:44 left in the game, Gould executed a perfect onside kick that was recovered by
Zack Bowman
at the Bears' 46 yard line.
However, the officials ruled that Bears' special teams ace
Eric Weems
was offsides on the play, which negated the Bears' recovery and forced Gould to re-kick. With the element of surprise no longer on the Bears' side, Gould did not attempt a second onside kick.
Television replays of the Weems penalty appeared to be inconclusive.
Bears head coach Marc Trestman explained why the team called for the onside kick at that specific juncture of the game.
"We needed a possession back," Trestman said. "We had planned for it. It's something we had planned for during the week. Special situation football decisions are not made at that moment. It was evident that their offense was on the field too much."
DeCamillis later called for another high-risk special teams maneuver when he instructed
Devin Hester
to lateral the football across the field to
Joe Anderson
during the Bears' final kickoff return of the game. Anderson gained 25 yards on the play to give the Bears' the football at their 38 yard line with 33 seconds left on the clock. But the Bears eventually ran out of time when
Josh McCown
got sacked on the final play of the game.
October, 20, 2013
10/20/13
4:31
PM ET
LANDOVER, Md. -- A few thoughts on the
Chicago Bears
'
45-41 loss
to the
Washington Redskins
on Sunday at FedEx Field:

What it means:
A 4-3 record with an injured quarterback in
Jay Cutler
going into the bye isn't ideal, but the Bears are in decent shape with a much needed week off on the horizon. The Bears need this time off to heal.
Stock watch:
Josh McCown
's stock shot through the roof with his outing (119.6 passer rating), which should give the staff and his teammates confidence in him should Cutler be forced to miss extended time.
D on field too long:
Chicago's offense put the defense in a difficult bind in the first half by missing on all four of its conversions on third down. That resulted in Washington leading in time of possession 22:01 to 7:59, which means the defense was on the field way too long. The statistics indicated as much.
In taking a 24-17 lead at the half, the Redskins converted 4 of 8 third downs and racked up 14 first downs on 42 snaps. Chicago, meanwhile, generated just two first downs and 46 yards on 17 plays.
Record-tying Hester:
Devin Hester
finally produced the breakout game the team anticipated with his first touchdown this season on a return. Hester broke an 81-yard punt return for a TD with 5:52 left in the first half, and that score tied him with Hall of Famer Deion Sanders for most combined return TDs (19) in NFL history.
Hester reached 19 total return TDs in 114 games, while it took Sanders 188 games.
The Hester outing wasn't unexpected. Washington gave up a touchdown on an 86-yard punt return last week, in addition to a 90-yard kickoff return that set up another
Dallas Cowboys
touchdown.
First miss:
The seemingly automatic
Robbie Gould
missed his first field goal of the season with 9:30 left in the third quarter and his team down 24-17. Gould pushed the 34-yard attempt wide right.
Gould connected on a 47-yard attempt in the first quarter for his 11th-consecutive field goal without a miss this season. Gould hit a 49-yarder in the fourth quarter.
What's next:
The Bears return to Halas Hall on Monday for a 9:30 a.m. film review before an 11:30 team meeting. After that, the Bears receive the rest of the week off for their bye. The club won't return to practice until 7:30 a.m. Oct. 28.
October, 17, 2013
10/17/13
1:00
PM ET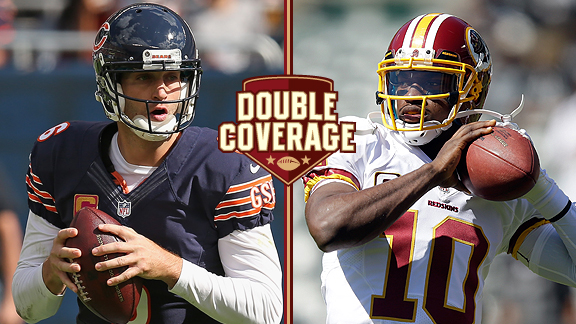 Getty ImagesJay Cutler will use his big targets; Robert Griffin III hopes to count on a stable run game.
The
Washington Redskins
again are facing a must-win game -- that is, if they want to start achieving what many thought they would this season. Otherwise, they're staring at a disastrous season. The
Chicago Bears
don't need to win with the same urgency, but they need to keep pace with Green Bay for first place in the NFC North.
There's no doubt quarterback
Jay Cutler
wants a better showing than what he provided the previous time he faced Washington. Redskins corner
DeAngelo Hall
made the Pro Bowl after the 2010 season in large part because of his four interceptions off Cutler in the road win.
The Bears have not played in Washington since Dec. 6, 2007, when the emotionally charged Redskins, playing shortly after the death of safety Sean Taylor, won 24-16.
This also will be a reunion between Cutler and Redskins coach Mike Shanahan, who drafted the quarterback in Denver in 2006. Cutler threw for a career-high 4,526 yards in his last season with Shanahan (2008). The Redskins tried to trade for Cutler before the 2009 season.
ESPN.com Redskins reporter John Keim and Bears reporter Michael C. Wright take a look at the matchup.
John Keim:
The Bears have a strong-armed quarterback who has some big targets. And the protection seems pretty solid. How dangerous is the Bears' passing game right now, and is this just about talent?
Michael C. Wright:
John, it's a combination of talent and scheme. The Bears prioritized protecting Jay Cutler when new coach Marc Trestman took over. So they went out and signed left tackle
Jermon Bushrod
and left guard
Matt Slauson
in free agency, and drafted right guard
Kyle Long
and right tackle
Jordan Mills
. The Bears also added
Martellus Bennett
to give them a threat down the middle and somewhat of a mismatch against safeties and linebackers. The club already possessed weapons outside in
Brandon Marshall
and
Alshon Jeffery
and in the backfield with
Matt Forte
. So the Bears used a combination of additions and Trestman's West Coast scheme, which emphasizes getting the ball out of Cutler's hands quickly, to get to where they are today.
It's difficult for me to characterize the passing game as "dangerous" right now because we haven't yet seen the Bears put together a full game in that department. What I will say is that Cutler has more weapons at his disposal than he's used to, and he's playing a much more efficient game now than he has in the past.
Sticking with quarterbacks, RG III clearly isn't the same guy, so I've got to ask whether the Redskins are trying to find a way to compensate for that? And if so, what are they doing?
Keim:
That's a tough question to answer because there have been too many games in which they had to change their offense just because they had fallen far behind, especially in the first couple of games, when Griffin was not going to run the ball. He is running much better, so they're now back to what they used to do; it's just a matter of executing.
Griffin ran the zone read-option more Sunday night at Dallas than he had all season -- the Cowboys' playing a lot of man coverage helped open the outside for him. What they need to do is stay in games and run the ball. Their offense looks different at times because they can't use as much play-action, thanks to game situations. They're so much better when they're running well and using play-action. Griffin can operate in the pocket, but it's not what he does best. And he's shown signs of growth in terms of keeping the ball alive and finding receivers and not just running.
I wonder if the Bears will be able to pressure him. I know the Bears have had injuries up front, but it still seems like
Julius Peppers
is a bit too quiet. Is he still a dangerous player?
Wright:
You want to say Peppers is, because it's hard for me to believe he has all of the sudden lost it after back-to-back seasons of 11 sacks or more. But we might finally be seeing Peppers on the decline. In four career games against the Redskins, Peppers has registered just two sacks. So far this season, he's posted only one, which is a concern, considering Peppers collected 3 1/2 sacks in 2012 through the first six games. Certainly, the injuries inside at tackle play a role in Peppers' lack of production. The Bears lost two starters at defensive tackle in franchise player
Henry Melton
(six sacks last season) and his replacement,
Nate Collins
. The club also has played without
Stephen Paea
, who is fighting through turf toe. That has forced the Bears to play starting defensive end
Corey Wootton
inside at tackle, along with a host of unheralded players such as
Landon Cohen
, who signed two days before the club faced Detroit on Sept. 29, and surprisingly played in that game. I think Peppers is still dangerous, but he certainly doesn't look the part now.
It looked to me like
Alfred Morris
was a big part of RG III's success last year, but early on he seemed to struggle. I know lack of opportunity played a part in that because the Redskins were behind. But do you see Morris sort of regaining his form moving forward because he looked better against the Cowboys?
Keim:
I like Morris a lot and it's funny because I didn't think he looked that great against Dallas, with the exception of a few runs (including his touchdown). There's no doubt the coaches want him carrying the ball more, and his main issue this season has been the lack of carries. He's averaging 5.2 yards per carry, but has yet to carry more than 16 times in a game (he had three such games last season). Morris is a better runner than a year ago; a little quicker and more knowledgeable about where to hit the hole. With his patience and vision, he does an exceptional job setting up his blocks. But he needs more work -- and unlike last year, the Redskins have been unable to establish the run early in games. That must change.
The Redskins also need to make more big plays. And I see that the Bears have allowed 29 pass plays of 20 yards or more and have a new middle linebacker this week. Where do you think the Redskins can take advantage?
Wright:
Not only do they have a new middle linebacker, John, but the Bears will line up rookie Jonathan Bostic, a second-round pick. So the Redskins might be able to take advantage there. Bostic turned heads in the preseason with big hits and a couple of impressive plays. But he made too many mistakes, which is why the Bears opted to start
D.J. Williams
at that spot in the first place. As far as the explosive plays in the passing game go, I think they're a function of the team being unable to generate pressure with the front four, which in turn leaves the secondary in coverage for way too long. Chicago's injury situation up front likely means it won't improve the pass rush sufficiently to help out a secondary that has struggled some at the safety position with
Major Wright
and
Chris Conte
.
Let's turn to the Redskins' defense. It pretty much shut down Dallas' high-powered offense Sunday. What can Chicago expect to see?
Keim:
Good question, because the defense was dreadful for the first three games and in the fourth, it faced
Matt Flynn
playing behind a bad line in Oakland. Sunday night was a bit of a surprise, but in reality it's how I expected the defense to play entering the season. They have the talent to be middle-of-the-road, capable of a good game and also a clunker if the matchup is bad. They have used three corners and one safety in the secondary quite a bit, adding speed and giving them the ability to disguise coverages a little longer. They will blitz, from the slot in particular. They will run stunts up front -- linebacker
Brian Orakpo
, end
Stephen Bowen
and nose tackle
Barry Cofield
work well together. They will use five linebackers at times in obvious pass situations, with
Ryan Kerrigan
in a four-point stance. They need to play out of their base defense because their main goal is to stop the run. Their secondary has done a better job lately of limiting big plays, but everything starts with their ability to stop the run. If Forte has a big game, I have a hard time seeing the Redskins limiting this offense enough to win the game.
.

NFC NORTH SCOREBOARD
Friday, 8/22
Saturday, 8/23