NFC North:

2013 Week 8 DAL at DET
October, 27, 2013
10/27/13
8:25
PM ET
DETROIT --
Kris Durham
has known his quarterback,
Matthew Stafford
, longer than any player in the Detroit locker room.
They met as teenagers, were teammates at Georgia, and now play together with the
Detroit Lions
. They are so familiar with each other, there are times Stafford can look at Durham and Durham knows exactly what he wants him to do.
And late on Sunday, Durham wanted to assist his friend. They had people from Georgia in town visiting and Stafford, usually the first player finished with his media responsibilities, had not showered yet.
[+] Enlarge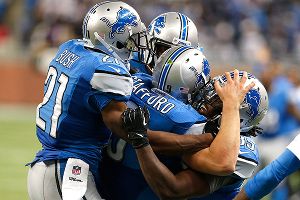 Photo by Gregory Shamus/Getty ImagesLions players celebrate after Matthew Stafford led an 80-yard drive in just 50 seconds to complete a comeback victory over the Cowboys.
He needed to go.
On this day, after that moment when Stafford faked a spike and then leaped into the end zone over the top of his unsuspecting linemen to cap a 31-30 Lions comeback over the Cowboys, the quarterback relished every moment. He explained over and over again what happened, what he saw, how he saw it.
Moments like this are what turn good quarterbacks into elite quarterbacks, what turn franchises that historically struggle into ones that can win. Stafford has led comebacks before. This might have topped them all.
"I mean, there's no fear in him," right guard
Larry Warford
said.
No fear to make the call that would either win or lose the game on his own. His offensive linemen didn't know he was going to jump over them. They thought he was going to spike the ball. So did his receivers.
That was all Stafford. All guts.
"They were just pumped," Stafford said, describing his teammates. "They were like calling me crazy and all that kind of stuff."
It was a little bit crazy. His craziest? That's debatable. Last week he found a way to toss a 50-yard touchdown to
Calvin Johnson
in triple coverage. This week, he helped Johnson to a 329-yard receiving day, the second-best in league history.
"The one last week to Calvin, he was stumbling, escapes pressure and makes throws like that," Durham said. "In a crucial moment right there, it might be the craziest but he makes plays all the time.
"It doesn't matter when it is on the field, that one just happened to be with 12 seconds left."
A locker over from where Stafford explained the final play was
Reggie Bush
. He had seen something similar to this before. While at USC, he assisted then-Trojans quarterback
Matt Leinart
into the end zone with three seconds left to keep USC undefeated.
That became a defining moment in the college legacy of Leinart. Now Bush may have witnessed another one of those moments for his new quarterback. And Stafford savored it.
Today's game-winning play was just the latest in a season of memorable moments for Detroit. Winning at Washington for the first time ever. Coming from behind against Cleveland. Now this, leading his team from a 10-point deficit with less than seven minutes remaining to a dramatic victory with 12 seconds left.
Although reporters still had more questions to ask, Stafford eventually stopped talking. He apologized to reporters, got up and finally went to rinse off. This was his day.
He was going to enjoy it.
October, 27, 2013
10/27/13
7:55
PM ET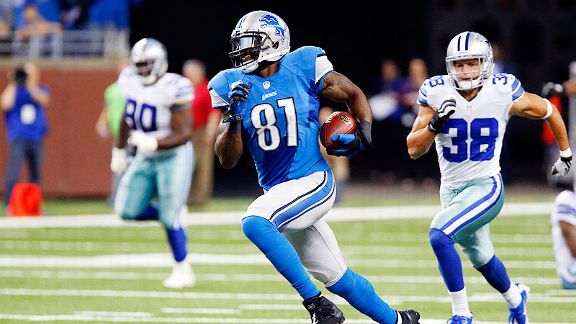 AP Photo/Duane BurlesonCalvin Johnson's 329 receiving yards left Dallas behind and his teammates reaching for superlatives.
DETROIT --
Calvin Johnson
opened the door to the side of the interview room Sunday afternoon, but there was one problem. He entered too soon.
Johnson smiled, turned around and left. He would, for the first time all day, wait his turn.
His quarterback,
Matthew Stafford
, was still talking, explaining how the
Detroit Lions
came from behind Sunday to beat the
Dallas Cowboys
31-30
, how it was his decision to dive across the end zone after a fake spike and about how his receiver is more humble than he is talented. Because after a while, adjectives cease to work describing Calvin Johnson.
How else can you explain what he did Sunday, catching 14 of the 16 passes Stafford threw to him for a team-record 329 yards -- the most yards in a regulation game in NFL history and second only to Flipper Anderson's 336 yards in an overtime win in 1989?
"I've literally never seen anything like that before in my life,"" Lions running back
Reggie Bush
said. "He's the greatest receiver in the history of the National Football League."
And the Lions needed him to be that great in order to win Sunday, to come back from 10 points down with 6:45 left to win on their final offensive play. Johnson caught slants and turned one into an 87-yard reception. He leaped between two Cowboys defenders to catch a 54-yard pass to start a touchdown drive.
Then there were all the other plays in between.
"It's crazy," Johnson said.
Perhaps crazier was how Dallas played Johnson. He said he saw a lot of single coverage. Single coverage on Johnson is almost like not covering him at all.
That would explain why Cowboys owner Jerry Jones, after he watched his team get shredded, said simply, "We could not cover Calvin Johnson."
No one could Sunday. Not even close. Johnson left teammates shaking their heads in amazement. They see it all the time, every day. Center
Dominic Raiola
said after the game he thought he had seen everything with Johnson, anything he could possibly do.
He then admitted he was wrong.
Much was made last week about Dallas receiver
Dez Bryant
saying he could do whatever Johnson could do. On and off the field, Johnson turned it into a nonissue; he said he heard about Bryant's boast only when Bryant texted him to explain things. Then Johnson went out and had one of the best days ever for a wide receiver, while Bryant scored two touchdowns on three catches and got into heated conversations on the sideline with
Tony Romo
and
Jason Witten
.
The thing that endears Johnson the most to his teammates is what Stafford was talking about just before Johnson walked in and then out of his quarterback's news conference. That humble nature. The fact that perhaps the best wide receiver in the history of the game isn't a diva.
He doesn't throw tantrums. He doesn't complain about not seeing the ball. He goes out and makes plays, ones that defy explanation, and all he wants is to win in a city that hasn't seen much of it over the history of the franchise.
Remember, he was part of the Detroit team that went winless in 2008. He saw the lows. To fans, he remained a permanent high point, someone they could latch on to as theirs, as one of the best in the game, much like they did with Barry Sanders during his career.
Now, Johnson is part of a winner, of a team that can come back to pull out a victory down six points with 62 seconds and 80 yards to go. Even his celebration of Stafford's fake spike signal and touchdown dive with 12 seconds left was understated.
He looked at the refs, raised his arms.
"The only thing that went through my mind is that we won the game," Johnson said. "I was happy he did it."
Then he'll get asked about his play, about himself, and he shrugs it off. He'll talk about single coverage and turnovers and his team and its ability to come back.
His teammates, though, will do the lauding.
"I have not ever seen anything like that," receiver
Kris Durham
said. "As a receiver, you're like, yeah, 100 yards would be a great day. I can't tell you what 300 would do. That's probably more receiving yards than I've got on the season. So that tells you something right there."
Durham's close. He has 310 receiving yards, far fewer than Johnson's NFL-leading 821 yards -- and that's with missing a game to rest his ailing knee. But yes, on Sunday, Johnson had 19 more yards in one game than Durham has had all season.
The deep ball helped. Half of Johnson's catches were for 20 yards or more, according to ESPN Stats & Information. He's done that three times in his career now. No other receiver has done it even once since the beginning of the 2001 season.
And there really is no other parallel.
"Amazing," Raiola said. "Nothing more you have to say about him."
There might be one thing even more amazing than what he did Sunday, how he played against Dallas. It might also be the scariest part of all of it.
He might not even be fully recovered from his leg injury yet.
"Just wait," Detroit coach Jim Schwartz said. "Until he's 100 percent."
For the rest of the NFL, that might be the worst news of all.
October, 27, 2013
10/27/13
5:47
PM ET
DETROIT -- Observed in the locker room after the
Detroit Lions
' 31-30
win
over the
Dallas Cowboys
.
Stafford
Holding court:
Usually
Matthew Stafford
talks at the podium after a game and that's about it. Not Sunday. The Dallas native was the second-to-last player to finish talking in a busy corner of the locker room along with running back
Reggie Bush
. How long did he last there? Receiver
Kris Durham
was trying to get him to leave because they have friends from Georgia in town.
Music shut off:
Lions center
Dominic Raiola
abruptly turned off the music in the locker room with about 10 or so guys left in there. The reaction from the players? Joking boos.
Changing his mantra?
Lions coach Jim Schwartz always says he takes every game the same, always as one game of 16. Maybe not for much longer. After the Lions' wild win to boost their record to 5-3, he could be shifting.
"Yeah," Schwartz said. "I might be rethinking my mantra on this one."
October, 27, 2013
10/27/13
4:32
PM ET
DETROIT -- A few thoughts on the
Detroit Lions
' 31-30
win
against the
Dallas Cowboys
.

What it means:
It was a game Detroit had to have. Sixty-two seconds to go. Eighty yards. And this, well, this is no longer the Detroit Lions of old. The Lions drove 80 yards, capped off by a
Matthew Stafford
fake spike followed by a leap into the end zone with 12 seconds left to give the Lions a come-from-behind win.
Two underrated things on the final drive -- Stafford's sideline pass to
Kris Durham
set up the last two plays. Also, going into the final play, left tackle
Riley Reiff
sprinted about 30 yards to make sure he was at the line of scrimmage. Play doesn't happen if that doesn't happen.
The Lions have had a few change-the-momentum-of-the-franchise moments this season. A win at Washington. Coming from behind against Cleveland. None, though, bigger than this. Detroit's playoff chances are intact. So is its momentum. That might be as big of a win for Detroit than it has had in years.
Stock watch:
Rising -- Returner
Jeremy Ross
. With
Micheal Spurlock
inactive, Ross took advantage of an opportunity, returning a kick 44 yards that set up a Detroit scoring drive. Receiver
Calvin Johnson
, who had his fifth 200-yard receiving day of his carer, tying an NFL record. Stafford. His call for the fake spike touchdown are plays that franchise quarterbacks make. They are plays that can lift a career. For Stafford, that might have happened Sunday.
Johnson's day:
There really aren't enough adjectives to adequately describe what Johnson accomplished Sunday. He caught 14 passes for 329 yards and a touchdown, including multiple catches in double coverage. The yards are a franchise record. The biggest one was a 54-yard catch over the middle despite double coverage, the second straight week he made a highlight catch.
What's next:
The Lions are off next week before a two-game road swing to Chicago and Pittsburgh.