NFC North:

2013 Week 8 Upon Further Review NFC
October, 28, 2013
10/28/13
4:00
PM ET
A review of four hot issues from the
Green Bay Packers
' 44-31
win
against the
Minnesota Vikings
:
Rodgers' responsibility
: Every time quarterback
Aaron Rodgers
loses one of his key playmakers, his job gets harder. Consider that within a span of eight days, he lost two of his top three receivers (
Randall Cobb
and
James Jones
on Oct. 13 against the
Baltimore Ravens
) and his top tight end (
Jermichael Finley
on Oct. 20 against the
Cleveland Browns
). Yet in the past two games, Rodgers has played some of his finest football. In his past two games, Rodgers has attempted 65 passes and completed 49, or 75.4 percent. He has thrown five touchdowns without an interception in the past two games. That followed a stretch in which Rodgers -- with all of those weapons -- went three straight games without throwing more than one touchdown. "I think this is really shaping up to be one of Aaron's best years," coach Mike McCarthy said Sunday night. "Aaron's had a lot of challenges Monday through Saturday that don't show up on a stat sheet, just the change, just trying to get on the same page with younger players, trusting the game plan."
[+] Enlarge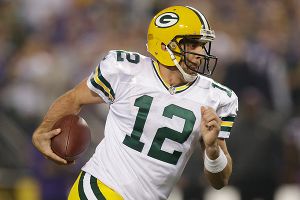 AP Photo/Jim MoneThough the talent around him has been depleted by injuries, quarterback Aaron Rodgers is thriving.
Special teams breakdown:
The rash of injuries that has hit the Packers this season has impacted them most on special teams. They had six rookies or first-year players -- including two (receiver
Chris Harper
and tight end
Jake Stoneburner
) who weren't on the Week 1 roster -- on their kickoff coverage team who allowed
Cordarrelle Patterson
's 109-yard kickoff return for a touchdown to open the game. The Packers had several chances to stop Patterson deep in Vikings territory.
Jerron McMillian
and
Sam Barrington
both had shots inside the 20-yard line, and
Micah Hyde
missed a diving attempt at the 23. Special teams coach Shawn Slocum also pulled punter
Tim Masthay
off of kickoffs after Patterson's return. Field goal kicker
Mason Crosby
handled kickoffs the rest of the game, making it a light night for Masthay, because the Packers never had to punt.
An opportunity for Sherrod
: As good as
Don Barclay
is in the running game, where he regularly finishes blocks with an aggressiveness about him, the second-year right tackle has had his struggles in pass protection. Barclay had his hands full with Vikings defensive end
Brian Robison
. Although Robison did not record a sack, he regularly beat Barclay and forced Rodgers to have to escape the pocket to avoid him. The Packers might have to consider giving
Derek Sherrod
a chance at right tackle -- if he's ready, that is. Sherrod, a first-round pick in 2011, returned to practice two weeks ago and can be activated off the physically unable to perform list. The Packers have to decide by the beginning of next week whether to put Sherrod on the 53-man roster. He appears to be fully healed from the broken leg he suffered on Dec. 18, 2011. He has not played in a game since he suffered the injury late in his rookie season.
No new injuries:
It's always possible an injury or two could pop up in the next couple of days, but perhaps the best thing to come out of Sunday's game was the fact that the Packers did not suffer any more injuries. For a team that has been hit hard by the injury bug, that's no small matter. All but one of the seven inactive players on Sunday was injury-related. What's more, linebackers
Nick Perry
(foot) and
Brad Jones
(hamstring), along with James Jones (knee), might be able to return for Monday night's game against the
Chicago Bears
. And linebacker
Clay Matthews
, who told ESPN.com on Sunday night that
he will have the pins removed
from his broken right thumb Nov. 4, could return as soon as the following week against the
Philadelphia Eagles
.
October, 28, 2013
10/28/13
3:05
PM ET
A review of four hot issues following the
Minnesota Vikings
' 44-31
loss
to the
Green Bay Packers
on Sunday:
Who's the QB?
Coach Leslie Frazier wouldn't say Monday whether the Vikings will make another quarterback change before Sunday's game against the
Dallas Cowboys
, but he did say
Matt Cassel
won't be in the mix to start; the decision will be between
Christian Ponder
and
Josh Freeman
, Frazier said. Freeman has been cleared to return from a concussion and will participate in practice Wednesday, and after an underwhelming performance from Ponder, the Vikings might decide they're best off going to Freeman and seeing if he can improve following an ugly first start with the Vikings. Freeman said he was first able to run around without feeling concussion symptoms Saturday, so there was no way he would have been ready to play Sunday. But if he's healthy, it seems quite likely the Vikings could go back to him.
[+] Enlarge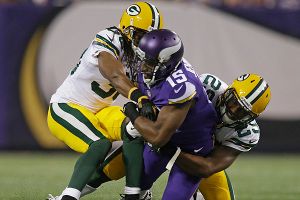 AP Photo/Jim MoneProduction has been hard to come by for Vikings receiver Greg Jennings this season.
Jennings quiet:
Wide receiver
Greg Jennings
had just one catch for nine yards against his former team Sunday night, and his numbers in seven games are far from overwhelming (25 catches, 336 yards, two touchdowns). Jennings looked frustrated with Ponder on one throw Sunday, when Ponder failed to deliver the ball to Jennings running through the middle of the Packers' defense and tossed the ball out of bounds. But Frazier said Jennings came to him after the game with words of encouragement, and again called Jennings "the ultimate team guy." Jennings did not talk to reporters in the locker room after the game, bolting quickly following his on-field embrace with quarterback
Aaron Rodgers
. Rodgers didn't divulge what was said, but it's reasonable to wonder if Jennings was trying to smooth things over after what he said about Rodgers this summer.
Secondary in for more pain:
The Vikings were missing both starting safeties by the end of the game Sunday, with
Harrison Smith
already on injured reserve and
Jamarca Sanford
leaving with a strained groin. Cornerback
Chris Cook
also left with a hip muscle strain, and though both players could be back Sunday, the Vikings might have more trouble ahead of them trying to stop quarterback
Tony Romo
and wide receiver
Dez Bryant
. Rodgers targeted rookie
Xavier Rhodes
early, before the Packers went to work with wide receiver
Jordy Nelson
matched up on
Josh Robinson
in the slot. Teams have continued to pick on Robinson all season, and Rodgers drilled the first of his two touchdowns to Nelson over Robinson.
Signs of discord?
It doesn't seem as though Vikings players have started to quit on the season yet, at least not from Frazier's perspective; the coach said Monday he still liked the effort the Vikings showed on a goal-line stand toward the end of Sunday's game, long after the Packers had pulled away, but admitted he wanted to "have a pulse" on whether players were mailing it in. "We're approaching our eighth game of the season," he said. "You have to remind them there are a lot of reasons for us to really work as hard as we can to get a win this coming Sunday. We do have to have a feel for what guys are thinking and where their mindset is. It's important."
October, 28, 2013
10/28/13
3:00
PM ET
A review of four hot issues as the
Chicago Bears
return from their bye week:
Don't bury yourself:
With Detroit and Green Bay coming off victories Sunday, the Bears -- regardless of the injury situation -- can't afford to lose the next two and bury themselves beneath the division. Given the way things appear to be shaking out so far, it looks as though at least one of the wild cards will come out of the NFC West (Seattle or San Francisco) and one could come from the NFC North. But consecutive losses at Green Bay on Sunday followed by the Lions at Soldier Field would put Chicago in a position where it would be nearly impossible to reach the postseason.
[+] Enlarge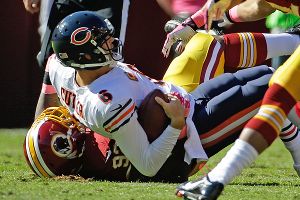 AP Photo/Alex BrandonWith Jay Cutler injured, the Bears need to force more turnovers and make more plays on special teams to keep from falling out of the playoff race.
Takeaways:
It's pretty well established that the Bears can't stop the run or the pass, but they can alleviate those major deficiencies with their uncanny ability to generate takeaways. So they definitely need to get back to taking the ball away, with quarterback
Jay Cutler
and linebacker
Lance Briggs
expected to miss a significant chunk of action. Against the Redskins, the Bears forced only one takeaway, and that's clearly not sufficient. In each of the past two losses, Chicago generated one turnover or fewer. But in each of the four wins, the club forced at least three. The turnover differential comes into play here, too. When the Bears have finished on the minus side or equal in turnover differential, they've lost their past three games.
McCown using supporting cast:
QB
Josh McCown
doesn't need to step outside of himself and try to be a hero as he fills in for Cutler because he has plenty of playmaking talent around him. The staff can help out with a game plan that features plenty of
Matt Forte
in the rushing attack to keep the Packers out of pass-rush mode. By establishing the run early, McCown can operate off play-action and hit high-percentage passes that allow the targets to gain their yards after the catch.
Special teams needs to carry heavier load:
Devin Hester
finally found his groove against the Redskins with an 81-yard punt return for a touchdown. But given the limitations on offense and defense, special teams needs to become a more dynamic facet of Chicago's game.
Adam Podlesh
can help the Bears win the field-position battle with long punts, while the coverage units on kickoffs and punts need to limit the yards gained on returns.
Robbie Gould
missed his first field goal attempt of the season against the Redskins, but it's unlikely he'll continue that course.
October, 28, 2013
10/28/13
12:30
PM ET
A review of four hot issues from the
Detroit Lions
'
31-30 win
over the
Dallas Cowboys
.
[+] Enlarge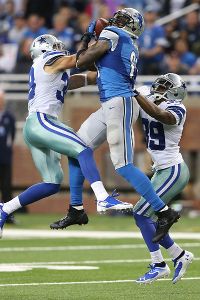 Leon Halip/Getty ImagesCalvin Johnson had his way with the Dallas secondary on Sunday.
Mega-Hundreds:
As in the hundreds of yards (yes, hundreds) receiver
Calvin Johnson
had Sunday. His 329 yards against the Cowboys would put him 70th in the NFL in receiving yards this season -- if that was the only game he played. Instead, he's played in seven games and has an NFL-leading 821 yards on 47 catches. Johnson often draws double coverage, but part of the key to his success Sunday was Dallas' decision to play a lot of single coverage on Johnson. Do that and quarterback
Matthew Stafford
will find Johnson over and over again, as the Cowboys learned.
Stafford's decision:
Yes, he's had fourth-quarter comebacks before, and yes, he's made big plays before. But with the way Detroit's season has been going, with what the Lions are trying to do, there was a different level reached in the final minute against Dallas. Had Stafford not converted the fake-spike sneak, Detroit would have struggled to get one more play off and it could have been the second straight week in which the Lions suffered a devastating final-seconds loss at home. It could have been a play, frankly, that potentially derailed the rest of Detroit's season. Instead, it was a play that could boost the franchise and its quarterback for a long time to come.
Durham's emergence:
He'll never be the flashy guy, and as
Kris Durham
told me after Sunday's game, if he can get 100 yards in a game, that's a pretty good day, but he's become a reliable target for Stafford when it matters. He now has three or more catches in five straight games, and his 40-yard grab on Detroit's final drive, in which he used a slight, slick move to beat the Dallas cornerback to make some room for himself, was massive. For a player who didn't appear to be a lock to make the team out of training camp, he has put himself in a position where he could be a valuable member of Detroit's offense for a while.
Fairley well:
This was lost in a lot of the last-minute insanity of Detroit's win, but
Nick Fairley
had a productive game for the Lions. He was a big factor early on in the game, twice pressuring
Tony Romo
into third-down incompletions and punts. He had three pressures on the day and showed yet another glimpse of what Detroit hoped to get out of him when it selected him in the first round of the 2011 draft. He was a good complement to
Ndamukong Suh
and showed surprising athleticism for his size as he ran at Romo.

NFC NORTH SCOREBOARD
Thursday, 9/4
Sunday, 9/7
Monday, 9/8