NFC North:

2014 Memorable Plays Winner
July, 11, 2014
Jul 11
10:00
AM ET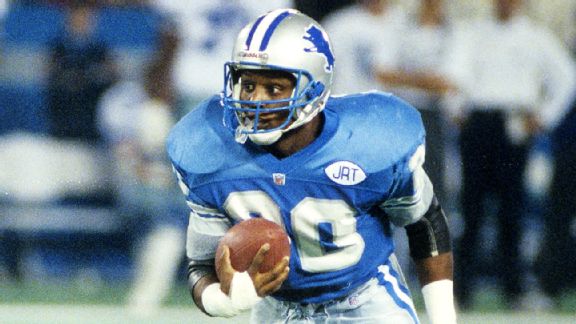 Betsy Peabody Rowe/Getty Images
We have a winner. The voters picked Barry Sanders' touchdown run in the playoffs against Dallas as the Lions' most memorable play and I question their selection.
Dan Orlovsky
's safety in 2008 is the play I consider the most memorable.
Score:
Vikings 12, Lions 10
Date:
Oct. 12, 2008.
Site:
Hubert H. Humphrey Metrodome, Minneapolis
Here's why I believe Orlovsky's safety in the end zone should be the most memorable play in the team's history and it has little to do with Orlovsky, who is a better quarterback than people give him credit.

Yet a reader may have put it best. The Orlovsky safety, an unfortunate happenstance for a quarterback making his first career start, was the roughest, most memorable play of the most memorable season in Lions history. No matter if the Lions make a Super Bowl, win a Super Bowl or end up winning multiple Super Bowls at some point, the franchise will be remembered as the first -- and for now, only -- team to go 0-16.
Considering the franchise's woebegone history, it is representative of so much of what has happened to the franchise in the Super Bowl era. One playoff win. No Super Bowl appearances. Losing season after losing season, no matter who was the coach and what players they had -- other than a brief respite with Barry Sanders.
The Orlovsky play stands out as a reminder of all that.
The embarrassing play is emblematic of the Lions, who put a good player in a tough situation. But it is, without question, a play that will be remembered and replayed over and over again for a long time. That is what the definition of a memorable play is -- and none are at the level of the Orlovsky safety with the Lions.
July, 11, 2014
Jul 11
10:00
AM ET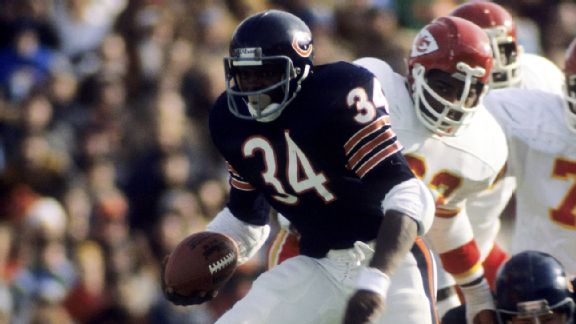 Tony Tomsic/Getty Images
This is the play voters and ESPN Bears reporter Michael C. Wright picked as the most memorable play in
Chicago Bears
history, narrowly beating out William "Refrigerator" Perry's touchdown run in Super Bowl XX and Devin Hester's 92-yard kickoff return to open Super Bowl XLI.
Score:
Bears 28, Chiefs 27
Date:
Nov. 13, 1977.
Site:
Soldier Field
Thank you, thank you, thank you, voters. We definitely agree on this one. But as time ticked away on voting for the Chicago's most memorable play, there certainly was trepidation about how things would pan out as Walter Payton's rather beastly run against the Chiefs in 1977 was basically neck-and-neck with William "Refrigerator" Perry's touchdown in Super Bowl XX as the voting deadline neared.

No knock on Perry, as his touchdown certainly was "memorable." But for many Bears fans, that Perry play served as reminder that Payton didn't score a TD in that Super Bowl trouncing, which from this vantage point, was a travesty.
As is the case with fellow Chicago icon Michael Jordan, it's difficult to pull a top play from the many Payton blessed fans with throughout his 13-year NFL career. But this one embodied Payton as a runner, fully displaying all the attributes that made "Sweetness" one of the best running backs.
With the Bears down 17-0 in the third quarter, Payton took a handoff right, spun away from linebacker Willie Lanier and Tim Gray, cut back left and made three Chiefs miss, in addition to plowing over two others before being dragged down from behind at the Kansas City 4. In all, Payton broke seven tackles on a run that sparked Chicago's eventual 28-27 comeback win.
"If you look at the video, I'm within three or four feet of him four times," Chiefs defensive tackle John Lohmeyer said in the book, "Sweetness: The Enigmatic Life of Walter Payton." "I didn't give up because it was well known that you couldn't get him down with ease, and he was an escape artist. I tried tackling him. We all did."
Seattle's
Marshawn Lynch
might hold the "Beast Mode" nickname, but Payton's 1977 run against the Chiefs might be true definition of that moniker. Not only was Payton's run the best play in franchise annals, it's arguably the top run in NFL history.
July, 11, 2014
Jul 11
10:00
AM ET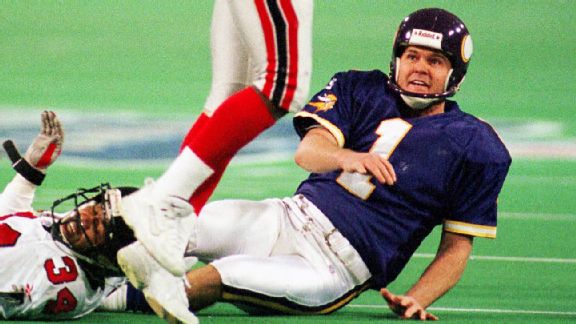 AP Photo/Beth A. Keiser
This is the play voters and ESPN Vikings reporter Ben Goessling picked as the most memorable in the team's history, beating out Brett Favre's interception in the 2010 NFC Championship Game and Tommy Kramer's Hail Mary pass to Ahmad Rashad to beat the
Cleveland Browns
in the 1980 "Miracle at the Met."
Score:
Falcons 30, Vikings 27
Date:
Jan. 17, 1999.
Site:
Hubert H. Humphrey Metrodome
Well, voters, we agreed on this one. For a team that has played in four Super Bowls and has been in five NFC title games since its most recent Super Bowl appearance, there were plenty of memorable moments. But this play, which kept the most prolific offense (and possibly the most dominant team) in Vikings history from securing a fifth Super Bowl bid, was tough to top.

The most striking thing about Gary Anderson's 38-yard miss with 2:18 left in the 1999 NFC Championship Game was how swiftly it pulled the bottom out from under a team that had an air of inevitability about it to that point. Yes, the Vikings had some injuries going into the NFC title game, but their offense had been so explosive (607 points in 17 previous games), and they'd been so dominant at home (winning all nine of their games by an average of 23.22 points) that it didn't seem like an upstart Falcons team had any chance of coming into the Metrodome and halting the Vikings' march to the Super Bowl. It certainly didn't seem that way when Anderson -- who hadn't missed a kick of any kind all season -- lined up for an easy field goal attempt that would have put Minnesota up by 10.
But Anderson's miss gave the Falcons life, and the Vikings seemed too stunned to recover after that point, with coach Dennis Green calling for Randall Cunningham to take a knee after the Falcons' game-tying touchdown and the team punting twice in overtime before Morten Andersen's game winner. As a kid growing up in Minnesota at the time, it was stunning to watch that Vikings team -- so brash and aggressive to that point, so certain of its superiority, particularly in the raucous Metrodome -- on its heels. The Vikings probably never would have reached that point had Anderson's kick sailed through the uprights. Instead, they lost the game, they've endured two more NFC Championship Game defeats since, and their Super Bowl drought is at 37 years and counting.
The fact is it all could have been so different, if not for a miss from a heretofore perfect kicker. That's what made Anderson's miss the most memorable play in Vikings history.
July, 11, 2014
Jul 11
10:00
AM ET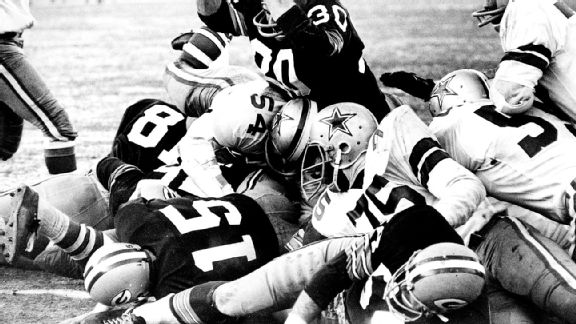 John Biever/Icon SMI
We have a winner. The voters picked Bart Starr's quarterback sneak for a touchdown to win the Ice Bowl as the Packers' most memorable play, and I applaud their selection.
Score:
Packers 21, Cowboys 17
Date:
Dec. 31, 1967
Site:
Lambeau Field
From the moment we began soliciting nominations for the
Green Bay Packers
' three most memorable plays, Bart Starr's quarterback sneak for a touchdown to win the Ice Bowl was mentioned more often than any other play.
So it should come as no surprise that it was the runaway winner in the voting.
Few NFL franchises have one defining play like that, but Starr's sneak ranks up there with
the Immaculate Reception
and
The Catch
.

When the voting closed on Thursday, Starr's play finished as a landslide winner over Brett Favre's 54-yard touchdown pass to Andre Rison in Super Bowl XXXI and
Aaron Rodgers
' third-and-10 completion to
Greg Jennings
to help clinch Super Bowl XLV.
What was most interesting in researching this project was that there was no consensus on the most memorable plays from Super Bowls XXXI and XLV. There was just as much support for Desmond Howard's 99-yard kickoff return for a touchdown that helped him win the Super Bowl XXXI MVP. Likewise in Super Bowl XLV, strong cases could be made for Nick Collins' interception return for a touchdown in the first quarter and
Clay Matthews
' forced fumble that thwarted a potential go-ahead drive by the Steelers in the fourth quarter.
Unlike Starr's sneak, no one play won Super Bowls XXXI or XVL.
And that is why Starr's play was so special.
As we wrap up this project, it's also worth noting some of the other plays that were considered, thanks in part to input from readers and other longtime observers of the team.
Among the others:
Don Hutson's first touchdown, an 83-yarder in 1935.

Dave Robinson drilling Don Meredith, leading to Tom Brown's interception to beat the Cowboys in the 1966 NFL Championship.

Herb Adderley's interception against the Lions in a 1962 regular-season game to set up the game-winning field goal in a 9-7 victory.

Chester Marcol's blocked field goal that he ran in for a touchdown to beat the Bears in 1980.

Don Majkowski to Sterling Sharpe for a 14-yard touchdown pass in 1989 against the Bears in what is known as the Instant Replay Game.

Favre to Sharpe in Detroit for a 40-yard touchdown with 55 seconds remaining in a 1994 playoff game.

Antonio Freeman's "Monday Night Miracle" catch to beat the Vikings in 2000.

B.J. Raji's interception return for a touchdown against the Bears in the NFC Championship Game in 2011.

The "Fail Mary" play against the Seahawks in 2012.
The problem with some of those plays is they were either flukes or meaningless plays in meaningless games. Oh, and there was one other play that a longtime Packers observer was convinced would be the most important play in team history if there more details about it were available. It was a punt, said to be nearly 90 yards by Verne Lewellen in a 1929 game against the
New York Giants
. That punt pinned the Giants deep in their own territory and helped secure a victory that was the difference between the teams in the standings (there were no playoffs at that time). The Packers, with a 12-0-1 record, won the championship over the Giants, whose only loss was to the Packers. It gave the Packers their first championship and, because it happened in New York, helped the Packers capture the attention of the powerful New York media. However, reports from that game do not clearly describe Lewellen's punt.
In the end, Starr's sneak is the play that has been, and likely will continue to be, the most memorable.