NFC North:

49ers-Packers 112109
November, 22, 2009
11/22/09
8:07
PM ET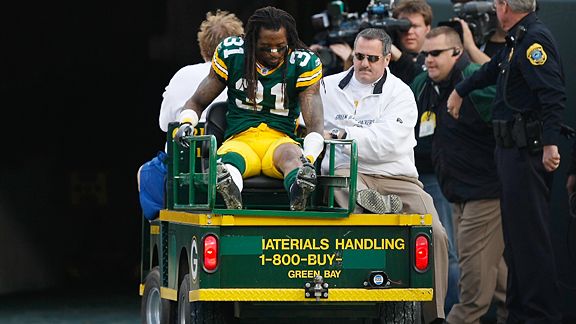 Scott Boehm/Getty Images
Packers cornerback Al Harris' potential season-ending injury could throw the defense out of whack.
GREEN BAY, Wis. --
Al Harris
pulled on a brown leather coat, turned around from his locker and for a moment I thought I was looking at the wrong guy. There were no crutches to be seen. No medical officials were hovering. Harris looked like any other Packers player departing Lambeau Field.
Then he took a step, and that was it. Harris could not put any weight on his left knee, and it appears a virtual certainty he will miss the rest of the season. The same could be true for linebacker
Aaron Kampman
, who like Harris, rode a cart off the field in the second half of the
Packers' 30-24 victory
over San Francisco.
Multiple
reports
suggested both players tore their anterior cruciate ligaments, but coach Mike McCarthy said only that the injuries "did not look very good."
Regardless, the Packers almost certainly will be left to pursue a wild-card playoff berth without two of their most prominent players.
"Those are two staples of our defense," cornerback
Charles Woodson
said. "They are great guys and teammates. I don't know the extent of either one of their injuries right now. But not to have those guys is going to be tough going for this team."
Through all of their trials in pass protection and scheme adjustment, the Packers have strung together consecutive victories to put themselves in position for a playoff spot. At 6-4, they're part of a second tier of NFC teams behind the division leaders. That group includes the
New York Giants
(6-4) and Philadelphia (6-4).
Otherwise, the Packers have gained an advantage over Atlanta (5-5), Chicago (4-6), San Francisco (4-6) and Carolina (4-6) with six games to play. I believe they've tweaked their offense sufficiently enough to mitigate some problems in pass protection, having rediscovered their running game while targeting checkdown receivers more frequently. (Sunday, tailback
Ryan Grant
rushed for 129 yards while backup
Brandon Jackson
and tight end
Jermichael Finley
combined for 13 receptions.)
But even with Harris and Kampman on the field, the Packers were just starting to turn the corner on defense. To me, the biggest question of their playoff run isn't whether they can protect Rodgers. It's whether defensive coordinator Dom Capers can piece together a game plan to match their looming personnel turnover.
Their new mix is likely to include
Tramon Williams
in Harris' spot along with rookie
Brandon Underwood
in the nickel. Rookie
Brad Jones
and veteran
Brady Poppinga
would replace Kampman.
"It's like that in the NFL," Capers said. "A week ago, when we didn't have Aaron, Brad went in and did a nice job and we played well. Their job is to get ready and our job is to see how much we think they can handle and what they can do to find a way to play and win the game."
I think most of us can agree the Packers strung together their best six quarters of defense last week against Dallas and in the first half Sunday against the 49ers. Here's what the Cowboys and 49ers managed over that stretch:
Points:
10
Yards:
335
First Downs:
18
Now look at what happened from the moment Harris joined Kampman in the locker room at the 10:52 mark in the fourth quarter. See what the 49ers amassed in 10 offensive plays to close out the game:
Points:
14
Yards:
92
First downs:
5
The Packers suddenly couldn't stop a team they had limited to one first down in the first half. Frankly, the Packers locked down the victory mostly because their offense ran the final 5:50 off the clock.
Capers noted that the 49ers began their comeback before Harris was injured, but I don't think you can underestimate the domino effect of his departure. I'm well aware that rookie
Michael Crabtree
beat him for a 38-yard touchdown in the third quarter, but to that point Harris had blanketed him.
Woodson, for one, said Harris had made substantial progress in accepting the scheme recently.
"The last two weeks," Woodson said, "the way he has studied, knowing what he's going to get out there on the field, has drastically improved."
Williams has a nose for the ball and is a decent playmaker, but I'm far from sold on his coverage skills. Crabtree, not noted for his speed, ran right past him on a 35-yard pass that set up the 49ers' final touchdown.
"The second half, it wasn't real good," Williams said. "It's a win, but deep down inside, we know it wasn't a winning performance against a good team."
In the worst-case scenario, in fact, the Packers will have two late-round draft picks in prominent roles for the rest of the season. Underwood (Round 6b) is the likeliest candidate for nickel, and Jones (Round 7) will certainly see significant time in Kampman's place.
Like Harris, it seemed as though Kampman was beginning to find a comfort zone in the Packers' defense over the past few weeks. After sitting out the Cowboys game because of a concussion, Kampman sacked 49ers quarterback
Alex Smith
in the first quarter and unofficially finished with a team-high four solo tackles.
If he is lost for the season, you have to wonder if Kampman has played his final game in a Packers uniform. His contract expires after this season, and while it's clear he can be part of a successful 3-4 defense, it's equally clear his skills are not maximized in it.
But Sunday's sack came from a nickel-like package in which Kampman rushed from a down-lineman's position. Kampman's productivity has increased since Capers began giving him more opportunities to rush as a defensive end.
"I'm not sure how he felt about the defense this season and switching schemes," Woodson said. "But I know one thing: Nobody worked harder at it trying to be a productive member of this team. I know he was excited, especially how we did last weekend [and with us] doing some good things today. To see a guy [seriously injured] that you know works hard at the game and loves the game, both him and Al, is a tough thing."
And not just for Woodson. Overcoming these injuries, while maintaining their recent standard of defensive play, will be the key to the Packers' season.
November, 22, 2009
11/22/09
4:17
PM ET
GREEN BAY, Wis. -- The Packers held off San Francisco here at Lambeau Field, but they headed to the locker room with a few too many questions to answer after a win. Namely:


What's the prognosis of two prominent defensive starters, linebacker Aaron Kampman and cornerback Al Harris, who both left the field on carts with injuries to their left knees?
What happened to their defense in the fourth quarter? Did the departure of Kampman and Harris really let the 49ers move as close as six points after trailing 30-10 early in the fourth quarter? Or was there more to it?
Why did their offense, which rolled up 20 points and 362 yards in the first half, stall out after halftime?
The Packers, of course, will be much happier to answer those questions in the context of a victory. In the big picture, the Packers are 6-4 and right in the thick of the NFC wild-card playoff scene. They join the New York Giants in that category, and Philadelphia could get there as well with a victory Sunday night.
Be back with you in a few hours.
November, 22, 2009
11/22/09
4:04
PM ET
GREEN BAY, Wis. -- Apparently I spoke too soon. San Francisco has scored a pair of touchdowns here and suddenly it's a one-score game at Lambeau. The Packers' defense has looked pretty run down, possibly because they're playing without linebacker
Aaron Kampman
and cornerback
Al Harris
.
More than anything, the Packers need an efficient "four-minute drill" to help calm things down. That's what NFL people call the process of running the clock down. They're taking possession of the ball at their 9-yard line with 5:50 remaining. It's 30-24. Back with you shortly after the game.
November, 22, 2009
11/22/09
3:49
PM ET
GREEN BAY, Wis. -- Here is a sobering scene for Packers fans: Cornerback
Al Harris
just became the second prominent Green Bay player taken off the field on a cart.
Harris couldn't put any weight on his left leg and appeared to be inspect his left knee as he sat on the cart. Earlier in the second half, linebacker
Aaron Kampman
grabbed his left knee in obvious pain. He walked to the sideline but then rode a cart to the locker room.
Rookie
Brad Jones
has replaced Kampman and
Tramon Williams
is playing for Harris. We'll keep you updated.
November, 22, 2009
11/22/09
3:44
PM ET
GREEN BAY, Wis. -- Green Bay just threw what sure looks like a knockout punch on San Francisco, converting a 4th-and-goal from the 1-yard line to take a 30-10 lead here early in the fourth quarter.
I thought it was interesting that when faced with the opportunity, coach Mike McCarthy didn't hesitate to … RUN. Quarterback
Aaron Rodgers
, who has passed for 334 yards in this game, handed the ball to tailback
Ryan Grant
on a straight dive play up the middle. Grant followed center
Scott Wells
for the score.
To me, the best way to even out the Packers' pass protection issues is to limit the aggressiveness of opposing defenses. Pounding them with the run game is an excellent way to do that. Just saying.
November, 22, 2009
11/22/09
2:38
PM ET
GREEN BAY, Wis. -- A few halftime thoughts from Lambeau Field, where Green Bay leads San Francisco by a tidy score of 23-3:
I stand by my assertion that the Packers started this game a bit cautiously, at least for them. Nine runs in their first 19 plays is pretty balanced for a Mike McCarthy team. But after establishing that balance, the Packers pulled away from the 49ers in the air. Rodgers threw on 21 of the Packers' next 25 plays and set a career high for passing yards in a half with 274. My impression through the season has been that San Francisco has a decent defense, but the Packers gashed the 49ers for 17 first downs and 362 total yards.
The statistical mismatch was even more glaring on the other side of the ball. The Packers are physically dominating the 49ers' offensive line with a relative minimum of blitzes. All three of their sacks have come from players lined up as defensive linemen (B.J. Raji, Cullen Jenkins and Aaron Kampman). Overall, the admittedly pathetic 49ers offense has 57 yards and one first down. All but 15 of those yards came on one play, Frank Gore's 42-yard run on their opening drive. Quarterback Alex Smith has 5 yards passing.
If this score holds up, the Packers will vault into a smaller group of teams competing for a playoff spot while pushing the 49ers further down that list. Entering Sunday, only one game separated the two teams in that race.
Even the Packers' special teams are doing their part. Here are the yard lines where San Francisco's offense has started its five possessions: The 20, 16, 20, 20 and 19.
November, 22, 2009
11/22/09
1:50
PM ET
GREEN BAY, Wis. -- As John Madden used to say, these teams are still feeling each other out.

Green Bay leads San Francisco 6-3 here at the end of the first quarter. The Packers defense has dominated with the exception of one 42-yard run from 49ers tailback Frank Gore. On offense, meanwhile, the Packers continue to show (positive) signs that they've pulled back their downfield passing attack to compensate for their pass-protection issues.

Coach Mike McCarthy has called for a run on nine of their first 19 plays. Quarterback Aaron Rodgers has completed one deep pass, a 37-yarder against a blitz to Greg Jennings, but for the most part is looking to release the ball quicker and shorter. Tailback Ryan Grant has caught two of his seven completions.