June, 2, 2012
6/02/12
8:00
AM ET
Hey, whaddya say we throw together a weekend mailbag? Comments, questions, criticism and praise are always welcome
through the mailbag
,
Facebook
,
Twitter
or
skywriting
.
Via Facebook, Kona reacts to the latest lively comments from Green Bay Packers tight end Jermichael Finley:
"oh goodness.. As usual, the media blowing things out of proportion…."
Kevin Seifert:
In truth, those of us who are used to hearing Finley hardly blinked at his comments, which came after last Wednesday's organized team activities (OTA).
For those curious,
Jason Wilde of ESPNMilwaukee.com
offers a succinct rundown. Finley said that he and quarterback
Aaron Rodgers
"didn't have chemistry" in 2011, suggested he needs to "freestyle" more on the field instead of playing like a "robot" and insisted that Pro Bowl tight end
Rob Gronkowski
and
Jimmy Graham
are "going to have to show me a little more" before he assesses their level of play.
Some of those comments, particularly the one about chemistry with Rodgers, drew national attention. Here is what I'll say about them: We long ago learned that Finley has a way of making general sentiments sound more dramatic and that he rarely is as convinced about an assertion as he appears to be.
In the case of Rodgers, Finley was simply referring to their minimal work together last offseason because of the lockout. By "freestyle," he didn't mean he plans to ignore playcalls. He simply wants to play with more instinct, which is what the NFL's best players routinely do. On the other hand, I'm not sure if I can interpret his comments on Gronkowski and Graham other than to say he wants to see how they respond to defensive adjustments.
With all of that said, at some point Finley will need to clean up his method for public expression if he wants anything he says to be taken seriously. In Green Bay and around the NFC North, he's more or less viewed as a harmless loose cannon. But eventually something he says will strike a teammate or coach -- or opponent -- the wrong way, if it hasn't already. Trouble would ensue.
From a national perspective, there will be upwards of 2,880 players on NFL rosters this summer. It's too much to ask national media members and fans to know Finley well enough to brush off his words without taking a closer look.
---
Chris of Detroit questioned our criticism of Detroit Lions general manager Martin Mayhew for not addressing his team's off-field issues in a public manner:
I believe that you don't realize that Mayhew rarely addresses the media for good or bad. [Coach Jim] Schwartz is the face of the organization, he has and will always address such in-house issues. Since Mayhew took over he has addressed the media once before and after the season, rarely any other time especially with off the field issues. Mayhew has taken a lot of heat from local media for is lack of access to the media, however they all praise him for being consistent and allowing his coach to be the face of the franchise. While I agree that a GM should be held accountable for his draft class being in trouble, I give him credit for not being vocal during good and bad times as the Lions GM.
Kevin Seifert:
Believe me, I'm well aware that Mayhew rarely speaks publicly and that the Lions' set-up calls for Schwartz to speak for the franchise on most matters. But I still don't think it's right for Mayhew to hide behind that structure in times of unique circumstances.
I fully understand why Mayhew wouldn't want to speak regularly. He wants his actions to speak for themselves and doesn't want to be put in a position to evaluate coaches and players in a public manner during the season. Rare is a general manager who comments on, say, a coach's decision to bench a quarterback or go for it on fourth down. And by all indications Mayhew maintains that policy on both a local and national level. It's not as if he has separate rules for different reporters or outlets.
I guess I just saw six incidents in five months to be beyond the daily operation and structure of any NFL team. It's not quite a crisis, but it is a dire-enough situation that team vice chairman Bill Ford
called it "disappointing, very disappointing" and "a shame"
last week.
I don't believe that Mayhew has an obligation to "to take the heat" from a throng of media because he "deserves" that punishment. Again, I thought it was unfair in this case for Schwartz to do all of the explaining and to be cast alone in the spotlight for something that is not only this serious, but also something an issue for which he does not have ultimate responsibility.
---
In
the comments of this post on Chicago Bears offensive lineman Gabe Carimi, WINDYCITYWOMBRAIDERRETURNS notes that two first-round picks of former general manager Jerry Angelo -- Carimi and Chris Williams -- could "make or break the season."
Kevin Seifert:
In a way, it's interesting to see so much discussion on the Bears' relative lack of attention to their offensive line when two former first-round picks could conceivably be among their five starters this season.
Our commenter is no doubt hoping that Williams makes a career comeback and overtakes the left tackle position from
J'Marcus Webb
. That might be too much to ask, and it's quite possible Williams is headed for a year as a swing left/right tackle before departing the franchise in 2013.
But even if that's the case, it's not clear if Webb has any better chance than Williams to develop into a fixture at left tackle. That circumstance places further scrutiny on Angelo's failed attempt to lock down the position with Williams five years ago.
---
Brandon of London, Canada, remains concerned about Minnesota Vikings quarterback Christian Ponder after reading this post:
While I would usually 100% agree with your feeling that you can't read too much into OTA's and off-season practices etc., but shouldn't the Vikings be extremely concerned that Ponder cannot even succeed when there's 0 pressure against their historically last bad secondary of last season (plus a few rookies)? Shouldn't now be when he's wowing people and being over-hyped?
Kevin Seifert:
There is something to be said for that. I mean, it's far more common to read enthusiastic coverage of a player lighting it up during spring drills than the other way around.
And to be clear, my post wasn't meant to suggest that Ponder struggled through the OTA that I watched. He had one really bad mistake that I saw, one that seemed rare even in this kind of setting. But he also made his share of nice passes. He was inconsistent, which isn't totally unexpected for a player going through his first NFL offseason, and I thought that positive/negative was implied in the "fits and starts" headline.
November, 24, 2009
11/24/09
2:30
PM ET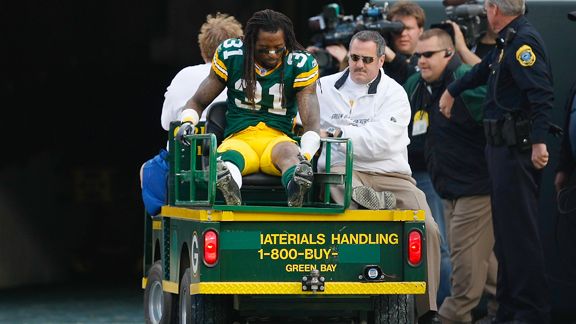 Scott Boehm/Getty ImagesLosing defensive back Al Harris hurts the Packers but Green Bay still has a shot at the playoffs.
It was only two weeks ago that some numbskull
suggested
Green Bay might have a tough time getting in playoff position during the second half of the season. Geez. Some people just don't think about what they say or write.
Because as we stand on the brink of Week 12, the Packers have given themselves an excellent chance to clinch a wild-card spot if they continue a winning pace. (I would define "winning pace" as winning more than you lose. For the Packers, that would mean a 4-2 finish and a 10-6 final record.)
It won't be as easy as it sounds, not when you consider they have only two home games remaining. It's possible that a 9-7 record could clinch a playoff spot, but let's be safe for the purposes of this discussion. In recognition of that strong assumption, let's consider four keys to the Packers' postseason run. (Four! Get it?)
1. Schematically cover for personnel losses on defense
The loss of cornerback
Al Harris
pushes the rest of the Packers' defensive backs up the depth chart.
Tramon Williams
is the likely starter, with some combination of
Jarrett Bush
,
Brandon Underwood
and newcomer
Josh Bell
all in the mix for the nickel. Navigating this issue will be the Packers' biggest challenge in making the playoffs.
All three players are relative unknowns in terms of coverage ability. It's great if one of them steps up. If not, however, defensive coordinator Dom Capers will have to implement some lineup creativity to get his best 11 players on the field.
That could mean leaving an extra linebacker on the field in some nickel situations. It might require finding a bigger role for backup linebacker
Desmond Bishop
. It could mean flooding the line of scrimmage with blitzers, if that's what Capers' remaining players do best.
From the moment he arrived in Green Bay, Capers pledged to craft a scheme around the strengths of his players. It's time for him once again to follow through.
2. Remaining disciplined with the "new" short-range offense
Over the past two weeks, the Packers have returned to the approach they used in 2007, emphasizing quicker passes, shorter routes and better balance with the run. In this case, the shift was a response to the limited pass protection they have offered quarterback
Aaron Rodgers
.
The development has been obvious the casual observer, but
Tom Pelissero of the Green Bay Press-Gazette
recently put a strong number behind it. In Sunday's 30-24 victory over San Francisco, 20 of Rodgers' 32 completions traveled within 4 yards of the line of scrimmage. And their biggest offensive play came off a simple 10-yard slant pass to receiver
Greg Jennings
, who turned it into a 64-yard touchdown.
"We know our strengths," Jennings said. "We know our weaknesses, and we have to play to our strengths. And our strength is getting the ball out of Aaron's hands and letting us make plays. … I think [the short game] is the best way to get the ball in any one of our hands. The last couple of weeks, that's been a huge emphasis -- the three-step game, the quick game, just trying to get the ball in each one of our hands and just get us out in space against the perimeter guys."
3. Win the right games
This might sound counterintuitive, but some of Green Bay's games will be more important than others. I'm not suggesting the Packers do anything other than try to win all of them. But we observers should keep priority and orderliness in mind when looking at their schedule.
In terms of tiebreakers and playoff seeding, division games are most important -- even if it has nothing to do with winning the title. Conference matchups rank next, followed by AFC games. So if I'm making a priority list of the teams I think the Packers need to beat to make the playoffs, it's going to look like this:
A. Detroit
B. Chicago
C. Seattle
D. Arizona
E. Baltimore
F. Pittsburgh
I ranked Seattle and Baltimore ahead of Arizona and Pittsburgh because they're home games. No tiebreaker applies to home victories, but any playoff plan should include winning your home games first.
4. Make a standard out of the special-teams performance we saw Sunday.
The Packers have had their share of coverage problems this season, and our friends over at
Football Outsiders
ranked their special teams last in the NFL through the first nine games of the season. But I thought the Packers put forth a mostly winning effort Sunday.
No one can be happy about Josh Morgan's 76-yard kickoff return in the fourth quarter. Moving past that play, however, the 49ers managed 18.7 yards on their other three kickoff returns and 2.3 yards on three punt returns.
Meanwhile, Williams' 27-yard punt return set up what turned out to be a key field goal at the end of the first half. And don't forget that
Derrick Martin
downed a
Jeremy Kapinos
punt at the 49ers' 2-yard line in the fourth quarter. On the next play, safety
Nick Collins
intercepted
Alex Smith
to set up the Packers' final touchdown.
You can't solve any problem overnight, special teams or otherwise. But if the Packers can minimize big returns and make some positive plays to balance them out, I think what they did Sunday would suffice in a playoff race.
October, 28, 2009
10/28/09
4:59
PM ET
Posted by ESPN.com's Kevin Seifert
The last time I saw the Packers in person, quarterback
Aaron Rodgers
was
running for his life
. So I'm more than a little interested in a relatively quiet development that's taken place since then.
| | |
| --- | --- |
| | |
| | AP Photo/Amy Sancetta |
| | T.J Lang has played well at left tackle when given the opportunity. |
Rookie
T.J. Lang
played left tackle for portions of the Packers' games against Minnesota and Detroit, and then replaced injured starter
Chad Clifton
for the entirety of last Sunday's 31-3 victory at Cleveland. He's been impressive at times and given up pressure on other occasions, but it's notable that coach Mike McCarthy has rarely missed an opportunity to praise his performance.
Clifton is nursing an ankle injury and isn't likely to practice until Friday at the earliest. We don't know for sure who will start Sunday at Lambeau Field, but it's enough to make an interloper wonder if the Packers aren't hoping/praying/pushing Lang to take over the position on a more permanent basis.
During a conference call Wednesday, McCarthy said Lang "really fits the mold of a number of" recent draft picks and "has done a good job." He added: "He's taken advantage of the opportunity he got to play in Cleveland, [and] I've been pleased with the way he's played in the substitution role in both Minnesota and [against] Detroit."
We then asked McCarthy whether he could foresee Lang as his left tackle for the long term. McCarthy's response: "Yeah, potentially. No doubt. If he keeps playing the way he is, he'll be playing there for a long time."
Successful left tackles usually have a certain size and a unique skill set. When some NFL teams looked at the 6-foot-4, 316-pound Lang this winter, they projected him as a guard. McCarthy said the Packers viewed him as a tackle who could move inside if needed.
But regardless of whether Lang looks like the prototypical left tackle, there's at least some anecdotal evidence that the Clifton era is winding down in Green Bay. His contract will expire this winter and the ankle has forced him to miss at least a portion of five games this season. I'm not sure if Lang is the full-time answer at the position, but the search is on.
All of which brings us to Wednesday's line of the day. If he starts Sunday, Lang will match up against Minnesota defensive end
Jared Allen
, who registered 4.5 sacks against the Packers earlier this month.
During a conference call with Wisconsin reporters, Allen was asked whether he was licking his chops to play against a rookie.
"I have to be honest," Allen said. "If I was licking my chops over a dude, I'd be scared of myself."
October, 28, 2009
10/28/09
11:15
AM ET
Posted by ESPN.com's Kevin Seifert
I'll admit it: I was originally turned off by Green Bay mayor Jim Schmitt's decision to insert himself into the hype for Favre-Packers II this week. As you might recall, Schmitt
began soliciting
suggestions to "tastefully" commemorate
Brett Favre
's return to Lambeau Field in a Minnesota uniform.
Schmitt took to the ESPN airwaves this week, appearing on ESPN2's "First Take" to continue promoting the idea. In the video below, Schmitt says the common thread among Green Bay citizens is that "they like Brett Favre but they love the Packers."
Politicians rarely miss an opportunity for attention, but I suppose I'm fine with a mayor trying to steer the behavior of his citizenry when it's the subject to national interest in the sports world. Among the ideas he'll likely pursue, Schmitt said, is changing the name of a local "Minnesota Ave." to "Rodgers Dr." in order to honor current Packers quarterback
Aaron Rodgers
. Another has been for schoolchildren to write "12 reasons 4 staying in Green Bay" as a civic venture that plays off the jersey numbers for Rodgers and Favre.
Finally, Schmitt said he's planning some sort of stunt revolving around waffles, a dig on Favre's inability to make a decision. That's pretty funny, but I wonder if it's an appropriate message coming from a mayor's office.
So I'll turn it over to you: What's the best way for Green Bay citizens, Wisconsinites and Packer fans to treat Favre's return? Think in terms of the values and ideals you want to reflect and project.
I've got some strong thoughts on the matter, but I'll hold them for our usual Friday morning post, where I'll also compile a representative sample of your responses. Have at It.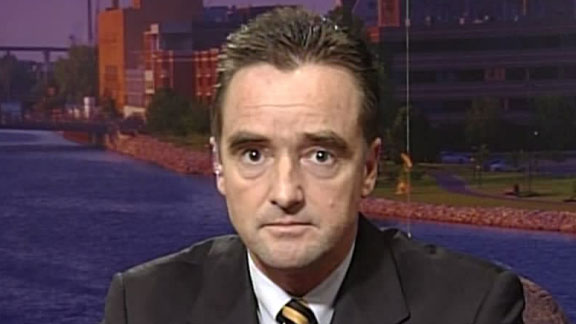 October, 26, 2009
10/26/09
12:59
PM ET
Posted by ESPN.com's Kevin Seifert
After Green Bay's 31-3 victory over Cleveland, here are
three (mostly) indisputable facts I feel relatively sure about:

As they prepare to play a team that registered eight sacks against them last month, the Packers have some interesting decisions to make on their offensive line. First: Should rookie T.J. Lang remain the starter at left tackle, or should veteran Chad Clifton reclaim the job (assuming Clifton's sprained ankle has healed)? Clifton has had some success against Minnesota defensive end Jared Allen in the past, but not recently. You would assume Lang would be more comfortable starting at Lambeau Field than he would have been last month at the Metrodome. Second: Will Scott Wells remain the starter at center even if Jason Spitz's back returns to health? As Bob McGinn of the Milwaukee Journal Sentinel pointed out, Wells had a strong game Sunday against Cleveland defensive lineman Shaun Rogers. Just two things to consider .
The Packers should be crossing their fingers about the condition of tight end Jermichael Finley. No matter how mild his sprained left knee is determined to be, you wonder if Finley is going to recover quickly enough to get on the field Sunday against Minnesota. As you recall, he had a career game last month against the Vikings and would be an important option for quarterback Aaron Rodgers on the off-chance that pass protection will break down. Donald Lee had been mostly solid as a receiver this season, but the Packers have no one who could replace Finley's playmaking ability. Update: Coach Mike McCarthy said Monday it is a "long shot" that Finley will play this week.
Defensively, the Packers have allowed three points over the last eight quarters. That's a pretty respectable statistic no matter who you are playing. I love that cornerback Charles Woodson has dismissed suggestions that the defense has turned the corner by shutting down Detroit and Cleveland, but facts are facts. It's been 43 years since a Packers defense has held consecutive opponents to so few points, as Pete Dougherty points out in the Green Bay Press-Gazette. I have a strong hunch they'll be more prepared for Minnesota and quarterback Brett Favre this time around.
And here's
one question I'm still asking:
Will the Packers find a way to draw attention to Favre during pregame warm-ups Sunday -- to help rev up their crowd, if nothing else? Minnesota hasn't had players individually introduced all season, either at home or on the road. So we won't have that moment to tell our grandchildren about. Typically, NFL teams don't show opposing players on the video screen. Here's my suggestion, and keep in mind the value is commensurate with the price: Ignore him all together. Carry on pregame festivities as if nothing unusual is going on, and send the message the Packers have moved on from the Favre Era.